Smart use of space and a centuries-old hospitality industry have made Japan's hotels pop. A new crop of lodging luring millennials might help define Japan's post-Olympics, Airbnb era.
J
Japan is changing: a rapidly ageing society, a record-breaking influx of visitors from overseas, and more robots than ever. That's where the country's young people come in. Gen J, a new series by BBC Worklife, keeps you up to speed on how the nation's next generation is shaping the Japan of tomorrow. This is the second story in that series.
Ryuhei Hirano is sitting on a cushioned bench in a snug room overlooking Ikebukuro, one of Tokyo's entertainment districts. Hundreds and hundreds of books and magazines in English and Japanese line the walls of the space, while hip-hop plays softly overhead. There's a small table nearby to make a cup of coffee and bottled beer for sale, too – happy hour is from 13:00 to 18:00. "I found this place on Google," says Hirano, 24, who lives in Tokyo. "I wanted to stay for an hour to relax."
But this isn't a cafe or bookshop. Nestled within the shelves of glossy design journals and hip travel guides are beds: one-person, minimalist bunks built into the wall, with crisp white sheets and a couple of coat hangers on pegs inside.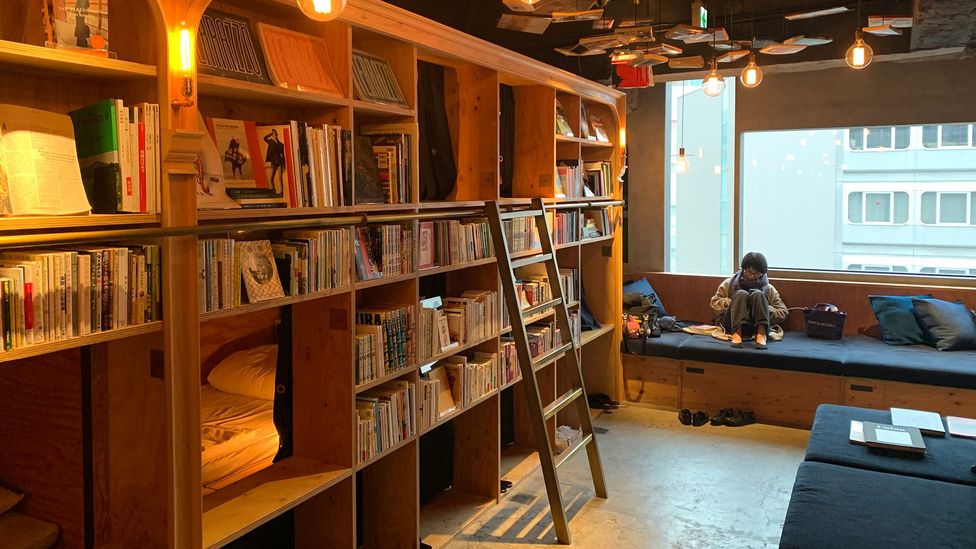 At Book and Bed Tokyo, guests can stay overnight or just pay for a couple of hours to read and mingle with others (Credit: Bryan Lufkin)
This place, Book and Bed Tokyo, is a hotel – though it may not look like one. You can stay overnight in the semi-communal space or pay a small fee to chill out and read for a while. The business has been so successful that it now has four locations in Tokyo, plus one in Kyoto and another in Fukuoka, in southern Japan.
Even as Airbnb wallops the global hotel industry, Japan's hotel sector is booming. The East Asian nation currently has one of the fastest-growing tourism industries in the world, with the capital, Tokyo, bracing for an influx of 10 million visitors in July for the 2020 Summer Olympics.
Still, there's worry. Analysts fear that, after the Olympic surge dies down, Japan will face a crippling shortage of guests to fill the tens of thousands of new hotel rooms. And attracting guests and competing with disruptors like Airbnb is an ongoing reality that the hospitality industry in many countries faces.
But boutique, offbeat lifestyle hotels like Book and Bed Tokyo might just be the key to attracting a new kind of traveller – and retaining a competitive edge.
Gimmick-seeking guests
Millennials have long sought "experiences" in their purchasing decisions: like going to New York's Ice Cream Museum for its Instagrammable ball pit or saving up to go to music festivals to avoid FOMO, instead of buying a status-symbol car or expensive luxury watch. Entrepreneurs have woken up to this phenomenon and, in Japan, come up with a raft of millennial-attracting hotels that break the traditional mould.
This idea of lodging as an experience – Japan has a long history with that – Maggie Rauch
Nagasaki's Henn-na Hotel, meaning "Strange Hotel", made international headlines when it staffed its front desk with robotic employees like an animatronic velociraptor and androids in place of humans. Tokyo's Trunk Hotel is upscale but upcycled – an eco-hotel whose walls and beds are partly built from the wood of demolished Japanese houses – and has a spin-off, one-room "micro-hotel" elsewhere in Tokyo that's a former geisha house and fits a "nightclub" complete with disco ball. Gracery Hotel in Shinjuku offers a room with Godzilla tearing his way through the wall.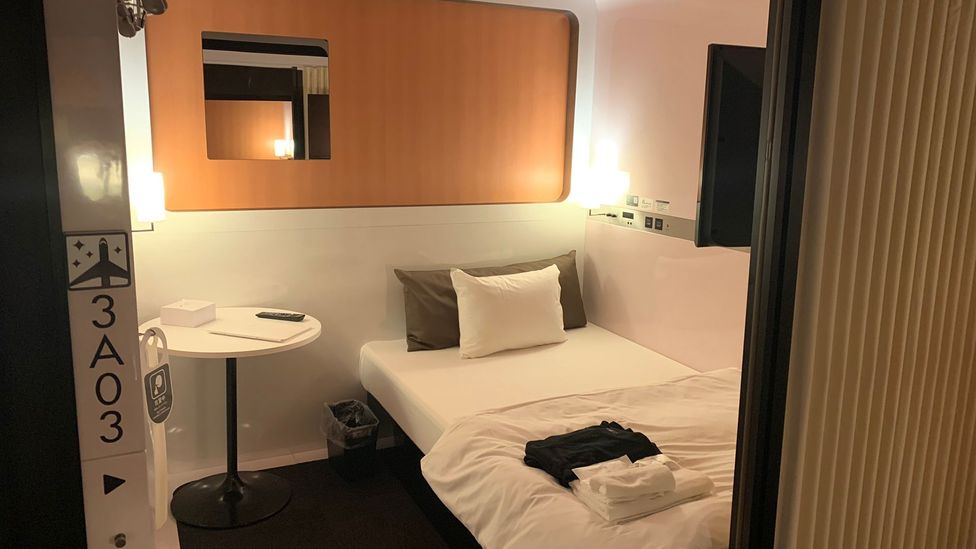 Inside First Cabin's "cabins": rooms built to look like an airline's luxury first-class booth (Credit: Bryan Lufkin)
One particular boutique chain that's doing well is called First Cabin, where the rooms are walk-in "cabins" modelled on the kind of first-class airline seats that resemble tiny bedrooms. Sleek and modern, floors are separated by gender and have shared restroom facilities, a laundry and a traditional Japanese communal bath. The chain opened in 2006 and now has close to 30 locations across Japan.
Tadao Kimachi, president of First Cabin Inc, attributes the chain's success both to its unique concept and also the fact that it provides a low-cost, higher-quality alternative to a hostel. "Singapore Airlines launched the first semi-private room in first class – it's almost the same as our cabin," he says. "To get a seat in first class [suite] will cost you two million yen ($18,000) to fly to New York. Here, you can experience first class at 5,000 yen." He says half of First Cabin's guests are domestic businesspeople, the other half foreign tourists.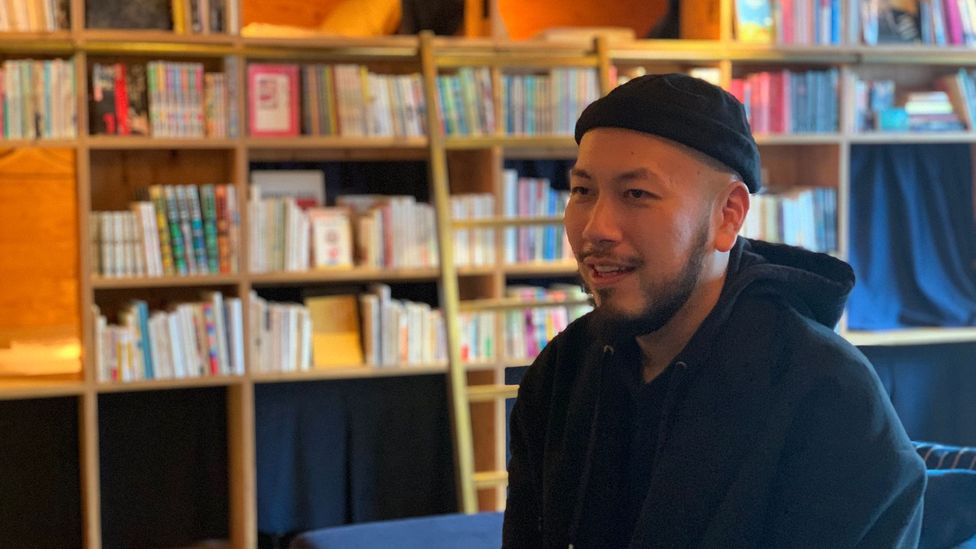 So Rikimaru, 38, started the Book and Bed chain in Tokyo that mixes elements of a hostel, capsule hotel and café. He thinks differentiating is vital (Credit: Bryan Lufkin)
Outside Japan, major hotel chains from Hyatt to Hilton have attempted to lure young travellers with spin-off lines of "boutique-lifestyle" hotels with cheaper, smaller rooms but distinctive amenities that focus on experiences: miniature golf courses, party-ready bars, or bacon-and-kale tacos.
Kiyoshi Tsuchiya, director of hotel markets and forecasting company CBRE Hotels, Japan, says that for boutique hotels the main group of customers are "leisure customers from foreign countries who are highly sensitive to fashion, foods, music – yes, the millennials".
Differentiation will be necessary for hotels to succeed
In a 2019 report, CBRE reported the number of hotel rooms in Japan's nine major cities scheduled to open between 2019 and 2021 increased 2.5-fold in one year to accommodate rapid inbound tourism growth. But it warned that by 2021 room supply would exceed demand by up to 21,000 rooms in Osaka and 12,000 each in Tokyo and Kyoto.
"CBRE believes that differentiation will be necessary for hotels to succeed," the report reads. "Boutique-lifestyle hotels that can meet the broadening needs of travellers will be ideally positioned to attract customers." It defined boutique-lifestyle hotels as those with design features based on a creative concept, offering added value and an experience in addition to accommodation.
Tsuchiya points to the eco-friendly and Instagrammable Trunk Hotel as a good example, as well as Moxy Tokyo Kinshicho, part of Marriott's lower-cost, millennial-focused Moxy chain that launched in 2014 in the US and now has locations around the world. It offers small-but-cheap rooms, communal laundry facilities and group social spaces with DJs and painted wall murals. "Play on #AtTheMoxy", its website reads.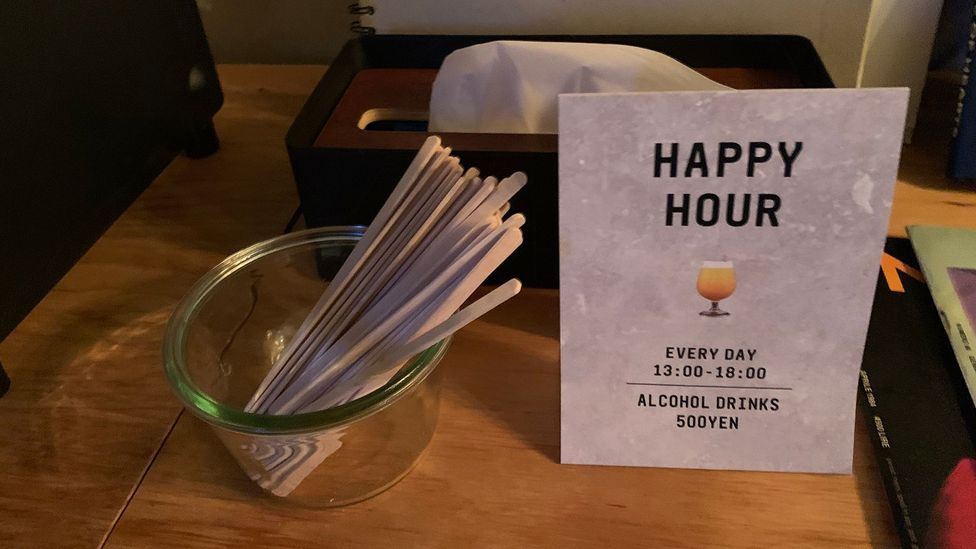 Nowadays, many hotels targeting millennials prioritise providing social events and opportunities for guests to meet each other and hang out (Credit: Bryan Lufkin)
Hipper, cheaper, culturally interesting
"This idea of lodging as an experience – Japan has a long history with that," says Maggie Rauch, a senior director of research and a head analyst at Phocuswright, a travel and hospitality research agency based in New York.
She believes Japan's smart use of limited urban space and rich hospitality culture stretching back centuries have long made its hotel industry stand out from the rest of the world. This is reflected in two lodging styles born in Japan: ryokan – traditional family-run inns with gold-standard service that have been around for hundreds of years – and capsule hotels.
You come here because you want a change of setting or mood. You can't do that at the Ritz-Carlton – So Rikimaru
In fact, places like First Cabin and Book and Bed specifically look to capsule hotels and ryokan for inspiration as a design and business model that differentiates them from typical hotels. Kimachi of First Cabin compares his airline-inspired hotels to ryokan, where guests sleep on futon mats rolled out on straw tatami flooring in rooms separated by sliding paper-screen walls and eat home-cooked meals.
"In the past, there were tatami mats and no keys to lock your room. You shared a bathroom and a bathtub," he says. First Cabin requires key cards to access each floor, but you can't lock your individual cabin. "[Our hotel] is the same style, but you have your own space or bed to sleep. It's traditional Japanese accommodation expressed in a modern system and design."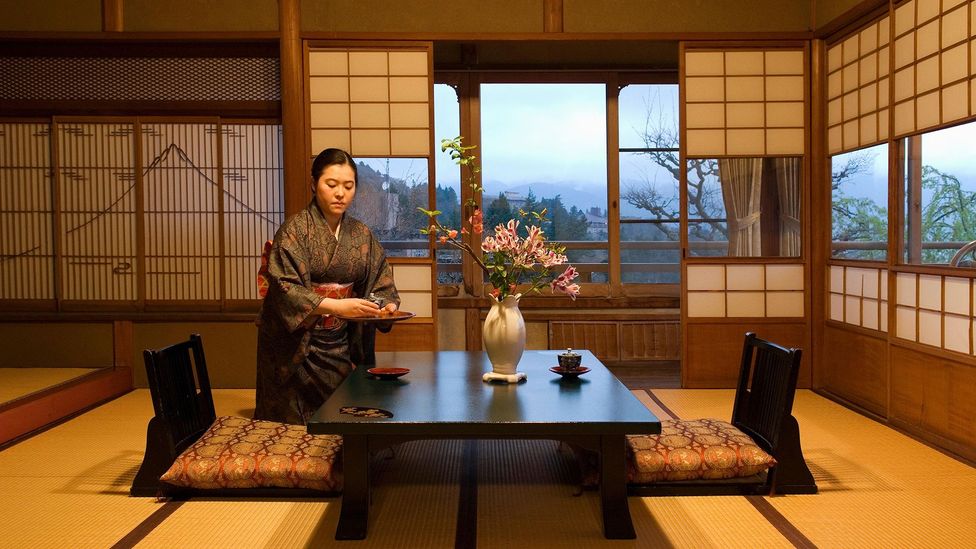 Ryokan are traditional Japanese inns known for their outstanding service, food and beauty. Some modern hotels in Japan say they still take cues from ryokan (Credit: Getty Images)
First Cabin, as with Book and Bed, also borrows elements from capsule hotels. First introduced in Osaka in the 1970s, these are bare-bones options that fit dozens of single-body-sized chambers into walls. They were originally targeted at businessmen who missed the last train home and needed a cheap place to sleep, but have since attracted a wider clientele and even spread to other countries.
The owner of Book and Bed, So Rikimaru, calls his chain an "updated capsule hotel" with social experiences. "You come here because you want a change of setting or mood," he says. "You can't do that at the Ritz-Carlton. We offer a cheap price. You can make friends. This place is unique because we have these customers." Rikimaru says 40% of his guests are domestic tourists, 40% are from overseas and 20% are Tokyo residents.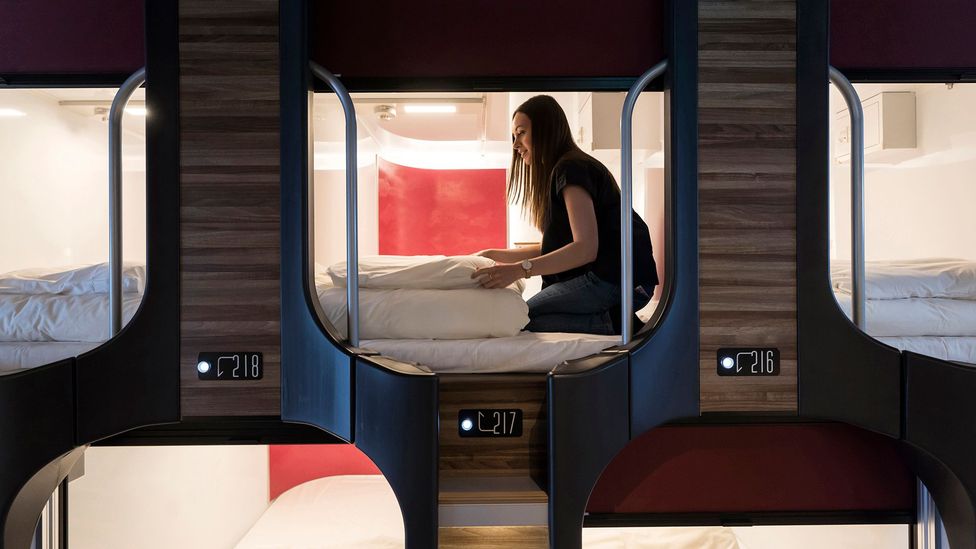 Today, many of the cheaper, themed hotels aimed at young people and budget travellers take heavy design influence from Japan's capsule hotels (Credit: Getty Images)
So far, Japan's hotel industry has remained relatively untouched by Airbnb because of strict government crackdowns that are only just recently lightening up.
"Japan's watched that play out in other countries – they know this is something to take seriously," says Rauch. And she believes the ways Japan uses space and adapts tradition for a modern era is something that other countries could learn from when it comes to differentiating or competing with short-term rentals.
At Book and Bed Tokyo, guests seem to enjoy the fact that it offers the kind of unique experience that you can't get at an Airbnb, hostel or "regular" hotel. And places like these – hipper than hostels, cheaper than hotels and with uniquely Japanese elements – may play a key role in sustaining the hotel economy after the Olympic boom ends.
Eri Betsui, 34, who works in a mobile phone shop and lives in Tochigi prefecture, about 100km north of Tokyo, is checking in for her stay at Book and Bed for a solo holiday. She says she specifically seeks out accommodations like this when travelling.
"I don't usually stay at a regular hotel – I want to stay at a unique place, always," she says. "Where you stay is part of the trip."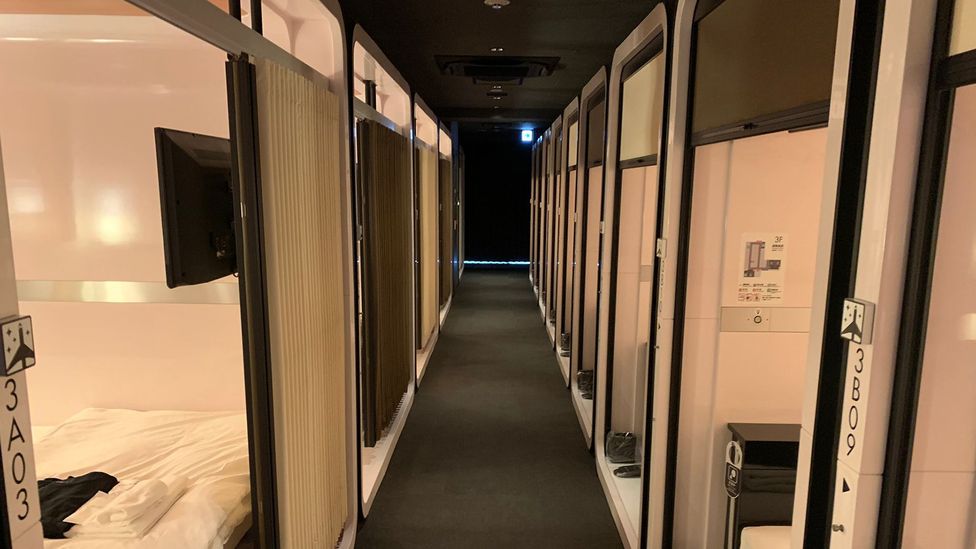 Down the hallway of a First Cabin hotel (Credit: Bryan Lufkin)
Additional reporting by Yoko Ishitani and Mari Murakami.