A few years ago, vegan fast-food choices were limited – yet now the vegan sausage roll is a high-street staple. What's behind its meteoric rise?
B
Blair Azzopardi knows his sausage rolls – those British staple snacks that are essentially sausages inside a baked pastry log. He ate his fair share of the flaky, savoury pastries as a child, which inspired him as an adult to try making them for his family. Azzopardi, a 43-year-old quantitative analyst living in the English county of Kent, has been vegan for six years. But that isn't an obstacle to his sausage roll consumption.
Of course he's tried the vegan sausage rolls from bakery chain Greggs, which debuted early in 2019 and caused an immediate sensation. There are plenty of other options too; off the top of his head he can name several supermarkets and cafés selling vegan sausage rolls, while his homemade version – store-bought sausages wrapped in ready-to-roll puff pastry – is simple and tasty.
It's a far cry from Azzopardi's early days of veganism, when choices were much more limited. Vegetarian brand Quorn, which makes the mycoprotein used inside Greggs' vegan products, didn't even have vegan products in the UK until 2015. But today the vegan sausage roll has become a fixture of the British high street; early this year, coffeeshop chain Caffè Nero rolled out its own version. It also contributed to a year-on-year sales increase of 13.5% for Greggs, and a subsequent windfall for both shareholders and staff.
So how did the vegan sausage roll come so far, so fast?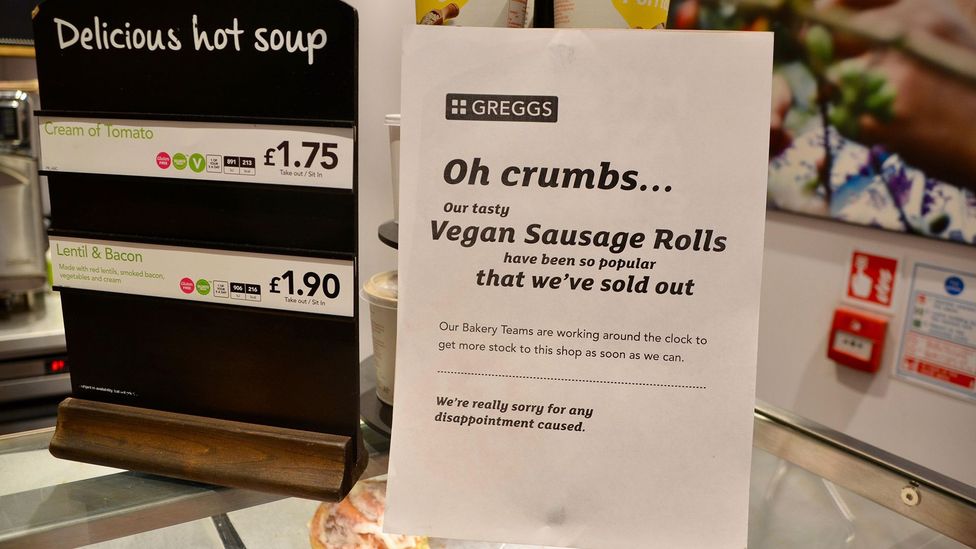 The vegan sausage roll has led to a 13.5% sales increase for the supermarket chain Greggs since it introduced the product last year (Credit: Alamy)
Veganising a meaty British staple
The sausage roll is a ubiquitous snack in the UK. "Kids grow up on these types of treats and a lot of young people really wanted something that works with their new ethics, so demand was there," says Azzopardi of the market for a vegan version.
"It's one of the staples when someone thinks of fast food," agrees Chrysostomos Apostolidis, who researches food marketing at Northumbria University in England. It also helps, he points out, that sausage rolls tend to use low-quality meat and that nearly every vegan meat producer has a sausage product. This was ripe for veganising at low cost.
[Sausage rolls are] one of the staples when someone thinks of fast food - Chrysostomos Apostolidis
Greggs wasn't the first UK bakery chain to trial a vegan sausage roll. According to a representative of the smaller chain Poundbakery, they started selling vegetarian sausage rolls in 2016 and a vegan version in 2018. Similarly, the Vegan Antics independent bakery in the English town of Gravesend included vegan sausage rolls on the menu when they opened in 2017.
But it was the move by Greggs – a nationwide chain with over 2,000 shops – that brought the vegan sausage roll into the national spotlight. It had apparently been mulling the idea for a while; Dawn Carr, director of vegan corporate projects at animal rights organisation Peta, says the charity first suggested in 2015 that Greggs roll out a vegan sausage roll. The chain outlined plans for a vegetarian sausage roll in 2018 but its CEO said creating a tasty vegan version with broad appeal was "more difficult to achieve". Hungry vegans responded with a petition, which was signed by over 20,000 people.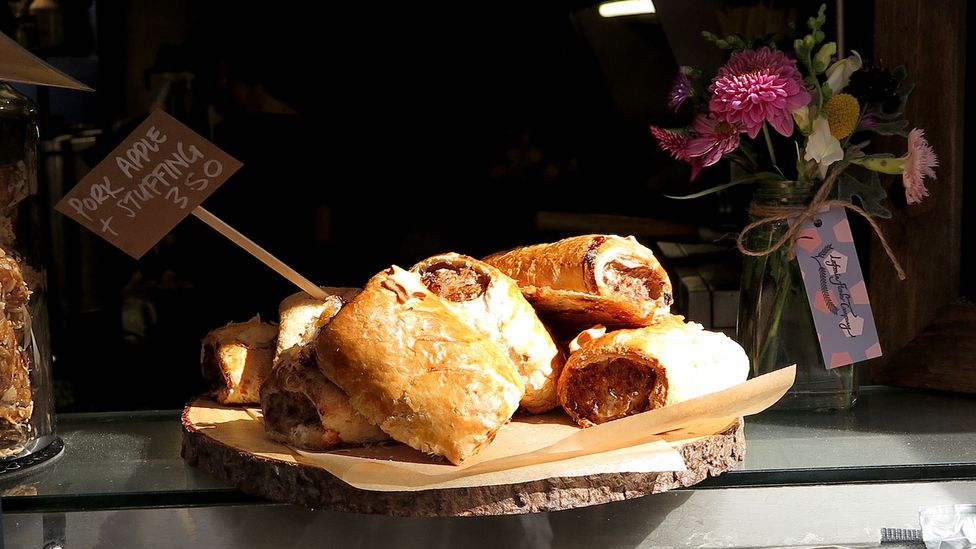 Behold, the sausage roll: a staple of British snacking. Its 'veganisation' has taken the country by storm (Credit: Getty Images)
A Greggs representative acknowledges the role of the petition but comments, "our research into the UK vegan market revealed that as few as 20% of Brits would even consider going vegan, suggesting a large majority are still undecided or resistant… Recognising that the vegan sausage roll needed to appeal to people on both sides of the dietary divide to make it, we knew we needed to position it as something much bigger than just another vegan product."
Part of its success was down to savvy PR. Greggs launched its vegan sausage roll early in 2019, when the company knew the product would make a splash as part of "Veganuary", a UK campaign encouraging people to follow a vegan diet for the first month of the year. The PR team invited plenty of journalists to try the product, with vegan sausage rolls wrapped in faux iPhone packaging, and created a comically over-the-top promotional film.
Statistics show that 39% of British omnivores are actively reducing their meat consumption
They also received an unexpected hit of publicity from controversial TV presenter and columnist Piers Morgan, who famously tweeted: "Nobody was waiting for a vegan bloody sausage, you PC-ravaged clowns." The backlash was fierce. Greggs' social media team mounted a cheeky counterattack, and Morgan was heavily criticised for his overreaction. There was so much resulting goodwill for Greggs that the incident led to a conspiracy theory that Morgan had teamed up with the company to drum up attention.
Greggs' success has led to a raft of copycats, even a foot-long version at supermarket chain Morrisons. "Leading [British] companies like Tesco, Morrisons and Marks & Spencer are tripping over themselves to release vegan sausage rolls – and global brands like Fry's Family Food and Linda McCartney are also making the most of this in-demand product," Peta's Carr says. "We've also spotted family-owned bakeries – from Cooplands in Yorkshire to Coughlans Bakery in Surrey – taking advantage of the hype and offering their own hand-crafted versions."
New consumers
So far, the market seems to be holding up. Vegan Antics cofounder Grace Apps believes that Greggs' vegan line is ultimately positive, especially in locations without dedicated vegan businesses. "We personally haven't felt negative effects of Greggs' sausage roll launch, as our pastries are still as popular as ever, but it is a future concern as bigger companies introduce more vegan options at competitive prices," Apps says. After all, a vegan sausage roll from Greggs or Poundbakery (which sells 2 for £1, or $1.31) could be one-third the price charged by an indie bakery.
But who exactly are the people buying these new products? After all, vegans only make up 1 to 2% of the British population, and vegetarians 7 to 10%. And while global demand for plant-based protein has risen dramatically, up from £2.9bn in 2015 to an expected £4bn in 2020, marketing lecturer Apostolidis believes vegans aren't the only ones propelling meat substitutes in the UK. 
"The media, and probably we as a country, blow things out of proportion when we focus so much on the vegan segment," he says. "What has grown exponentially is actually meat reducers or flexitarians."
Statistics show that 39% of British omnivores are actively reducing their meat consumption, and indeed half of meat-alternative sales are actually due to meat eaters. Apostolidis calls himself a meat reducer; he's cut down on red meat, though he finds it hard to let go of bacon. Flexitarians like him are very attractive to food marketers. For one thing, while people over the age of 55 are more hesitant about vegetarian and vegan foods, younger consumers have been leading the change. The customer lifecycle is longer.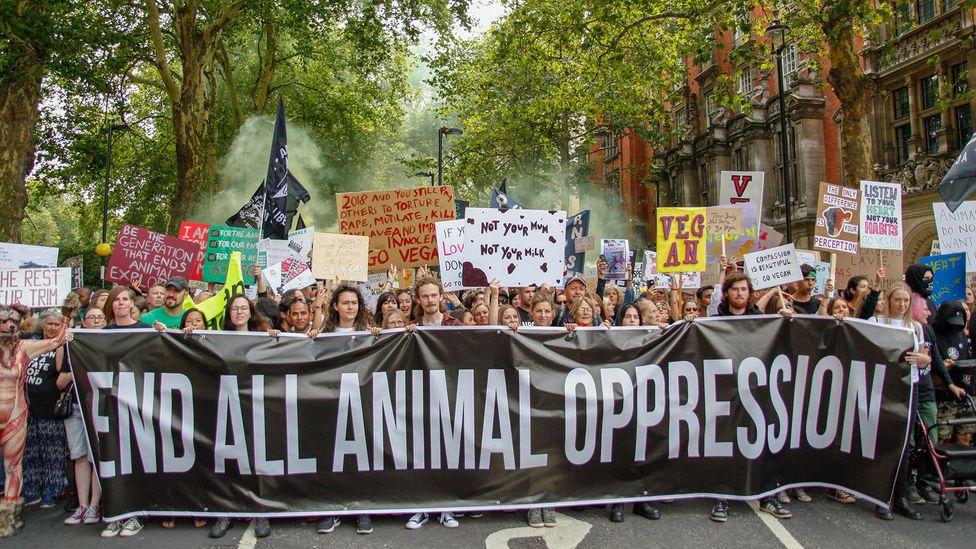 Veganism has been on the rise - vegan and animal activists held a march in London in 2018 (Credit: Getty Images)
The majority of those limiting their meat consumption (over 80% in one study by Apostolidis and a colleague) are motivated primarily by health. This is a key difference to the reasons people go vegan or vegetarian. So while many may profess a desire to help the environment or animal welfare, when it comes to actually replacing meat, appealing to the health benefits is likely to have the biggest impact.
The paradox is that many vegan products that attract a big buzz, like Greggs' vegan sausage roll, are far from healthy. "Consumers are quite funny," Apostolidis comments. "Although they claim that they're trying to reduce meat because it's unhealthy, at the same time, they're not willing to give up on the products they are used to or that they like. So when we say that something is meat-free, instantly, they believe that it would be healthier."
The next big vegan thing
Meteoric though the rise of the vegan sausage roll market appears to have been, it's not yet possible to accurately determine its size. Sales of meat-free foods in the UK rose 40% from £582m in 2014 to an estimated £816m in 2019, according to market intelligence agency Mintel. Edward Bergen, Mintel's global food and drink analyst, says, "It's very challenging to quantify the size of the vegan sausage roll market, because most sales are likely to be unbranded via food service outlets, such as cafés and bakeries, and their sales data is not readily available to people outside their organisations."
And the Britishness of the sausage roll makes Apostolidis sceptical that vegan sausage rolls will take off overseas. "In the long term, what needs to happen is incorporating meat-free products in… the products that people are familiar with, rather than bringing something that is a bit of a strange product to them."
That's what's happening in the UK; in 2019, 23% of new food products were labelled as vegan, an increase from 17% the year before. And new launches keep coming. "In the first week of January 2020, [café chain] Costa launched its vegan Smoky Ham & CheeZe Toastie, Greggs released a vegan steak bake, and [fast casual chain] Pret [a Manger] introduced a jammy new dairy-free croissant – to name just a few," says Peta's Carr.
Yet Apostolidis warns, "What I wouldn't want to see is this becoming a bubble." He urges companies to properly commit to meat-free products rather than jump on a bandwagon, by being strategic and devoting sufficient resources to these new items. He sees these as instrumental to Greggs' success with its vegan sausage rolls.
This kind of strategic thinking would be a win-win-win for customers, businesses and the planet alike.