'Wellness tourism' is a growing industry, supported by travellers actively seeking ways to enhance their well-being on the go. Now, major lifestyle brands want a piece of the pie.
F
Feel like waking up in a luxury hotel to a nutrient-rich meal of local cuisine, before scaling a mountain alongside a veteran fitness trainer? How about a few days of surfing on a private beach, with regular meditations within the tranquil Costa Rican jungle? Or perhaps you'd rather perfect your cycling technique – mindful, of course, that acupuncturists are on hand to ease that post-ride soreness. Welcome to the world of wellness tourism, the latest frontier in living our best lives.
The world of wellness – a global economy of care and workout offerings, nutrients, alternative medicine and more that reached $4.5 trillion in 2018 – has witnessed a triumphant ascension over the past decade. Popular perceptions of the importance of diet, fitness and healthy practices have transformed, powering vibrant new business sectors. And as wellness evolves and expands, auxiliary markets from food and drink to hospitality are starting to provide products that reflect the values of today's health-conscious consumers.
Major companies broadly focused on the wellness lifestyle like fitness chain Equinox, indoor cycling chain SoulCycle and sports clothing retailer Lululemon are no different. As the lines blur between their products and the lifestyle they're seeking to promote, these brands are taking steps to cater to all facets of their customers' identity. Now all are moving into the tourism sector, offering multi-day excursions for members with health and fitness at their core.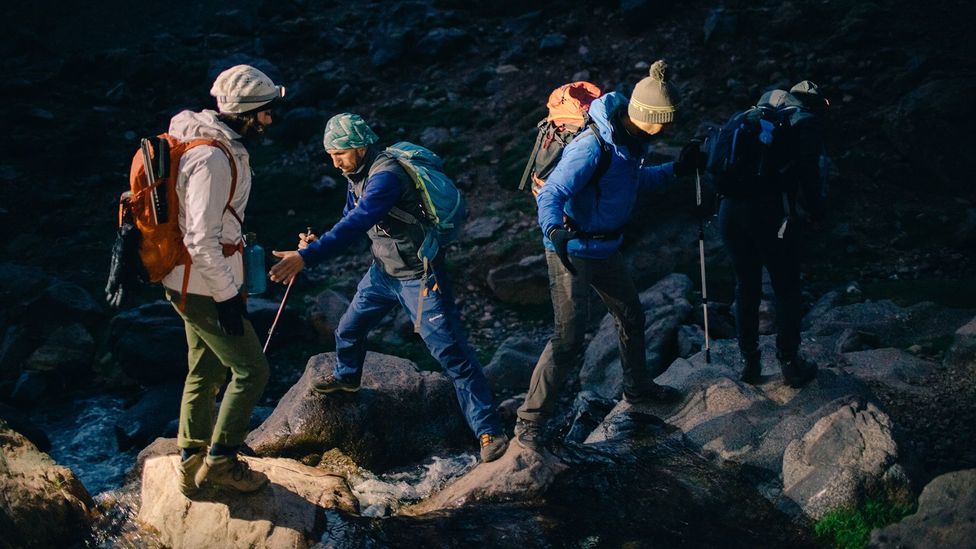 Reports indicate that three quarters of American adults are actively seeking ways to improve their health, according to research director Gabrielle Lieberman (Credit: Equinox)
Wellness tourism is defined by the US-based non-profit Global Wellness Institute (GWI) as "travel associated with the pursuit of maintaining or enhancing one's personal well-being". While 'activity' holidays have existed for years, embarking on one of these new journeys – from hiking in Morocco with Equinox to sailing towards the Italian Riviera with Goop's Gwyneth Paltrow – usually means a luxurious bounty of strictly curated meals, supervised workouts and an emphasis on mindfulness and enlightenment.
While critics might highlight these trips, which often come with price tags of several thousand dollars, as another example of how wellness is most accessible to the most affluent, proponents say they offer opportunities for personal betterment and community engagement. So what does their emergence augur for the rapidly expanding wellness sector?
New frontiers
From 2015 to 2017 the wellness tourism market grew from $563bn to $639bn, or 6.5% annually – more than twice as fast as the growth of tourism overall, according to GWI. By 2022, GWI predicts the market will reach a whopping $919bn – representing 18% of all global tourism – with well over a billion individual wellness trips to take place around the globe. Anne Dimon, president of the Wellness Tourism Association, adds that while wellness travellers can be anyone, the bulk tend to be higher-educated women between ages 30 and 60.
Yet despite its new visibility, the idea of travelling with the express purpose of improving well-being is by no means novel. Think back to the pilgrimages taken to the Dead Sea, ancient baths in Rome and natural hot springs across Asia – or the yoga retreats and Thai colon-cleansing holidays of more recent decades. But according to GWI, wellness tourism today is about much more than the destination or activities – it is an extension of the very values and lifestyle of the traveller.
'Primary' wellness travellers at the domestic level spend about 178% more than the average traveller
"All around the world, more people are incorporating elements of health, prevention, self-actualisation, experience and mindfulness into their daily lives," its 2018 report says. "It is not a surprise that people now expect to continue their healthy lifestyles and wellness routines when they are away from home."
In the case of brands like Equinox, a US-headquartered fitness club known for its lavish amenities and hefty membership cost (over $3,000 per year for some), these values have translated into a new line of holistic, luxurious wellness trips aimed at the bodies, minds, souls and stomachs of the affluent. Members who sign up for a trip are what Beth McGroarty, director of research at GWI, describes as 'primary' wellness travellers – people who travel with an exclusive focus on wellness-centred experiences or destinations.
And although this group only makes up 14% of wellness tourism spending – the other 86% comes from 'secondary' travellers who incorporate wellness activities into otherwise standard business or leisure trips – their average trip cost is much, much higher. "[Primary] travellers at the domestic level spend about 178% more than your average traveller," McGroarty says. "And at the international level, they spend 53% more."
For Equinox, moving into tourism means recreating the extravagance of their brand in new locales. And so far, filling spots with willing 'primary' travellers has been an easy task. Leah Howe, senior director of Equinox Explore (the brand's travel line) says that almost 100% of its clubs have expressed interest in attending a trip. Several of the six excursions planned for 2020, each limited to 12 to 20 people, have already sold out.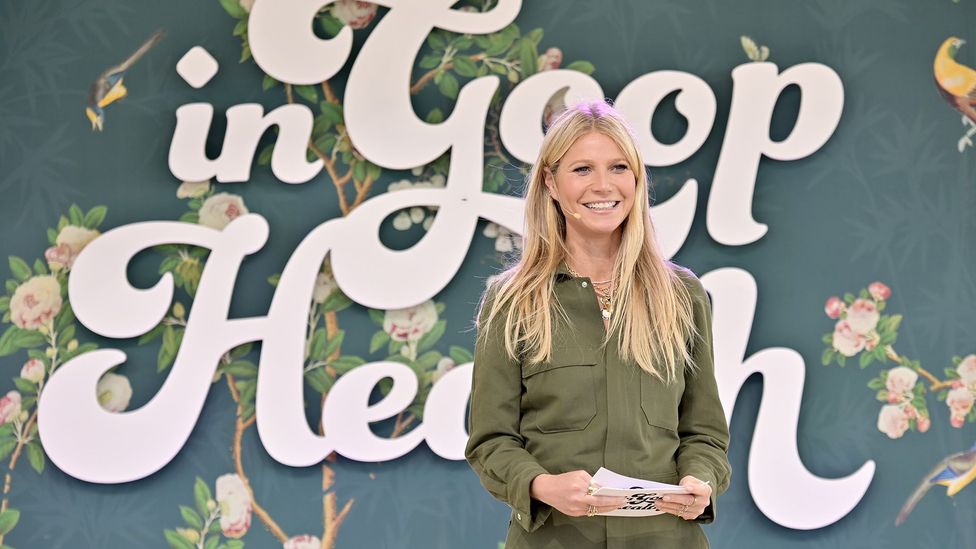 Goop, a lifestyle company founded by Gwyneth Paltrow known for its unique and controversial wellness products, announced its debut cruise for August 2020 (Credit: Goop)
The cheapest of the bunch (a four-day running tour of Florence) starts at $2,350, while the priciest (six days of hiking in Morocco) begins at $6,250. Attendees who can afford the latter will summit Mount Toubkal, the highest peak in the Arab world, alongside two professional trainers, dine on local cuisine and engage in breathing sessions, yoga and hammam treatment.
The goal with Explore, Howe says, is for members to return home feeling better than when they left. The attendees are intent on maintaining their focus on health, fitness and luxury even while away. It's because of their pre-established connection to the brand that they trust Equinox to be the authority in the travel space and beyond, she says.
Proven practices?
Some might argue that allegiance to particular brands can be far more costly than necessary. Contrary to what some providers might suggest, maintaining wellness can be simple and relatively inexpensive. "The basics of good health are straightforward," says Margaret McCartney, a Glasgow-based general practitioner and author. "Not smoking, careful with alcohol, diet with fruit, veg and wholegrains, exercise, social connectivity."
The benefits provided by wellness brands can be numerous, but as the industry swells is there a risk we're being persuaded to spend excessively? That depends, says David Colquhoun, a pharmacologist at University College London and author of science-debunking blog DC's Improbable Science. "Nobody could possibly be against well-being. It would be like opposing motherhood and apple pie," he wrote in 2011. "The only question that really matters is, how much of it works?"
Goop's first tourism venture will take place aboard a cruise ship, where attendees will participate in workshops, panels and a workout
The high-end wellness tourism sector is a broad spectrum. Offerings from brands like SoulCycle or Equinox revolve around fitness and healthy eating, all wrapped in luxury that allows members to forget about logistics and focus on their betterment. Yet the industry at large also includes companies criticised for promoting scientifically unproven products and practices, like food manufacturers with dodgy interpretations of "natural" foods, "homeopathic" diet products made illegal or "barefoot" running shoes with greater injury risks.
Goop, the vastly successful lifestyle brand founded by American actress Gwyneth Paltrow, has received the most scrutiny for its own wellness products, which many say rely on faulty pseudoscience. Most recently, its Netflix programme The Goop Lab – which explores the effectiveness of alternative therapies – was described as a "considerable health risk" by Simon Stevens, chief executive of public body National Health Service England.
In January, the company announced it would be taking its own step towards the tourism industry with a debut cruise. Attendees who purchase Suite Class accommodations aboard Celebrity Cruises' Celebrity Apex ship on 26 August for an 11-night voyage between Spain, France and the Italian Riviera (with a starting price of more than $2,000) will experience one day of Goop-hosted panels, classes and a workout, as well as see Paltrow in person.
Equinox offers a six-day, $6,250 hiking expedition, where attendees can summit Mount Toubkal, the highest peak in the Arab world (Credit: Equinox)
Kiki Koroshetz, Goop's wellness director, says she hopes guests might take home "a new perspective on a mental loop that plays regularly in someone's mind. It might be a tool for managing stress, for having a difficult conversation, for experiencing more joy, for finding connection." Pseudoscience notwithstanding, if the sign-up sheet follows the lead of previous sold-out Goop events, the initiative will look healthy from the start – demonstrating that for this brand of wellness tourism too, there's an appetite.
"Goop understands this and has built its brand on the foundation of curiosity and non-judgement, and has been incredibly successful in building a community along the way," says Gabrielle Lieberman, director of trends and social media research at market research company Mintel. "As consumers set out for a more holistic approach to managing their well-being, it makes sense then that they would want this to extend into their travel experiences as well."
Finding your community
Whatever the exact content of these wellness trips, those within the industry agree that the sense of community attendees experience is a key takeaway.
McGroarty says reserving a spot on a branded trip can feel like buying into a tribe. Dedicating the time, resources and energy to a multi-day trip is a serious commitment, even for those who can afford it, and ensures you will be surrounded by people who share your sensibilities. According to Howe of Equinox, this connection inspires a certain feeling that can't be found exercising or meditating by yourself.
If wellness tourism growth remains steady, experts predict the industry will be valued at $1 trillion in a few years
The concept, first coined by French sociologist Émile Durkheim in 1912, is called "collective effervescence", and refers to the way communal gatherings can intensify the experience of the group. The intoxication of shared activities, such as a yoga class or group hike, can enhance the emotional quality and create deep bonds between the actors, Durkheim surmised. Despite their differences, both Equinox and Goop understand this idea, and accordingly advertise it as a centrepiece for travellers.
"The communal aspect is key," agrees André Spicer, professor of organisational behaviour at City University London and co-author of The Wellness Syndrome. In addition to positive feelings in the moment, he says these trips can act as temporary replacements for the many communities that have been undermined over recent decades. "These include local communities, religions, families and so on." Wellness trips provide a brief antidote to the competition people face in their everyday lives and a chance to enjoy likeminded company, he says. For some, luxury retreats may also inspire the same brag-worthy feeling of sitting at a VIP table, a welcome addition to their other benefits.
McGroarty acknowledges that proper scrutiny of the various wellness offerings is healthy for the growth of the market. But both she and Dimon agree that if momentum keeps up, and consumers continue to be proactive about their health and stay across available options, wellness tourism will be valued at $1tn in no time.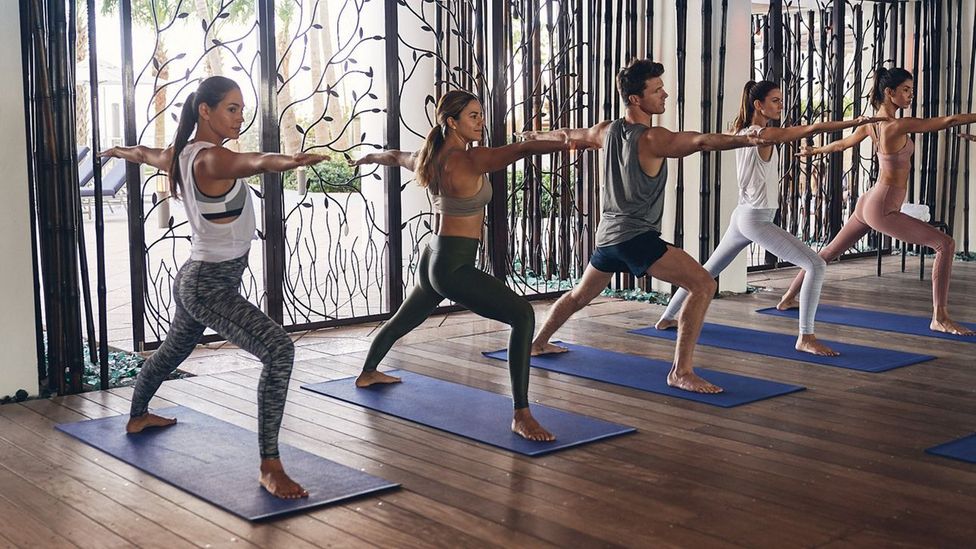 'Collective effervescence' describes the heightened emotional quality of certain group activities (Credit: Carillon Wellness Resort Miami)
The big brands spearheading new initiatives within it will certainly seek to expand, perhaps tilting the scale more towards 'primary' travellers as time goes on. Dimon believes that a wellness trip may even become an annual event that individuals undertake for the betterment of body, mind and spirit. And that might make the experience more accessible, as lower-cost providers enter the market or tourism providers pivot towards the wellness space.
Three quarters of American adults report that they are actively seeking ways to improve their health, Lieberman says. "While for most people this may mean incremental changes in how they manage their health, luxury experiences like these allow us to see what all is possible in pushing the limits.
"You'll see these wellness retreats become even less of a novelty and integrated more naturally into everyday experiences," she says. "Accessibility is key here, in that managing your health shouldn't feel out of reach."
Photo courtesy of Waldhotel.