As the nation ages, the number of Japan's deeply devoted craftspeople is dwindling – but some of the younger generation is carrying the torch in surprising ways.
J
Japan is changing: a rapidly ageing society, a record-breaking influx of visitors from overseas, and more robots than ever. That's where the country's young people come in. Gen J, a new series by BBC Worklife, keeps you up to speed on how the nation's next generation is shaping the Japan of tomorrow.
Japan is often described as a nation that loves details. There are double handrails for people of various heights, museum-worthy manhole covers, as well as intricately-designed lunch boxes with vegetables hand-carved to resemble cuddly characters.
That characterisation isn't unique to Japan – after all, Switzerland's detailed timepieces are legendary, for example. But Japan has a long history of taking the time to perfect things in minute detail.
In fact, there's a name for the sort of traditional artists who do this: shokunin. It's similar to the English word "craftsperson" or "artisan", but also more than that; the term represents especially devoted craftspeople who may spend their entire lives perfecting their art, making a living out of it and ensuring it passes to the next generation.
One good example of a shokunin is Jiro Ono, the 94-year-old sushi maestro and subject of the global hit documentary Jiro Dreams of Sushi. His tiny shop seats only 10 people, charges hundreds of dollars per person and once served US and Japanese leaders Barack Obama and Shinzo Abe.
But there are concerns that many of Japan's shokunin are getting older (along with the rest of the population), and that in many cases there is no one to replace them, particularly in rural communities hit by depopulation.
As Japan ages and automation becomes more widespread, what's the value of the shokunin legacy? Can Japan's younger generation safeguard it – or even adapt it?
How Japan made details an art
Video by Shiho Fukada and Keith Bedford.
Perfecting a niche
One next-generation shokunin is Yuya Hasegawa, 35, who owns a shop on Tokyo's upscale Omotesando browsing-and-eating avenue. He's known as a shoe-shining "Jedi" on Instagram.
He's spent most of his adult life perfecting a trade many would see as obscure, low-paying and old-fashioned. Yet he's managed to elevate shoe-shining to both an art form and a highly successful business: he runs a chain of shops across Tokyo that sells shoe products and offers courses in shoe-shining to dozens of students.
The great thing about Japanese is they want to try to make the best; try to make it perfect – Yozo Otsuki
"Fifteen years ago, when I started out on the street, the shoe-shiners were only elderly men – so just being young differentiated me," he says, wearing a sharp suit and shining a leather wingtip at lightning speed. "It takes physical strength to do this, so the more energy, the better."
Hasegawa calls himself both a shokunin and a business owner. After starting out shining businessmen's shoes outside Tokyo Station to make ends meet, he now manages a staff of nine, runs and judges national shoe-shining competitions and, like a true shokunin, has apprentices: a community of young people in their 20s-40s, he says. He approaches the work with a meticulous investment and treats the trade as an art.
"It's meaningless to just clean shoes. You need to understand the situation in which the customer will wear the shoes, what kind of job he or she does, what kind of clothes they're wearing," he says. "For example, if someone's wearing casual clothes, the shoe should shine less [to complement the casual look] and be more matted. It needs a balance – it's like women's makeup."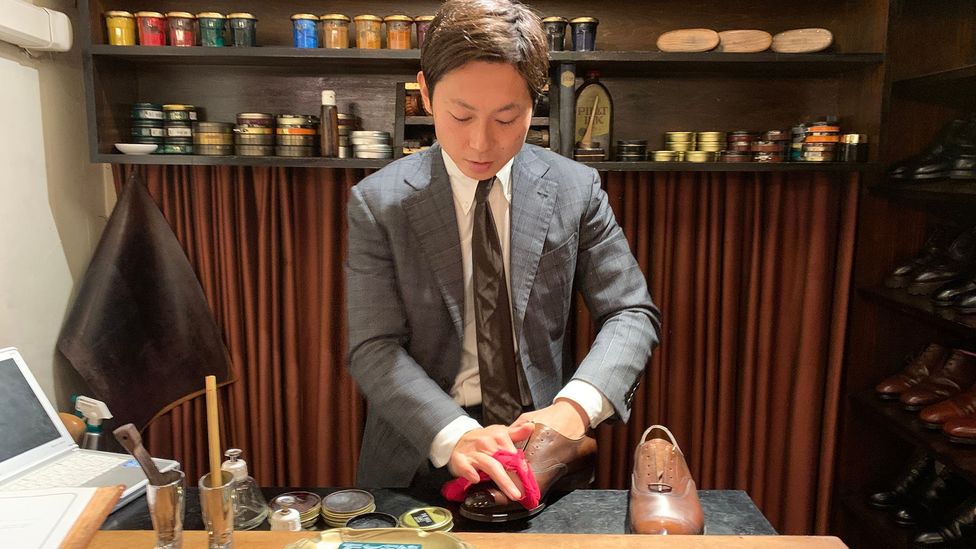 "When I started out on the street, the shoe shiners were only elderly men – so just being young differentiated me," says Yuya Hasegawa (Credit: Bryan Lufkin)
From Kyoto crafts to craft coffee
Historically, especially in places like the old capital Kyoto where craftsmanship has long been prized, shokunin artisans often spent lifetimes specialising in one specific product: making lacquerware rice bowls, carpentry for shrines, bamboo baskets. By perfecting every detail and creating a useful product, they became respected mainstays of the community.
It's still a vibe that defines Kyoto, even in the younger generation. Yozo Otsuki, 35, is a Kyoto native with artist parents who ran a jazz coffee shop decades ago. Now, after a career in international finance, he runs Kurasu, a specialty coffee chain in Kyoto. He also sells coffee roasted by Japanese roasters and coffee equipment made by Japanese designers to customers across the globe.
One product, a ceramic coffee filter inspired by origami, the Japanese art of folding paper, has attracted international attention. Its design better distributes the hot water in a pour-over brew. It was used by China's Du Jiang, the woman who won the 2019 World Brewers Cup. And Japan's coffee-brewing style in old shops like Otsuki's parents' – which involved a labour-intensive individual pour-over for each guest – impressed the founders of third-wave coffee companies like California's Blue Bottle. Taking what they saw in Japan, they then popularised the boutique coffee house culture that's swept the world in recent years, Otsuki says. Blue Bottle confirms this: "This Japanese attention to detail [was] one of James Freeman's biggest inspirations when starting Blue Bottle Coffee," a spokesperson says.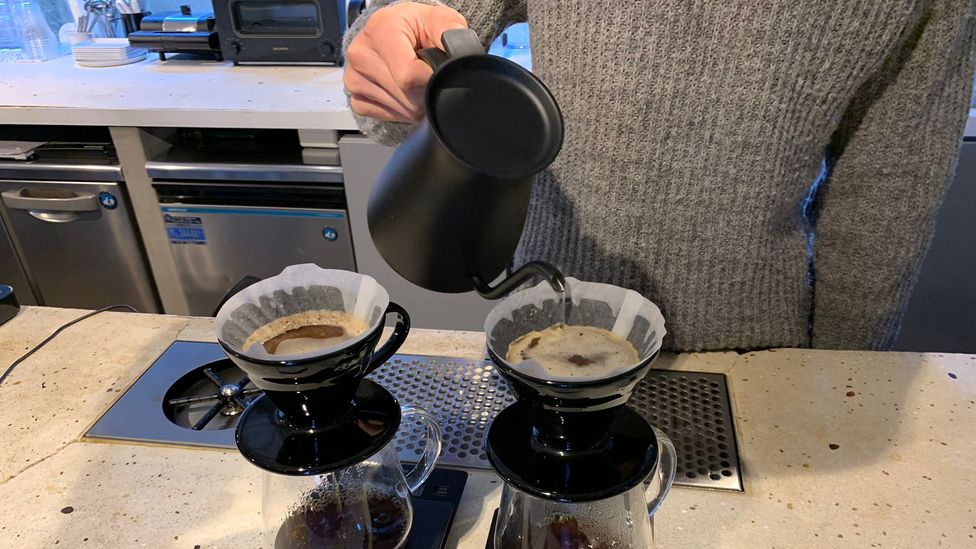 Japan's attention to detail gets global interest: Japan's pour-over style coffee influenced Blue Bottle and other big names in modern coffee (Credit: Bryan Lufkin)
"In Japan, we try to make things better with limited resources. Physically, we're just a small island, and used to be separated from the world," says Otsuki, referring to Japan's long period of self-imposed isolation from 1639 to 1854. With coffee specifically, everything had to be imported after World War Two and the product was low grade. "But the great thing about Japanese is they want to try to make the best; try to make it perfect – even if it's a bad product or the raw material isn't the best."
Robots replacing artisans
Yet, as in other countries, master craftspeople in Japan are becoming fewer in number. Young people want jobs they see as paying more while offering better mobility, and are increasingly opting for degrees instead of trade schools.
Shokunin… are disappearing because of a lack of successors – Shinya Nagasawa
There's also a diversity problem; the shokunin system has traditionally involved a father passing knowledge down to his son. While women have reached shokunin status in crafts like bamboo weaving and lacquerware, many of Japan's high-end sushi restaurants don't hire women because they believe they can't or shouldn't be top sushi chefs. So there's no female equivalent of Jiro – yet.
"Regrettably, shokunin like the traditional swordsmakers, kimono crafters, tea ceremony, they are disappearing because of a lack of successors," says Shinya Nagasawa, professor of branding at Waseda Business School in Tokyo. He questions the relevance of shokunin and their handmade products. "Most Japanese consumers agree [there is a] crisis, but do not buy."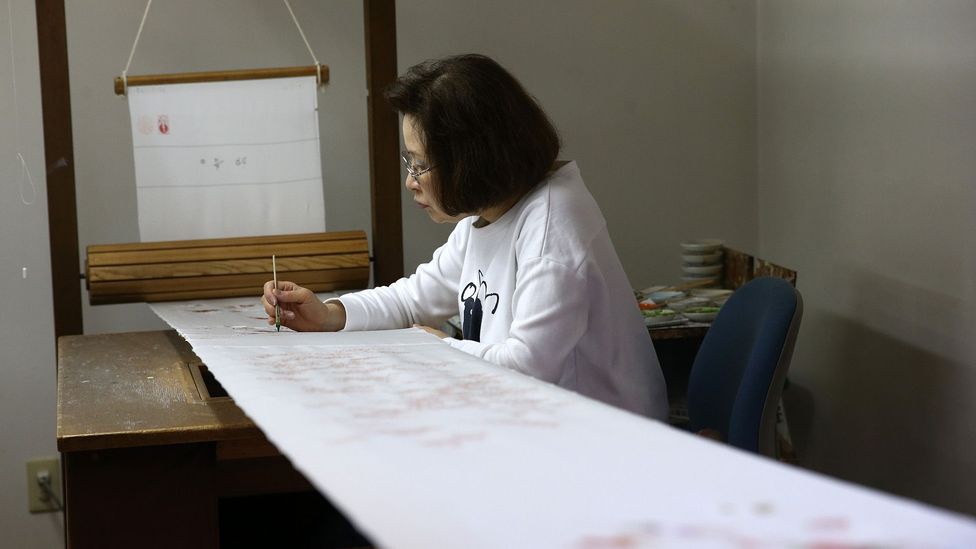 As Japan's population rapidly ages and shrinks, the future of shokunin is unclear, especially as more young people opt for a four-year university (Credit: Getty Images)
The statistics would seem to agree. "Output of traditional craftsmanship has declined from 540bn yen ($4.8bn) in 1983 to 96bn yen in 2016, according to the Association for the Promotion of Traditional Craft Industries," says Takeshi Tashiro of the Peterson Institute for International Economics (PIIE), a nonprofit research organisation in Washington, DC.
More workplaces are using automation, too – deploying increasingly sophisticated robots which can perform intricate-but-repetitive physical jobs. Car manufacturer Nissan is one example; it is investing in "bringing craftsmanship to robots" by combining high-tech automation with human artisanal skills built up through years of on-the-job experience.
Tetsuya Obata, manager of Nissan's engineering planning section, says robots are being trained to apply sealant to car doors in the factory assembly stage. A worker with 15 years' experience on the production floor – who knows exactly how much pressure to apply and which angle to guide the spatula-like tool that applies the sealant – explained his process to programmers, who then created a robot that now does the same thing. The human employee isn't a shokunin but is something similar called a takumi – an artisan whose work isn't quite as regimented or repetitive as a shokunin, but still requires lots of training and attention to detail.
Obata says that the pool of people with these 'takumi' skills is decreasing, as the workforce shrinks and more young people opt to pursue degrees. So Nissan wants to roll out more of these robots, using the existing skilled craftspeople to work alongside robotics experts to teach robots to do their precision tasks.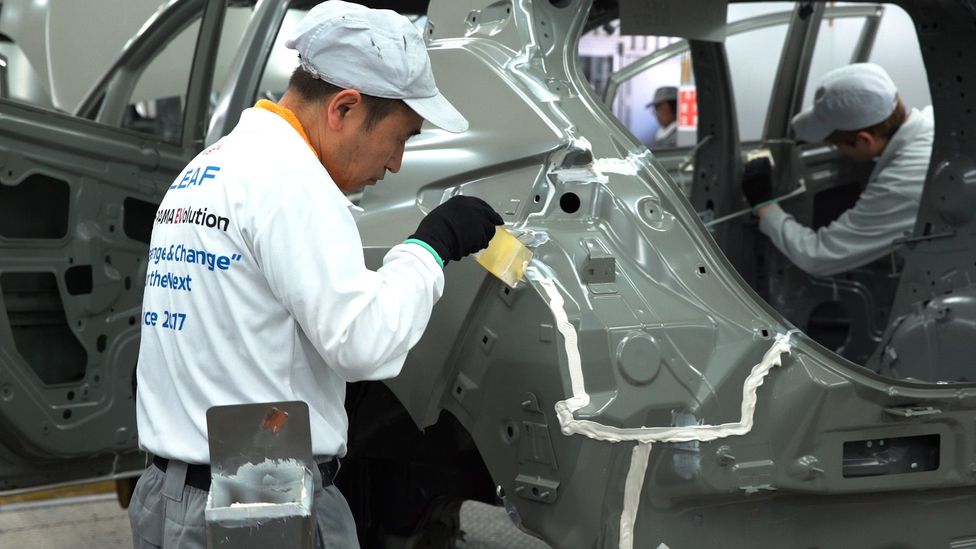 Yokohama-based car manufacturer Nissan employs craftsmen on their floor to do detailed work like apply sealant – and are teaching robots to do the same (Credit: Nissan)
Balancing art and reality
Yet not every repetitive, intricate task can be automated. And, as Takeshi Tashiro of PIIE says, "traditional craftsmanship has still huge economic value", pointing to Japan's recent record-breaking tourism, in which sipping handmade green tea or trying on kimono are huge draws. Whether it's consumables or cars, Japan continues to have a reputation for keen attention to detail that attracts global interest. It could be that for the shokunin ethos to continue to thrive, the products themselves may have to change. The trick might be to marry shokunin craft with products – like specialty coffee and good shoe-shining – that are more in demand.
Nagasawa points to collaborations between global luxury brands and old Japanese businesses that give traditional goods a modern twist as one solution. For example, in 2017, Hermes partnered with Karacho, a Kyoto-based hand-printing studio founded in 1624, to make bound, handheld notebooks with vibrant patterns. Back in 2007, Louis Vuitton teamed with artisans in Ishikawa prefecture to make limited-edition lacquer accessory cases, while Gucci and Tiffany have also collaborated with Japanese artisans.
Tashiro also believes that shokunin-style attention to detail can be leveraged to boost Japan's soft power. "Many anime and video games are inspired by such craftsmanship, and vice versa," he says. Last November, Mataro, a century-old company in Tokyo that makes traditional Japanese dolls, released a gorgeously intricate stuffed Pikachu to celebrate the launch of the latest Pokémon game. Efforts like these could help safeguard shokunin in the future.
For Hasegawa, survival may mean balancing art with financial realities, so he can sustain his community of shoe-shining shokunin. "If I'm just a shokunin, I can't expand the business. I didn't see many shoe shiners – I saw elderly people doing it, and they quit," he says. But now a big part of what he does is teach his apprentices his talent so they can carry the torch.
"They're young and hip and cool. I want to bring shoe-shining to the fashion world," he says. "I wanted to bring shoe-shining to another stage."
Additional reporting by Yoko Ishitani.