Swedes are used to living alone, following rules and championing innovation. How much will these social norms help during the coronavirus crisis?
W
While people around the world are climbing the walls due to coronavirus lockdowns and social distancing, 21-year-old Swede Cajsa Wiking is unfazed by the prospect of spending time alone in her one-bedroom apartment in Uppsala.
"We are pretty good at staying home and aren't very social compared to other cultures...so that makes it easier for us," she says. "I'm doing things like organising my closet, working out at home and I'm also reading more."
More than half of all Swedish homes are made up of one resident, the highest proportion in Europe
More than half of all Swedish homes are, like Wiking's, made up of one resident, the highest proportion in Europe, according to Eurostat figures. The most common age to move out from your parents' place is between 18 and 19, compared to an EU average of 26.
Some experts believe that these living patterns might help stem the spread of coronavirus; in current hotspots for infections including Italy and Spain, it is – by contrast – much more common for large families to congregate under one roof.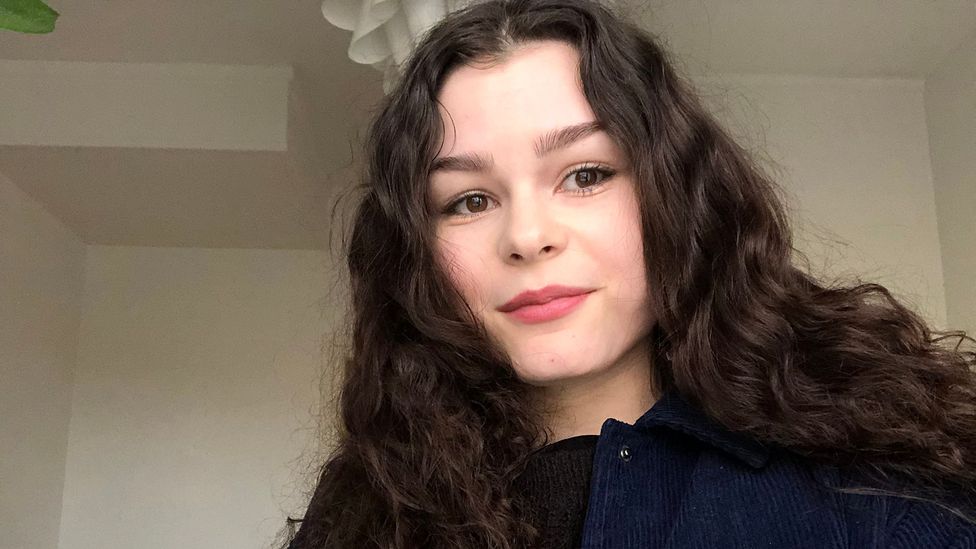 As well as working from home, Cajsa Wiking is exercising, reading and tidying more to keep herself occupied (Credit: Cajsa Wiking)
"If you have a household with several generations, of course you are going to have a quick spread," says Björn Olsen, a professor of infectious diseases at Uppsala University. "We have a lot of single people living in Stockholm, in the big cities in Sweden, and that could sort of slow the pace a little bit."
Other commentators have pointed out the way many Swedes already behave when they're outside in public spaces: it's the norm to avoid sitting close to others on public transport and unusual to strike up small talk with strangers in shops or cafes.
As for social distancing, Swedes already have that down – Lola Akinmade Åkerström
"As for social distancing, Swedes already have that down and naturally gave each other tons of physical space way before the coronavirus pandemic hit," says Lola Akinmade Åkerström, an author on Swedish culture.
Swedes are also used to "staying at home at the slightest inkling of a headache", she adds, a sign that those with mild coronavirus symptoms are perhaps more likely to hunker down.  This is partly because employers tend to encourage staff to take time off if they have coughs or colds to avoid sickness spreading within companies, while Sweden offers generous sick pay compared to many countries.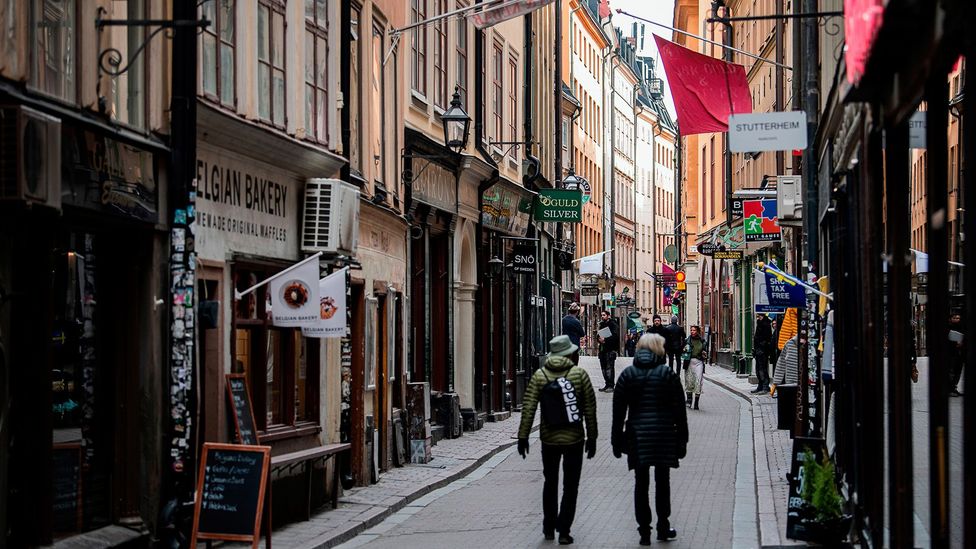 Sweden is keeping primary schools, restaurants and bars open and encouraging people to go outside for a nip of air (Credit: Getty Images)
Collective responsibility
Sweden's more formal efforts to tackle the coronavirus are controversial. Unlike in neighbouring European countries (including Denmark, which currently has a similar number of fatalities), public authorities are avoiding stricter measures and following a strategy of trying to slow down the spread of the virus in a calm and controlled way, while focusing on the protection of vulnerable groups.
This means schools for pupils under 16 remain open as well as most shops. Pubs and restaurants are still in business offering both table service and takeaway, although they've been asked to stop serving people at counters, and all events for over 50 people have been banned.
The government has asked people to follow authorities' advice and take voluntary collective responsibility for slowing the spread of coronavirus. This includes working from home where possible, especially in the capital, self-isolating if you're sick or over 70, and avoiding all non-essential travel.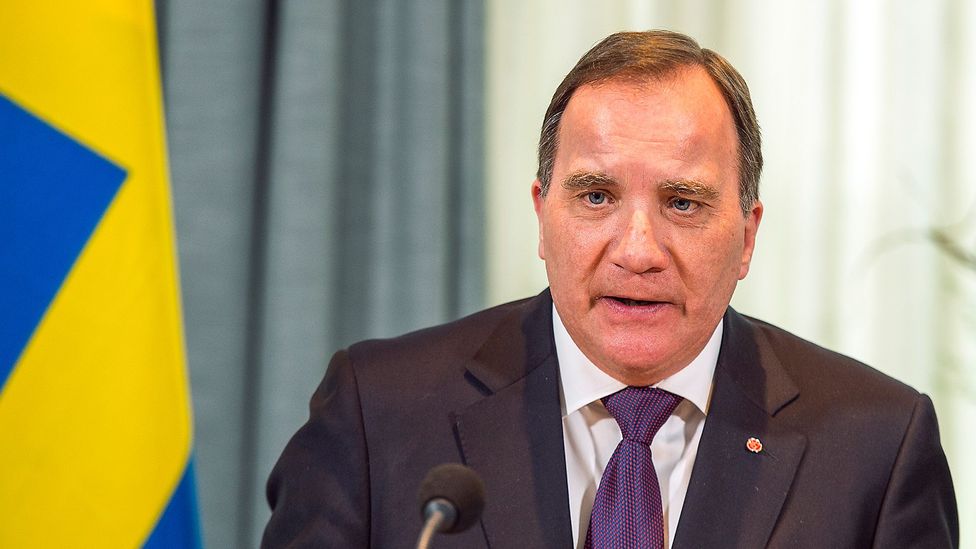 Swedish Prime Minister Stefan Löfven calls on Swedes to take responsibility in stopping the spread of the Coronavirus in a televised national address (Credit: Getty Images)
"We who are adults need to be exactly that: adults. Not spread panic or rumours," Prime Minister Stefan Löfven said recently in his first televised address to the nation since the start of the crisis. "No one is alone in this crisis, but each person has a heavy responsibility."
The public's response so far is largely indicative of the nation's long-standing confidence in the state. A majority of Swedes watched and approved of his speech and believe the country can tackle the crisis well, according to a nationwide survey for Novus, a major polling company.
Stockholm's public transport company SL says it saw passenger numbers fall by 50% on subway and commuter trains last week. Polls suggest three-quarters of Swedes are keeping at least a metre away from others at least some of the time. At least a third of Stockholmers are remote working, while Stockholm Business Region, funded by the city council, estimates that levels are well above 90% in the capital's largest companies. Swedes also haven't been panic buying as much as in other countries, although Lola Akinmade Åkerström remarks that "for one of the world's top producers of toilet paper, it was surprising to witness the initial mad rush to stockpile toilet roll".
But not all Swedes are taking the virus seriously. "I've still seen a lot of people [on social media] still hosting birthday parties with maybe 50 guests and going out clubbing, thinking nothing is the matter with that," says Cajsa Wiking. "So I think definitely it is still a problem here, although it's different from other countries."
"People are really keen to try and meet up, maybe because of the lack of social interaction you normally get through work," adds Christoffer Carringer, a 29-year-old TV producer in Stockholm who says most people he knows are now working from home. He says his friends are "trying to be responsible" by going to the pub in groups of two or three and avoiding the most crowded places.
One mathematician has accused authorities of "playing Russian roulette" with the population by not introducing stricter rules, while several virologists including Professor Björn Olsen have called for Swedish authorities to follow other countries and "shut down everything that's possible to shut down" as quickly as possible. Olsen disagrees with the Swedish Public Health Authority's predictions that the population will quickly build up immunity, arguing this could take more than a year and is sceptical that the infection rate will level off during warmer summer months.
Akinmade Åkerström has also been critical of the current approach "considering the rise of infection cases and deaths around the world". But she argues that strong support for authorities will help, should the country follow others into lockdown. "Most Swedes trust that the government has the best interest of society at heart and they will respond to stricter rules," she says.
A connected population
History will be the judge of whether Sweden's scientific and political policies hold up. But when it comes to day-to-day efforts to keep businesses and society functioning, Swedes' working practices and passion for technology are two norms that are already playing out well during the corona crisis.
More than two thirds of Swedes already work online from home at least some of the time
The Nordic nation has one of the most advanced digital economies in the EU and a strong background of innovation. More than two thirds of Swedes already work online from home at least some of the time, with around a third doing this on a daily or weekly basis, according to The Swedish Internet Foundation. Fast and widespread broadband works in tandem with social and company policies which champion flexible and remote working as part of a more balanced and gender-equal lifestyle. Nobody bats an eyelid if a parent clocks off in the early afternoon to collect a child from nursery; they're trusted to catch up with their workload later.
This, according to Staffan Ingvarsson, CEO of Stockholm Business Region, has enabled a smooth transition to increased remote working. "Every company that has the possibility to do this, they are doing it, and it works," he says.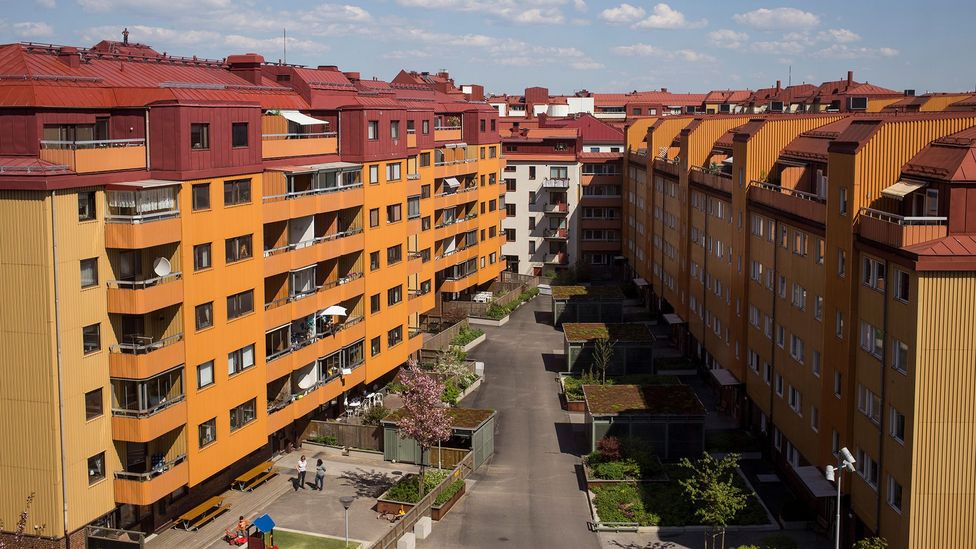 More than half of all Swedish homes are made up of one resident, the highest proportion in Europe (Credit: Alamy)

Although keen to stress that coronavirus is still "dealing a really hard blow" to the economy, with bigger levels of layoffs than during the financial crisis, he also points to high levels of cross-industry collaboration that are helping Sweden to face new challenges brought by the crisis.

After thousands of staff from Scandinavian airline SAS were laid off, they were offered additional nursing training so they could support hospitals, thanks to funding from a private research foundation. Workers from truck-maker Scania are supporting a medical company to produce more respirators, and supermarkets have been actively targeting hotel and conference venue staff who've lost their jobs.

"It really warms my heart, all this innovation that is going on digitally," says Ingvarsson, adding that he's proud of how the Stockholm business community has been able to make so many big decisions together in the absence of physical meetings.

"Sweden is built on a history of collaboration and that shines through in times like this," agrees Erik Engellau-Nilsson, CEO of Norrsken, a co-working space and investment fund that supports socially-minded entrepreneurs. The foundation recently set up an online platform where start-ups focused on solving problems connected to the coronavirus crisis can apply for funding. Engellau-Nilsson says he's been "overwhelmed by the response and support from volunteers, initiatives, companies and partners"; initiatives already being profiled by the site include an e-learning company, an app offering free food deliveries for pensioners and a volunteering network.

The future?

What happens next will, of course, depend on how much the virus spreads. The Swedish Public Health Agency has warned that the worst is yet to come for the Nordic nation.

There are long-running concerns about whether hospitals are ready to cope with the potential demand for beds and intensive care equipment, while more recent debates have focused on how well authorities are communicating information. Some experts are calling for more specific instructions about how people should be living their lives. The Swedish Medical Association has expressed concerns that not enough has been done to inform residents who don't speak Swedish, following a high proportion of deaths and infections in Stockholm's Somali community, who are more at risk of sharing overcrowded housing.

And while some lone-living Swedes like Cajsa Wiking are confident they can keep their mood up by staying connected to friends and family via Facetime, others are worried about increased levels of loneliness should they end up housebound due to a lockdown.

"This could really affect how Swedes feel," says Christoffer Carringer, who has recently started living alone for the first time. "Everyone is always screaming for sun and social interaction and attention this time each year after the long winter, so to be denied that, I think could have some sad side effects." Akinmade Åkerström echoes this sentiment, saying: "For a society that thrives on being outdoors and in nature, that would be the most difficult part for Swedes to mentally deal with if a full lockdown goes into effect."

Against this background, Sweden's trust, technology and teamwork may well continue to be valuable assets for the country as things develop, but in times of crisis like this, nothing is certain.

;