Staying at home amid a pandemic brings both familiar and new mental health challenges. Here are your best tips for avoiding 'the sky is falling' thoughts.
T
This article is part of Confined Grind, our crowdsourced guide to maintaining a balanced, healthy life while working and living at home amid Covid-19. Join the conversation on the BBC News LinkedIn page.
As people around the world self-isolate because of Covid-19, factors like anxiety, a lack of social interaction or outdoor time and economic stressors can lead to mental health challenges. While everyone's circumstances vary and people are experiencing this global pandemic in different ways, many have found relief using similar approaches. Here's what our readers shared about how they're holding up and what has helped them stay positive.
Mindfulness
Mindfulness comes in many forms: meditation, self-affirmations, breathing techniques and writing in a diary, to name a few. Many readers have found these practices helpful in shaping a more positive mindset. One of the most popular suggestions was to practise gratitude, focusing on the small, pleasant moments each day brings, as well as larger things like family and community.
In the UK, Amanda Owen-Meehan suggests writing down three things you are grateful for every day, however small they might seem. "Also, try to write down worries and stresses as they come to mind during the day. Revisit the list at the end of the day and for those worries that are still hanging around, ask yourself 'Can I fix this?' If the answer is no, try to let it go. If yes, start working on an action plan to fix it."
Kim Knight, from New Zealand, suggests another popular mindfulness approach: practise focusing on the present, rather than the past or future. "One of the most important things for dispelling fear is to come back to the present moment. We must learn to control our thoughts, and in particular stop the habit of worry (mentally rehearsing what we don't want to happen) and 'worst-case-scenario-thinking' which just leads to fear, stress [and] despair."
Arloa Ten Kley, from the US state of Iowa, suggests looking at what you can actually control, and focusing on the positives in life while not ignoring the negatives. "I can choose to take care of myself physically, emotionally, spiritually, as well as support those around me. I can recognise the facts of what is going on around me without joining 'the sky is falling' mentality."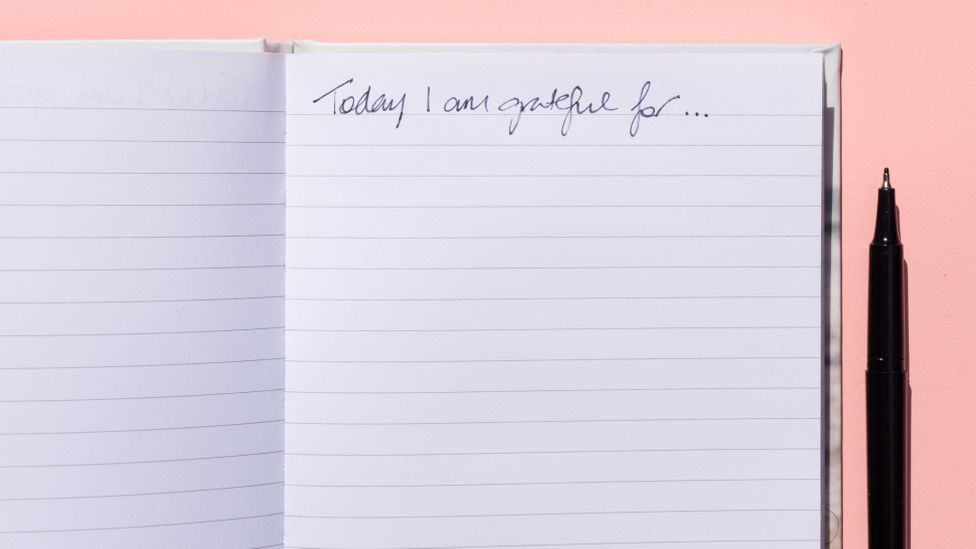 Practising gratitude is one type of mindfulness technique that can help improve mental health (Credit: Getty Images)
Staying fit and healthy
It's well known that physical health and mental health go hand-in-hand. Several people reminded others to eat more healthily than usual, while many derived energy and pleasure from daily exercise despite space or equipment limitations.
Mansur Damiev, from the UAE, enjoys 15-30 minutes of daily exercise, saying: "It does not matter how you do that and for how long. Jump, walk from one corner to the other, do push-ups, sit ups. Just push that sweat out of your body and it will boost your mood into a far better condition than you would ever think!"
In Latvia, Diane Zukova alternates between yoga sessions at home, online workout sessions and running through a nearby forest. She's also joined Instagram Live workouts with her friends, which keeps her social and active at the same time. "Whenever I run out of ideas for workouts, as it might get a bit demotivating in these conditions, I turn to live workouts conducted by fitness clubs or celebrities even."
For those missing the community aspect of group workouts, Clare Freeman, in the UK, has begun hosting live virtual events every Sunday morning, which are open to the public and have a new theme each week targeted particularly at kids. "Easter week we wore bunny ears and jumped over eggs," she says. Other themes have included 'Pants on Head' week and 'Noisy' week, which featured saucepans and wooden spoons.
Diana Zukova prioritises fitness, switching between yoga, running and virtual workout classes (Credit: Diana Zukova)
Active distractions
For some, calming and creative activities like reading, cooking and gardening are helpful distractions. Many readers also found comfort in connecting with and supporting others, especially loved ones.
Damiev advises choosing a good book "that will take you to another universe and help to distract from your daily challenges and negative anxious thoughts", while in the UK Julia McKee is growing fruit and vegetables for the first time. She began planting seeds when lockdown began and is now 'thrilled' to see new shoots. "I now have them growing at various stages including courgette, aubergine, spring onions, shallots, garlic, tomatoes, green beans and strawberries. I have never done this before and I am ever so slightly excited each day when more shoots appear."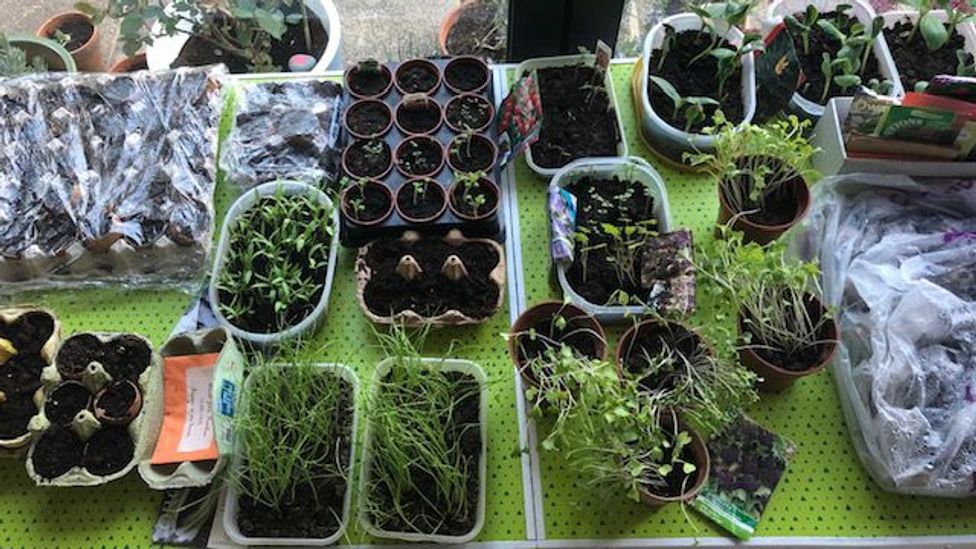 Julia McKee's sprouting garden of fruits and vegetables (Credit: Julia McKee)
Alvaro Moreno de Vega Tabernero finds solace in looking after loved ones, whether by cooking meals or coming up with projects to enjoy together. "Serve, love and care for those you are with during this lockdown. This will make you feel really good and [help you] get through this difficult period. I travel a lot while I'm working and I'm taking this time as an opportunity to really care about my family, as I will normally be away on a business trip or rushing things due to only have [a] few days at home."
In the US, Krista Volden believes finding activities that bring you and others joy is really important. "My flatmate and I have been playing music from our home countries and sharing the videos with family and friends back home (we're international students)."
Busy parents trying to entertain their kids also shared some strategies. Andrew Vaughan has found spending time in the garden with his son, doing things like water fights, obstacle courses, bug hunting and drawing with chalk, valuable. Caroline Wakil suggests themed meals together, complete with themed music. "Last night was Thai and tonight is Mexican. It is fun and cultural for our two young girls." Samantha Jane Smith, meanwhile, has been making soap with her son, 11, for a local hospital.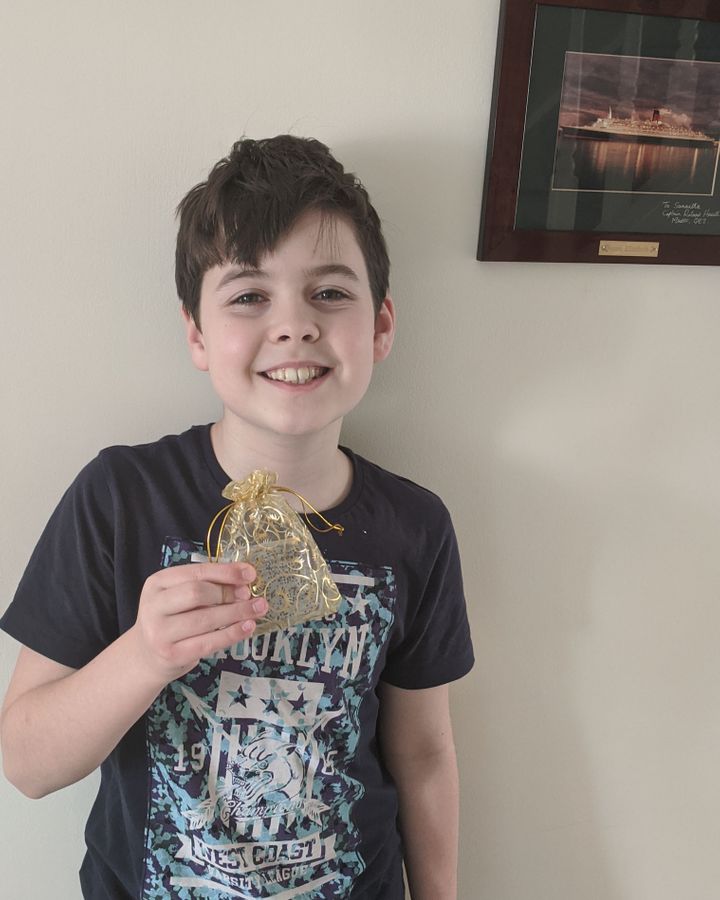 Samantha Jane Smith's son Morgan donates homemade soap to local hospital workers (Credit: Samantha Jane Smith)
Listen to your body
Many readers suggested ignoring external opinions about how productive we should be right now in favour of finding your own rhythm. Aline Velho, a flight attendant from the UK, has been home alone for over a month now, but doesn't set herself a schedule. She says it helps avoid frustration if she doesn't meet set expectations. "Just taking it easy every day and do[ing] what I feel each day and enjoying this 'dolce fare niente'[pleasant idleness]. I must admit that as a flight attendant my body is a bit happy with the break, although I miss the skies terribly already."
Charlotte Darbyshire supports this approach, saying "Your value isn't based on your productivity… Trying to fill time to the extreme won't necessarily help our mental health as it puts an extra pressure on ourselves. What's most important is listening to our minds and bodies and responding as appropriate. If watching Netflix will make you calmer than learning a new language, then that's okay."
If watching Netflix will make you calmer than learning a new language, then that's okay – Charlotte Darbyshire
Linda Caffolla says the challenges of the current situation can lead to discoveries. "I firmly believe that whilst struggling, you find a strength within yourself that you were unaware of… Positive things can come from the darkest of times." For some, the most helpful thing may be to share your struggles with those in your supportive community or talk to a professional. Leslie Porter, a holistic health counsellor in Los Angeles, advises people to "check in regularly with the people you love and who love you".
Many people also emphasised that this is a crazy time and, ultimately, it's okay to not be okay. In Hong Kong, Sophia Vegas reminds us all: "It's OK to cry. It's OK to feel sad or frustrated. We are just humans. We have emotions."