Greece banks on its low coronavirus rate and a long list of new safety rules to lure visitors back to its tourism hotspots.
O
On a warm Saturday in Glyfada, south of Athens, Zisimos Zizos is surveying a sandy beach. With remote control in hand, he sends a powerful drone soaring high into the sky. Using the drone's camera, he scans the beach and spots a group of young people sitting together on towels. 
The drone hovers above them, then drops down as a message booms from its speakers: "We keep our distance. We respect public health." Some of the young people look up at the drone and wave. Others just look away. One by one, they slowly peel away from the group. 
"On the busy days, I'll be out here checking on things every few hours," says Zizos. He works for the municipality as a photographer, but since the coronavirus hit he's swapped his camera for the drone. His job is to prevent large gatherings on the beach to reduce the spread of Covid-19. If beachgoers ignore his call to disperse, the municipal police step in and can impose fines of up 1,000 euros ($1,120, £894) per person.
Understandably, Greece is desperate to get its hospitality business up and running again
The municipal drone, previously used for search and rescue efforts, is now being used for another salvage operation: the resurrection of the tourism sector. Lockdowns around the world have brought the global travel industry to a standstill. This is particularly bad news for Greece, where tourism accounts for more than 20% of GDP. Some 33 million people visited in 2019, generating tourism revenue of 19bn euros. Understandably, Greece is desperate to get its hospitality business up and running again. 
Outdoor check-in, no cushions 
In a bid to get the sector moving, the government has put together an ambitious plan aimed at attracting tourists while keeping coronavirus cases low. So far, Greece has weathered the pandemic comparatively well, with around 3,000 confirmed cases and fewer than 200 deaths. Local officials attribute this to the strict lockdown introduced very early in the outbreak.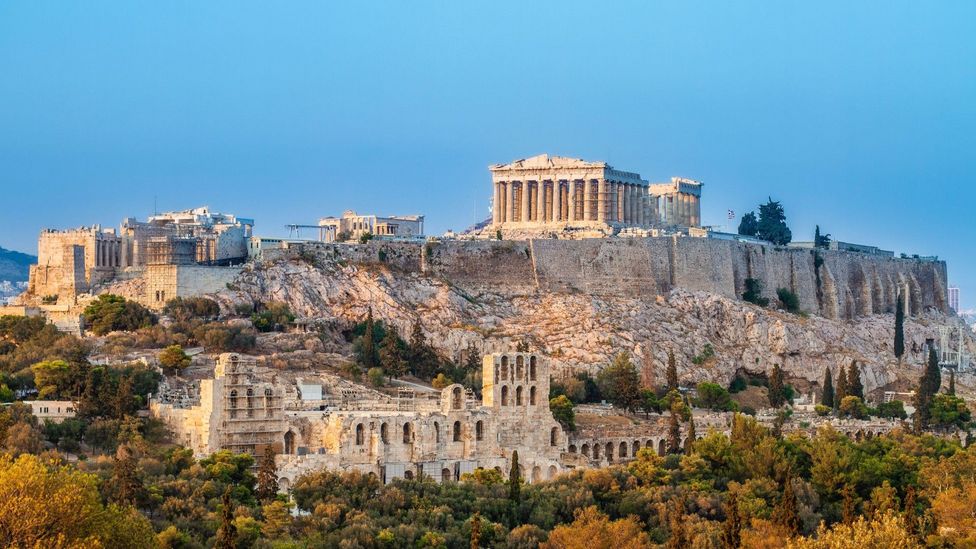 The Acropolis was closed for several weeks but reopened in early May
Now, however, the government is easing strict rules, and the tourism sector is preparing to open up. The Acropolis reopened in early May, followed a few weeks later by bars and restaurants. From mid-June, hotels will resume operations, and airlines will gradually restore international flights. 
How easy it will be to enter Greece will depend on your departure country; a staggered opening will take place over the next few weeks, but the government has left open the door to restricting travel from nations where transmission numbers remain high, a Foreign Affairs Ministry statement says. 
Once travellers reach their destination, they will encounter rules that the government – in consultation with epidemiologists ­– has been busy putting in place. Rules for hotels, which take the form of a 17-page action plan issued by the Tourism Ministry, allow them to operate at capacity but contain multiple requirements covering all aspects of operations. 
Each, for example, will be required to train supervisors on how to handle a possible coronavirus outbreak among guests, and to have a doctor on standby. Reception desks must be moved outdoors where possible, and hotels must limit check-in queues to prevent too many people gathering in the same place. Food served in buffets must be placed under protective acrylic screens known as sneeze guards, while rooms must be empty for several hours between guests, allowing them to be aired out. Greek authorities have also strongly advised hotels to remove all non-essential decorative items, such as cushions and magazines. A separate list of instructions has been issued for restaurants, where the number of diners will be limited. One person is allowed in for every two square metres of floor space, and no table can accommodate more than six adults (children are exempt).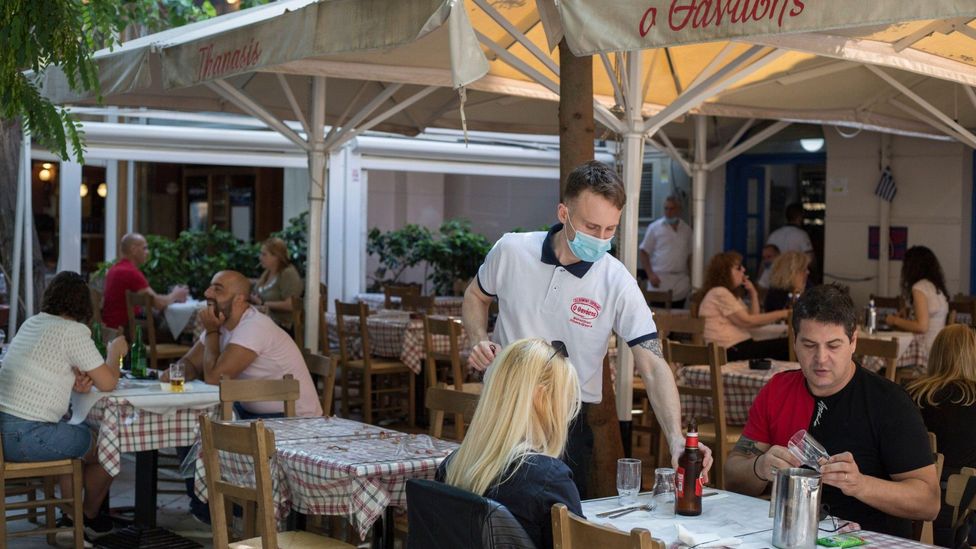 Hotels and restaurants can operate - as long as they abide by a long list of safety rules
With pools, swimmers will have more room than usual; numbers allowed will depend on the size of the pool. Beaches will also be quieter; group events on the sand have been banned. Beach team sports involving body contact are off limits, and water slides may be shut. Drinkers in bars will be required to keep 1.5m from each other, though early scenes from reopened bars shows this rule is being largely ignored. 
'Game of trust' 
So far, hotel owners have welcomed the safety guidelines, with many saying they will go further and introduce their own safety measures. On the island of Santorini, Charlie Chahine, the owner of beach bar Demilmar, is building plexiglass barriers around sun loungers on Perissa's black-sand beach to protect guests against close interactions with others.
We'll do whatever it takes to make the visitor feel safe - Charlie Chahine
The sheets of plexiglass, close to 2m high, form a U-shaped protective fence around the sun loungers on three sides, leaving the view to the sea open. Chahine put the panels up to see if they go down well with beach-goers and may add more of them, despite the cost. "I am thinking about creating a plexi-beach," he says. "We'll do whatever it takes to make the visitor feel safe." 
Abiding by the new rules comes with a price tag, of course – and many businesses already weakened by Greece's 10-year economic slump are poorly positioned to withstand new financial challenges. Spacing out restaurant tables means fewer customers, while each plexiglass protection unit costs up to 1,000 euros. One in three restaurants may not make it through the year, according to the Hellenic Confederation of Professionals, Craftsmen and Merchants (GSEVEE).The costs also add up for local governments; municipal officials in Glyfada have ordered several more drones, each costing about 3,000 euros. 
Some of these costs may end up hitting consumers. But Andreas Andreadis, chief executive of the Sani Ikos group of resorts, one of the largest in Greece, says that now is not the time to skimp on health protection measures as a way of keeping holiday prices low. "It is going to be a game of trust, a game of quality," he said in an online discussion organised by The Hellenic Initiative, a Greek diaspora group. "This will push tourism towards the high end. The low end of the market will suffer most."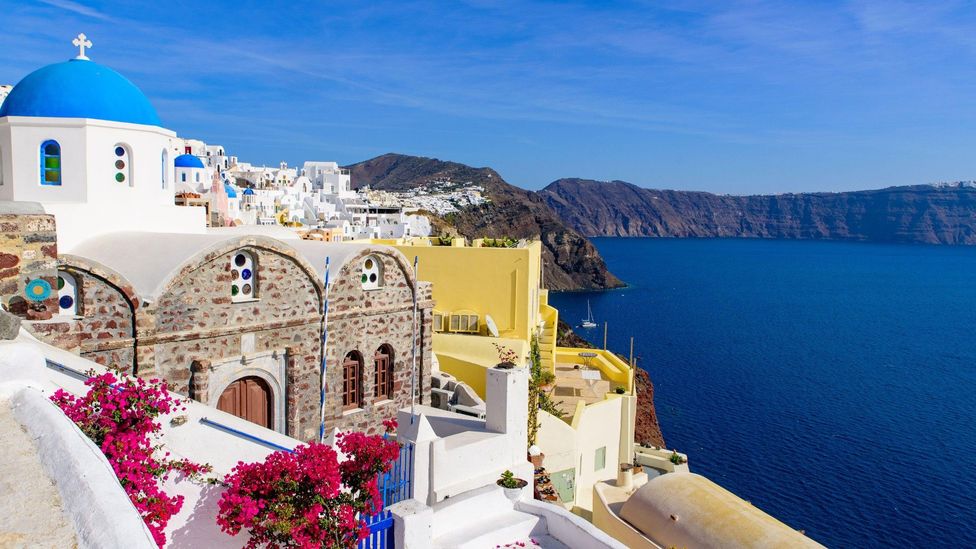 Tourism officials want visitors to view Greece as a place to 'heal' from the pandemic

The tourism sector is not starting the year from scratch; by the end of February, some 10 million people had booked holidays in Greece this year. Half have since been cancelled, say industry experts, but bookings for five million people are still in place. Whether they come will depend on quarantine restrictions in their home nations and their willingness to travel; government officials privately hope Greece can do half the business it did in 2019. Some tourism officials say they will be popping champagne corks if they get a third of last year's business. "I'll be satisfied if I cover my expenses this year," confirms Chahine. 

Like any crisis, though, opportunities do arise. Countries in southern Europe are all working hard to show that they have done what it takes to ensure visitors will be safe on their shores. But tourism and government officials believe that Greece has the edge over competing markets, including Spain and Italy, due to its low infection rate relative to other EU nations. Marketing officials are talking about promoting Greece as a place to 'heal' from the pandemic. 

Ioanna Dretta, chief executive of non-profit group Marketing Greece, says that during the crisis, Greece has strengthened its brand in terms of hospitality and safety, in addition to the generosity and love of life that visitors associate with the country. "It's an identity that Greece must now build on as it looks to reap what it can from the current tourism season and, of course, prepare for next year," she says.

;