Big brands have spoken out in support of black communities following George Floyd's killing. How as a consumer do you know which companies genuinely support the cause?
A
As the public outcry at the killing of George Floyd grew in the US, a number of companies, including household brands, raised their voice with the protesters.
There have been statements of support and pledges of donations to the Black Lives Matter movement and civil rights groups from a wide range of industries, from finance and food to fashion and entertainment.
But some of the famous brands are being accused of hypocrisy: are they genuinely involved in the anti-racism cause, or are they just trying to raise their profiles?
Be aware of 'brand activism'
Businesses have been increasingly embracing what is known as brand activism, taking a stand on social, environmental, or political issues. It's a trend driven by consumer behaviour, as more and more people expect companies to make a positive contribution to society.
In fact, a 2018 survey covering 35 countries showed that 64% of consumers would reward firms which they see as engaged in some kind of activism. "So it is no surprise that we saw so many companies going public in the aftermath of what happened to George Floyd," Pepper Miller, a a Chicago-based diversity consultant, told the BBC. "The response on the street has been substantial internationally too – there were even protests in Finland. "It is difficult for companies to ignore that."
However, Miller, who has been advising companies to do more work and research to understand black consumers for over 20 years, has her doubts about this latest surge in brand activism.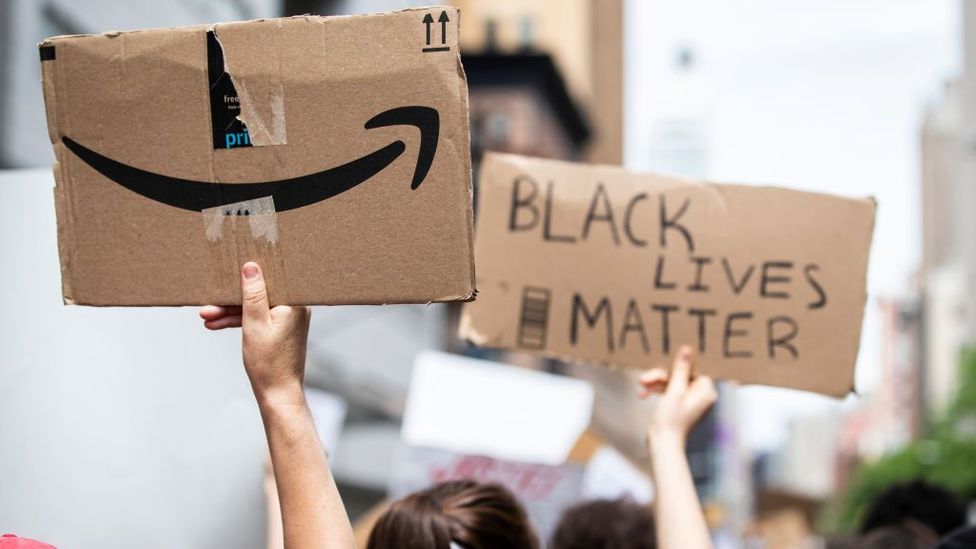 When brands jump to support causes like Black Lives Matter, their track record on things like representation and diversity may not line up with their statements (Credit: Getty)
Look at the board
In the case of corporate support for Black Lives Matter, Miller says that while many businesses have been quick to adopt the movement's hashtag, they don't appear to show the same enthusiasm in their boardrooms: as of 2020, only four out of America's 500 biggest companies had a black chief executive.
"Companies need to draw long-term plans for social inclusion and racial equality that go beyond them saying that they 'stand with black people'," Miller says. "Experience, however, tells me that's not the case. Most initiatives are one-offs."
The issue of social inclusion has not escaped sportswear giant Nike. In 2018, Nike launched a bold advertising campaign with American football star Colin Kaepernick. Kaepernick was dropped by the National Football League after taking a knee during the national anthem before a 2016 match in protest against police brutality in the US.
Since then, the gesture has been emulated by many, including politicians, but at the time, it cost the black footballer his contract. The controversy did not stop Nike, however, from picking him as one of the faces for the company's 30th anniversary ad campaign.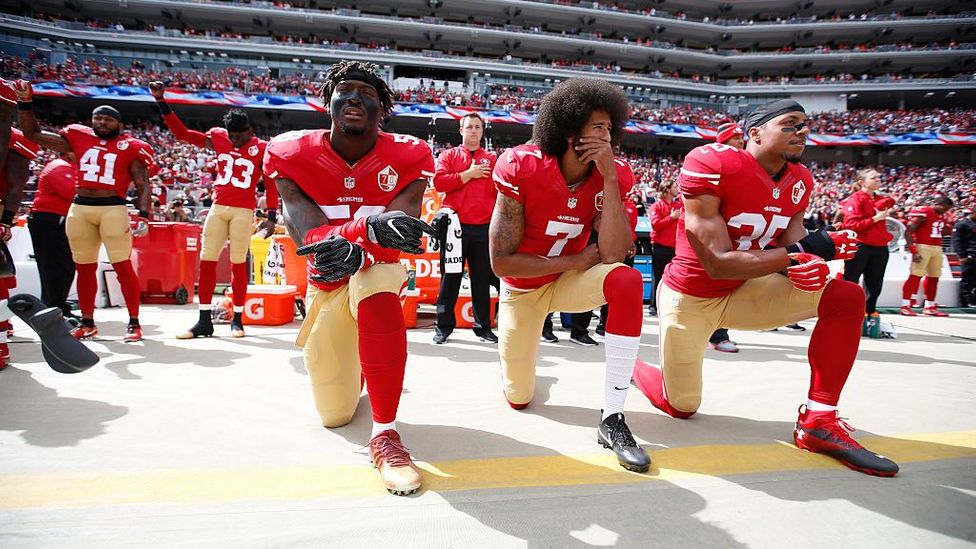 Eli Harold, Colin Kaepernick and Eric Reid take a knee prior to a San Francisco 49ers game on October 2, 2016 in Santa Clara, California (Credit: Getty Images)
Following the decision, Nike faced protests and boycott threats, but also won many plaudits for its stance and a jump in sales clearly indicated that Nike's solidarity with Kaepernick was being repaid by the consumer.
But soon, the attention shifted to Nike's own diversity as a company – public records show that in 2019 less than 10% of its 300-plus vice-presidents worldwide were black.
"During this past year, we've stepped up our own efforts and measures of accountability in the areas of diversity, inclusion and belonging to foster an inclusive environment and attract a more diverse workforce," Nike's CEO John Donahue  said in a statement released on 5 June.
The company has also made a pledge of $40 million over the next four years to "support the black community in the US".
"Systemic racism and the events that have unfolded across America over the past few weeks serve as an urgent reminder of the continued change needed in our society," Donahue added.
Research how many black people work for the company
Campaigners are calling for all companies to "own up" to their diversity.
Sharon Chuter, a Nigerian-born former executive in the beauty industry and the founder of domestic brand Uoma, launched the campaign Pull Up or Shut Up.
It challenges beauty brands to disclose the numbers of black people working for them at an executive level – and asking the public not to buy from businesses who refuse to do so. The campaign's Instagram page is full of posts of companies disclosing such information.
The hashtag #PullUpOrShutup has been embraced by influencers such as YouTuber Jackie Aina.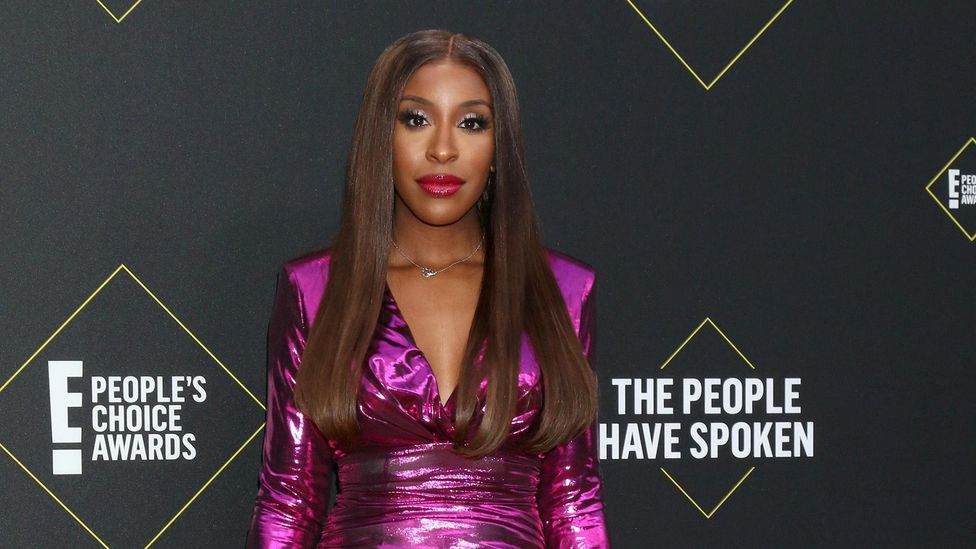 Influencer Jackie Aina urged her fans not to buy from brands that issued public statements of support for the black community but didn't release diversity figures (Credit: Alamy)
"As we know, there are a lot of brands who love capitalising on black culture, black music, black aesthetic, but are dead silent when it comes to talking about black issues and black struggles in our community," Aina said in an Instagram video published in early June, which has had more than 1.7 million views so far.
'Vote with your wallet'
Prominent activist Brea Baker warns companies that platitudes on social media aren't enough and that "consumers are paying attention".
French cosmetic company L'Oreal saw an anti-racism Instagram post get peppered with criticism over its decision to fire transgender and black model Munroe Bergdorf in 2017. Bergdorf criticised the violent white nationalist protests in the American city of Charlottesville and caused controversy because of remarks such as "Honestly I don't have energy to talk about the racial violence of white people any more. Yes ALL white people."
At the time, L'Oreal said that her comments were "at odds" with the company's values".  But on 9 June L'Oreal and Bergdorf issued a "joint post" on Instagram announcing that the model had been hired as a consultant for diversity issues and that the company had pledged donations to charities working with transsexual youths and ethnic minorities.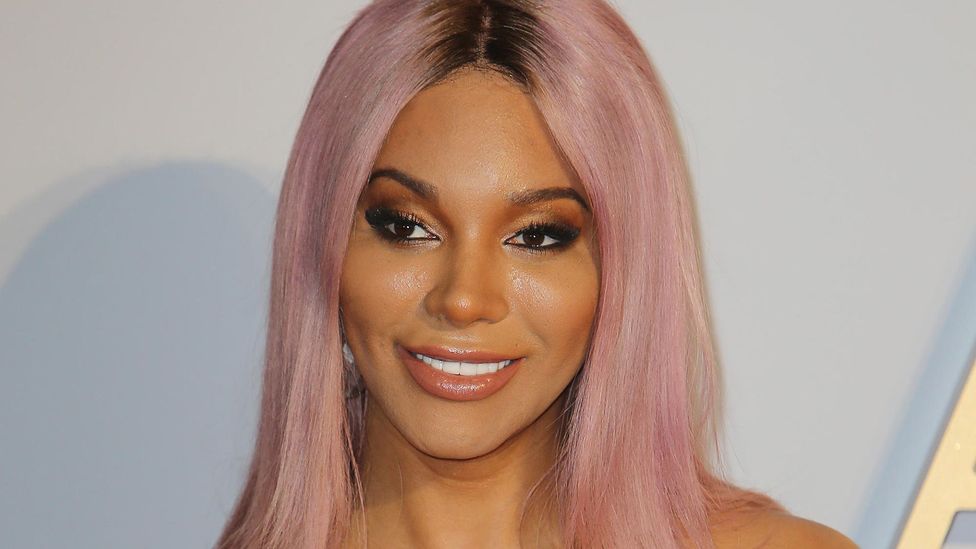 After being fired from L'Oreal in 2017, Munroe Bergdorf has been re-hired by the cosmetics firm as a diversity consultant (Credit: Alamy)
In the post, L'Oreal president Delphine Viguier was apologetic to the model:
"Here is what I heard from Munroe Bergdorf: 3 years ago, Munroe felt silenced by a brand, L'Oréal Paris, that had the power to amplify her voice. I regret the lack of dialogue and support the company showed Munroe around the time of the termination. We should have also done more to create a conversation for change as we are now doing."
Baker says that while some companies are responding to pressure "with the bare minimum of social posts" consumers are watching for those "rising to the occasion by donating large amounts of money, uplifting anti-racist resources, and amplifying calls to action."
Look at a company's track record
A famous demonstration of how people can punish brands who are perceived to undermine causes took place when Uber was judged to be profiting from a New York taxi drivers' protest against president Donald Trump's ban on entry of citizens from a number of Muslim-majority countries in 2017.
The company apologised publicly and denied it had targeted the strike, but in a matter of days, 200,000 people deleted their Uber accounts. Rival company Lyft for the first time surpassed it in app downloads.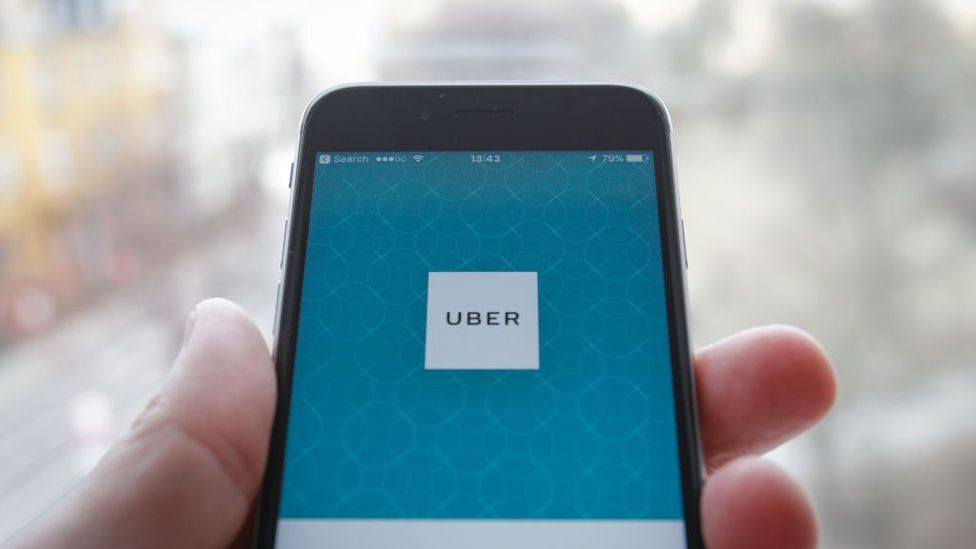 Uber was punished by customers who believed it was profiting from a New York taxi drivers' protest in 2017 (Credit: Getty Images)
"The consumer wants brands that will step in and step up in a range of issues that include human rights and global warming to name a few," Adam Stones, an Amsterdam-based communication strategist, explains. "But companies need to practice what they preach or their message will be viewed as disrespectful."
Stones is adamant that marketers and companies should not underestimate how consumers are more switched on to bigger issues when they are shopping.
"People are not naïve. A company which tries to earn their trust without the intent will be found out by customers and even investors," he warns.
See where a company invests
Customers do like businesses that mix purpose and profit, investing in initiatives with positive social, community and environmental outcomes. These types of companies are also known as B-Corporations.
A report by consultancy Korn Ferry showed that companies adopting this philosophy saw their sales increase at rates four times higher than normal competitors between 2011 and 2015. Companies wanting to become B-Corps undergo formal certification and are tested on things like Fair Trade and diversity, which Adam Stones says they wear like "badges of honour".
"Brands are being pressured to be a force for good and some have really been successful," he adds. "B-Corps are a different type of organisation, that is required to provide value to society."
More than 3,200 companies in 71 countries and across 150 industries are "certified B Corporations", which are legally required to have goals beyond just profit.
The list, which groups companies by country, city and sector is freely available online. While smaller companies with a "disruptive profile" form the majority of B-Corps, there are some examples of major players endorsing the "purpose and profit" philosophy.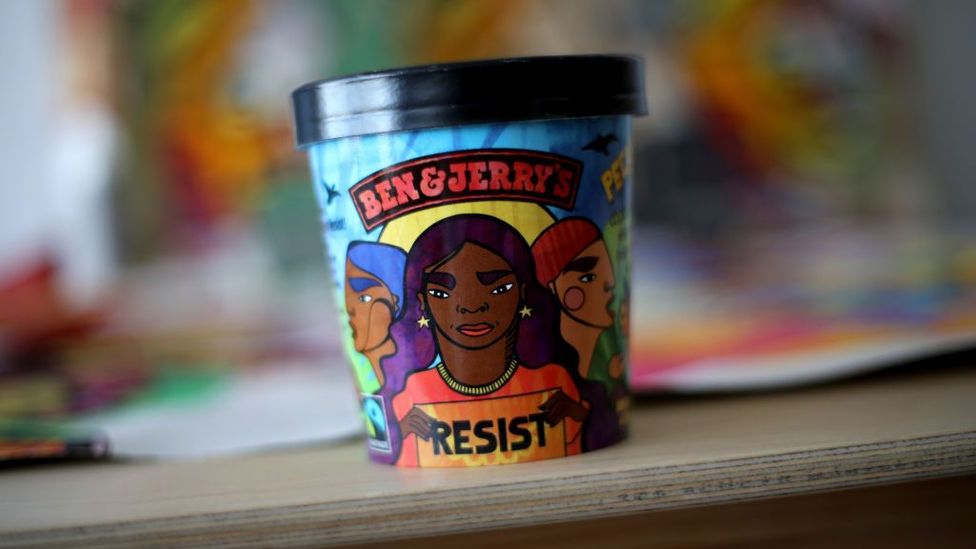 Ice-cream brand Ben & Jerry's has a long history of brand activism (Credit: Getty Images)
US ice-cream maker Ben and Jerry's not only retain their B-Corp certification but have seen increases in their "impact score" – a measure of ethical engagement carried by third parties.
Ben and Jerry's caused a stir during the protests following the killing of George Floyd by issuing a strong statement denouncing a "culture of white supremacy" in America. It's not the first time the ice-cream maker has taken a stand, it has a history of brand activism that includes support for gay marriage and even an "anti-Trump" flavour named Pecan Resist.
Is money enough?
A number of businesses have announced substantial contributions to anti-racism causes in the last few days – Disney announced a $5 million donation and Facebook pledged another $10 million, among others. But these donations are not always enough if other actions by the company give a mixed message.
The National Association for the Advancement of Colored People (NAACP), one of America's leading civil organisations, publishes a regular report on how members of the US Congress voted on racial justice issues.
On 2 June, a report published in the newsletter Public Information showed that a number of companies who mentioned the Black Lives Matter movement also donated hundreds of thousands of dollars to legislators who have received the lowest grades from the NAACP.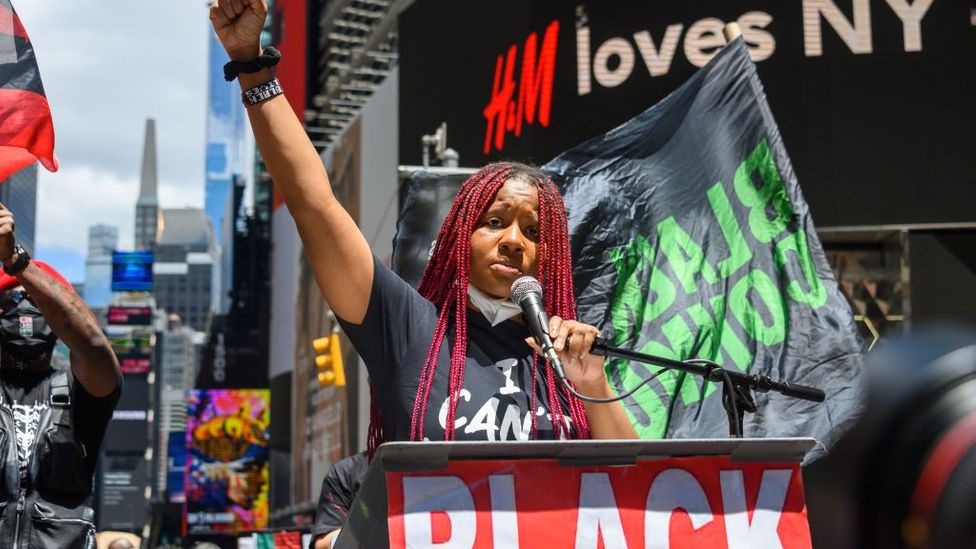 Nupol Kiazolu speaks at a Black Lives Matter rally in Times Square on June 7 in New York City (Credit: Getty Images)
"Yes, we want to see companies funding causes against social injustice," says Nupol Kiazolu, a 19-year-old activist from the Black Lives Matter movement in New York. "But we also want to these businesses pushing elected officials to adopt policies that will result in real change, not giving money to those politicians who are not helping us despite being elected to represent the people."
Kiazolu is very clear in her message to consumers: "The Z-generation is pushing companies into speaking out. But that is only a first step. But we can also take you out of business by boycotting you", she adds.
Sherri Williams, an assistant professor of race and media at the American University in Washington asks: "How genuine is this desire for change? A lot of these issues faced by African-Americans have been taking place for decades and these companies have usually been silent."
"Some of those businesses have more posts about black people than black people working for them. People are realising that."
While protests might fizzle out, activists like Brea Baker believe there has been a sea change.
"The people will make it different. When the people hold corporations and those in power to a higher standard, we set the bar."