Now that lockdowns are easing and shoppers can return to stores, it's not so clear whether they actually will – or what it'll look like if they do.
O
Outside Primark in London, and the Apple Store in New York City, queues stretch down the street so shoppers inside can keep their distance. Now that shops on High Streets across the globe – from Fifth Avenue to Oxford Street – are reopening their doors after months of mandated closures, customers are stepping into a new era of retail.
There are touchless temperature checks, mandatory masks and hand sanitiser stations as well as conspicuous cleaning conducted during opening hours. Fitting rooms are still largely off-limits – though if they are open, they're sanitised between each use – and gloved cashiers ring up purchases behind plastic screens. Before unwanted items go back on a shelf, they're quarantined, steamed or disinfected with ultraviolet light (in some cases, all three).
Though cheery signs in shop windows say, 'Welcome Back' and 'We Missed You!', there's no forgetting we're still in the midst of a global pandemic.
The conspicuousness of the precautions is, in many ways, by design: it's in retailers' best interests to make sure customers and staff feel as safe as possible even before they walk in the door. With the Covid-19 crisis, "our radar for hygiene and our radar for safety are eminently more acute than they've ever been before", says Paco Underhill, a consumer behaviour expert and the founder of New York City-based retail consulting firm Envirosell. Any issues customers encounter with cleanliness – whether perceived or real – will have lasting effects on their loyalty, he says.
Touchless temperate checks are among the new standard procedures customers must adjust to in order to return to their favourite shops (Credit: Alamy)
And right now, this isn't something retailers can afford to lose: months of lockdown have battered most non-essential businesses, tipping major companies including J.Crew, Debenhams and JCPenney into bankruptcy or administration. Sales at US clothing stores were down 63.3% year-over-year in May after a nearly 90% drop the month prior, according to the US Census Bureau. Even Germany, where retail closures lasted only four weeks, reported 30bn euros in lost sales.
Shoppers, meanwhile, have moved online at a record pace, ordering groceries, yoga mats, cleaning products and jigsaw puzzles to their front door — a habit most are expected to keep up after the pandemic. This shift, combined with the nearly unrecognisable experience of shopping on High Streets today, raises questions about the future of retail avenues around the world. As more and more people become accustomed to buying what they need from the comfort of their home or car (as in the case of kerbside pick-up, or 'click-and-collect'), the purpose of streets lined with fast-fashion behemoths, charity shops and sporting-goods chains will likely need to evolve, changing the shape of cities along with it.
Though cheery signs in shop windows say, 'Welcome Back' and 'We Missed You!', there's no forgetting we're still in the midst of a global pandemic
Populating ghost towns?
While the world's High Streets are no longer the ghost towns many of them were in April, the coming months will be a test of how much of the public will return as restrictions ease. England's non-essential shops began re-opening on 15 June but, despite lengthy queues outside Nike and John Lewis, High Street footfall overall for the week was down 59.2% from 2019 levels, according to retail analytics firm Springboard.
The near-complete drop-off in tourism is a major factor in this decline, too: at department-store chains like Selfridges, as much as 50% to 60% of sales are made on foreign credit cards, according to Underhill. Luxury brands are particularly vulnerable, with mainland Chinese tourists alone accounting for an estimated two-thirds of sales in Hong Kong and a third of sales in European shopping capitals, according to HSBC research as reported by the Business of Fashion. Even as travel restrictions ease across Europe and other parts of the world, it's unclear whether tourists will be eager to spend their holidays perusing shops rather than engaging in relatively safe outdoor activities like swimming at beaches or visiting parks.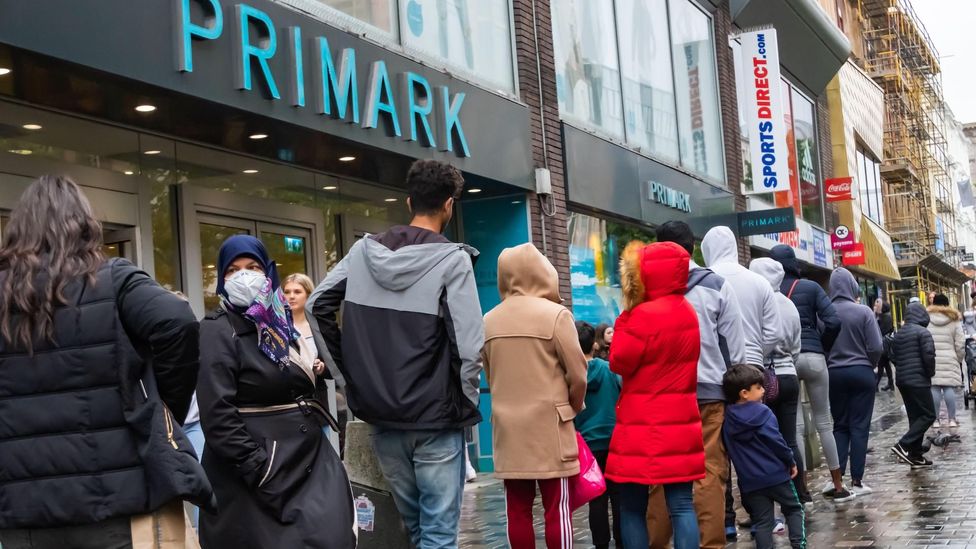 Eager buyers queued at High Street stores on the same day lockdown restrictions were eased, allowing shoppers back in physical stores (Credit: Alamy)
And it isn't just luxury that's impacted – the ongoing closure of pubs and restaurants, as well as many shared toilets, also discourages even locals from sticking around their main thoroughfares. "You can't go out for a day of shopping, because there's no toilet, right? That's a little bit challenging," says UK-based independent retail expert Clare Bailey. "You can't sit with your friends and grab a pizza for lunch and chat and laugh as my teenage daughter would. And you can't even try on clothes together because you can't try on clothes at all. So the shopping experience is very limited."
Additionally, for those shoppers in high-risk categories – including well-off pensioners who might otherwise spend weekdays having lunch with friends and enjoying the shops – the in-person experience may be nearly entirely restricted in a pre-vaccine world.
You can't sit with your friends and grab a pizza for lunch and chat and laugh... and you can't even try on clothes together because you can't try on clothes at all – Claire Bailey
Missing the experience
Even though shoppers aren't shoulder-to-shoulder on the streets right now, there are people who are still returning to shops – but their habits look a little different than before. For one, they've tended to be more deliberate: many retailers have said they're seeing higher conversion, even if the number of people coming through the door is down. While consumers may be hesitant to risk public interactions for the sake of leisurely browsing, the surge in traffic in recent weeks (however modest) indicates that many still want the option of brick-and-mortar purchasing.
Experts say that the first few weeks post-reopening may bring a spike in sales due to pent-up demand following weeks in which shoppers couldn't get certain products or didn't want to wait for delivery. That means the real test will come once we pass this initial period. When it has, the retailers with the best shot of brick-and-mortar success are those that can offer products or experiences that can't be found online, says Paul Durkin, head of UK retail at commercial real-estate company Cushman & Wakefield.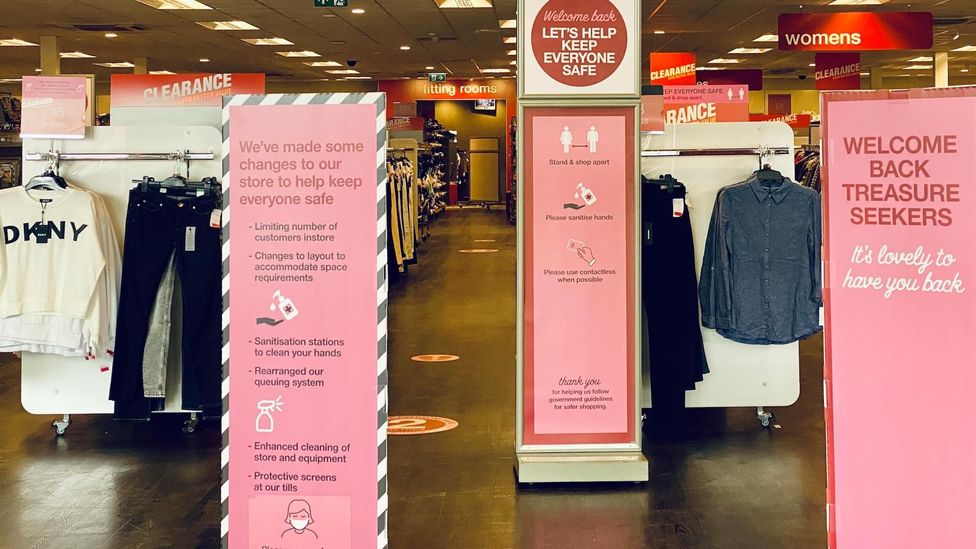 Shops that have little ecommerce presence and instead rely on 'treasure hunt' experiences may have an advantage in luring shoppers back in store (Credit: Alamy)
"Particularly for higher value items, things where the touch or the feel of the product is really important," he says, "that will remain a really important role of the store going forward." Luxury shops like Bergdorf Goodman are offering this through private, appointment-based shopping and same-day home delivery – VIP experiences now extended to all potential clients – but spontaneous social purchases may be mostly out the window for the time being.
Discount and off-price chains like Primark and TK Maxx (known as TJ Maxx in the US) also have an edge because they have little if any ecommerce presence, and their 'treasure hunt' experience requires an in-person visit.
Many other retail businesses, though, are expected to fail without customers coming through their doors – a trend that will only be exacerbated if the recession drags on and global unemployment remains staggeringly high. Even companies with relatively healthy balance sheets are shrinking their footprints: Zara parent Inditex is shuttering between 1,000 and 1,200 locations, mainly in Europe and Asia; while Nordstrom is permanently closing 19 US shops. Coresight Research, a retail research and advisory firm, is forecasting as many as 25,000 shop closures in the US in 2020, with apparel and department stores hit especially hard.
A reimagining
There's another scenario in which people could be likely to make their way back to local High Streets, although it may not be to shop. Instead, many experts envision a future in which these areas become even more vital spaces for their communities, with opportunities to come together safely, support local businesses and take advantage of essential services.
"It's about looking creatively at the space and thinking, what does the community need? And what could we create that the community would use?" says Bailey, suggesting drop-in childcare centres and coworking facilities as spaces that have emerged as urgent needs in the wake of the pandemic.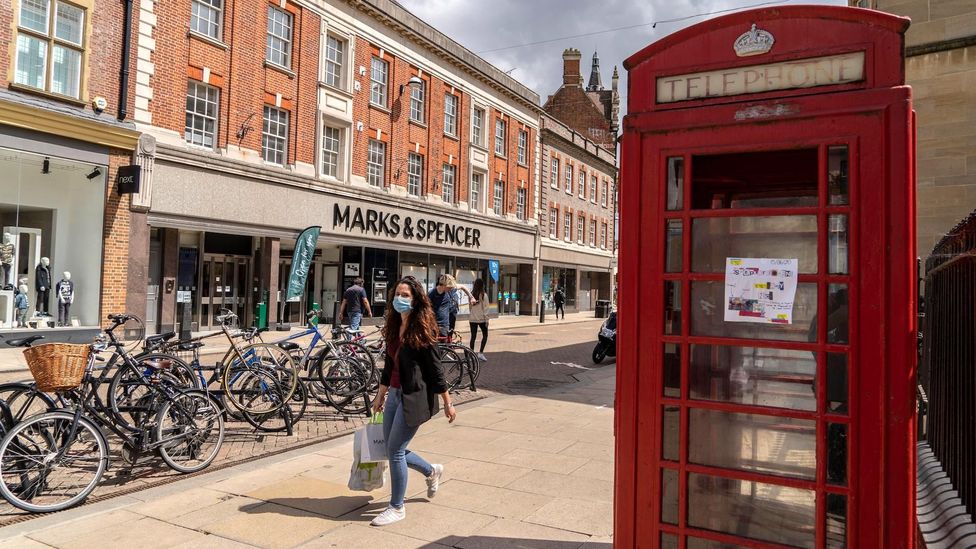 Those who are returning to High Streets are shopping more deliberately – which means less looking around and more going straight to the cash register (Credit: Alamy)
Farmers' markets and rotating pop-up shops are also promising options, adds Underhill, and the former have seen a sales bump of as much as 20% during the pandemic, according to Envirosell research. With touchless payments, an outdoor environment and the assurance of a more traceable, local food supply, they appeal to many consumers' priorities in 2020. If people are reluctant or unable to go inside physical shops and restaurants, open-air alternatives like sidewalk shopping and patio dining may provide a new kind of High Street experience.
The role of the high street, today and in the future, is about "so much more than just shopping", says Dominic Bouvet, Cushman & Wakefield's head of UK retail and leisure leasing. "It's completely about local authorities and [the] private sector coming together to create spaces that people feel good in and that they want to go and visit."
Farmer's markets and local boutiques provide a much more social experience than sitting at home ordering groceries or trainers on a screen — and ultimately, humans are by nature social beings. It's this desire for entertainment and community that will likely be what eventually draws people back to the High Street, even if the streets themselves look different when they do.