The Covid-19 crisis has sparked a rise in kerbside shopping options. Consumers like them, so will they stick around in a post-pandemic world?
W
When customers walk up to the front door of The Beguiling, a comic-book shop in Toronto, they're greeted by a yellow booth that blocks the entrance. It reads, "Bibliographic Help 5¢". Here, an employee dispenses pick-up orders, answers questions and recommends titles.
The counter is a play on Lucy's iconic psychiatry booth from the Peanuts comic strip. It was the first image that came to owner Peter Birkemoe when he began considering how to safely start reopening amid the pandemic. While online sales have kept the business afloat since Canadian lockdowns began in March, many local customers prefer to pick up their orders from the store, explains Birkemoe.
"With a small bookstore, you can have a real connection with your customer, and we're trying to keep that alive, because people are craving that experience, as are we," he says.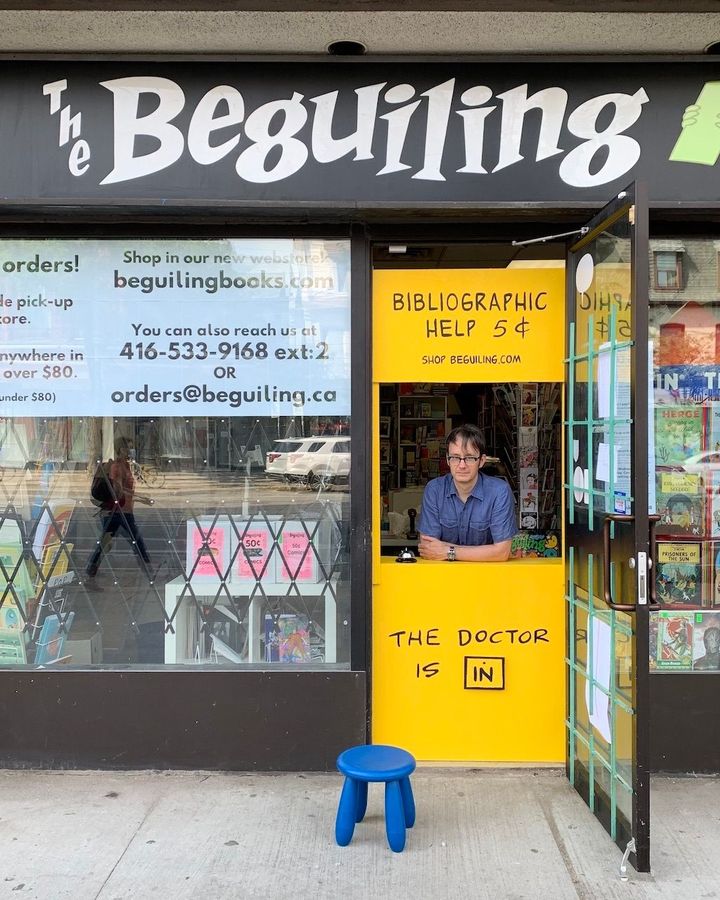 The Beguiling, a comic-book shop in Toronto, takes a creative approach to kerbside pickup with a Peanuts-inspired 'help' booth (Credit: Peter Birkemoe)
During the Covid-19 pandemic, consumers across many parts of the globe have turned to kerbside pick-up (also known as click-and-collect) as a matter of safety and necessity, collecting purchases from Walmart, Tesco, the mall or their local High Street shops without ever leaving their cars. While the service has been especially useful during the crisis, it has also introduced millions of shoppers to a convenient channel that they may be unwilling to give up even as restrictions ease.
"The question is, 'Will it stick?'" says Matt Katz, managing partner at global consultancy SSA & Company. "And I'd say it will stick. It's hard to put the genie back in the bottle… and it is a terrific customer service offer."
Routine shopping, made easier
At supermarkets, kerbside service offers customers the choice to skip crowds and long queues, enabling them to keep kids buckled in the backseat and get a hand with loading groceries into the boot. At malls, it gives people a convenient central pick-up point for the plethora of stores inside (or, for some São Paulo residents, the opportunity to drive through the shopping centre itself).
It's hard to put the genie back in the bottle… and it is a terrific customer service offer – Matt Katz
According to Adobe Analytics, US click-and-collect orders – both kerbside and in-store pick-up – surged 208% between 1 April and 20 April, compared to a year ago. Although this pace of growth has since slowed as shops have begun to reopen, adoption remains high, indicating that many people who tried these services while shops were closed are likely to continue to use them after they reopen. Adobe researchers also found that 23% of online shoppers prefer some form of click-and-collect over having orders delivered to their homes.
Kerbside pick-up bridges the gap between ecommerce and physical retail, offering consumers the immediacy and familiarity of driving to the shops for their purchases alongside the relative ease and safety of ordering online. For everyday shopping, this kind of service is a natural fit: customers can order a 12kg bag of dog food, a pack of AAA batteries and a few frozen pizzas from their big-box store of choice and, in a few hours, drive to a designated parking space where it will be delivered to their car at no extra fee.
Minneapolis-based Target began testing the current iteration of its Drive Up service in 2017. But, in recent months, it has exploded in popularity, with sales up 1,000% in April over the previous year, according to a company earnings call. (A previous version of the service, implemented in partnership with San Francisco start-up Curbside, was eliminated in 2016 after two years of testing, reportedly because the company decided to develop the current programme in-house.)
For Target, at least, customers who try Drive Up tend to become more loyal shoppers, spending more in-store and overall than they did before using the service.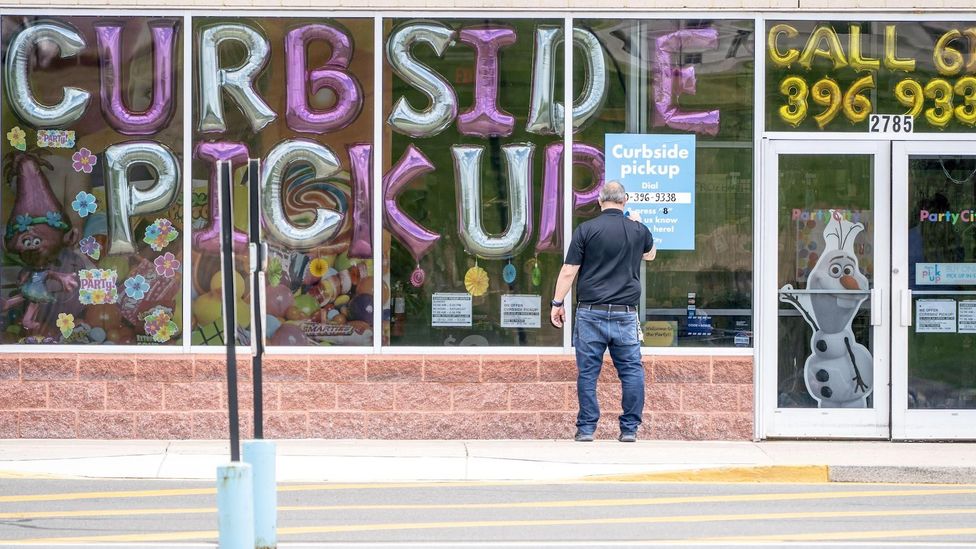 Kerbside pickup orders have grown exponentially during Covid-19, with growth stretching across both major retailers and local shops (Credit: Alamy)
"Consumers enjoy their flexibility, and they enjoy being able to define how they're serviced and how they receive goods," says Greg Portell, lead partner in the global consumer practice of Kearney, a strategy and management consulting firm. "In some cases that's going to be shipped to my home. In some cases it's going to be, 'I wanted to go explore in the store'. And in other cases it's going to be, 'I just need to fly by and pick it up'. … It creates another reason for a consumer to prefer one retailer over the other."
A question of convenience
Currently, kerbside service is still relatively nascent in most parts of the world and, in the long term, most experts predict it will become just part of a suite of options that consumers will expect from retailers.
35% of shoppers who pick up an online order in a shop versus kerbside will buy something else as well
For consumers who have access to a car and don't want to pay for shipping charges and put up with potential courier delays, it can save both time and money. "Now that I have more time on my hands, it's just as easy for me to pre-order certain things and wait a period of time and have them deliver it, but I might as well get in my car and have it brought to me," says Meghan Stabler, VP of product marketing and communications at BigCommerce, an online retail platform. "I'm not paying extra for the service, but they're bringing it out and putting into my car… It's all about convenience in this world and I think it's going to last post-Covid as well."
Retailers may, however, need to adapt to long-term trends such as the decline in car ownership and the rise of ride-sharing, potentially offering kerbside service for those on bicycle or foot, much like The Beguiling's walk-up counter. Some are already doing this, combining kerbside with home delivery through partnerships with ride-hailing giants including Singapore-based Grab, which has expanded its delivery services to convenience stores and supermarkets across 50 cities in Southeast Asia in recent months.
Most retailers that offer kerbside pick-up today limit the range of inventory they offer through the channel, says Portell, stocking only the most popular products in order to ensure the most efficient customer experience possible. Allowing a customer to pre-order an item only to later notify them it's out of stock is a sure way to lose their business, says Stabler – a phenomenon demonstrated by the flood of frustrated customer-service messages directed at grocers and other retailers in the early stages of the pandemic.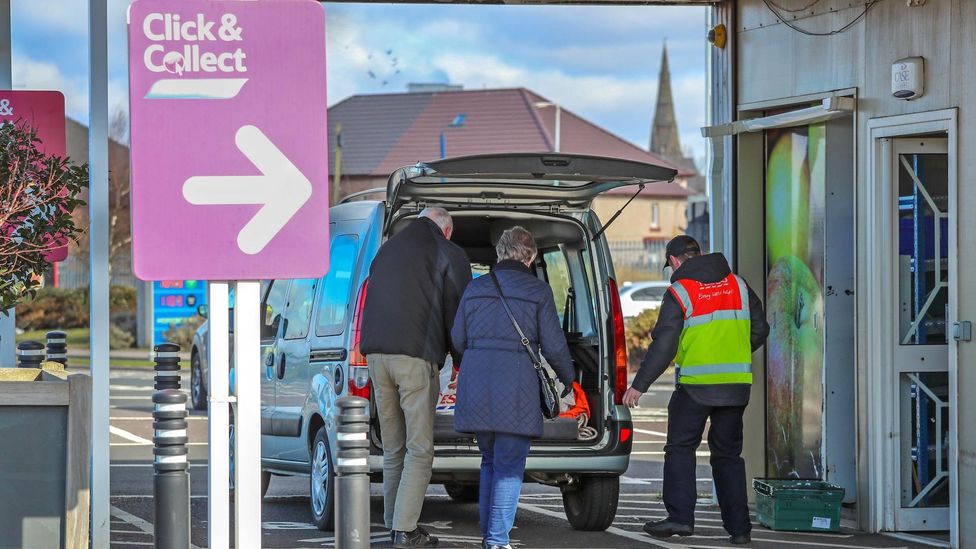 Click-and-collect shopping bridges the gap between ecommerce and physical retail, enabling shoppers to go to their favourite stores with more convenience (Credit: Alamy)
What the system gains in efficiency, it sacrifices in spontaneity, however: according to Forrester research as reported by CNBC, 35% of shoppers who pick up an online order in a shop versus kerbside will buy something else as well, suggesting that the latter may be a better fit for consumers who don't want to be tempted by other merchandise.
Still a place for the in-store experience
As non-essential shops reopen, consumers have an increasingly wide array of choices in terms of how they interact with retailers, and they're unlikely to want to give any of these options up if they've had a good experience, says Portell. (Though they may have to make an exception for driving through the mall.)
"I think what consumers will do is they'll figure out their basket of goods: what they need for sustenance, what they need for activity, what they want for pleasure, and they'll figure out the best way to acquire those products," says Katz.
Consumers are more likely to go in-person to clothing boutiques, department stores and other shops that usually rely on leisurely browsing, try-ons and other high-touch behaviours, says Portell.
For the subset of shoppers who prefer pick-up or feel unsafe going into shops, however, these retailers will need to find innovative methods of bringing the in-store experience to customers where they are, says Lara Marrero, principal and retail practice leader at Gensler, an international architecture firm. Some of the world's top shopping centres are creating branded pop-up pick-up areas, she says, while concepts like Nordstrom Local – the Seattle-based department store's inventory-free online pick-up and service hubs – could provide a model for what click-and-collect shopping may look like in the future.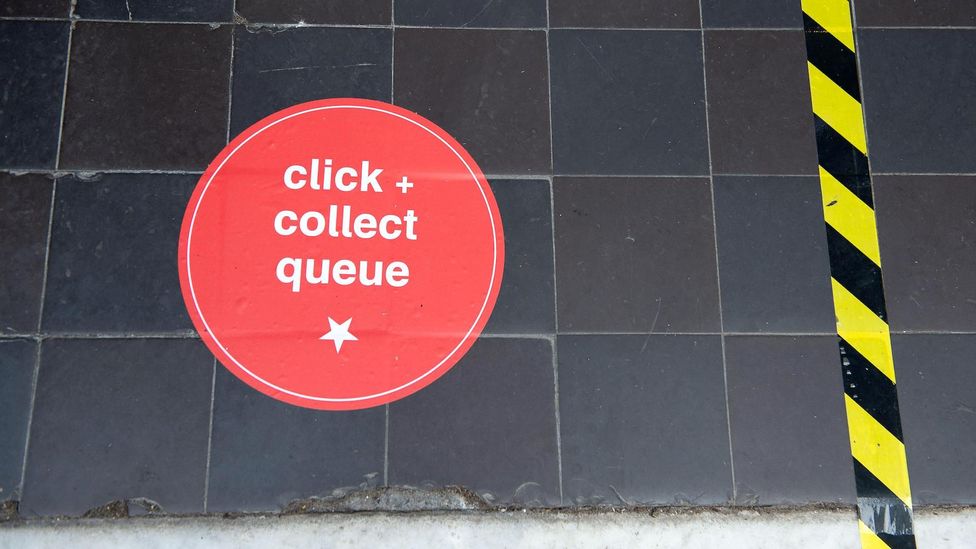 People like the click-and-collect experiences they've had amid the pandemic, and "it's hard to put the genie back in the bottle", says consultant Matt Katz (Credit: Alamy)
"What's to say that we can't do that same thing at the kerbside? To have the pop-up fitting room or to have that unit that you can actually build out, keep it safe, keep it in open-air, and make it a different experience that you don't even have to go into the store for," she says. "We're in the middle of the pendulum swing… we haven't even seen where it's going to land, but retailers that come out with these new ideas are going to be setting the new pace for what the future of retail is."
As for The Beguiling's shoppers, the new set-up reintroduces an element of serendipity and human interaction that many people treasure about local retailers, especially ones that sell out-of-print books, rare collectibles and other items that can't be easily found online. As long as there is any kind of health concern associated with indoor shopping, Birkemoe expects many of his customers will continue to shop kerbside.
"If you don't need to go to a store, why are you going into a store? If you are just picking up a thing and you know what it is, you should be exercising it."