Video dating surged during lockdowns, but how much will the trend stick around in the 'new normal'?
A
As if dating weren't tricky enough before Covid-19, the onset of the virus brought a whole new set of challenges for singletons. Bars and restaurants closed, authorities issued health warnings against getting intimate with strangers and some cities even introduced penalties for leaving home. Yet amid lockdowns, single people remained surprisingly open to finding new partners. Dating.com reported an 82% spike in online dating globally and, because face-to-face meetings weren't possible, video calls quickly became the go-to alternative. 
"She seemed very sweet, very thoughtful... I thought, 'Why not?'," says Stephanie Manns, a risk analyst and podcaster in New York City who began video dating a woman in her neighbourhood in April after they matched on OkCupid. 
Keen to replicate the city's famously inventive dating scene – "it's New York, you can always do something interesting" – the 35-year-old arranged a cocktail night where they suggested recipes to one another, followed by a virtual tour of New Orleans. By their third digital meeting, Manns says she felt some chemistry developing. "She wanted us to each pick a book that was really influencing us or that we had read recently, so we picked a chapter and read something to each other… I'm into creative people so I liked that."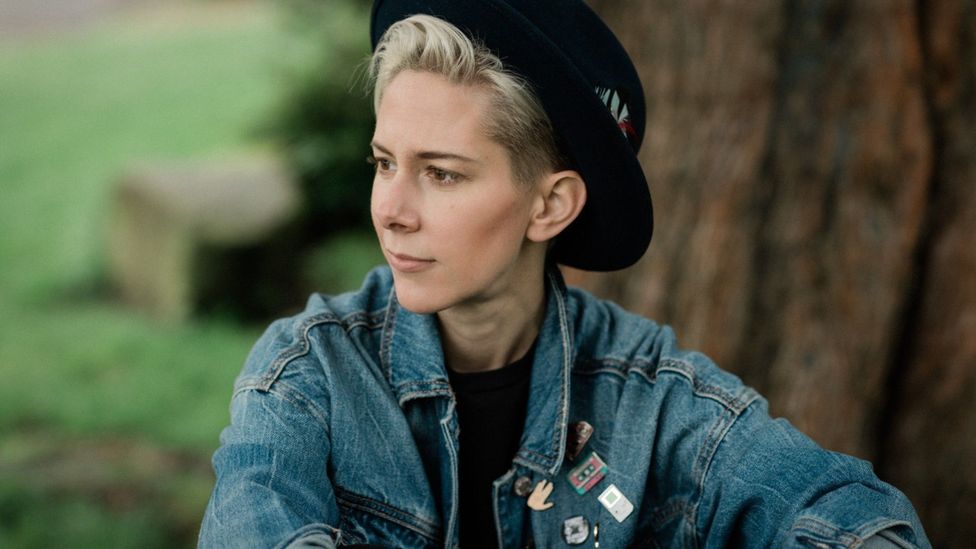 Stephanie Manns was one of many to try out video dating during the long weeks of lockdown
The relationship ended after the pair went on a few dates in real life once the peak of the pandemic had passed in New York; Manns concluded that "lovely as she is, she's not really what I'm looking for". But their virtual experiences reflect a huge boom in singles trying out video dating for the first time. 
A recent survey from Match showed that 69% of users in the US were open to video chatting with a potential partner, whereas just 6% had tried it before the pandemic. Bumble, the first major player to launch an in-app video tool last year, has seen a major increase in usage of its feature, which is marketed as a safer way to video chat compared to swapping phone numbers or social media details early in the dating process. Hinge added a 'Date from Home' video chat function in April in response to Covid-19, while start-ups also jumped on the trend, with one company, Quarantine Together, combining hand-washing alerts with a video matchmaking service.
Before the pandemic there was a lot of scepticism about video dating – Dominic Whitlock
There was also a surge in interest in livestreaming dating games, with The Meet Group, a US market leader in the sector, reporting a 95% surge in usage of its products since March. These include video speed-dating events and blind-dating games for users who want to focus on personality rather than looks. Some offline singles events pivoted to online spaces too, with companies such as The Inner Circle giving would-be daters the chance to video chat through activities like virtual pub quizzes. 
Why singles warmed up to video 
The obvious reason the video-dating trend took off alongside Covid-19, says Dominic Whitlock, editor of the Global Dating Insights website, is the fact that we quickly got used to using video in other areas of our lives. 
"Before the pandemic there was a lot of scepticism about video dating and only a handful of apps were experimenting with the technology," he explains. "The majority of dating apps are targeted at younger millennials and gen Z, two generations that, by their own admission, are inherently afraid of speaking to strangers on the phone or answering the door." But once everyone was working from home, being forced to speak to their colleagues on Zoom or playing virtual games with friends, "this gave singles the initial confidence to try a virtual date and then realise it's not as awkward as they first feared".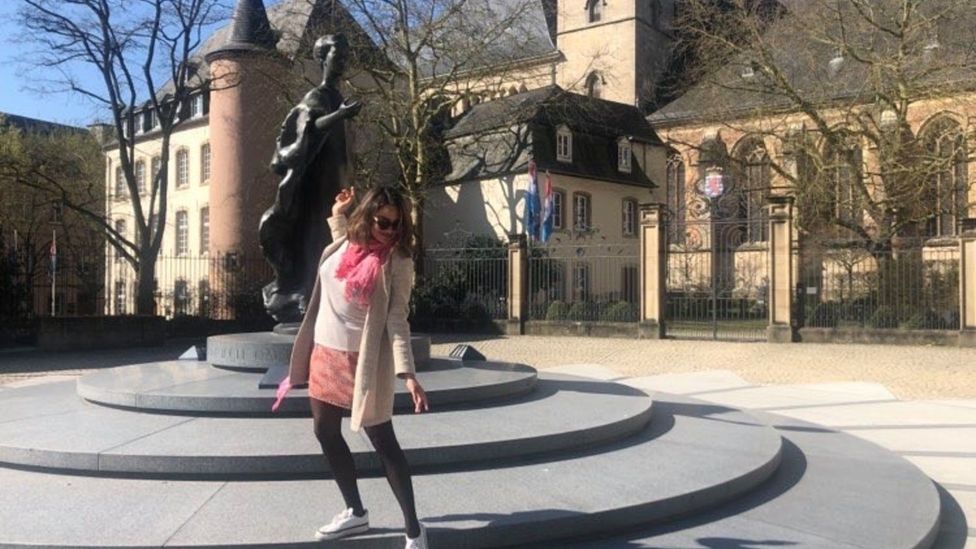 Nyana Ficot had a good experience with video dating, even though it didn't result in a serious relationship after lockdown
That was the case for Nyana Ficot, a 30-year-old financial advisor who describes herself as "normally quite shy" and went on her first video date after getting more comfortable using video tools during the lockdown in Luxembourg. "We talked for more than three hours, I had to charge my phone! It really felt like a good, proper date... the only thing missing was that you are far away and you can't touch the person." She was disappointed her match wasn't ready for something serious once they finally met up, but still describes it as "a great experience, to see that I can get to know someone... online, talking through video calls". 
Lockdowns also facilitated an uptick in video dating simply because they left many singles with time on their hands. In the absence of pre-Covid hobbies and travel, and with young people more likely to be furloughed or made unemployed by the crisis, Whitlock says some turned to apps simply "because they were bored". Others found their stripped-back lives made them feel more lonely or aware of their relationship status. "They were thinking 'I'm stuck at home, maybe it'll be better if there's someone else here with me. So maybe it's time to try and settle down'." 
Meanwhile, there was also a slow global realisation that social distancing was here to stay. "The public began to see that it was actually a very serious situation. Therefore, they needed to make a decision: take a complete break for an unknown period of time or embrace the new world of virtual dating. It appears as though the majority of daters chose the latter," says Whitlock. 
Dr Helen Fisher, who works as an advisor to Match Group, which owns dating platforms including Tinder and Plenty of Fish, says it's also relevant that lockdowns around the world followed a period in which many millennials were already experiencing swiping fatigue. Dating app growth slowed globally in 2019, and Fisher's own research before the pandemic suggested a growing appetite for closer emotional connections developed over a longer period, instead of casual hook-ups. 
"In 'the old days' prior to the pandemic, you met on the internet and then you went out on the first date and that first date was really very tense. 'Should I kiss them? Do we hold hands? Do I invite them over to my apartment?'," she says. Lockdowns, she believes, have helped to encourage dates to get to know one another better "before the kissing starts", a trend she predicts will continue even as social-distancing restrictions ease. 
A chance to date across continents 
Jai Andrews, 28, a mentor and coach from London, and Karen Mendoza, 25, who lives in Texas, are one couple who experienced this kind of slow-dating experience during the pandemic. They started out as Facebook connections and began chatting on Messenger in January. But their relationship accelerated due to video calls during their respective lockdowns and they decided to formally become a couple in March, before ever meeting in real life.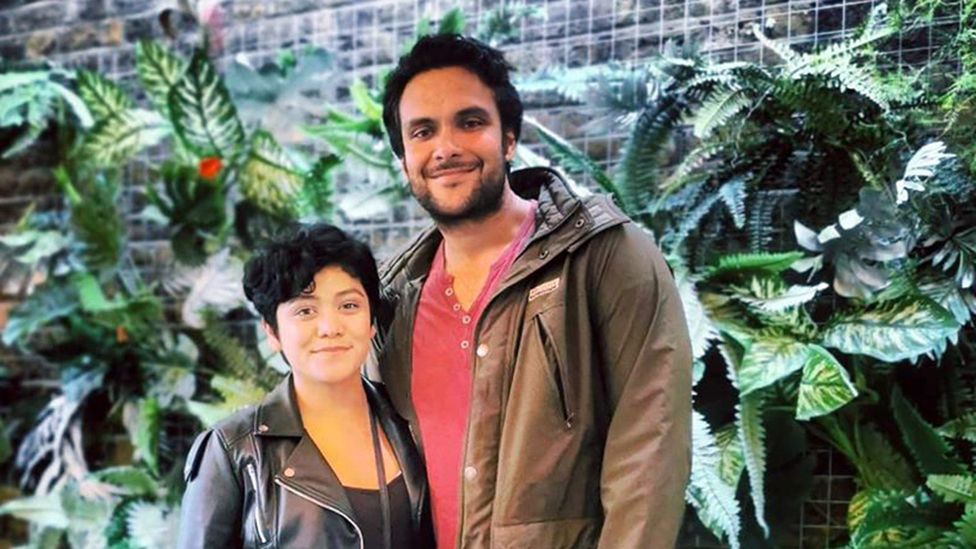 (Credit: Jai Andrews and Karen Mendoza)
"We got to know each other on a really deep sort of emotional level," reflects Andrews, who says they discussed everything from politics to cereals during hours spent together online. "I look back on previous relationships and it's kind of the physical chemistry you have first and when you really take the time to get to know the person... sometimes you realise you don't actually have that much in common." The couple recently spent several weeks together in the UK and say they're planning to make things work long term, despite the distance. 
Global Dating Insights editor Dominic Whitlock says they're far from the only ones who have been using video technology to date across continents during the pandemic. Several dating apps, including Tinder, capitalised on the possibility of long-distance love by allowing users to match with users locked down in other locations without an additional subscription fee. This, says Whitlock, helped make the experience of online and video dating more exciting, by introducing people from different locations and cultures, while working as a clever marketing ploy to keep people active on dating platforms, because "after three months of swiping, you're going to run out of people [locally]". 
British relationships writer and psychotherapist Lucy Beresford says she also observed an increasing willingness among her clients to video date outside their home cities or even countries during lockdowns. She believes the experience of remote working played a role in encouraging people to be more flexible about where they'd consider dating or living in future. "Whereas they might have said, 'I live in London, I work in London, my future partner must also be in London', there are a lot of people who are making different choices," she explains. 
Dating in the 'new normal' 
With countries now easing lockdowns, most dating experts think people will quickly return to developing romantic relationships offline, rather than focusing on video-based dating.
It's a lot easier to have a Zoom call with someone to work out that you really do fancy them than it is to go and waste two hours of your time in a bar - Charly Lester
"I think it will thin out simply because people want to get back to having normal human interaction, and that includes hugging people, having physical contacts, having penetrative sex – which you can't do with a video," says Beresford. "That driver is going to outweigh some of the more intellectual concerns around it: 'is it safe?' and 'what are medical issues that I have to grapple with?'." 
However, there is a consensus that the trend for video dating won't disappear completely, with many suggesting that video calls in the 'new normal' will form part of a screening process before a first real-life date. 
"People will be far more picky... because meeting up with someone, you're still putting yourself at risk," says Charly Lester, a dating expert for The Inner Circle dating platform. "It's a lot easier to have a Zoom call with someone to work out that you really do fancy them than it is to go and waste two hours of your time in a bar."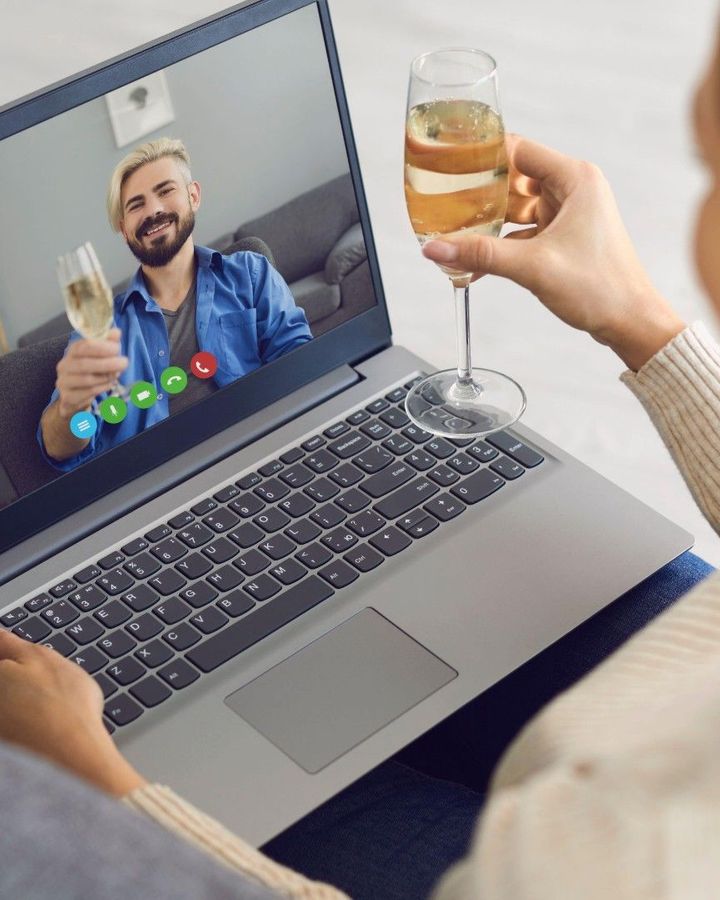 Post-lockdown video dating could serve as screening, a money-saving way to meet or a quick catch up for busy people, experts say
Lester believes that the financial impact of the pandemic will also encourage screen-based first dates. The average cost of a first date in a major global city was $85 in 2019, according to a recent study for Elite Singles, excluding any extra costs for new outfits or personal grooming. "Pre-Covid, it wasn't a big deal to go on two or three dates for two or three different people... If you have lowered your income or you've been furloughed, well then it makes sense that you would do as many dates as possible in free and cheap ways." 
Tinder is betting on the trend, testing its long-awaited in-app video feature in four US states in July, as well as in 12 other countries. A survey for the company showed that 40% of generation Z users said they wanted to continue using video as a way to decide whether or not to meet in real life, even once their favourite dating spots opened up again. Last month, Bumble introduced a new feature to enable daters to signal whether they wanted a first date to be virtual, or socially distanced with or without a mask, a further signal that video dating is likely to remain part of the vetting process for many.
At Global Dating Insights, Dominic Whitlock believes the option to meet digitally will also become a handy tool for time-poor young professionals. "If you're living and working in a big city, your life's very busy with work and friends and all those other sorts of commitments, so maybe if you have just met someone once or twice, they're not right at the top of your priorities," he says. "[Video calling] will be a way for you to show 'yes, I'm still interested, but I am just genuinely busy at the moment'... you can sort of mix it up a bit." 
But after months of spending so much time online during lockdown, some daters say the experience has actually put them off spending too much of their personal lives in the digital world. 
"Doing a date over a video messaging app – I think I probably won't do that again," says David Fell, 43, a British business owner in Dubai who tried video dating at the peak of the pandemic there. "I've always enjoyed being around people and I already spend a lot of time on platforms like Zoom for business, because I work with people internationally." With bars and restaurants now open again where he lives, he's hoping to meet people the old fashion way "by walking up and talking to them". 
Back in New York, Stephanie Manns says she's now taking a break from dating, after reflecting during lockdown that she wanted to focus on her work and hobbies for the time being. She says she wouldn't rule out video dating again in future, especially due to the current lack of physical events for the LGBTQ community. But she'd still prefer meeting any future partner for the first time in the flesh because "there's no substitute for the chemistry you get with someone in real life".