Giving advice is often counterproductive, say experts, even when someone asks you for it. Here are some pointers on how to get it right.
T
Think back to the last time you were discussing a challenge at work and someone chimed in to offer their opinion. Did you welcome their advice? Probably not. It's more likely you dismissed it and thought to yourself: 'You have no idea know what's going on.' Or possibly the more defensive: 'You don't even know me.'
Coaching expert and author Michael Bungay Stanier believes that many of us are too quick to jump in with proffered solutions. He discovered that advice-giving has become endemic in the workplace, which prompted him to write The Advice Trap. In it, he argues that our tendency to dispense advice stems from society teaching us that success means having all the answers, and that leaders in particular must prove their value by liberally dispensing it.
Most of the time our intentions are good – we give advice as a way of helping others. However, every time we rush in to give advice, we are unleashing what Toronto-based Bungay Stanier calls our inner 'advice monster'. He says it needs to stop, because in our haste we are likely to give the wrong advice, or the relationship is too new for the advice to be heeded, regardless of whether the advice is correct.
"You're almost certainly trying to solve the wrong problem, because it's rare that the first challenge someone mentions is actually the real problem. But even if you've figured out what the real nut is to crack, your advice just isn't as good as you think it is," he says.
That's because cognitive bias wires us to believe that our advice is better than it actually is (and that we we're smarter than we actually are). Humans possess a range of cognitive biases that lead to creating an overly positive estimate of one's skills and abilities. For example, the Dunning–Kruger effect causes people to be 'ignorant of their ignorance'. That is, they believe that the superficial knowledge they possess or even incorrect assumptions qualify them to speak on a topic. "Often, the more confident you are in your advice, the more wrong it's going to be," says Bungay Stanier. "If you have true expertise in a topic, you might say: 'Well, it depends. It's complicated'."
Cognitive bias wires us to believe that our advice is better than it actually is – and that we we're smarter than we actually are (Credit: Alamy)
He believes we all have an advice monster, although some are triggered more quickly than others. The first step toward taming it is to pay attention to just how quickly it emerges. "People are often stunned by how fast they default to advice-giving when they become conscious of it," he says.
Another way of keeping it in check is reflecting on how advice can erode confidence and autonomy in the person on the receiving end. Giving unsolicited advice can cause stress, and when someone suggests a better way of doing things, it is often interpreted as criticism.
Suzanne (whose surname we aren't using) struggled with her new colleague's overbearing personality when she worked in a senior role at a hardware company in Victoria, Australia. "She had an opinion about everything. I thought to myself: 'You've been here five minutes and you're already telling people what they should and shouldn't do?'"
Every time we rush in to give advice, we are unleashing our inner 'advice monster'
The new colleague subsequently became her boss, something Suzanne found very difficult. "I couldn't speak in a meeting without her second-guessing me… We had frequent 'progress meetings' and I began to feel that I was spending more time talking about what I was going to do than actually doing it," she recalls. "In the end I became a complete wreck. I couldn't think for myself and I stopped making any decisions. I had been in my job many years and had loved it, but the situation became unbearable." She had a breakdown and spent 17 months off work recovering.
As Suzanne's case shows, the impact of too much advice can be harmful – which may be the opposite of what the advice-giver intended. In Suzanne's case, she felt that her boss was trying to undermine her confidence, although she didn't understand why, and also observed that her boss' micromanaging tendencies eroded morale across the company.
How can it be wrong when it feels so right?
Yet it can be difficult to stop giving advice because it makes us feel great – and we feel even better when we are asked for it. Multiple studies have found that advice almost always benefits the giver more than the receiver. A 2018 study, for example, found that giving advice helped participants overcome a lack of motivation or confidence more than receiving advice did.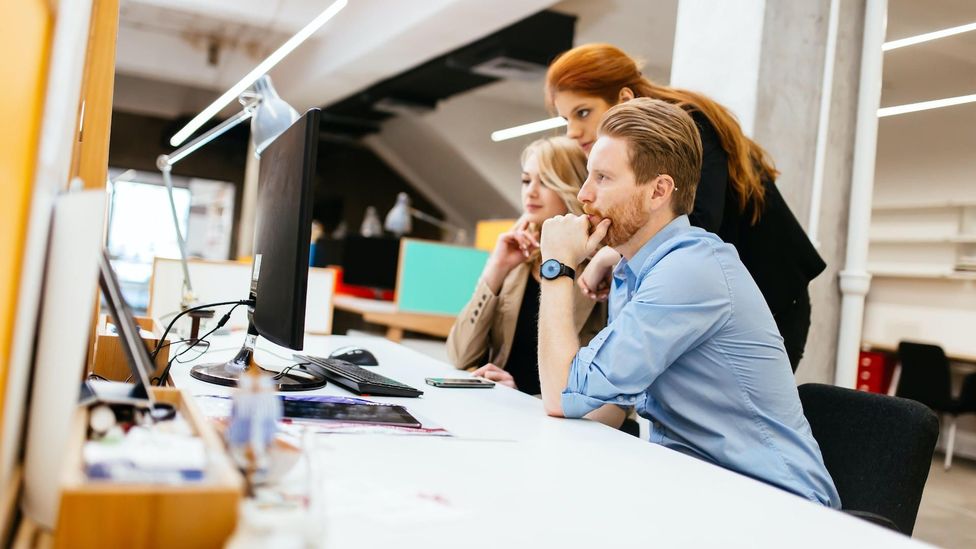 If you jump in to give advice often, it's likely you're not solving the right problem. And even if you are? Your advice probably isn't as good as you think it is (Credit: Alamy)
"When someone asks us for advice, it strokes our ego. It gratifies our desire to be known and to have status and authority. And there's not much at risk for you personally when giving advice," says Bungay Stanier.
Research by Michael Schaerer, an assistant professor at Singapore Management University, has found that advice-giving influences our sense of power. In one study, American university students were asked how much value they ascribed to power and whether they strove to be powerful. They were then invited to message a fictitious student who couldn't decide which major to choose. Some were subsequently told that the student would heed their advice, while others were told they wouldn't. Participants were then asked how powerful they felt.
 "Those who reported a higher need for power gave more advice," says Schaerer. "And how much advice they gave correlated with how powerful they felt afterwards. But the students only felt more powerful when they were under the impression that their advice would be followed."
"People are often stunned by how fast they default to advice-giving when they become conscious of it" – Michael Bungay Stanier
What surprised him most was that it didn't matter whether the advice was solicited or unsolicited – either way, it still increased the sense of power.
No one has all the answers anymore
These days, however, as technology changes the way we work and the skills we need, leaders cannot realistically expect to have all the answers.
"As a leader, you can't be the expert in everything anymore. It simply isn't possible. It's also stressful to put that pressure on yourself, and it creates a bottleneck of everybody having to come to you for the answers," says Dr Julia Milner, professor of leadership at EDHEC Business School in Nice, France and director of the International Centre for Leadership Coaching.
It can also be draining, as Shane Pollard discovered. He describes himself as his company's "go-to problem solver". Since he joined Be Media in Western Australia as chief technical officer three years ago, he has given most of his 45 colleagues advice on something or other.
First came the technical questions, which related to his role. But then came "common sense" questions: "There was constant yelling out across the office: 'Hey Shane – who do I include in this email? Should I copy in my manager when I email a client?'" His colleagues also began seeking him out for career and development advice – and even financial advice.
"Giving advice is a double-edged sword," says Pollard. "Yes, it feels good to help. But I became frustrated by the lack of accountability of others to solve their own problems. I wanted to empower them so that they don't rely on me."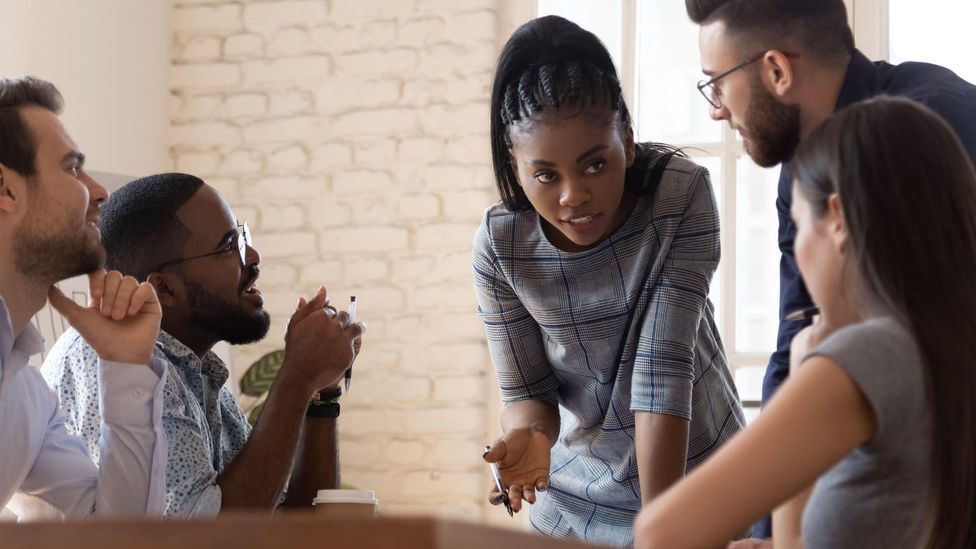 It can be difficult to stop giving advice because it makes us feel great – and we feel even better when we are asked for it (Credit: Alamy)
The answer to Pollard's problem is coaching, say experts. It involves helping others devise their own solutions, by asking questions rather than offering advice. "This is more motivating than just telling people what to do," says Milner. She concedes that coaching may be more time consuming in the beginning, as it requires adjusting to a different leadership style.
"If you ask me a question and I tell you the answer, that's probably much quicker," she says. "But in the long term, coaching saves time because it stops people coming to you for every little thing." Her research has also found that coaching boosts motivation in teams and leaders, and this leads to higher productivity.
Coaching can be fast and practical, agrees Bungay Stanier. His previous book, The Coaching Habit, describes how coaching is more about a change of attitude in a leader than an additional obligation, and actually frees up time because teams become self-sufficient.
However, occasionally, leaders are reluctant to make the switch, both experts have found. "We have a certain perception of what leadership looks like. Because coaching involves empowering others, some people think, isn't that giving power up myself?" says Milner.
She emphasises that not every interaction needs to be a coaching session. "There are times when it's not appropriate – such as a high-pressure emergency situation. Training can be helpful in learning how and when to coach."
One final piece of advice from Bungay Stanier is this: If you do decide to go ahead and give advice, frame it in a way that the other person can ignore it without anyone losing face. "You could say, 'These ideas worked for me, but they may not work for you. I'll just throw them on the table and if there's something useful – great. If not, that's fine as well.'"
Or don't – that's just our advice.