With workers doing their jobs at home, the business ecosystems around office towers are taking a hit – maybe even a fatal blow.
13:00 is usually the peak of the lunch rush in the passageways beneath Brookfield Place in downtown Toronto. On a Thursday in August, though, the food court sat mostly empty, save for a smattering of workers, a lone security guard who ambled past the still-shuttered Starbucks and signs telling visitors to maintain physical distancing (though from whom it wasn't clear).
At Nutrition House, a health and supplement chain, franchise owner Paul Park rang up a single nutrition bar – his only sale for the hour – while his wife Johanna reviewed the long list of unsold, expired inventory they'd been forced to take off the shelves since April, worth thousands of dollars overall.
The shop is one of more than 1,200 businesses located in the PATH, a labyrinthine network of underground halls connecting Toronto's downtown office towers, subway stations and sports arenas. Since the Covid-19 crisis began, companies have sent the bankers, lawyers and tech executives who normally work in the area home, leaving corridors that once teemed with more than 200,000 people per day deserted.
Even as most of Toronto has reopened, with Stage 3 activities including cycling classes and indoor dining allowed to resume on 31 July, many of the financial district's biggest employers have announced plans to keep their staff working from home until at least 2021. It's a move the mayor's office has encouraged as a means of reducing pressure on public transit.
For the restaurants, retailers and services whose businesses revolve around keeping Bay Street (Toronto's answer to Wall Street) fed, dressed and dry cleaned, the future has never looked more uncertain.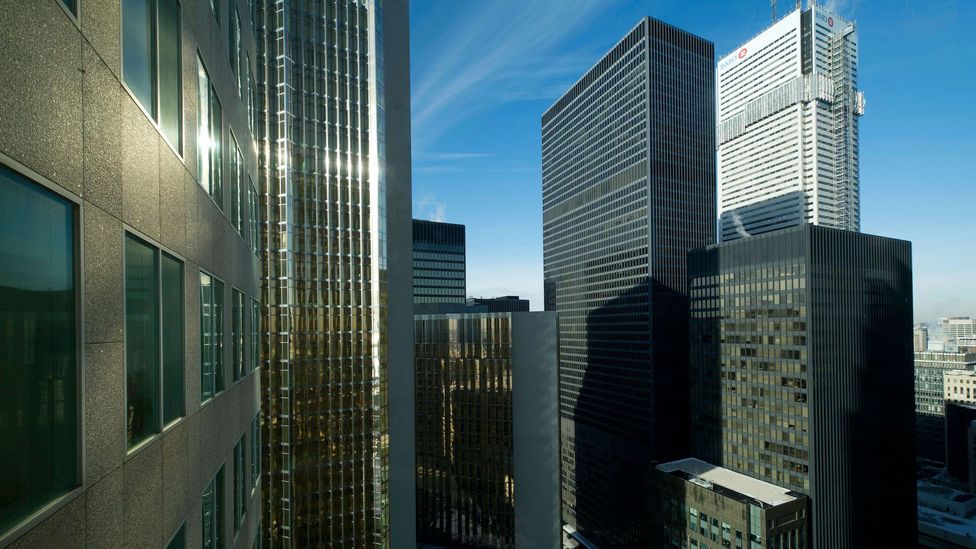 The high-rise buildings on Toronto's Bay Street that usually bustle with thousands of workers now sit mostly empty – meaning few customers for the shops below (Credit: Alamy)
'Sometimes there's no sales'
"If the offices stay closed, then nobody's coming," says Nutrition House's Park. Although he's opened the store for four hours every weekday since May, "sometimes there's no sales".
Park bought the franchise almost four years ago, thinking it would be an ideal business to run in retirement: its usual hours are 07:30 to 18:00 on weekdays only, and he could hire staff to open the shop in the mornings and come in to help and talk to customers in the afternoons.
"I just love this space, this location because [of] all the young people and all the full-steam energy – all go, go, go," he says. "I feel like part of them."
Now, says Johanna Park, a retired nurse, "What can we do? Do we have to close? That's a choice we have to make."
Like many small businesses downtown, the shop qualifies for a federal rental assistance programme that covers 75% of its monthly rent, 50% of which is paid by the government and 25% by its landlord. Landlords, however, have to opt-in to the programme, and while Park's has done so, even finding the money to pay 25% rent hasn't been possible. The shop didn't make any sales while it was closed (as a franchise, Nutrition House's online business is run by the company's head office) and even now it is only scratching CAD$3,500 ($2,650, £2027) per month, down 88% from last August. Like many tenants, he's been deferring payment since March, and also doesn't except to be able to pay the back-rent.
What can we do? Do we have to close? That's a choice we have to make – Johanna Park
Before the pandemic, commercial rents in the PATH ranged from $100 to $200 net per square foot for small spaces, according to Arlin Markowitz, a top retail broker for commercial real estate firm CBRE; even a 250-square-foot food court stall might cost as much as $5,000 per month.
"For businesses in areas like the PATH, the Covid emergency phase is not over," says Dan Kelly, president of the Canadian Federation of Independent Business. "Yes, the government is no longer imposing closures, but effectively you may be closed because you have no customers."
While no agency has calculated the estimated cost of these closures yet, the businesses in the PATH typically generate $1.7bn in revenue annually and generate about $271m in tax revenue, according to the city of Toronto, and many have been shuttered since mid-March.
At this point, says Nutrition House President Wayne Parent, "It's a matter of how do you keep the doors open and the lights on until you get people back in those towers and people walking around."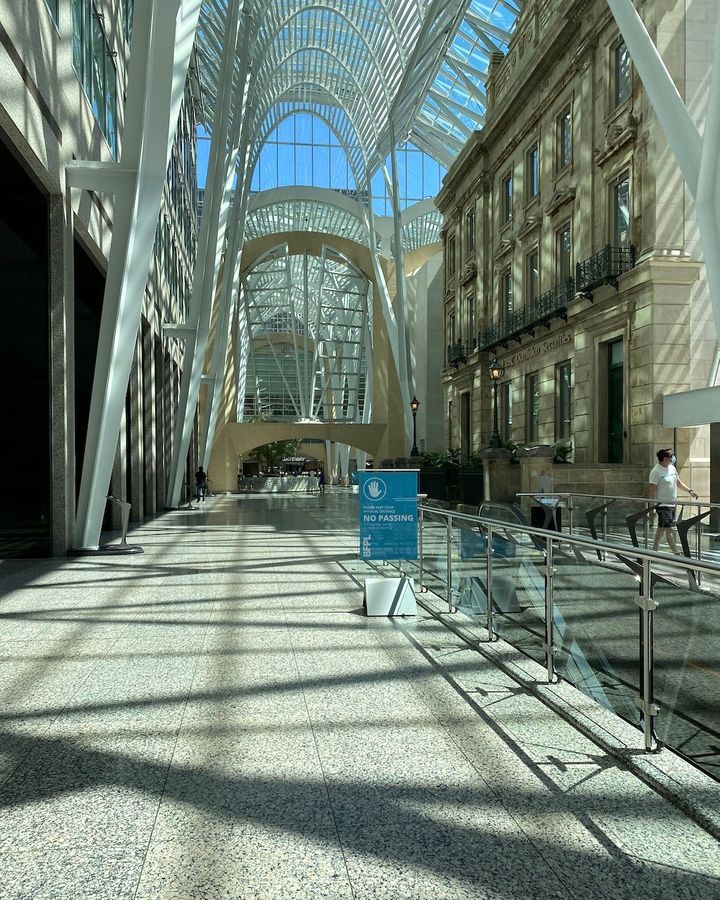 The underground network of shops along Toronto's PATH are suffering as foot traffic from the office buildings above has all but disappeared (Credit: Hilary George-Parkin)
Not dressed up and nowhere to go
While many companies are gradually allowing some workers to come back to their offices, and more are due to return in September, the challenge of maintaining distancing in high-rise elevators and subway cars has slowed back-to-work plans. Brookfield Properties, which manages 10 office towers connected to the PATH, has told tenants it only expects to reach 25% capacity by the end of the year.
Even then, will those who do come in be eager to run their errands in low-ceilinged passageways or go out for after-work drinks if the virus is still a threat? Will they pick up a coffee or a snack on the way to and from the subway, or opt to drive instead? When will they need to buy (or indeed, wear) a suit again?
That's the question Andre Vassi is asking. He has run his high-end menswear shop Vassi out of the First Canadian Place tower for 23 years. This past October, he moved to a new space three times the size of his previous shop, lined with rows of Italian cashmere blazers and a kaleidoscope of silk pocket squares. Since reopening in late June, sales have been down about 90% from before the pandemic – a level he doesn't expect will markedly improve until his customers again have occasions to dress for.
Yes, the government is no longer imposing closures, but effectively you may be closed because you have no customers – Dan Kelly
"People, they tend to dress up when they are in a large crowd," he says. "Now, there is no place for my customer to wear my garments. There is no office. There is no party. There is no wedding. There is no gathering. There is no travel… So I can't tell somebody, 'Please buy these things.' To do what?"
Businesses like his are amenities that help attract corporate tenants to the office spaces above, and he expects the bankers and lawyers who frequent his shop – most of whom have been able to hold on to their jobs and save money through the pandemic – will be eager to put on a new suit or dress shirt when they finally have reason to again.
Still, he looks around every day at all the darkened storefronts in the PATH – the hundreds of businesses that can't afford to pay an employee to come in, or buy food that might spoil before it's sold – and wonders how many of them won't reopen at all.
"I don't know how many people can survive it, because even on an emotional, mental basis, coming down and standing in your establishment every day and barely anybody passes by your door, you can imagine how it will take its toll," says Vassi.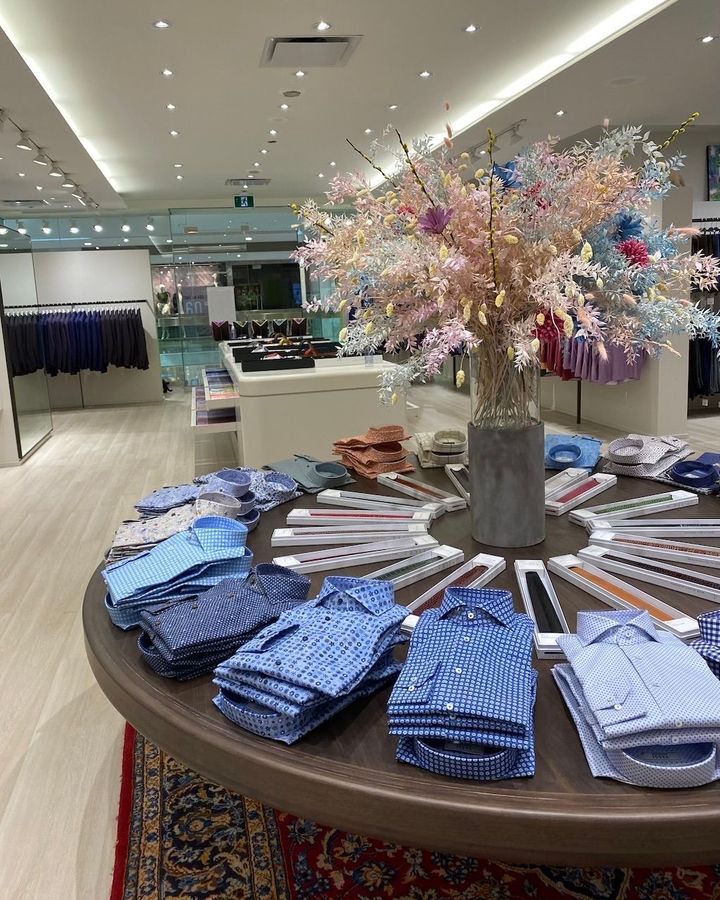 Andre Vassi has seen his sales at high-end clothing shop Vassi plummet by 90% since reopening in June (Credit: Hilary George-Parkin)
Missing an old routine
Similar struggles are playing out in the financial centres of cities around the world. In Midtown Manhattan, subway ridership was down 87% in late June, as measured by turnstile swipe data reported by the New York Times. In downtown Sydney, where a construction boom is underway, office vacancies are now projected to hit 10% in 2024, compared with 3.7% prior to the pandemic, according to data from the commercial real estate services company Colliers. The business ecosystem around these buildings has already suffered, and will likely continue to.
Toronto, though, is relatively unique in that the businesses that undergird its downtown core are largely hidden away underground, where even local foot traffic is unlikely to drive business in the summer months. Montréal and Minneapolis face similar obstacles with their Underground City and Skyway respectively, though the Canadian and US-midwestern winters ahead may help draw traffic back to the climate-controlled passageways.
There is no place for my customer to wear my garments. There is no office. There is no party. There is no wedding – Andre Vassi
"I think what will happen as the weather starts to change and we're looking for more places to go, those businesses will start to pick up," says Farla Efros, president of the retail consulting firm HRC Advisory. "But especially if they're under big office towers, a lot of them, it'll be dependent on what the protocol is."
Beyond capacity restrictions, there's the question of childcare, too: under Ontario's current back-to-school plans, some parents may have to pick their children up at noon so they can complete online learning at home in the afternoons. Add to that the possibility of a second wave of the virus, and the idea of the area rebounding to pre-Covid levels of economic activity in a matter of months without a vaccine seems like a fantasy.
And while workers may relish certain perks of working from home, many also miss the propulsive energy of downtown, which includes the businesses. "A big element of my life was being down on Bay Street in the PATH," says Leila Rafi, a partner at the law firm McMillan LLP. "I loved it, I thrived on it and it was fun for me."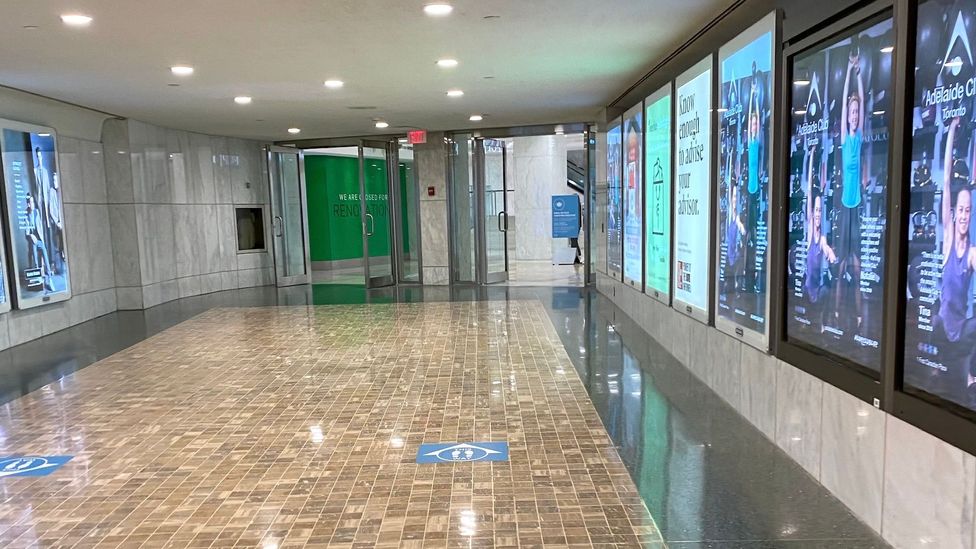 Even though lockdown restrictions have relaxed, the PATH halls are nearly empty as there are no Bay Street workers to do their errands or grab lunch (Credit: Hilary George-Parkin)
She works long hours, so meeting clients for lunch at stylish downtown restaurants such as Jump, Bymark or Canoe served as both a welcome break in her day and an opportunity to develop professional relationships. In the PATH, she could pick up Tim Horton's coffee on the way to the office, buy pantyhose from her usual shop, drop off tailoring, do her grocery shopping and see friends who work nearby, all without needing to put on a winter coat.
Now, the meetings are on Zoom, and the restaurant patios are filled with people just looking for a place to drink, rather than the regulars who can usually be relied upon to tip well and be friendly to the servers they see every week.
While Rafi has been encouraged to see more signs of life downtown as office workers have trickled back in, she recognises how difficult it will be for many businesses to survive. "I think everyone took for granted how busy lunch was at all the places in the PATH. There was just so much traffic all the time," she says. "I just don't think any of these vendors were prepared for a complete shutdown out of nowhere."