The Covid-19 recession is unique among modern economic shocks in its harm to women's finances and prospects. Can this be reversed?

We're in the thick of the 'shecession'. 
The global economy is now in its worst downturn since the Great Depression. One of the unique aspects of the current recession is the way it's impacting women: though men are more likely to die of Covid-19, the pandemic's toll on employment is heavier for women. Unlike other modern recessions, the pandemic recession has led to more job losses among women than among men. While the 1970s marked the start of 'mancession' periods in industries like construction, the current 'shecession' is heavily affecting sectors like hospitality and retail. 
These sectors employ many women and are also vulnerable to lockdown measures. Some effects are already visible. Globally, women's job losses due to Covid-19 are 1.8 times greater than men's. In the US, unemployment has intensified the most for the personal care and food service occupations, where women predominate. 
It's not just about lay-offs, however. In a McKinsey and Lean In survey of North American female employees, one in four women said they were thinking about reducing or leaving paid work due to the pandemic, citing company inflexibility, caring responsibilities and stress. The survey included some comparative data that laid out the gender gap for parents; while 8% of surveyed mothers had thought about going from full- to part-time work, only 2% of fathers had. 
For a fairer and more lasting recovery from Covid-19, it's crucial to understand which people are especially hard-hit by the economic slump, and how best to help them back up. 
Which groups are most affected? 
The pandemic recession is particularly challenging for women's employment globally for two reasons connected to the dangers of close contact: the restrictions on service jobs, and the closure of schools and daycare centres. 
While some economists have suggested that married women are especially affected by employment cutbacks, caregiving status and the absence of support matter more than marital status. Those disproportionately affected in the US include black women (who bear even more household responsibility on their own) and Latinas (who work in greater proportions in sectors like leisure and hospitality, and are more likely to have informal employment). Some subgroups are squeezed even more, like mothers of young children and mothers without partners or relatives. 
Less-educated workers, and those whose jobs can't be done from home, have faced higher unemployment as a result of the pandemic, for instance in Spain. But high status doesn't insulate women from stress and burnout. Senior-level women are significantly more likely than their male peers to consider dropping their hours or dropping out of the workforce because of the burnout associated with being "always on" and juggling multiple responsibilities during the pandemic. In the McKinsey and Lean In survey, 41% of senior-level men reported feeling exhausted, compared to 54% of senior-level women.
The real danger at the moment is that people are starting to associate women with childcare more strongly than before - Ariane Hegewisch
And across levels of seniority, parental status is affecting how women are seen in the workplace. Women who are pregnant or on maternity leave are reporting being pushed toward redundancy or furlough. Ariane Hegewisch, who leads the Employment and Earnings programme at the Institute for Women's Policy Research in the US, is concerned that the pandemic "may lead to discrimination going forward, [companies] being less likely to pick out women for fast-track positions or management training". There's a risk, she says, that employers may assume that all women are overburdened by caring responsibilities, without taking measures to support them. "The real danger at the moment is that people are starting to associate women with childcare more strongly than before." 
The double-edged sword of flexibility 
These pressures, and some potential solutions, can be seen in current debates around flexible working. Flexibility has been invaluable to women juggling multiple demands on their time, but it isn't a cure-all to achieve gender parity in the workplace. 
While inflexibility is a key reason that female employees are considering reducing their hours or leaving their jobs, flexible work tends to be lower-paid, more precarious and less of a stepping stone to top-level jobs. And the especially dark side of flexibility comes when workers are underemployed, underpaid and at the mercy of employers to assign hours, often on unpredictable schedules. Such unpredictability is particularly hard on the working women who now have to act as home-school teachers or carers. For flexible work to play a greater role in chipping away at the gender pay gap, it needs to be better regulated and sustainable for all levels of employees, including high-paying roles.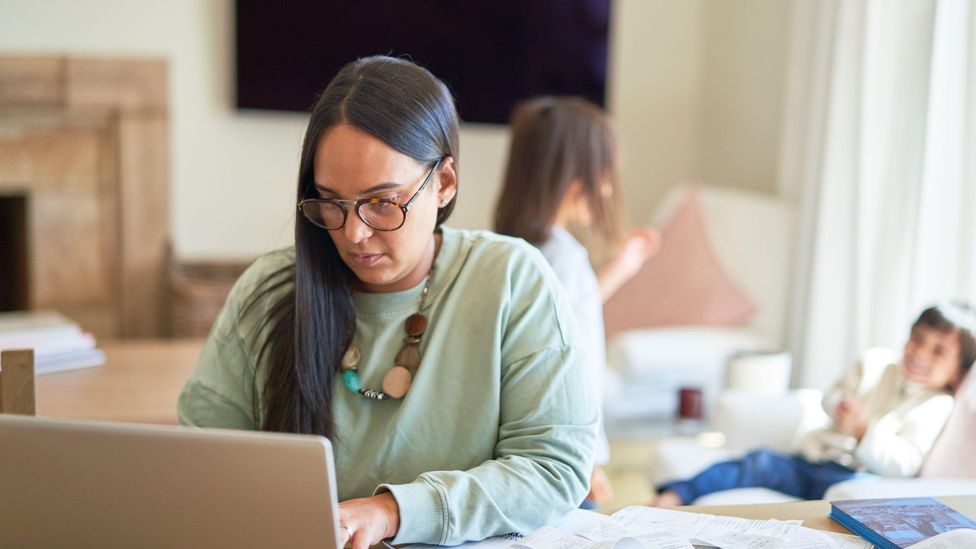 Flexible work isn't a cure-all, particularly given women assume a disproportionate share of caring responsibilities
Flexible work also needs to be available to and taken up by men. The multiple burdens that suppress women's achievements won't ease until men take on a greater share of domestic and caring responsibilities, and also become more likely to downsize or adjust their own hours when family circumstances change. But this is challenging in practice. Hegewisch points out that in a heterosexual couple, "if one person has to cut back… for care, it is likely to be the person who earns less in a couple, and that is more likely still to be the woman." 
Some families can make it work, but a certain combination of advantages has to be in place. "We're one of the really lucky ones," says Hellen Stirling-Baker, who has just reopened her business, an ethical children's shop in Sheffield, UK, called Small Stuff. During much of lockdown she had to move her shop from bricks-and-mortar to online, but sales haven't suffered hugely. Crucially, she says, she and her husband have been equally dividing domestic tasks and care of their four-year-old son. As he works for a bank and has a more rigid schedule even though he's working from home, he's been taking on the evening shift of cooking dinner and caring for their son, as well as helping her reopen the shop.    
The period of temporary – though hectic – flexibility for the self-employed Stirling-Baker allowed her to reorient her business and buffer the unpredictability of her son's new life. She's now found a new location for Small Stuff that's larger, allows for social distancing and comes with a rent-free period. It helped that she could compensate for her husband's strict schedule by making her own hours, but that can't continue once the shop is running normally. And the hard work is taking a toll. Stirling-Baker hasn't been sleeping much, she acknowledges, and is focused on the crucial Christmas period for retail sales, while trying not to think too much on the uncertain period beyond that. 
Short-term solutions 
There are, of course, things that employers can do to incorporate flexibility and help ease the impact of the pandemic recession on women. Managers can set more realistic expectations and re-evaluate performance criteria – for instance, not criticising employees for working outside of core hours. This would help relieve the exhaustion that's particularly affecting certain groups of women (although companies that are already crunched may find it hard to be generous). Only about half of North American workplaces surveyed by McKinsey and Lean In had communicated their productivity expectations during the pandemic, and just 37% had changed the performance review process. 
Employers can improve flexibility, communication and support to employees of all genders. Anita Bhatia, a deputy leader of UN Women, commented in the Women Leaders in Global Health Conference on 15 October: "The private sector has a huge role to play: to say that they will create flexible working conditions for women to come back and that they will not penalise women for stepping off the career track if they have to."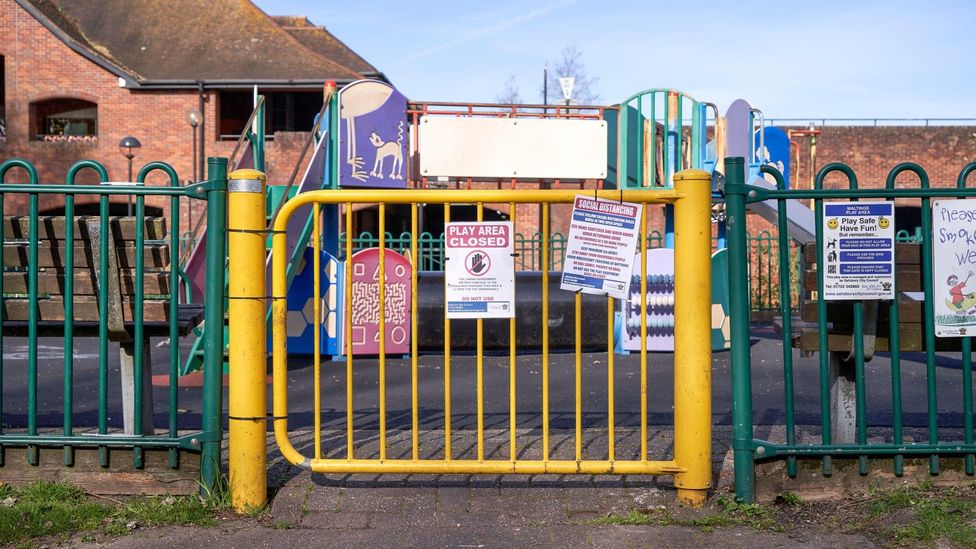 Day-care and school closures have had a major impact on working parents
Yet there's only so much that individual organisations can do. According to Michèle Tertilt, a family economist at the University of Mannheim in Germany, the measure that would help more than any other in curbing the shecession is reopening schools – especially for the young children whose care is so demanding. As Hegewisch comments, "What the crisis has shown is that [telework] will only work if the childcare and education infrastructure is there. I always go through the roof when I see these [images of] glorious days of working from home and you have this dad sitting in front of his computer with a toddler on his knee. And I think, 'Yeah, have you ever tried to work like that?' It's ridiculous." 
The reopening of her son's school was what allowed Stirling-Baker to plan for the reopening of her shop. If the school were to close again, the shop's doors might need to shutter as well. "There isn't a huge amount of wiggle room with what we can do," she reflects, even though she considers herself luckier than many. 
More generally, Covid-19 has exacerbated the pre-existing childcare crisis. "People are very afraid that this is going to do long-term damage to the childcare infrastructure," says Hegewisch. In addition to shutting many childcare facilities, the pandemic may shift demand for care away from big facilities to small, neighbourhood-level providers, sometimes operating from their homes. Local businesses are more attractive when people are being encouraged to stay put, and small providers can more easily reduce the numbers of people mixing. But in the US, those smaller providers have been in decline for years. The knock-on effects are likely to perpetuate the harms to women's careers. Overall, the pandemic adds urgency to the argument for strengthened government investment in the care sector.
Our model simulations suggest that it will take a long time for women to catch up to pre-pandemic levels - Michèle Tertilt
Tertilt also recommends financial stimulus payments to those who have lost jobs, particularly single mothers. Some countries, such as Togo, have granted more generous recovery payments to women. However, gender-sensitive recovery plans are still few and far between, and would need further sensitivity around factors like income level and informal job status to ensure that the hardest-hit women are receiving the most support. 
This is important because the short-term picture for women is grim. "Our model simulations suggest that it will take a long time for women to catch up to pre-pandemic levels," explains Tertilt. "The reason is a 'scarring effect' – when women do not work for a while, they will likely find worse jobs when they re-enter. Similarly, women who reduce hours will likely miss career opportunities." 
Longer-term projections 
Even for this unprecedented recession, history provides some warnings of the gendered impacts to come. Previous pandemic experiences, such as of Ebola in West Africa, suggest that girls and young women who leave education or employment during disease outbreaks are less likely to return than their male peers. Pregnancy rates increase, skills gaps widen, and girls and women take on even more domestic tasks as other household members stay home or fall ill. 
And as the International Labour Organization has starkly put it, "previous crises offer some cautionary lessons for the current one. They illustrate that when jobs are scarce, women are denied economic opportunity and security relative to men." 
Even so, the recessions of the recent past have actually reduced the gender pay gulf, because men have taken the brunt of job losses. The analysis of Tertilt and her colleagues found, as she explains, that a typical recession "decreases the gender wage gap by a sizeable amount, but a pandemic recession increases the gap by an even larger amount".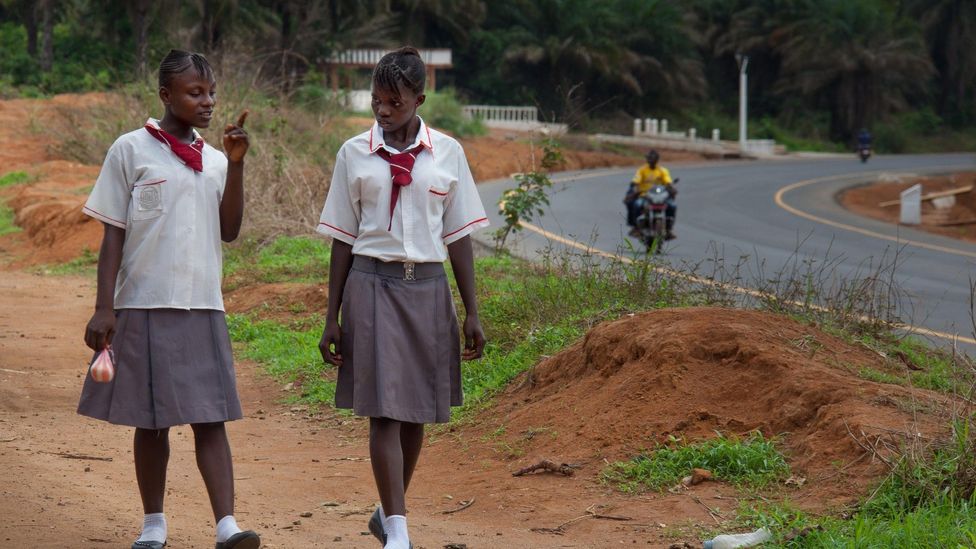 History suggests women forced out of education or employment by pandemics are less likely than men to return

But the silver lining is that Tertilt and her colleagues believe that this worsening of gender inequality will continue only into the short to medium term. This is mainly because men are taking on more in-home tasks, potentially freeing up time for women to devote to careers (or leisure). In a pandemic recession, men who can telework, like Stirling-Baker's husband, take on a greater share of childcare. In some cases, they become the primary carer. 

In countries including Kenya and the Philippines, men are increasingly taking on childcare. In an Italian sample, shared responsibility for childcare has increased by 17% during the pandemic. (However, Italian women, like many women, are still logging more hours on chores and childcare than men.) In an optimistic scenario, women and men may emerge from the pandemic with a less skewed distribution of domestic responsibilities. Tertilt and colleagues draw parallels to World War Two – another globally catastrophic event that had a bright side in the way that it normalised female workforce participation and changed gender roles. 

But, of course, not all men can work remotely. And women have a smaller financial cushion to begin with, so their economic reserves are likely to be depleted faster than men's. Hegewisch draws on a different historical experience. From the Great Recession that started in 2007, she says, "We know that women were more likely than men to dip into their retirement savings." 

As well, recovery measures are overwhelmingly being led by men, without sufficient attention always being paid to women's needs. Hegewisch urges more consideration of "how far women are part of those commissions that are being set up now on how to reopen the economy post-Covid. What we can see is that they're often under-represented." 

So, if women are excluded from crucial decision-making spheres, if men don't actually step up in the home and if the childcare crisis persists, then the pandemic will represent a massive step backward in the overall march toward gender equality.

;