The pandemic quashed the experience of learning in a traditional office. Can younger workers grow in the same way while working at their kitchen tables?

Four months after offices across the US went dark, 22-year-old Nicole Jao started her first job working as a cybersecurity risk consultant. She hadn't expected to launch her career remotely from her apartment in West Los Angeles. 
With little more than the constant ping of notifications vying for her attention throughout the day, Jao says she yearns for "that camaraderie of hanging out with your co-workers" and "spending time with them at happy hours afterwards... it's kind of hard to engineer that [social atmosphere] by yourself". Plus, learning the ropes of a new job in a remote environment means Jao has to advocate for herself in more overt ways than she'd like. "I'm more of an observant employee," she says. She prefers to be discreet, rather than "being like, 'S.O.S. I need help' constantly". 
Without these foundations, Jao has had to adapt. She's learned new ways to absorb information and cues vital to her job, saying, "when you're remote, you need to be very vocal about the assistance you need and the help you're looking for. As a new grad and new hire, it definitely affects the way I can learn". 
Across the country in Ann Arbor, in the US state of Michigan, 22-year-old Katie Dillon, a recent graduate and software engineer at the mobile-ticketing platform SeatGeek, says her working life is markedly different from the one she envisioned as a student. For one, she isn't living near the company's New York City headquarters. And, instead of a commute in which she imagined sipping coffee while getting prepared for the day ahead, Dillon says she rolls "out of bed 20 minutes before my stand-up meeting". She usually fires up her computer still wearing pyjamas, fixing her hair to "hide the bed head".   
The changes in lifestyle the pandemic has sparked extend far beyond frantic efforts to look presentable for a morning Zoom meeting. As the pandemic has rendered offices unsafe, the recent graduate's traditional career paradigm of moving to a city, commuting to a job and perhaps living with friends at a similar stage in life has suffered a dramatic, indefinite pause. Young workers have learned to temper their expectations, while companies have been forced to foster the development of greener employees without the convenience of human contact. 
'It becomes harder to connect' 
"When you've been working at an organisation for a long time and then you're forced to work from home, you do have the benefit of those long-term relationships" with colleagues, says Amanda Jones, a senior lecturer in human resources management at King's College, London. "People know you. People know what you're capable of."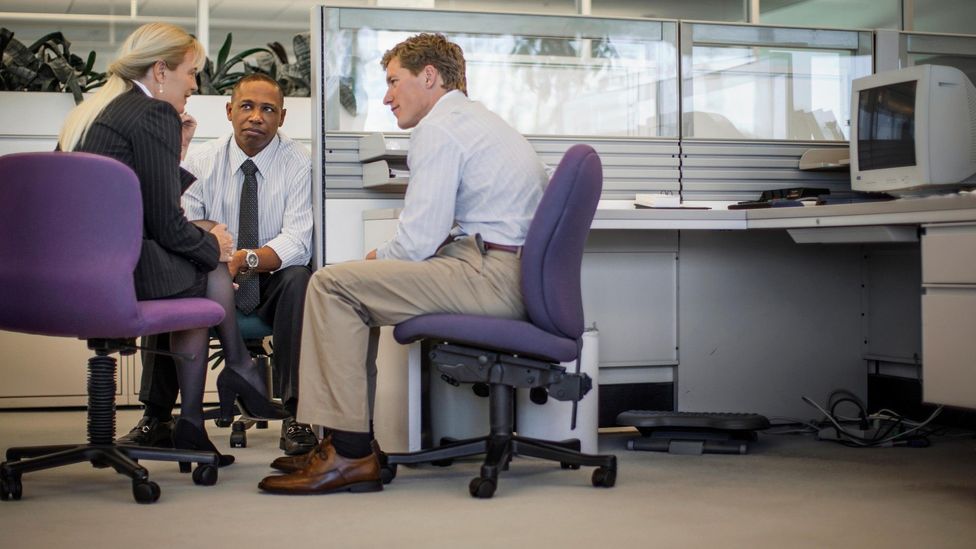 How do young remote workers develop the bonds with colleagues that contribute to problem-solving and creativity?
But without the ability to interface, network, schmooze and even chat idly about the weather, some younger employees have started to feel adrift during this period of indefinite teleworking, especially at larger companies. "Part of the employee experience is [shared] space," says Dan Schawbel, managing partner of the HR advisory firm Workplace Intelligence, and author of Back to Human. "There's a certain energy and presence people have in person. Once you start to remove that, it becomes harder to connect." 
Recent studies show that pandemic-wrought isolation and disconnectedness have been particularly hard on the new professionals of Generation Z. In July, MetLife's 18th annual US Employee Benefits Trends Study showed that Gen Z employees were three times more likely to have sought help for mental health issues like stress and burnout than their more seasoned counterparts. Researchers from the software firm Smartsheet queried 1,000 US workers in April, finding that the youngest employees were struggling immensely: 82% of Gen Z workers said they feel "less connected" working remotely, while roughly half reported having communication issues at work and trouble getting the resources necessary to thrive.
Their soft skills are weakened because they're not getting human contact - Dan Schawbel
Aside from forging a career deep in the trenches of the coronavirus recession, which economists fear will have a lasting, negative effect on the economic fortunes of Gen Z, younger workers have reason to worry about separate, interpersonal issues related to work. "I think their soft skills are in danger," says Schawbel, referring to communication skills learned through team environments. "Part of soft skills from a business perspective is the art of collaboration and connecting… their soft skills are weakened because they're not getting human contact." 
The technology avalanche 
In response, companies large and small are engineering ways to make work feel familiar and team oriented. To an extent, however, that just means inundating employees with technology. 
Dan Black, the global recruiting leader at international professional-services network EY, notes that all employees have routine touchpoints, such as video conferences, webinars and other digital communications that aim to promote "a sense of normalcy". But these tools are the traditional bedrock of teleworking, rather than a spawn of Covid-19 response. 
As far as onboarding is concerned, it's more of the same digital barrage. At SeatGeek, new hires "spend time throughout the first two weeks participating in more than a dozen virtual onboarding sessions with teams across SeatGeek," says Jamie Sterrett, the company's director of talent acquisition. For recent graduates on the engineering team, the company revived its "onboarding buddy program" to help "new employees feel supported and have a friendly face who they can go to for everyday questions".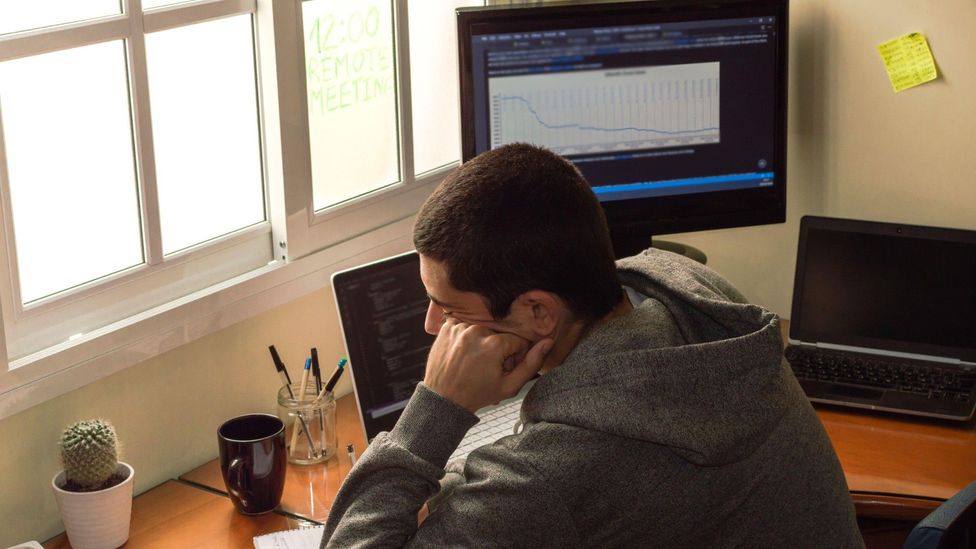 Companies are trying to support new workers through potential tech overload
This kind of tech-heavy – and sometimes tech-too-heavy – strategy is typical across the board, says Schawbel. "Because you're not with your manager, you're not meeting your team in person, the amount of touchpoints, the amount of video Zooms you're doing is so much greater than it would normally be in a pre-Covid world." 
For SeatGeek's Dillon, toggling between tech platforms hasn't impaired her ability to get accustomed to her role. "While I can't actually watch another programmer write code or be in the same room doing brainstorming on a whiteboard, there is a lot of support I can get from colleagues over video chat, Slack and by colleagues just pointing me to parts of our codebase that are relevant," she says. 
But, even for those who can find their way out of the tech avalanche, some still find all-digital communication can only go so far. Nicole Jao is stuck wondering how to cultivate strong relationships with her colleagues and make the interaction "feel organic". 
Silver linings 
As entire workforces have migrated online, it's quickly become clear that big, international companies can keep their business running without a centralised, physical hub. That reality has sunk in for recent graduates, many of whom only need an internet connection to perform a job and don't need to be tied down to a cubicle. "This [younger] generation tends to be a little bit better at working with technology. They tend to be a lot better at working in a flexible way. Compared to their senior colleagues, they kind of demand that," says King's College's Jones.
I'm trying to reimagine what I want to expect out of work - Nicole Jao
The flexibility can open new doors to thrive. Younger workers like Dillon have chosen to skirt the stereotypical career path of living in a big, expensive city in favour of a cheaper market. "I was excited to move to New York, meet new people and take in the energy of that city. On the other hand, I am grateful that I don't have to be in a new and unfamiliar place trying to build community in the midst of a pandemic. Also, it doesn't hurt to save on rent," she says. 

Though the labour market has contracted significantly, recent grads who are lucky enough to find work have the benefit of attracting employers to come to them, rather than the other way around. "One of the most interesting implications [of remote work] is that talent and opportunity have been dispersed... if you live in [the more remote states of] Idaho or Nebraska, and you've always dreamed of working at Google or Facebook, now all these positions are remote positions," says Schawbel. 

Workers like Jao, however, had an internalised idea of early career life upended by the pandemic. Now, they're changing their ideas of what work can ultimately provide in their greater lives – and adapting accordingly. "I'm trying to reimagine what I want to expect out of work," she says. "I think that's the only thing I have real control over, rather than wishing I could get what I dreamed about when I was in college."

;