There are countless products to buy, but only some hit a vaulted status of 'must have'. What propels a single item into being a sensation?
E
Early one rainy morning in June, hundreds of people lined up outside Uniqlo stores in Tokyo, clutching umbrellas and waiting for their chance to spend 990 yen on a three-pack of reusable face masks.
It was the launch of the Japanese retailer's AIRism masks, an instant bestseller that has since rolled out (and, in many cases, sold out) in more than a dozen markets globally. In the US, the cost $14.90; in the UK, £9.90. Made of two layers of breathable mesh and a washable filter layer, the masks were produced in answer to customers' requests for a more lightweight face covering to wear amid the Covid-19 pandemic.
At the time of the launch, Aldo Liguori, corporate communications chief at Uniqlo's parent company Fast Retailing, told Nikkei Asia that the retailer planned to produce 500,000 packs per week – a figure that would now mean it has made more than 27 million masks. Although the company declined to confirm sales numbers to the BBC, a spokesperson said it was "pleased to have provided an offering which has been well received".
As far as smash-hit accessories go, the masks look fairly unremarkable: they come in black, white and grey, and feature a subtle interior logo and no outside markings. A year ago, it's unlikely they would have elicited more than a passing glance in most of Uniqlo's flagships – much less crashed the company's website.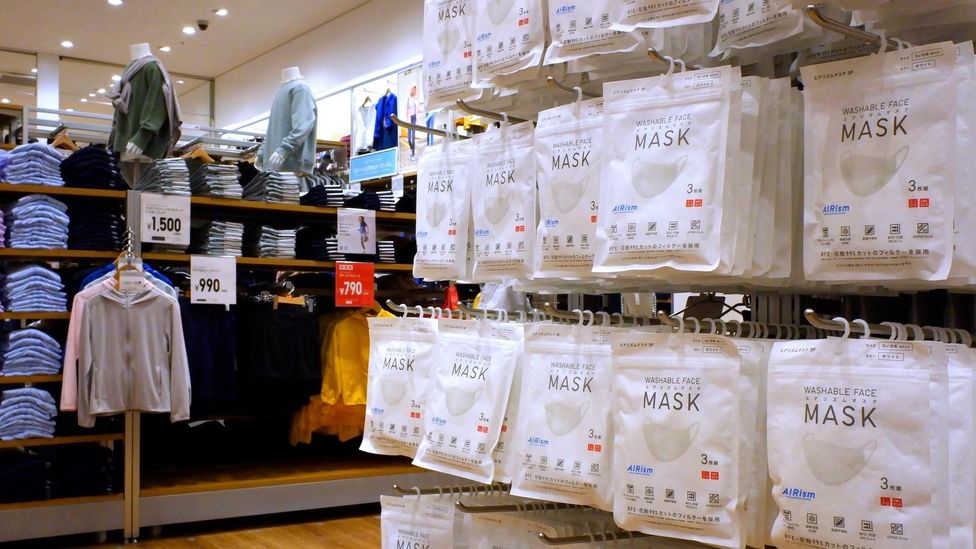 Uniqlo's seemingly simple AIRism masks have become a global sensation, becoming highly coveted in more than a dozen markets globally (Credit: Alamy)
Of course, the threat of the coronavirus has changed consumers' spending habits, as anyone who tried – and, in many cases, failed – to buy toilet paper in March or April can confirm. Unlike essential goods, however, the popularity of Uniqlo's masks can't be attributed to panic buying (as other masks were readily available by the time of their release), nor are they the only comfortable and effective option on the market.
Why, then, did they take off so remarkably while near-identical alternatives did not? And what can that tell us more broadly about what it takes for a product – a handbag like Telfar's Shopping Bag, a sandwich like Popeye's chicken sandwich or a video game like Animal Crossing – to become a global phenomenon?
'If you lived on an island, how much value would you get out of it?'
According to Hema Yoganarasimhan, an associate professor of marketing at the University of Washington's Foster School of Business, the answer lies – at least in part – in cultural capital. People want to signal that they are "in the know" about cultural trends and associate themselves with products and experiences that align with their values and aspirations. This, even more than wealth, is the key driver of fashion cycles, Yoganarasimhan demonstrated in a 2017 paper published in the Journal of Marketing Research.
With products that are more functional, it's more of a quiet storm – Michael Solomon
"There is the use that you get from actually just using the product: if you lived on an island, how much value would you get out of it?" she says. "But now, you're in a social setting: how much value do you get from it?" This is what separates a purely utilitarian product from one that might be subject to the influence of fashion and the pursuit of status. The more conspicuous a product is, the more likely it is to fall into the latter category, says Yoganarasimhan, pointing to clothes and shoes as classic examples.
 Masks, of course, are extremely conspicuous, and during the pandemic they have taken on new levels of meaning. Today, a mask can signal everything from care for others to fashion sense to political beliefs, especially in the US. At first glance, Uniqlo's masks are an unlikely candidate for a hit accessory given their lack of logos or other identifying features. They confer cultural capital more subtly – doing so every time the wearer recommends the mask to others, or tags the brand on social media. (With social distancing in effect, this may even be more effective than a logo, since it doesn't need to be visible from two metres away.)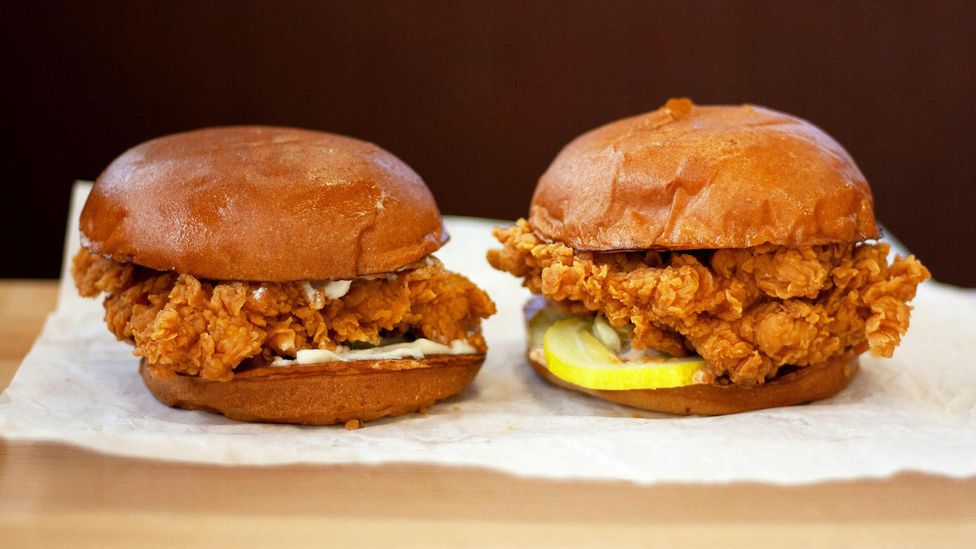 It's not an exact science was some products – including sandwiches – become mega hits, but the formula seems to be some combination of luck, timing and utility (Credit: Alamy)
"With products that are more functional, it's more of a quiet storm, where people start to talk about it on social media until enough people start seeing it where it's this feeling like everywhere you turn people are talking about it," says Michael Solomon, an independent consumer psychologist and retailing consultant. At that point, a particular product's soaring popularity is almost a self-fulfilling prophecy – or what marketers call a "flywheel" – in which every satisfied customer brings more customers into the fold. "Look at something as basic as Zoom," says Solomon. "Nobody knew what Zoom was, and now all of a sudden everybody is sick of it."
The glut of information online helps catalyse trends, turning a recipe for coconut chickpea stew into a viral hit known simply as #TheStew, or a zipper-laden puffer coat into "the Amazon coat", a now-ubiquitous winter sighting. As consumers spend more time online, they're also more apt to be influenced by what they see: according to a survey commissioned by Facebook, 83% of Instagram users said they discover products and services on the platform, and 80% said it helps inform their purchasing decisions.
Cultural relevance is key, and, in today's social and economic climate, affordability may even confer its own kind of status
But even when social media creates a phenomenon, products don't always have staying power as cultural powerhouses. Social media, and the internet in general, has expedited these cycles of popularity – both the rise and the fall – to breakneck speeds, such that what's ahead of the curve today may be old news by next week.
In a 2019 study published in Nature Communications, scientists at the Technical University of Denmark and several other European research institutions tested the changes in our collective attention span. Measuring the rise and fall of public discussion around various cultural items, they found that popular Twitter hashtags were peaking and fading from interest more and more quickly over time. In 2013, a hashtag remained in the global top 50 for 17.5 hours on average; in 2016, it stayed for only 11.9 hours. The study found similar patterns in movie ticket sales, Google searches and Reddit trends.
"Content is increasing in volume, which exhausts our attention, and our urge for 'newness' causes us to collectively switch between topics more rapidly," said researcher Philipp Lorenz-Spreen in a press release about the study.
Money can't buy cool
To hold on to consumers' attention and achieve true "hit" status, however, a product needs more than just online buzz. Cultural relevance is key, and, in today's social and economic climate, affordability may even confer its own kind of status.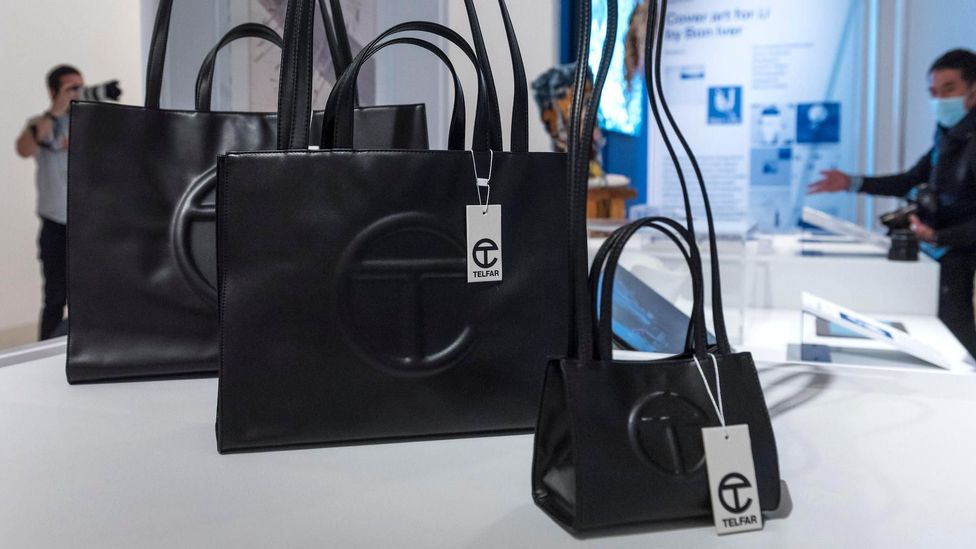 The Telfar Shopping Bag, a handbag priced much lower than many other coveted accessories, has vaulted into the spotlight as a must-have item (Credit: Alamy)
Take, for instance, the Telfar Shopping Bag, the only handbag to ascend to the ranks of 'It' bags in recent years. Priced between $150 to $257 (£116 to £198), it's made of vegan leather and costs about a tenth of what one might pay for most designer bags. Last autumn, makeup artist Xya Rachel christened the bag the "Bushwick Birkin", telling US culture website The Cut that the bag was "a status symbol for people into fashion, especially in Brooklyn". If a five-figure Birkin bag fulfils this role for a certain kind of customer, a Telfar bag is "for those who don't have Hermès kinda coins", they said.
But while price no doubt contributed to its popularity – people want to get a good deal, and they like to talk about it when they do – cultural capital is what has set it apart from the countless mid-priced bags currently languishing untouched in malls and warehouses.
Unlike the conglomerates that make those bags, Telfar is a black-owned, non-gendered, independent brand. The clientele it serves – and celebrates – are mostly young people of colour. Its releases sell out in seconds in part because consumers want to see themselves represented in the products they buy, or signal their values through the labels they wear.
This summer, amid protests for racial justice around the US and a reckoning over racism in the fashion industry, Telfar's bags reached a new level of popularity. An August release was deluged with traffic and infiltrated by bots, prompting the brand to come up with a new ordering system: it opened up a 24-hour pre-order window it called the Bag Security Program, allowing customers to pay up front for a bag in the size and colour of their choosing. This was a resounding success, not just in terms of sales, but also in the frenzy it kicked up among fans, generating headlines, memes and viral tweets. Suddenly, people who had never heard of Telfar were wondering whether they would regret it if they didn't buy one.
If this fuss were just about the bag itself, we surely would have seen it years ago: the Shopping Bag has been around since 2014. But a hit product takes a kind of alchemy: the perfect combination of timing, cultural environment and customers. Or, as Telfar put it in a press release, "Our bag ain't new – it's the world that changed".