Although many have been off the road during lockdown, research is showing that the desire to drive may surge in a post-pandemic world.
U
Until earlier this year, Alley Vandenbergwas a regular bus rider. She'd wake up each morning and take line 15 from her apartment in the City Park neighbourhood of Denver, Colorado, to her office at a financial institution in the bustling Civic Center Plaza. Because the commute was just 2.5 miles (4km), the investment supervisor left her car at home so she could avoid the hassle of driving through the heart of downtown at rush hour. It also saved her the $200 cost of monthly parking. Then, the pandemic threw a major wrench into her seamless commute. 
"In May, when my office started asking people to return, my bus route had been cut to fewer runs, and capped at 15 riders per bus," she says. Pre-Covid-19, the bus was always standing room only by the time it got to her, "so I knew I would just end up sitting at the bus stop for an hour or two, watching buses go by because they were already at capacity". 
This, coupled with news of riders not following guidelines for mask-wearing and social distancing, led her to swallow the additional costs and commute to work by car. 
She's hardly alone in making the change. Ridership on public transport has plummeted to historic lows both in the Americas and Europe, including on the London Underground and New York City Subway. Meanwhile, recent reports suggest that, despite our apparent embrace of biking and walking during the pandemic, many people can't wait to get back into their vehicles. And they might even use them more after Covid-19 passes. Transport planners warn that this rapid shift back to the comfort of cars may be setting the stage for post-pandemic gridlock that could hamper economic recovery in cities across the globe.
A November report by automotive-services company RAC claims that the pandemic may have set the UK back decades in attitudes of driving versus taking public transport. Out of the 3,000 car owners surveyed, 68% considered their vehicles essential for daily errands, up from 54% last year.
The pandemic had the effect of making drivers who already had cars realise that they would depend on them more – Rod Dennis
Reluctance to use public transport was at its highest in 18 years. Some 54% of respondents said safety was a top consideration, but only 43% agreed that they would use their cars less if public transport was improved, which was the lowest figure since 2002. "The pandemic had the effect of making drivers who already had cars realise that they would depend on them more than ever," says Rod Dennis, a data-insight spokesperson for RAC. "The million-dollar question is whether or not this is a deep-rooted change." 
The generation that has been historically least interested in car ownership, Gen Z, may offer some clues. Auto Trader, a digital marketplace for cars, says 15% of its website audience in the UK between June and September was aged 18 to 24, compared to just 6% during the same period in 2019. Rory Reid, Auto Trader UK's YouTube director, noted that "the pandemic has shifted young people's views of car ownership and gotten them to hit the road earlier than usual, as they look to rely less on public transport and try to minimise risk of spreading coronavirus".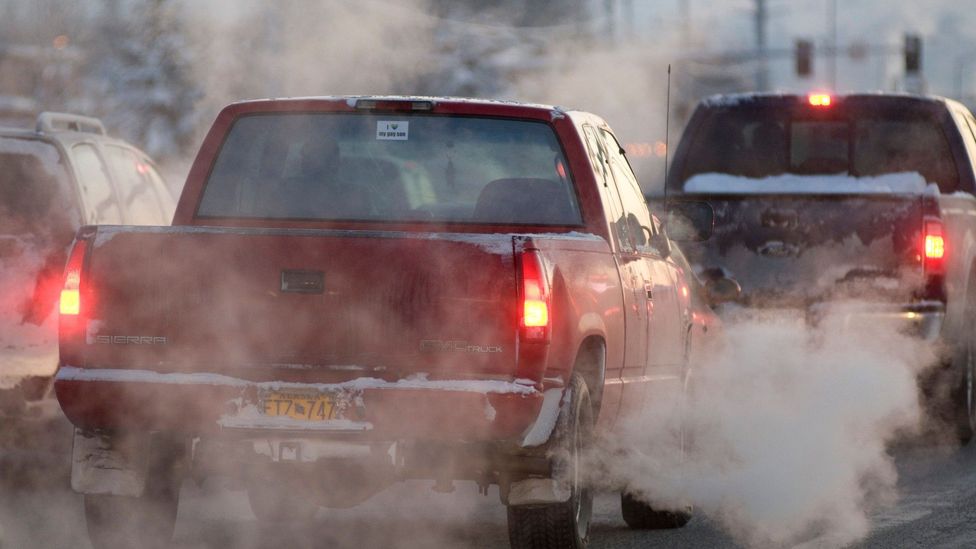 People understand the impact of emissions on climate change but still want to keep driving, research shows (Credit: Alamy)
And, perhaps surprisingly, fears over the potential environmental risks of increased car use don't seem to be a top concern for many around the world. A YouGov-Cambridge Globalism Project survey of 26,000 people from 25 countries showed that an overwhelming majority accept human responsibility for climate change. Yet the poll, conducted between July and August, found that the majority of respondents also plan to drive more in the future than they did in the past. For example, take Brazil, where 88% of respondents believed in human-induced climate change. Some 60% of those same people said they would use their car more after the pandemic than before, while just 12% said they would use it less. More than 40% of respondents in the US and Australia also said they would drive more after the pandemic compared to just 10% who said they'd drive less. 
Car traffic, in some places, has already exceeded pre-pandemic levels. Greater Paris hit record levels in late October ahead of a new national lockdown, with jams stretching to a cumulative 430 miles. Road congestion levels in outer London have increased nearly a fifth above last year. Traffic in Perth, Australia, is now 18% above pre-pandemic levels. 
Many leaders around the world, most notably President-elect Joe Biden in the US, have announced aggressive plans for an economic recovery spurred by investments in green energy. However, these figures suggest targets set by the Paris Agreement may already be in jeopardy.
Concern over the safety of public transport has been one of the major factors luring people into cars in recent months. However, studies in France, Japan and Austria that have looked at the first wave of the virus have shown little evidence tying major coronavirus outbreaks to buses or trains. On the contrary, these studies showed that, with measures like social distancing and mask wearing in place, infections on public transit were actually quite rare. 
Nevertheless, transit administrators have worked around the clock to enact new safety measures aimed at luring back riders. These include reducing capacity, enhancing sanitation measures and tapping into technological innovations. The latter has been a major focus of New York's Metropolitan Transportation Authority (MTA). It moved more than a billion people in 2019. However, earlier this year, year-on-year ridership dropped by as much as 93%. At the same time, new car registrations in the city climbed 18% above 2019 levels.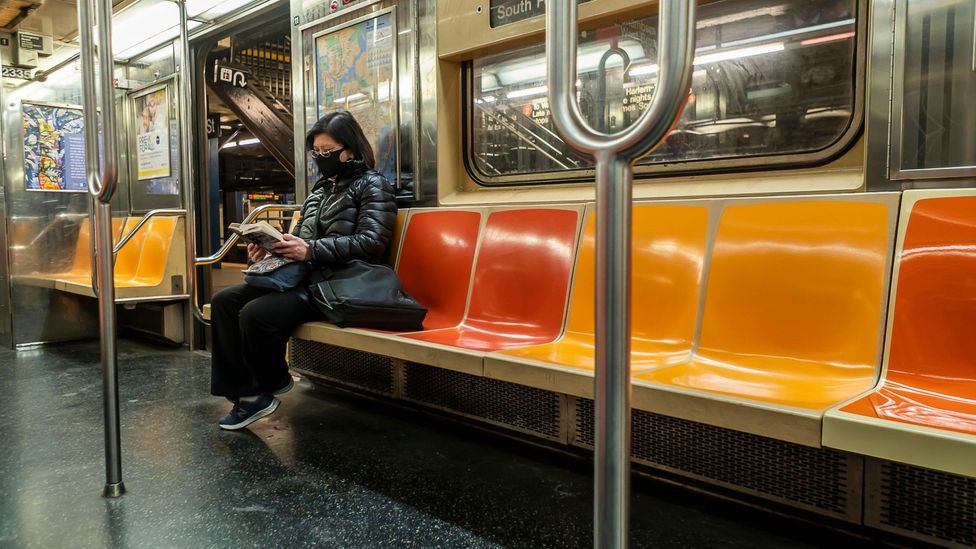 Passenger numbers on the New York subway have plummeted during the pandemic (Credit: Alamy)
Transit Innovation Partnership, a public-private initiative from MTA and the non-profit Partnership for New York City, released a live subway map in October to eliminate paper maps and notices as well as aid with ease of travel. It also launched a Covid-19 Response Challenge in July, which received nearly 200 ideas for innovations that could increase customer confidence by making transit safer, healthier and more responsive. Eight winning companies are currently demoing their technologies, such as air-filtration solutions, antimicrobial LED lights and real-time passenger crowding data. 
"It's absolutely critical to empower the transit agencies to be able to try these new solutions with a strategic approach and move forward," says executive director Rachel Haot. "There is no going back to how things were before, so we need a completely new framework, and that's going to require change." 
As a result of this experimentation, as well as strong health-messaging campaigns and steps to encourage mask use, ridership on the subway has steadily increased. But it still remains about 65% lower than last year. Like so many transit systems around the world, the MTA is now facing a financial crisis due to the huge loss of operating revenues. 
Kate Laing, programme manager of mobility management at climate leadership group C40 Cities, says transit systems will likely have to slash operations if they can't come up with the money. She adds, "They will almost certainly find themselves having to cut services in areas where they don't have guaranteed fares, so we'll see a welfare and accessibility and equity disbenefit as a result."
A pre-pandemic study from Pew Research Center showed that one in 10 Americans use public transport on a daily or weekly basis, mostly in the metropolitan areas of New York, Los Angeles, Chicago, San Francisco and Washington DC. Among those urban dwellers, 34% of black residents and 27% of Latinos reported taking public transit, compared to just 14% of white residents – meaning any cuts could hit people of colour the hardest.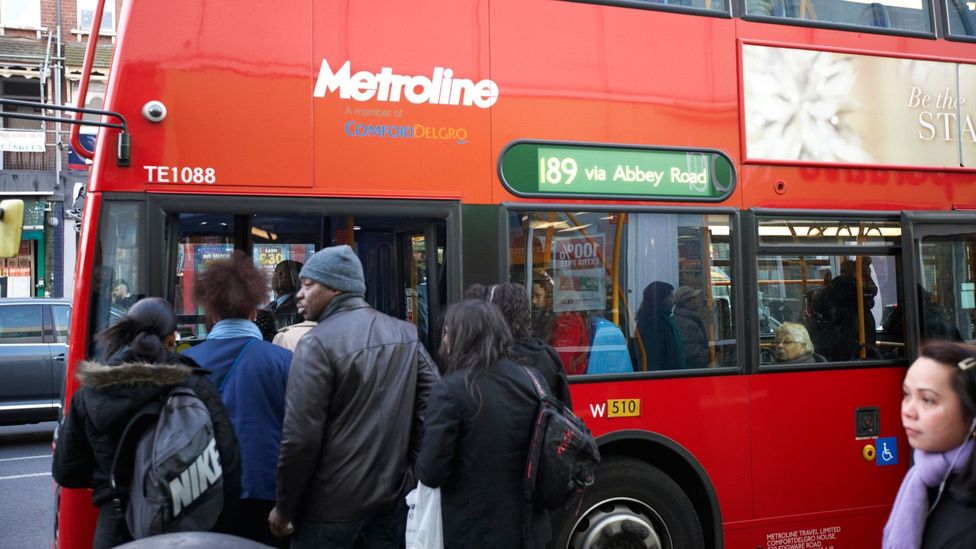 Cuts to public transport would likely hit people of colour hardest
Additional people in cars, and not on public transit, could mean more than just environmental and infrastructure impacts. Gridlock can act like a hand brake on the economy, hampering the flow of workers and goods. Consequentially, cities that include investment in public transport as a core pillar of their economic recovery – and continue to infuse money into beleaguered systems after the pandemic wanes – will likely fare better than those that don't, says Laing. She adds it will also be key to find ways in 2021 to incentivise public transport use, since the decisions we make to get on it are typically based around time and cost. 
"Everyone loves driving, except when everyone else drives," she explains. "When we take the bus, it's because it's a hell of an inconvenience to take a car because you can't park, or it's just too expensive or you can't afford one in the first place." 
To avoid post-pandemic gridlock, she says, cities need to "put in place measures that make it inconvenient to make a bad choice and really convenient to make a good one". These include investing in bus and bike lanes, charging fees for street parking, maintaining new outdoor dining zones and, once economies bounce back again, looking into congestion pricing. 
Could measures like these lure back those who've avoided public transport due to service cuts and safety fears? Vandenberg, the investment supervisor in Denver, says that "once we have a vaccine and things are under control, I'd definitely be willing to look into public transportation again". 
For her, the car commute remains a temporary fix. But for many, it's a shift that's becoming more ingrained by the day.