Divorce rates are increasing around the world, and relationship experts warn the pandemic-induced break-up curve may not have peaked yet.
A
As we head into 2021, Worklife is running our best, most insightful and most essential stories from 2020. Read our full list of the year's top stories here.
After seven years of marriage, 29-year-old Sophie Turner and her husband filed for divorce. They'd never discussed splitting up before the coronavirus crisis, but during the pandemic, their marriage soured. "I was more stressed, and it was all just building up, and we decided for maybe a trial separation," says Turner, a support worker for children's social services in Suffolk, England. "Very quickly we realised it was going to be more permanent than that." 
Their experiences are becoming increasingly common, with divorce applications and break-ups skyrocketing across the UK and around the world. Leading British law firm Stewarts logged a 122% increase in enquiries between July and October, compared with the same period last year. Charity Citizen's Advice reported a spike in searches for online advice on ending a relationship. In the US, a major legal contract-creation site recently announced a 34% rise in sales of its basic divorce agreement, with newlyweds who'd got married in the previous five months making up 20% of sales. There's been a similar pattern in China, which had one of the world's strictest lockdowns at the start of the pandemic. The same is true in Sweden, which, until recently, largely relied on voluntary guidelines to try and slow the spread of Covid-19. 
It's old news that the pandemic is affecting many of our core relationships. But lawyers, therapists and academics are starting to get a clearer understanding of the multiple factors feeding into the Covid-19 break-up boom – and why it looks set to continue into 2021.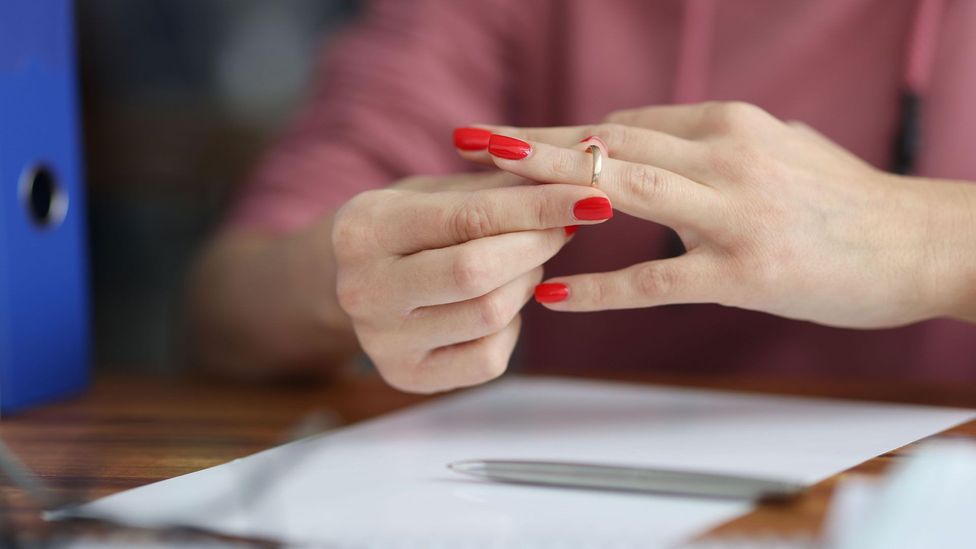 The stresses of the pandemic have made us scrutinise our living arrangements, experts say (Credit: Alamy)
At law-firm Stewarts, partner Carly Kinch describes the pandemic as "the perfect storm" for couples, with lockdowns and social distancing causing them to spend increased amounts of time together. This has, in many cases, acted as a catalyst for break-ups that may already have been on the cards, especially if previous separate routines had served to mask problems. "I don't think that the reasons that people are divorcing have necessarily changed. You've always had the underlying current of 'I'm unhappy with this or that at home'. But I think it has just brought the focus on domestic arrangements really into much more sharp focus than they would ordinarily be." 
Kinch says her team wasn't surprised by the surge in divorce applications after England's first national lockdown ended, since break-ups usually spike after families spend longer together, like during school holidays or over Christmas. "I think lockdown is essentially like those prolonged periods, but with enormous added pressures," she says. What's been different is the significant increase in the number of women initiating divorces, with 76% of new cases coming from female clients, compared with 60% a year ago. She believes this trend ties in with the findings of numerous studies of working parents' lives during Covid-19, which suggest that a disproportionate share of housework and childcare is still falling on women, even in heterosexual couples where the male partner also works from home. She adds, "I think some people went into lockdown thinking: 'Oh, isn't this going to be lovely! We're going to spend lots of quality time together. And my partner, who's normally in the city or commuting – they'll be around and they'll help more. And I think the reality for many has been a far cry from that."
Leading British law firm Stewarts logged a 122% increase in enquiries between July and October, compared with the same period last year
Turner says the decision to split with her partner was mutual, and they remain friends. For them, the trigger was deciding to sleep in separate bedrooms to reduce the risk of infection for Turner, who has a pre-existing medical condition, and realising it "didn't really make a difference" to the quality of their relationship. But like many pandemic break-ups, theirs also coincided with communication problems. She says, "we were getting on each other's nerves, and not really talking properly." An increase in Turner's domestic workload, as she home-schooled her son and looked after a relative's children, also caused friction. She says her partner found it difficult that her attention was elsewhere, while she struggled with the fact that he could leave the house to meet colleagues at a plumbing company while she was stuck at home. 
For other couples, the increase in mental health problems linked to the pandemic is playing a role in break-ups. When Marie, a 43-year-old editor in Amsterdam, caught Covid-19 in March, it made her partner's anxiety disorder "spiral out of control". She says, "I had to handle everything while we were quarantined – for almost a month – and it was absolutely exhausting." A victim of "long Covid", by July she was still finding it a struggle to organise her time beyond "the bare essentials" of part-time work and looking after their four-year-old. "Unfortunately, our relationship was one of the elements that demanded too much effort on my part: emotionally, mentally and physically. So, I asked him for a separation. It just felt like a matter of life or death." 
But relationship experts believe that even strong couples who weren't facing problems before the pandemic, and avoided major shifts in household health or dynamics may also be susceptible to break-ups. This is because the pandemic has taken away "well-established routines that offered comfort, stability and rhythm", explains Ronen Stilman, a psychotherapist and spokesperson for the UK Council for Psychotherapy. Without these, this leaves partners with limited opportunities to "seek other forms of support or stimulation" beyond their relationship, which can put them under strain. Stilman says, "More people are finding themselves trapped in a situation where they are struggling to cope with what is going on for them as well as what is going on between them. Like a pressure cooker that does not let any pressure out, the lid can eventually pop and the relationship breaks down."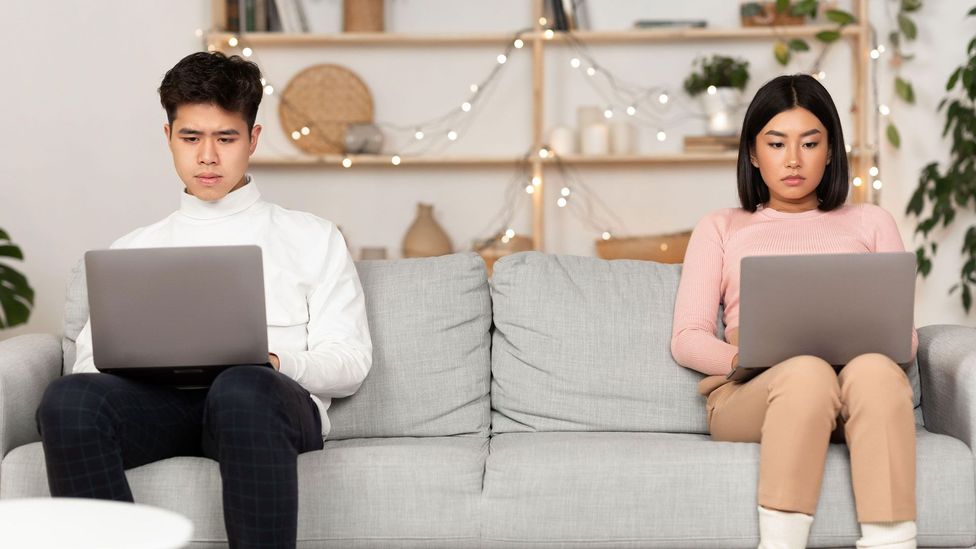 Disrupted routines and the removal of external leisure activities have left some couples struggling (Credit: Alamy)
That was the case for Nora, an American living in Stockholm, who broke up with her Spanish boyfriend a few months into the pandemic, a year after they moved in together. The 29-year-old, who asked to have her surname withheld, says the couple took the risk of infection very seriously, both opting to work from home and avoiding non-essential outings. "We gave up our social life and our releases – him, basketball and me, climbing," she explains. "Our differences became magnified, especially my introversion and his extroversion. We couldn't recharge the way we needed to when we were stuck together – him, needing more people, and me, needing more space." She says they tried their best to find a solution, but in the end it did not work. 
Lawyer Kinch points out the pandemic is likely to be one of the first major life challenges young couples face together, which might partly explain the rise in divorce applications from newlyweds in some countries, including the US and Canada. She says, "If you are newlyweds or relatively early on in your relationship, it might not have been tested in the way the marriages of 30 years have been over the years with different trials and tribulations." Meanwhile, the stripped-back lifestyle that the crisis has created is the opposite of many new couples' visions of "wedded bliss about how perfect life is going to be". 
Additionally, relationship experts say the financial impact of Covid-19 is also likely to be playing a major role in break-ups, as people find themselves unemployed, furloughed or taking home lower pay cheques. "The number of divorces has tended to increase without exception during economic downturns at least since the Second World War," explains Glenn Sandström, who researches demographic history at Umeå University in northern Sweden. "Given that we are now experiencing a severe crisis especially economically, we expect that the end result will be an increase in marital instability."
Our differences became magnified, especially my introversion and his extroversion – Nora
Money is already one of the most common causes of marital strife. "Decreased income increases the potential for strain on the relationship due to conflicts on how to prioritise different types of consumption, and psychological strain increases that in turn, resulting in reduced relationship quality due to worries of how to make ends meet," says Sandström. Being made redundant can also be a major blow to self-esteem, especially among men who, "more so than women still base their self-worth on their ability to provide economic security for their family". This can manifest as anxiety, anger and frustration as well as the increased likelihood of domestic abuse. 
However, unlike other financial crises, the pandemic has disproportionately hit those who were already working in insecure employment in low-income industries such as hospitality, leisure, retail and tourism – sectors in which women, young people and ethnic minorities are overrepresented. Nikita Amin, a therapist at Culture Minds Therapy, which serves the UK's black and Asian community, says the service has seen an increase in enquiries for both couples therapy and individual sessions. This, she says, reflects the scale of the pandemic's impact on these groups, since ethnic minorities in Britain tend to be less likely to seek help for mental health and relationship issues, in part due to a stigma around separation and divorce. She believes there may be many others unable to seek help due to a lack of time or money or because they are frightened about how their partner or relatives might react if they admit they are considering a separation.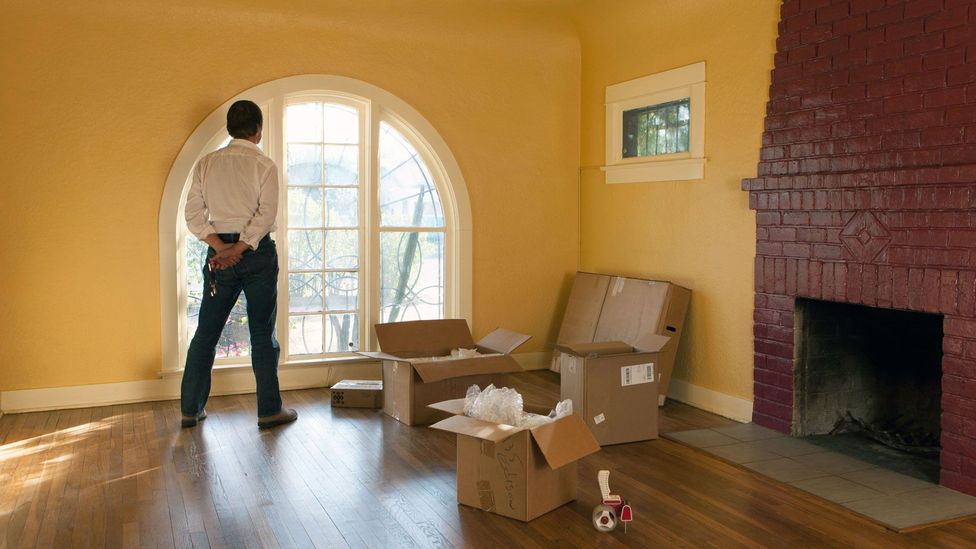 Experts say some people may be waiting for more social and economic stability to end their relationships (Credit: Alamy)
Despite hopes that the roll-out of vaccines in early-to-mid 2021 will allow many of us to start living more of our pre-pandemic lifestyles, many divorce experts believe there's no guarantee that will bring an end to the break-up trend. Umeå's Sandström points out that the financial impact of Covid-19 could lead to a long-term recession, meaning relationships could be strained by ongoing money problems. "If the economic shock is extensive, causing strong increases in unemployment, many marriages will suffer," he says. But he adds the opposite is also possible if countries recover faster than expected during 2021. 
However, Lawyer Kinch warns that improved economic fortunes could actually trigger divorces, because some spouses currently experiencing marital problems may be putting off splitting up for practical reasons. "I think as things settle down, I wouldn't be at all surprised if we saw another increase, just for the people that wanted to do it anyway, but just felt it was all too uncertain," says Kinch. She argues this new wave of break-ups might also include partners who are currently staying together because they are nervous about being alone, beginning to date again in an era of social distancing or, conversely, worried about the logistics of starting divorce proceedings while still cohabiting during lockdowns. "They don't want to have to say, 'I want a divorce' and then have to spend 24 hours a day with them."
I asked him for a separation. It just felt like a matter of life or death – Marie
Kinch's firm is already experiencing increased enquiries from people "information-gathering" ahead of future break-ups. "They come to us with lots of questions about what will life post-divorce look like: 'How do I get from this point to my new life at the end?'" she says. "I think people are doing probably a lot more research and groundwork than they might have before the pandemic." 

Psychotherapists like Noel Bell, a London-based specialist in personal growth, argue that the pandemic is also prompting more existential re-evaluations of what, and whom, people want in their lives. "This is clear from evidence showing that people are looking to move house and have a different lifestyle, such as moving to the country with less time spent commuting. Such re-evaluation is also taking place in marriages, with couples reassessing their life choices and their emotional needs," he says. "The pressures of the pandemic have reminded us all that life might be short and we are tasked to assess how, and with whom, we are spending our precious time." 

Back in Suffolk, Sophie Turner has just signed a lease on a new home, allowing her to live closer to her sister and parents. And although splitting up with her husband has been a challenging process, she believes it was for the best. "I think the silver lining [to the pandemic] has been that it helped us realise that we really needed to do this, as such. Otherwise, we'd still be sharing a bedroom, still just not talking to each other," she says. "We're happier as friends and we're not getting annoyed by all the little things."

;