Now that the world has shifted, the way we feel about work and our careers will never be the same, either.
I
It's an understatement to say that the world of work as we knew it has been turned upside down. As we're physically working differently, we're changing where we sit down to do our jobs as well as making up new routines to get things done.
But the way we think about our jobs in general has also transformed.
Changes such as sitting around kitchen tables, sharing space with partners and children and being forced to focus in new environments have spurred novel discoveries about our work lives. Many have found new success in unexpected places, expanded their skillset or improved productivity and wellbeing. Still, huge changes can also be challenging, like learning how to transition to unfamiliar technology, or questioning professional interests, values and career paths.
And, as new data shows that remote working will probably become the norm – researchers from McKinsey predict that 20% of the global workforce could work from home three-to-five days a week. It's unlikely that we're going back to the 'old' way of doing things any time soon.
Few things are clear in this pandemic, but if there's one thing that is: our relationship with our work lives will be permanently changed. BBC Worklife asked readers how these past months have changed their mindset toward their job or career. "The whole purpose of life changed. So [has] the purpose of work," says Bhagyesh Shah in Gujarat, India.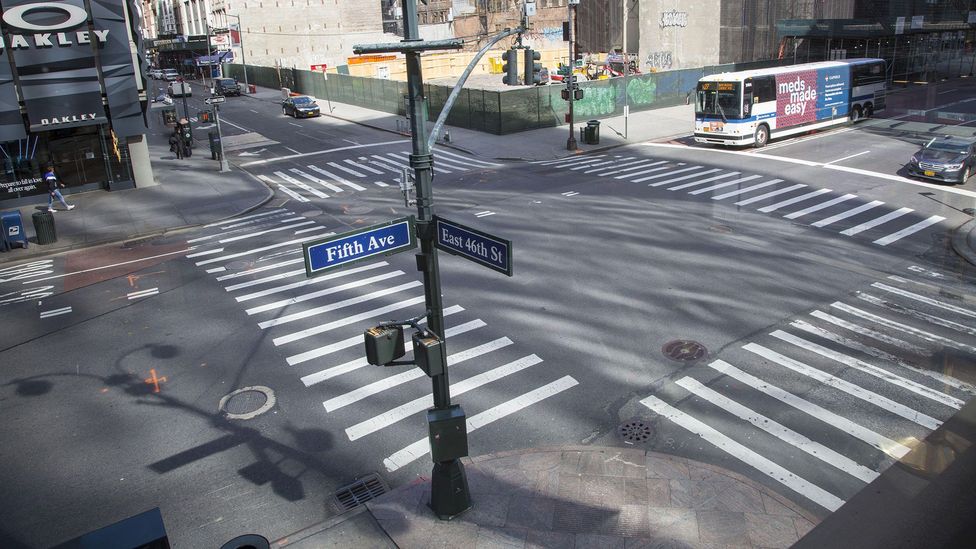 Long-haul remote working in 2020 has profoundly changed our day-to-day lives, with vanishing commutes and deserted city centres (Credit: Alamy)
And some are thrilled to be in this new environment. "I have never been more happy and stress-free in my life," says Drake Bettis in Houston, Texas. "I have often said, 'It is insane for me to commute from one place with a computer to another place with a computer just for work'," he adds.
Readers agree that remote work has enabled them to see their jobs as independent from their locations. "For me, [it] has confirmed that many of the professions we have can be from anywhere," says Angela Lowe in Memphis, Tennessee. Some companies are beginning to agree; large employers such as Twitter and Facebook have announced 'forever' remote-work plans.
In Minnesota, US, the physical shift from being in office to working from home has been so enjoyable for Mariah L Sletten that it has made her realise how unfulfilling her job is. "At home, I feel more creative. I'm happier. I want to do great things. Try new ideas. Which makes my data-entry debt-collection job all the more heinous and intolerable, especially with everything else going on in the world at large… I'm not doing and getting paid for what I love, and it is absolutely dreadful."
This may explain why so many workers we heard from are trying to learn new skills and infuse more passion into their work. Richard Omondi, a camera operator and video editor in Kenya, says, "This pandemic has made me venture or try [to] learn new skills in digital marketing... and graphic design as well." In New Jersey, US, Amtul Syed is "absolutely loving the learning that is coming with this new work environment". Syed, a religious-studies teacher, has taken this time as an opportunity to think creatively for fun and interactive lessons. "I ended up learning so many new strategies from apps, online articles and YouTube."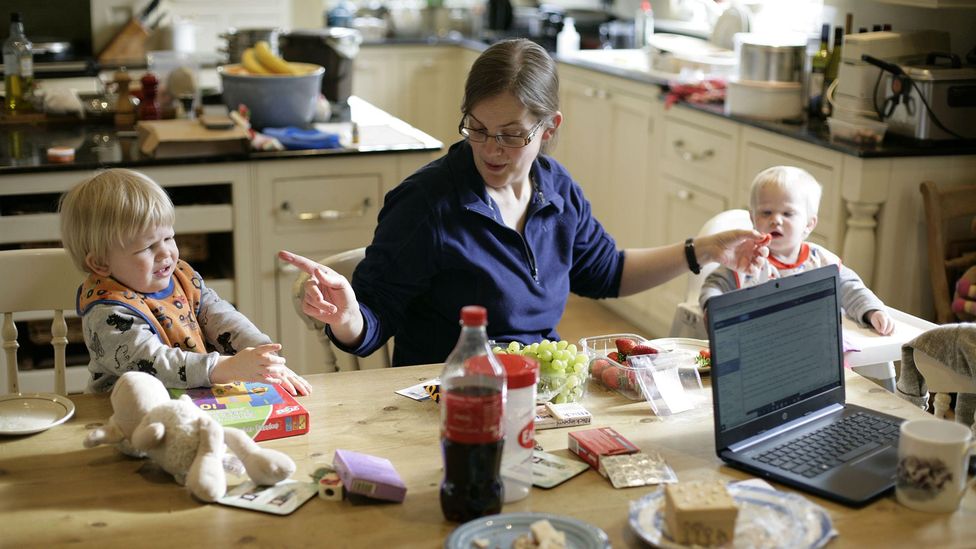 Many readers say balancing remote working with remote learning and caring for small children is a serious challenge that companies should address (Credit: Alamy)
It may also be the reason why some people are looking for new jobs altogether. Joseph Roberts, a CV analyst in Manchester, says his company's clients are using this time to reassess their jobs and values. "The thought of returning to the regular commute, continuing in the same monotonous position or sacrificing one's values and beliefs for the sake of money, are all common reasons for looking for new opportunities, or even a career change," he says.
And although it may seem that it's the wrong time to look for a new position, many sectors are still hiring. In the UK, the number of listings is still 70% of last year's average, according to a November report from the Office of National Statistics.
Paula Grady, a sales director from England, has experienced this first-hand, and has chosen to re-skill and start a new business. In Manchester, Conor Seager also changed paths by starting at a new company while working from home. "It was an unorthodox start, but the company showed faith in me by honouring the contract of employment, and were really supportive via Skype, phone calls, emails."
Of course, the new face of work doesn't come without its wrinkles. "Working from teams during the pandemic for the past nine months has been a learning curve," says Liana Dean-Wright in Alberta, Canada. "'Pandemic fatigue' has set in, and folks seem less willing to engage in meaningful work and conversations, things have gone to feeling a bit hopeless at times."
Many have found themselves face-to-face with questions they didn't even know they had to ask. How will they bond with colleagues, especially young workers looking to network and build a solid foundation for a career? How will remote work deepen existing inequalities, especially for workers who can't work from home? And what of its effect on our mental health, and the people who might not thrive in a remote setting as much as others?
There's also the question of finding balance – in the new work world, how, exactly, can we do that? This is one of the most pressing questions for working parents of young children. Parents can be interrupted by their kids up to 15 times an hour. Of course, this can affect productivity – but also mental health and happiness.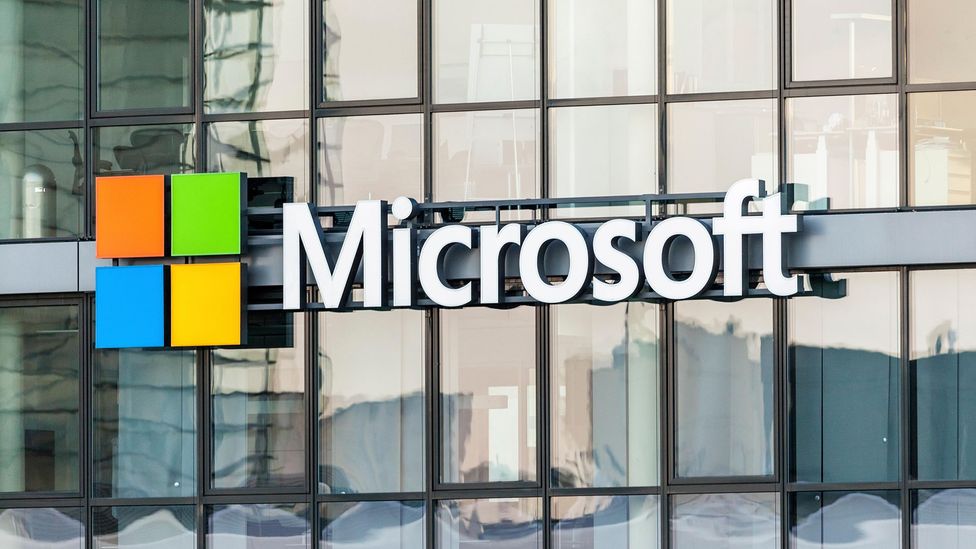 Some companies, especially large tech firms like Microsoft, Twitter and Facebook, are offering remote working permanently to staff, even after the pandemic (Credit: Alamy)
"Working at home full-time with two young children, my main challenge has been in setting boundaries," says Anjeli Narine in Trinidad and Tobago. "Turns out neither four-year-olds nor clients are good at respecting boundaries. I am learning to move past 'mom guilt' and workaholism to unapologetically spend my time balancing these conflicting demands."
Kavita Ramnanan in Ontario echoes this. "I still find it very hard to find a 'cut off' time for work as it seems like I never really 'log off' when I am working from home. As far as my four-year-old is concerned, mom's workday is over once he gets home from school. He is right as it is outside business hours, but I'm still trying to find that balance of mom time and work time."
The challenges are major – but, on the other side, the rewards also may be. Many have found that learning to adapt and knowing when to reassess values and goals has led to more fulfilment – and even more balance.
"[The] pandemic has changed my mindset towards work tremendously. I am now more aware of being agile, adaptable and pivoting into different skill sets and talents I was unaware ever existed for me," says Maya L Kellman in Barbados. "I am more challenged to ensure I have a healthy work/life balance by setting and respecting boundaries. More importantly, I have time [to] develop all my creative ideas, entrepreneurial ventures and further my education to diversify my personal brand."
As we all continue to adapt our working mindset to a quickly changing present and uncertain future, one thing is for sure: a lot is still unknown. But if we keep having discussions about all the changes, our brave new world of work could be easier to navigate than we think.
"The pandemic has made it crystal clear that we can't control our lives, yet there's a lot that we can do to make the most of it," says Loria Di Landri, a teacher in Lombardy, Italy. "Be open to change, don't be afraid of stepping out of your comfort zone, take up new challenges and give yourself a pep talk. To me working together and sharing knowledge, experience and doubts with my fellow teachers has helped me to grow, drive the change and look ahead."