The allure of working from bed is strong – but turning your mattress into your office can trigger a slew of health problems, both psychological and physical.
F
For many people, working from home, or 'WFH', has also come to mean 'WFB' – working from bed. Getting dressed and commuting to an office has been replaced by splashing water on your face and cracking open a computer as you settle back under your blanket.
A staggering number of people are setting up shop on their mattresses; according to a November 2020 study, 72% of 1,000 Americans surveyed said they had worked remotely from their bed during the pandemic – a 50% increase since the start of the crisis. One in 10 reported they spent "most or all of their workweek" – 24-to-40 hours or more – in bed. This is especially true of young workers; in the UK, workers aged 18 to 34 are the least likely to have a proper desk and chair, and are twice as likely to work from bed than older workers.
But WFB isn't just for lack of a proper chair – many simply love the cosiness and ease of the set-up. On Instagram, the #WorkFromBed hashtag pulls up thousands of photos, many of them featuring smiling people snuggled up in their pyjamas with cups of coffee, maybe even breakfast on a tray.
But the reality is that turning your bed into your office can trigger a slew of health problems, both psychological and physical. And even if you don't notice them now, adverse effects – possibly permanent – could emerge later on in life.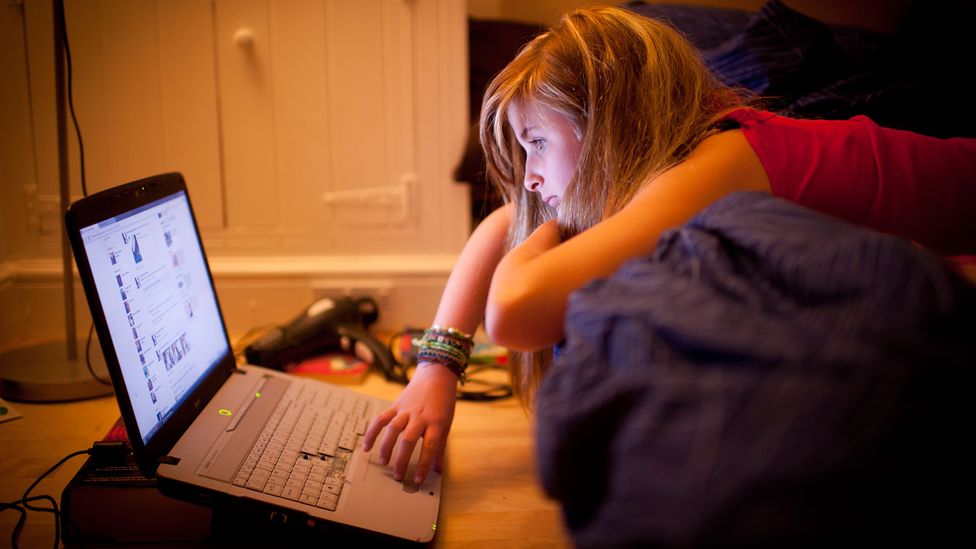 Studying and doing homework from bed is bad, too, and working on a bed while lying on your stomach can be especially bad for your body (Credit: Alamy)
Young people are particularly likely to fall victim to these bad habits, because they may not feel the strain of them right away
But experts say that regardless of whether working from bed is avoidable or not, the ergonomic advice is the same: it's not good for your body, so it's very important to vary your posture and support different parts of your body wherever possible.
Your neck, back, hips and more are all strained when you're on a soft surface that encourages you to slump or sprawl. "None of it is optimal," says Susan Hallbeck, director of health-care-system engineering at the Mayo Clinic, one of the largest medical research institutions in the US. "You're really not supported in a way that's conducive to work."
Young people, she points out, are particularly likely to fall victim to these bad habits, because they may not feel the strain of them right away. But the pain will flare up down the road. And depending on how bad your habits have been over this last year, the damage may already be done. It depends on the person, but it may be too late to undo the ergonomic problems you'll face when you get older.
These ailments could include simple headaches, and could also extend to permanent stiffness in your back, arthritis and what's known as cervical pain – that's pain in the bones, ligaments and muscles in your neck that allow motion. "Anything is better than continuing the bad habit. Whenever you can stop, stop," says Hallbeck.
If you must continue working from bed ("there are grades of bad," says Hallbeck), try recreating the experience of sitting in an upright chair as much as you can, and aim for "neutral posture" – that is, avoid putting strain on any one part of your body.
Roll up a pillow and stick it under your lower back for lumbar support, put pillows under your knees, try to separate the display from your keyboard (if you're able) and put the display at eye level or higher. Whatever you do, avoid lying on your stomach to type; it really strains your neck and elbows.
When in doubt, get creative, like using an ironing board as a makeshift standing desk. But if you possibly can, it's worth splashing out on some comfort. "If you're going to be working from home for a long time" – and most experts predict that we will – "it really does pay to invest in a good workstation, even if it's a very small workstation," adds Hallbeck.
Breaking your brain
When you work from bed for a year, it doesn't just potentially wreck your body. It's possibly bad for your productivity and sleep habits, too.
"As sleep specialists, we tend to recommend that the bed should be for the three Ss: sleeping, for sex or for when you're sick. That's it," says Rachel Salas, associate professor of neurology and sleep expert at Johns Hopkins University in Maryland.
"The more you watch TV in bed, play video games in bed and not sleep in bed, your brain starts learning, 'oh, OK, we can do any one of these activities in bed'. It starts building these associations, which eventually evolve into conditioned behaviours."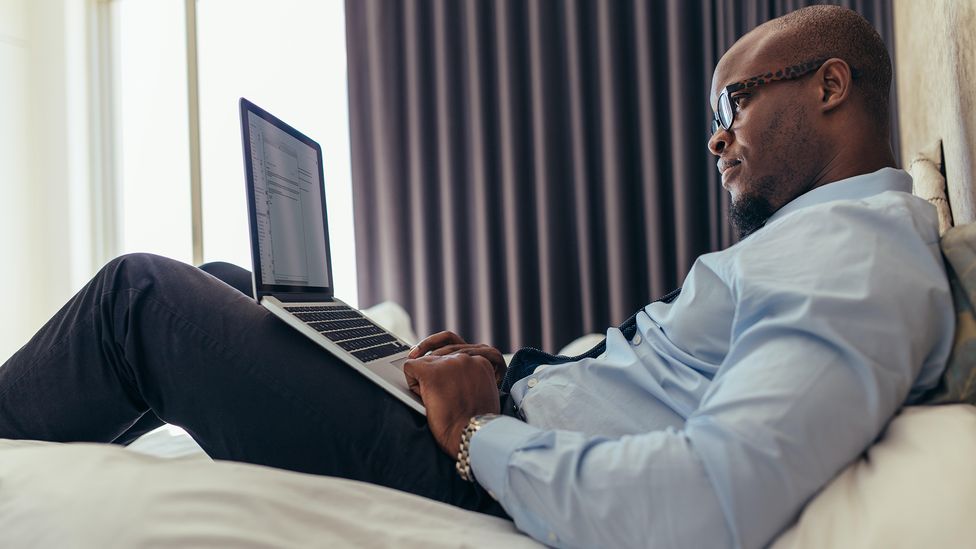 Not only does working from your bed spell potential ergonomic disaster, but it can rewire your brain to disassociate your bed with sleep (Credit: Alamy)

This is what experts call 'sleep hygiene' – essentially, best practice as it relates to being in bed. Putting on your pyjamas at night is good sleep hygiene because it tells your body it's time to start shutting down. Doomscrolling or sending emails in bed is bad sleep hygiene.

So, when you set up shop in bed with your laptop, phone, Slack and all the glowing screens your job requires every day, your brain and body eventually stop associating bed with rest. That's a big reason why the pandemic has led to 'coronasomnia', says Salas, referring to the global spike in insomnia and sleep disorders that has accompanied Covid-19.

"You're really training your brain to be alert, and [telling it] this is where your ideas come and this is where it's full work mode" when you WFB, adds Salas. "When you're trying to wind down and go to sleep, your brain is like – 'wait a minute, what are we doing? This is work time'."

Doing this for a year, or any extended period of time, could lead to insomnia, or to something called circadian rhythm disorder. That's when our bodies' natural clocks, that tell us when it's time to sleep, get thrown out of whack in the long term. Salas says it can also aggravate non-sleep-related issues you may have, like restless leg syndrome, in which case the affected body parts need rest to avoid the symptoms associated with the condition.

And disturbed nights, body pain or both mean that work-wise, you're less likely to be productive, creative or focused, the experts say, making it likely your work could suffer.

A problem for everyone?

The most pernicious issue, however, is that all those potential problems may show up in some WFB workers, but not in others.

"Some people will swear that it's not an issue for them: they can work in bed, they can sleep in bed," says Salas. "They can do whatever they want in bed and it doesn't negatively affect their sleep."

Genetics, environmental factors, how bad the habits are and how long you do them, your age: all of these play a role in whether working from bed for a year or longer is actually going to be bad for you. "It's not a dose-response relationship," says Hallbeck.

And although working from bed may not necessarily be something you can change – or want to change – it's important to keep in mind that your body and brain may not feel the fallout at the moment. But they could, someday. "They won't feel it right now," says Hallbeck, especially of younger workers who WFB. "But as they age, it will pop up."

It may feel like one more thing to worry about in the Covid-19 era. But if this period has taught us anything, it's that, as far as health goes, it's better to be safe than sorry. "If you don't have any of the negative effects, great,"says Salas. "But that might not always be the case."

;