As Covid-19 widens persistent gender gaps at work and home, queer couples' division of domestic labour can offer a model for a more gender-egalitarian family life.
F
For Kara and Jo Chambers-Grant, communication has been key to maintaining equilibrium during the upheaval of the pandemic. 
The couple, who live in Bath in the UK, married in 2017, shortly after meeting through an online group that offers peer support for women, trans and nonbinary people coming out later in life. Following a whirlwind transcontinental romance, Kara moved from the US to live with Jo in England. They're parents to Oscar, 14, Jo's biological son from a previous relationship, who spends half his time with his father and half with Kara and Jo. 
After moving in together, Kara and Jo (pictured above) discovered they had complementary interests and skills. "I was always in a happy place doing DIY projects," says Jo, an engineer. Kara, who manages accommodations at a study abroad programme, likes cooking. "I totally lucked out and she does most of the laundry. That's amazing," says Kara. "I like the laundry," Jo adds. 
Both have worked at home since the pandemic hit, though Kara goes into the office intermittently. When Oscar began home-schooling at the beginning of lockdown, Kara and Jo drew on their individual strengths to settle into a remote-education rhythm. Kara – who sees herself as slightly more structured in her parenting outlook – helped him make a colour-coded school schedule. Oscar quickly became more self-directed, working on a beanbag chair in Jo's office. On days Kara had to go to work in person, Jo supported him more actively. When Jo needed a break, Kara stepped in.
What we're showing up with is actually us, and not just an idea of how it should be – Kara Chambers-Grant
Both say dialogue has been key to allocating household responsibilities. "We're really good about communicating and being honest about what we like to do around the house, and what we feel capable of in that moment," says Kara. While both see aspects of their preferred domestic tasks as related, in some way, to their gender expressions – Jo describes her outlook and presentation as slightly more "masculine" – they complement each other in a way that's uniquely their own. "What we're showing up with is actually us, and not just an idea of how it should be," says Kara. 
That egalitarian division of labour hasn't been the case for most women during the pandemic. LGBTQ people are more vulnerable than their straight peers to pandemic-related economic instability and lack of adequate healthcare. Yet there's at least one area in which queer couples, and especially queer women, likely hold an advantage over their straight counterparts. Across the board, research on LGBTQ couples has found a much more equitable distribution of household and parenting tasks than among people in cisgender, male-female partnerships. 
Parenting during the pandemic has been difficult for people of all genders and sexualities, whether they're single or coupled, especially those without robust social and governmental support. But with Covid-19 threatening to widen already persistent gender gaps at work and home, queer couples' division of domestic labour can offer a model for a more gender-egalitarian family life. 
Pre-existing gaps between straight and LGBTQ couples 
Covid-19 has exacerbated an already aching global gender divide. Worldwide, even before the pandemic, women consistently performed more domestic labour, including childcare, than men. In Norway, that translates to 3.5 hours of unpaid work a day for women and three hours for men; in India, the number is up to six hours for women and less than one for men.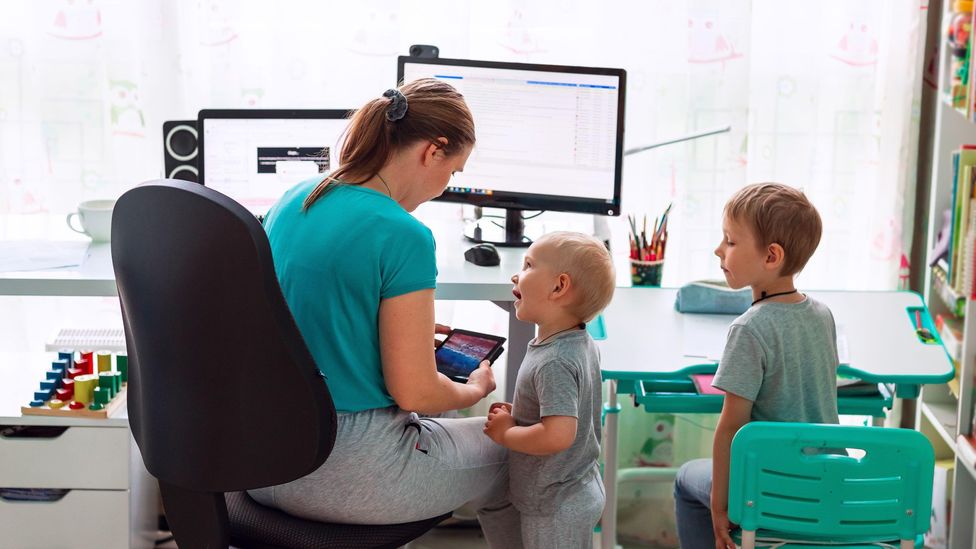 Women have taken on the bulk of household and childcare responsibilities during Covid-19 - with adverse effects on employment (Credit: Alamy)
During the pandemic, research in countries including Germany, Argentina and the US has found this gap persisting and even widening. Women have borne the brunt of pandemic-era job loss. And although a minority of fathers have reported devoting more time to parenting and housework than before, women partnered with men are still more likely to home-school children and complete domestic tasks – even if both parents are working from home. Research shows that the gap between couples' ideal division of domestic labour, which is largely more egalitarian, and the more unequal reality, leads to decreased relationship satisfaction. 
Yet most studies of Covid-19-era couples have a central limitation. When they mention women, they usually, specifically, mean only cisgender women partnered with men. A growing number of people are identifying as LGBTQ, but the pandemic's effect on household labour in same-gender and queer couples remains understudied. That's part of a longer history of exclusion of non-traditional families. Understanding how the pandemic has affected LGBTQ couples can enable better support for queer families, many of whom are experiencing pandemic instability without some of the protections guaranteed to heterosexual families. 
While some researchers have gathered data on LGBTQ couples' division of labour during the pandemic, results remain largely unpublished. Earlier studies, however, indicate that, across national contexts, same-gender couples tend to divide domestic tasks in terms of ability, preference and time, rather than along the lines of traditional gender roles. "They divide their labour more equally after having children," says Maaike van der Vleuten, a postdoctoral fellow at Stockholm University, and a researcher with the GENPARENT project. 
There are some variations based on gender. Some studies have found that, among gay men, partners who devoted more time to paid work did less domestic labour; among gay women, birth mothers experience a slight dip in income in contrast to social mothers. Other studies have showed that lesbians divide tasks more evenly than gay men. 
Lesbians experienced much narrower income gaps after having children than their straight counterparts
Overall, the differences between queer and straight people were most pronounced when comparing women in same-gender versus different-gender relationships. Lesbians experienced much narrower income gaps after having children than their straight counterparts. "Long-term, their earnings converge so they're between heterosexual women and heterosexual men," says Ylva Moberg, also a postdoctoral researcher with GENPARENT. 
Trans and gender-nonbinary parents report a similarly egalitarian division of labour, says Samantha Tornello, Assistant Professor of Human Development and Family Studies at Pennsylvania State University, who studies queer and trans families. In her study of trans and nonbinary parents, Tornello found that, unlike among cisgender, heterosexual parents, gender identity did not correlate with who did more domestic and parenting labour. In fact, the only two factors that predicted doing a greater share of parenting labour were being genetically related to the child – for example, in families with one step-parent and one biological parent – and working less time outside the home. Tornello has collected data on how the pandemic has affected this labour division, but has yet to analyse the results. 
'So, so supported' 
There are several explanations for this increased egalitarianism. In a relationship between people who are transgender or of the same gender, traditional gender roles are less likely to define who does what. 
In contrast, among cisgender, heterosexual couples – even those who disavow gender stereotypes – traditional roles often prove irresistibly sticky in the face of workplace pressures. LGBTQ people may also attach different meanings to gender and housework than straight people do, giving more space for negotiation and play. Queer people often value having broad networks of chosen family, which enable labour sharing. Finally, in the explanation most supported by research, queer couples are more likely than their straight and cisgender peers to actively negotiate their roles in the household, as the Chambers-Grant family have done. 
Context – including factors like paid family leave policies and workplace protections – matters, too. In a study comparing lesbian and gay male couples in Australia, Belgium, France, Germany, the Netherlands, Norway and the UK, researchers found that countries reporting higher levels of gender egalitarianism, as measured by women's economic participation, also found more equality in same-gender couples' domestic labour division. For van der Vleuten, this shows that "even same-sex couples are influenced by heterosexual gender norms". Across the board – even in countries with substantial parental leave allowances – the birth mother in a lesbian couple still takes slightly more parental leave than her partner.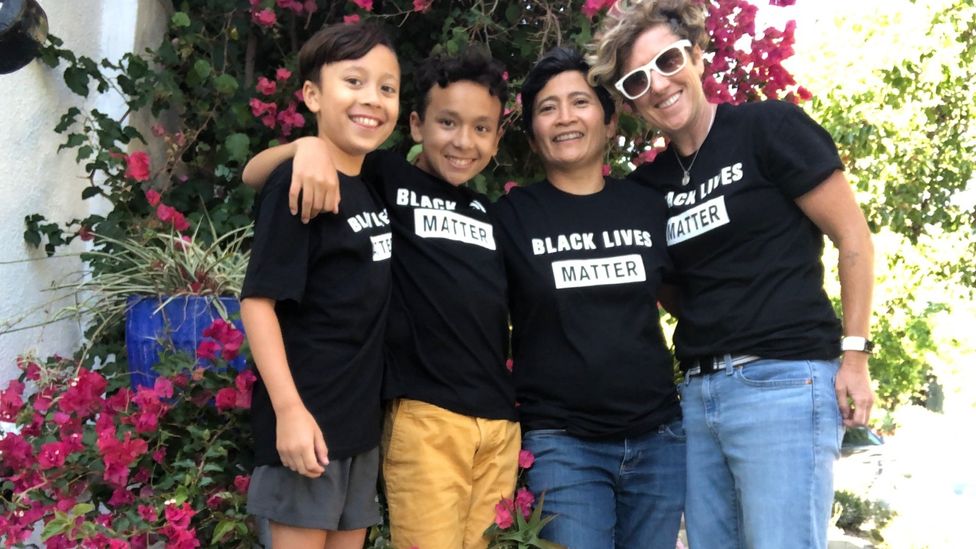 Jamie Dillemuth (R) and Baby Djojonegoro (second right) say splitting jobs more equally means they can spend more time with their kids (Credit: Jamie Dillemuth, Baby Djojonegoro)

This was the case for Baby Djojonegoro and Jamie Dillemuth, who live in California with their two children, who are aged 14 and 10. Dillemuth, a special education teacher, gave birth to both children, a decision the couple says came naturally. "I've always wanted kids," says Dillemuth. "I was just like, 'This is happening whether you're with me or not'." Luckily, Djojonegoro, an epidemiologist, was with her. Dillemuth was able to time conception so she could give birth in the summer, when she was on her break. Breastfeeding meant she was usually the person staying up at night with crying infants. "But I felt so, so supported in everything from Baby," says Dillemuth. 

That intuitive sense of support dictates the couple's division of daily labour. Unlike the Chambers-Grants, "We don't really plan things through and talk them in advance", says Dillemuth. "But it comes together in the action step." Djojonegoro cooks and cleans; Dillemuth fixes and tidies. Before the pandemic, Dillemuth took the lead on helping the kids with schooling. With the boys learning from home, and Dillemuth teaching classes online, Djojonegoro has now taken on more of that educational support role, wandering from her office to support the kids' schooling between meetings. 

The Chambers-Grants, Dillemuth and Djojonegoro all have a key advantage compared to many other LGBTQ people: they have jobs that can, at least to some extent, be done remotely. In contrast, may LGBTQ people, especially queer people of colour, have disproportionately experienced pandemic-related job loss, exacerbating their pre-existing economic marginalisation. 

These systemic issues make clear that, while more active negotiation about labour in the home can support family wellbeing, it's not a panacea. Families of all kinds – straight or queer; with single or coupled parents – still need external support in the form of workplace protections, healthcare and childcare. It takes multiple economic and social factors to create egalitarian relationships. 

Yet for both the Chambers-Grants and Dillemuth and Djojonegoro, an egalitarian division of labour supported something besides more equal professional engagement: more quality time with their children. Dillemuth describes lunches together during long school days and mid-afternoon trampoline breaks; she's feeling pre-emptive nostalgia for these moments as she phases back into in-person teaching. The Chambers-Grants, too, express happiness at being closer to Oscar over the past year – something enabled by the fact that, when one partner was overwhelmed, they could always lean on the other. 

"Whenever it was feeling all a bit much for me, you were able to step up," says Kara to Jo.

;