Gender equality keeps making headlines in Japan for all the wrong reasons. Why is that and what will it take for things to change?
A
A day after former Tokyo Olympics boss Yoshiro Mori made global headlines with his sexist comments, Momoko Nojo, 23, helped start a petition calling for action against him. "The aim wasn't his resignation," says Nojo, whose petition – co-created with 10 other women – took two days to collect 100,000 signatures. "I felt we needed to do something, because until now we, as a society, have accepted these kinds of comments." 
Mori – an 83-year-old former prime minister who had told a Japanese Olympic Committee meeting that women talked too much – resigned a week later (pictured above). When broadcasters and newspapers reported that he had handpicked another man in his 80s as his replacement, young women called for a transparent process, resulting in the appointment of Seiko Hashimoto – a much younger, female, former Olympics Minister – instead. 
The move was seen as something of a victory for women. But Nojo, who is the head of a youth group called No Youth No Japan, says Mori's resignation doesn't come close to tackling the overall problem of gender inequality in Japan. "Companies criticised Mr Mori's comments, but some of them have less than 1% female board members, and that needs to change," she says. 
Risa Kamio, an elected member of the Setagaya City Council in Tokyo, agrees. "To me, Mr Mori was only the tip of the iceberg. It was like a whack-a-mole game. People criticised him because he came out to be whacked, but there are many other moles," she says.  
The topic of gender equality keeps making headlines in Japan, for all the wrong reasons. Indeed, just a few days after Mori resigned, the ruling party hit the news again by announcing that, while it was willing to allow women to attend its all-male board meetings, they would not be allowed to speak. 
These high-profile incidents come despite well-publicised policies aimed at promoting women's representation in society, including an ambitious target announced in 2015 for women to hold 30% of leadership positions by 2020. And the incidents coincide with a steady drop by Japan in global gender equality rankings; the World Economic Forum describes the country's gender gap as "the largest among advanced economies". 
It was like a whack-a-mole game. People criticised him because he came out to be whacked, but there are many other moles – Risa Kamio
As Nojo's actions demonstrate, there are some signs of activism among young people. Yet statistics show that most people believe genuine change will take a long time. What's behind these attitudes – and why isn't Japan making better progress on gender equality? 
'Burden on women' 
One key factor is the way traditional gender roles still prevail, significantly reducing the pipeline of women into leadership positions. 
"Historically, after World War Two, the combination of a hardworking husband who devotes his life to his company, and a stay-at-home mother, was encouraged," explains Hiroki Komazaki, founder and CEO of Florence, a non-profit organisation which advocates for solutions that help working parents. 
This encouragement has led to a norm in which husbands work very long hours, while housework and childrearing still fall mainly on wives. The government's latest national survey in 2020 showed mothers still do 3.6 times more housework than fathers. Because of these norms – as well as hiring biases in some companies, and the change-resistant working culture – many women stop working after having children, or opt for part-time or contract work that generally does not lead to promotions.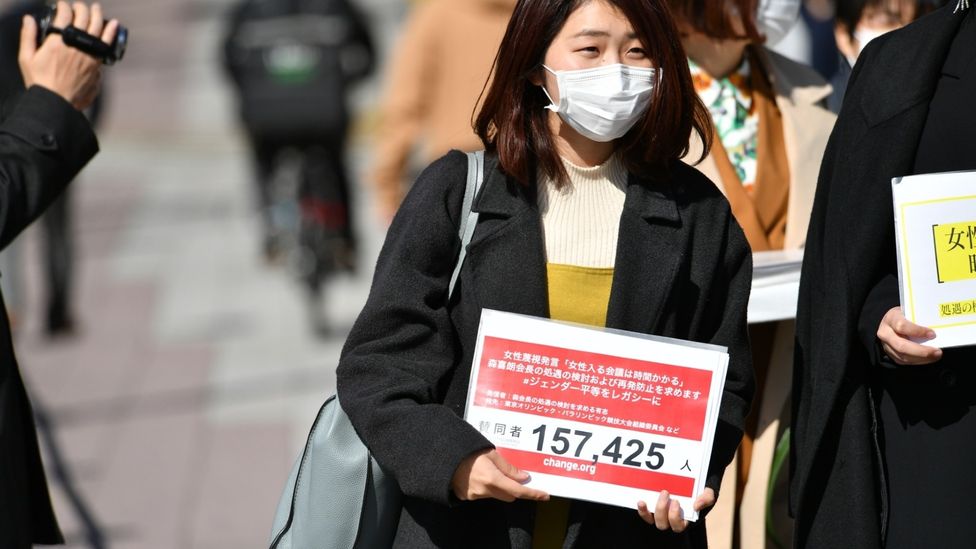 Momoko Nojo, pictured here carrying her petition, says it was important to speak up about Mori's comments (Credit: Momoko Nojo)
This entrenched division of labour has impacted population growth. Some women, faced with the prospect of giving up work or stepping off the career track when they have children, are having fewer children, or none at all. Japan's birth rate is currently at a record low. Its marriage rate is also plummeting – one factor there is that men worry they can't support a family on just their salary. 
Yet because the demographic crisis is already having an effect, the government would like more women to have kids and also remain employed to shore up the nation's shrinking workforce. 
That's where Womenomics came in, the raft of policies introduced in 2015 by then prime minister Shinzo Abe. It pledged to create a society where women could "shine" as well as improving the pipeline of women into leadership. But critics say the policies were more about encouraging women back into the workplace to help the economy, rather than addressing existing challenges such as the lack of childcare to make it easier to juggle work and kids. 
"It's because Japan was not pushing for gender equality," says journalist Toko Shirakawa, who has written extensively about Japan's declining birth rate. "The government was only pushing to increase the number of female leaders, without offering any fundamental changes or support. The burden was on women to bear." 
That's meant there has been little meaningful change. The World Economic Forum's Global Gender Gap Report 2021 ranked Japan 120th out of 156 countries in terms of gender parity, down 40 places compared to its 2006 ranking.
The burden was on women to bear – Toko Shirakawa
While more women have indeed joined the workforce, many remain in part-time or non-career track roles, which will not allow them to access the top jobs. In the private sector, the number of female managers rose to 7.8% in 2019, but that is still nowhere near the 30% target, which the government has quietly pushed back to 2030. And in politics, women make up just 9.9% of lawmakers in parliament's more powerful lower house – ranking Japan 166th out of 193 countries. 
The result is that men still dominate business and political leadership in Japan, policies that really meet women's needs are slow to emerge and – in some quarters – misogyny continues to thrive.  
Why people don't speak out 
Part of the reason comments like Mori's have gone unchallenged for a long time is because of society's unspoken etiquette: in general, people don't get into arguments, particularly with their elders. "Japan is a country where people find it difficult to speak out regardless of your age or gender," says Nojo, whose petition helped force out Mori. "If you do, you could be seen as selfish." 
It's the Japanese concept of "reading the air" – kuuki o yomu in Japanese. Even if you find someone's remarks sexist, many choose not to confront the issue, so that the situation doesn't become awkward. That has allowed Mori and others like him to perceive their remarks as acceptable. In the past, even if these leaders were criticised, they were able to apologise, bid for public sympathy by saying, "My wife (and/or daughters) told me off", just as Mori did – and get away with it. 
That's why many older women expressed support for Nojo's petition; many said they felt partially responsible that incidents like this kept happening because they didn't speak out in the past. 
"I want to say loudly that it's not only Japanese women who are angry about those sexist remarks," points out Komazaki. "The majority of men, including lawmakers, think these sexist comments and actions by Mr Mori and the [ruling] LDP are unthinkable." 
While generational change will help, he adds, some older men have already updated their attitudes though interactions with grandchildren or younger colleagues, and realised that acceptable attitudes and perceptions surrounding gender have changed. 
'One person cannot fight alone' 
As people update their attitudes, social media is also increasingly offering a platform for Nojo's generation to voice opinions, – and more crucially, for them to be taken seriously by stakeholders, like the Olympic sponsors.
Yet pressure from younger members of society needs to be combined with new policy – and messaging – from the top.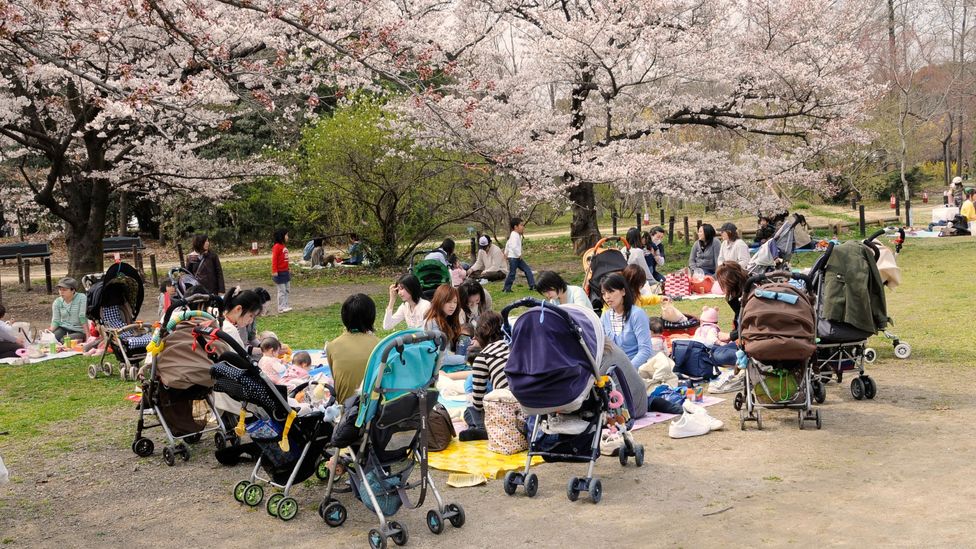 Entrenched gender roles mean many women step off the career track when they have kids, missing out on leadership opportunities (Credit: Alamy)
To generate that messaging, it's important to increase the number of female policymakers, says journalist Shirakawa. "We need to set a quota to increase the number of female candidates to begin with," she says. "We have to think that 50:50 is the norm, and figure out what's preventing us from achieving it, instead of looking for excuses for why we cannot achieve it." She thinks some of the changes that could be most effective include allowing lawmakers to vote remotely and having childcare at parliament. She also supports the introduction of gender quotas in parliament.  
"And wherever they can, powerful male politicians should nominate female running mates or directors to run departments," she adds, giving an example of Rie Hirakawa, who was appointed as the superintendent of the Hiroshima Prefectural Board of Education, and has brought in numerous changes – like trialling new programmes aimed at more interactive learning and acting quickly on remote learning while other parts of the country struggled – in the last three years. 
Risa Kamio, the local councillor in Setagaya City in Tokyo, agrees women need to be better represented in the political sphere. "One person cannot fight alone. I've realised that the more female lawmakers we have, the more of us will speak up." She decided to run for office when she returned from abroad in 2016, because she wanted working parents' voices to be heard. 
But it's been challenging; early on, Kamio struggled to find childcare for her son, then three years old. When she was campaigning, she was told to stand outside a local station from 0600 to midnight, to get her face out there – something that did not work with her family schedule. And today, she still has to deal with a working structure geared towards men that seems to exclude family responsibilities. "One of the meetings was scheduled to start at noon, and we were told to clear our schedules until midnight," she says. "The system is very inconsiderate of working mothers."  
And while her husband was supportive of her choice to run for office, other relatives were concerned. "My parents were worried, and especially my mother, who objected very strongly," says Kamio, whose mother was a stay-at-home mother. "She was worried that I would get so busy that I would neglect my son." 
In the US, strong women are seen as cool. In Japan, we're taught to be obedient – Mako Tanaka
These kinds of societal expectations and workplace pressures impact on women considering challenging the status quo in all spheres – and serve as a deterrent to many. 
Mako Tanaka, 20, a member of No Youth No Japan, believes that more wholesale change about how women learn and understand their role in society is needed, saying men and women are sent messages emphasising their differences from an early age. "At primary school, girls carry a red bag as opposed to the boys' black bag. Repeatedly, little by little, we are taught to be modest. In the US, strong women are seen as cool. In Japan, we're taught to be obedient." 
Long road ahead 
Until women have a voice in all sectors and at all levels of society, the misogynist messages won't end. 
Yet while some companies have started to create more family-friendly workplaces, they are still few and far between. Even the Ministry of Health, Labour and Welfare, which is trying to promote better work-life balance, has been accused of having staff work excessive overtime. And some commentators have accused media companies, who were quick to criticise Mori's comments, of double standards based on their number of female board members.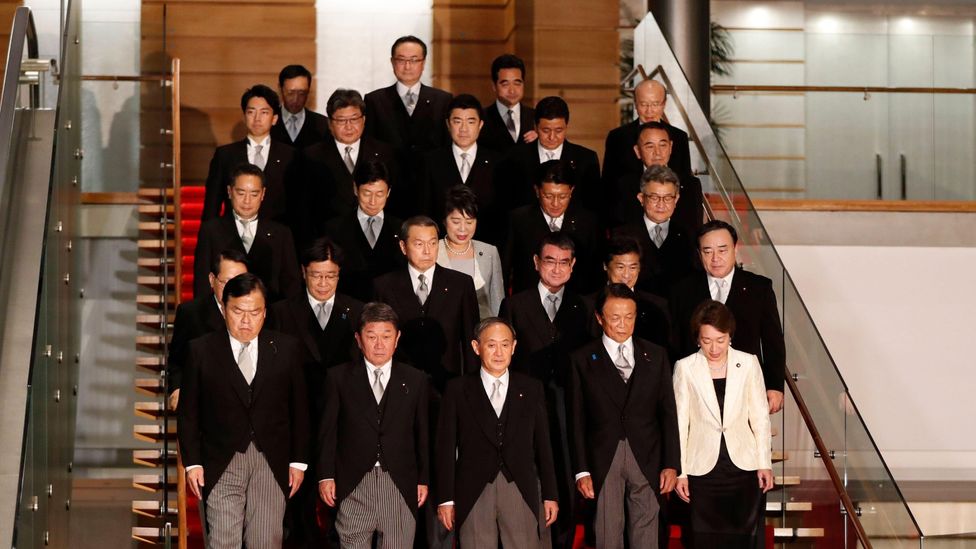 When Japan's new leader, Yoshihide Suga, took office in September 2020, he named just two women in his cabinet (Credit: Alamy)
Kamio doesn't know how long it will take to reach a better level of gender parity, pointing out that despite some changes, social attitudes mean that boys and girls are still raised differently. "As a mother of a boy, I keep reminding myself how important it is to make him help with housework," she says. 
But journalist Shirakawa says Mori's forced resignation represents significant progress, noting that had it happened even a few years ago, he might have been able to simply apologise and keep his job. 
And unlike previous generations, Nojo and Tanaka – two women in their 20s – say they aren't concerned about the repercussions of their activism as they look for jobs. But even they aren't ready to enter politics. "I know someone has to do it," says Nojo, "but I don't feel like I can be happy if I become a politician," adding that she may have been affected by what she sees in the political arena and how hard she thinks it would be to thrive there. 
A survey by research body Dentsu Institute, meanwhile, showed that while people increasingly want the gender equality issue addressed, they expect it to take a long time; participants estimated that it would take 24.7 years before women make up 30% of Japanese company management, and 33.5 years for women to make up half of national lawmakers.   
Underlining the slow progress, late last month, yet another high-profile Olympic official had to step down over sexist comments. Creative Director Hiroshi Sasaki suggested it would be appropriate to dress Japan's plus-sized celebrity comedian, Naomi Watanabe, up as a pig for the opening ceremony and call her "OlymPig". 
We still have a long way to go.