Thoughtful, inclusive urban design can make streets safer for women – something that has multiple benefits.
A
Alexandra Park, a green expanse in the English coastal town of Hastings, is sprawling and lovely. It has wooded areas and several ponds, as well as two long, wide paths which weave around gently sloping lawns, gardens, trees and even a miniature railway track. It has just about anything a parkgoer could want – except lights, security cameras and other safety equipment. 
The park's focus on urban wildlife means that the area is dark at night. But violent incidents can take place even during the day, as Kay Early knows all too well. In June 2020, she was walking her dog when a man started following her, then punched her repeatedly in the face. 
He didn't take any of her possessions, as three passers-by managed to chase him off. But the attack has had severe repercussions for Early, a 33-year-old support worker for people with autism, who has been living with PTSD ever since. It didn't help that, nine months after the attack, police told Early that her case was being dropped due to a lack of evidence. It could have progressed if there had been surveillance video in the park, the investigator said. 
This has led Early and her friend Claire Noble to petition for more safety measures in the park, including CCTV and lights. To minimise the disturbance to wildlife, and assuage privacy concerns, they're advocating for a single, well-monitored path through the park. "I want to give people back their park so they can feel safe and walk without fear," says Early. 
Similar campaigns have been cropping up elsewhere in England, such as efforts by the Sheffield group Our Bodies Our Streets to improve lighting in the city's parks. Both the Sheffield and the Hastings campaigns predated the disappearance of Sarah Everard as she walked home in London. But Everard's death, as well as those of Bibaa Henry and Nicole Smallman, killed in a north London park in June 2020, have given extra urgency to discussion of women's safety in public space.
I want to give people back their park so they can feel safe and walk without fear – Kay Early
Rather than victim-blaming individual women and girls, many people are asking how to transform cities so that female residents don't have to fear leaving the house. One element of that transformation is thoughtful, inclusive urban design. This involves relatively small changes – like more walkable streets, open gathering spaces and well-lit pathways – so that women feel visible and welcome in public spaces. And while these changes would improve women's security, they would also help improve cities' accessibility and liveability for everyone. 
Shared streets and more visibility 
Of course, women experience public safety in varied ways. Almost universally, those with more wealth will have more options for navigating, or avoiding, insecure spaces. Queer and gender non-conforming people, ethnic and religious minorities, and people with disabilities may be especially targeted in public, for example.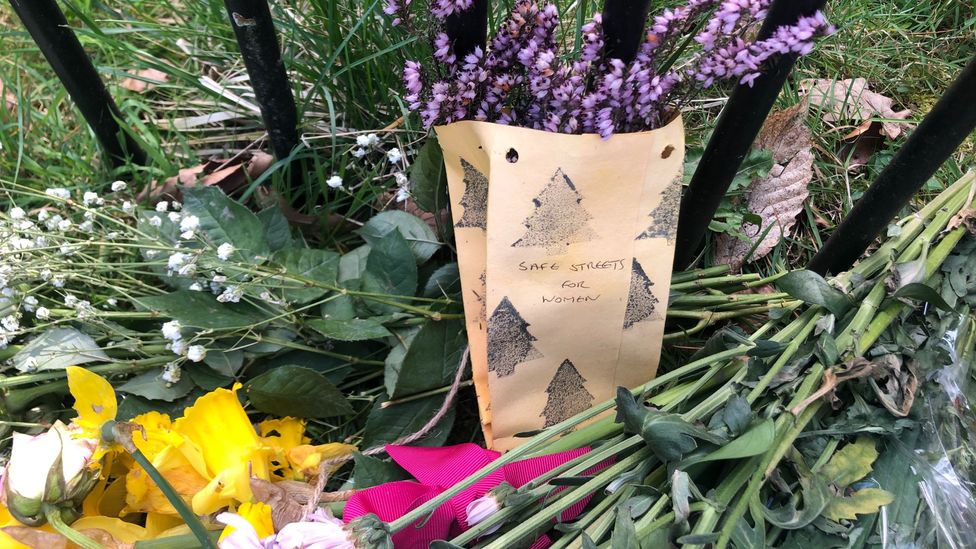 Recent killings, including that of Sarah Everard in London in March, have added urgency to the debate around women's safety (Credit: Christine Ro)
Yet it's clear that, overall, women experience cities differently from men; they might be hyper-aware of male strangers or decide not to go out at all, for example. In Dublin, 36% of women surveyed felt unsafe walking in their neighbourhood at night, compared to 13% of men. In Honiara, the capital of the Solomon Islands, 93% of girls in a focus group sometimes felt unsafe in public. 
Gender is also the most significant factor in how anxious passengers feel on public transport. The gaps can be enormous: one UK survey found that 93% of female respondents felt fearful while waiting for a train at night, compared to 53% of male respondents, because of poor visibility. 
A seemingly easy fix would be to install more lights at stations and in other spaces that women or potentially vulnerable people use frequently. But as the Hastings example suggests, this isn't always easy. There can be ecological, financial and other issues with blanketing public spaces with lights. 
Kalpana Viswanath, cofounder of safe-cities organisation Safetipin, which has developed apps that map the safety levels of different areas based on factors like lighting and public transport, highlights "visibility in the area" as a key factor in making women feel safe. She describes this as natural surveillance: if a person is walking down the street, it's the reassuring presence of street vendors, local residents and shop owners, and passers-by.  So high boundary walls, for instance those enclosing gated communities, are ultimately harmful to women's overall safety. Those walls block off the visibility for everyone else.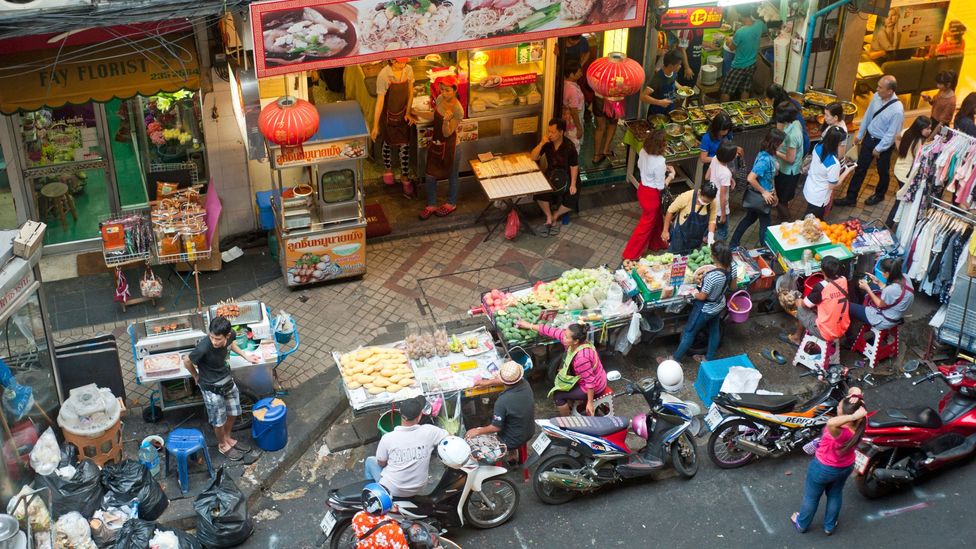 Bangkok's busy commercial areas, with local stores and street food vendors, help facilitate shared streets (Credit: Alamy)
But there's a balance between deserted areas and overcrowded spaces; both can feel unsafe.
Multigenerational, multi-gender spaces are the ones that breed the most comfort. This idea of shared streets is one reason she feels so safe in Bangkok, which has a thriving street life. 
"If I get onto a bus that has nobody else but men at 10 o'clock at night, I am going to be really scared," says Viswanath. Clearly, the presence of women makes other women feel safe. In Early's case in Hastings, female walkers were the people who witnessed her attack and came to her aid. 
In Delhi, Viswanath gives the example of a market area that was turned into a pedestrian-only space. Her team partnered with local organisations to create a women's festival there, and talked to many local women to reassure them that it was secure to gather in these male-dominated spaces. The project was a success because it combined physical concerns (vehicular traffic) and social concerns (women's nervousness about going out for a purpose other than work, school or shopping). This led to a critical mass of women. 
The multiple benefits of women-friendly streets 
There are other arguments for creating more inclusive cities, apart from the basic right to move around freely. "By designing cities that are inclusive… you're also designing a city that is good for business," notes Sara Candiracci, an urban planner and international development leader with the professional services firm Arup. 
She says that all too often, cities are designed with a healthy 30-something man in mind, even though city users are far more diverse. Léan Doody, who leads Arup's Integrated Cities and Planning network in Europe, says that part of the problem is that the male-dominated fields of urban planning and transport planning are not as diverse as the communities they serve, and planners need to look past a default male user. "This provides a much more interesting lens into the city."
Women worry more about taking public transport at night, research shows (Credit: Alamy)
Often, solutions that benefit local economies also benefit women's safety. Alliance for Community Transit Los Angeles (ACT-LA) and its partners are calling for a new vision of safety around the LA Metro, which they call "community safety through environmental design". The activists don't want more police, who they say can make minority communities feel less safe, but rather more Metro staff, who would be unarmed and decently paid. Designing spaces for small businesses, such as street vendors and news-stand operators, also feeds into this vision. The idea is that having more people around who are invested in the community and know it well will ultimately make reluctant passengers, including many women, more comfortable. 
There's also a strong environmental case for paying more attention to women's safety, even with continuing tensions over how well-lit cities should be. From just about every corner of the world, there's evidence that feeling unsafe as cyclists or public transport users limits women's take-up of low-carbon travel options.
This idea of inclusive design is a lever, a tool for actually making things better for the population - Léan Doody
It's not just women. Doody and her colleagues' research on Irish transport showed that 55% of women surveyed were unwilling to use public transport at night. This figure attracted a lot of attention, but she says that people didn't really talk about the related finding that 35% of men also wouldn't use public transport after dark. 
"You've got a bigger problem there, and actually if you were able to do something for women to improve their sense of safety, it's very likely that the same measures or similar measures would also improve the situation for men," Doody says. "So, I think this idea of inclusive design is a lever, a tool for actually making things better for the population." 
Simple design solutions 
City officials sometimes balk at the expense of surveillance and staffing. But some of the measures most popular with women, notably lighting, don't need to be costly. Warm LED streetlights can combine energy efficiency with safer roads for drivers and pedestrians alike. 
"Sometimes there is not the awareness of how actually through your work, with limited investment, you actually can achieve more if you adopt the right principles of design," says Candiracci. "It's just a matter of embedding these principles of design [like accessibility of basic services, mobility, public transport and walkability] – that are very much about inclusivity, about diversity – into everyday practice."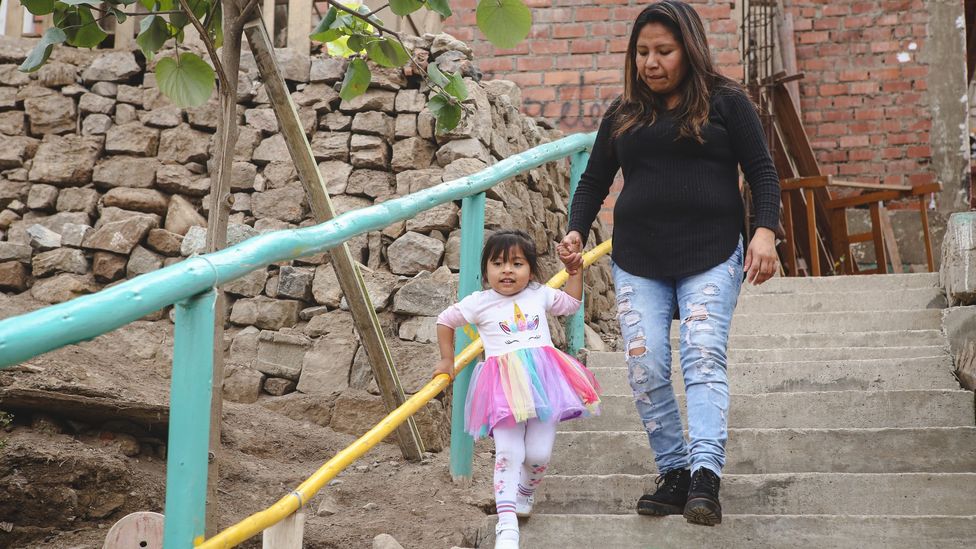 Simple improvements to a path in one Lima neighbourhood had multiple positive effects for the local community (Credit: Asociación Proyecto Alto Perú)

Often, conversations around women's safety in public centre on the risk of sexual assault. But that's not the sole concern – and taking a broader view of public safety can be one of the best ways to achieve more women-friendly streets. 

For instance, it should be a simple matter to walk a toddler to nursery three blocks away. But in a poor, hilly neighbourhood in Lima, the hazardous and rubbish-strewn path meant that many mothers had to make an expensive journey by mototaxi instead. A project by the Bernard van Leer Foundation and the NGO Alto Perú cleaned up the path, planted trees and installed handrails. This led many women to walk instead – saving money, reducing carbon emissions, improving health and providing space for socialising. 

Ensuring that a pavement is smooth and has a dropped kerb for wheelchairs or strollers is an example of a simple design change that has multiple benefits, including creating safer spaces for women and girls, and moving closer to the idea of shared streets. This principle comes up again and again in conversations about female-friendly (but also child-friendly, age-friendly and disability-friendly) cities. For example, ramps are useful to women pushing strollers, but also to people in wheelchairs or walking bikes. 

Public toilets are another good example. In many places, where public toilets exist they remain disproportionately for men, whether it's a train station in India or a nightlife district in the Netherlands (although countries like Malaysia and Japan take "potty parity" more seriously). Designing facilities to contain more women's toilets or all-gender toilets creates safer spaces for women, as they don't have to fear relieving themselves in public. In some areas, women and girls even face a risk of attack when they look for a place to relieve themselves. 

Simple design solutions like these work best if planners pay attention to the particular context, carefully consider which groups to target, listen to them and incorporate their needs into planning. This sends the message that women's experiences of comfort and safety in public are important. It's not enough, but it's essential work that can lay the foundations for safer cities for women. 

Feminist researcher Finn Mackay tweeted recently about the men who shout things like "go home" and "these are our streets" to female protestors during Reclaim the Night marches. "So women are not wrong in perceiving public space as default male," wrote Mackay. "We will not end sexualised male violence against women overnight, but we can change this messaging by changing cities."

;