As remote work takes hold, rural 'Zoom towns' are popping up all over the US. For outdoorsy workers, the options are an embarrassment of riches.
L
Los Angeles native Shanelle Sherlin always wanted to live close to nature in a place where, as a triathlete, she could run, bike and swim away from city noise. So, when her job as a digital marketing manager for an entertainment company went fully remote, the 30-year-old made a dramatic move that would have been unimaginable before the pandemic: she traded the Hollywood Hills for the rolling Ozarks of Northwest Arkansas.
Sherlin was one of 30,000 applicants from 50 states and 115 countries who applied for the Life Works Here talent initiative, which was launched in November 2020 with a $1.5 million investment from the Walmart heirs (the big-box retailer has its headquarters in Northwest Arkansas). Successful candidates – there are currently 35 out of what will be a total of 100 by year's end – receive $10,000 (£7,090) if they relocate for a minimum of one year, plus outdoor perks such as a free bike to enjoy the area's 400 miles (644km) of hard and soft-surface trails.
"One thing that really impacted me right away was that it's such a cycling-friendly community," says Sherlin, who lives in Fayetteville, a small city of about 85,000 residents, by the 37-mile Razorback Regional Greenway. She bikes it and other trails three times a week, sometimes with a group of fellow cyclists. The newly remote worker also found a social club with a co-working space, which she says "is a great place to interact with likeminded, career-driven individuals".
Although some urban centres across the world have also established programmes to entice workers to relocate, a taste for a slower, more outdoorsy option has recently emerged, especially in the US.
A new study from the Pew Research Center found that, like Sherlin, one in 20 US adults have moved in response to Covid-19, with those younger than 30 most likely to have made the change. Many are urbanites from major coastal cities, like New York and San Francisco, who were spurred by the growing disconnect between stagnant wages and rising living costs as well as the prospect of bigger spaces and access to nature in the American interior. Now that influential companies like Facebook and Twitter have set the tone for long-term remote work even after the pandemic ends, this young talent has been emboldened to seek out new horizons.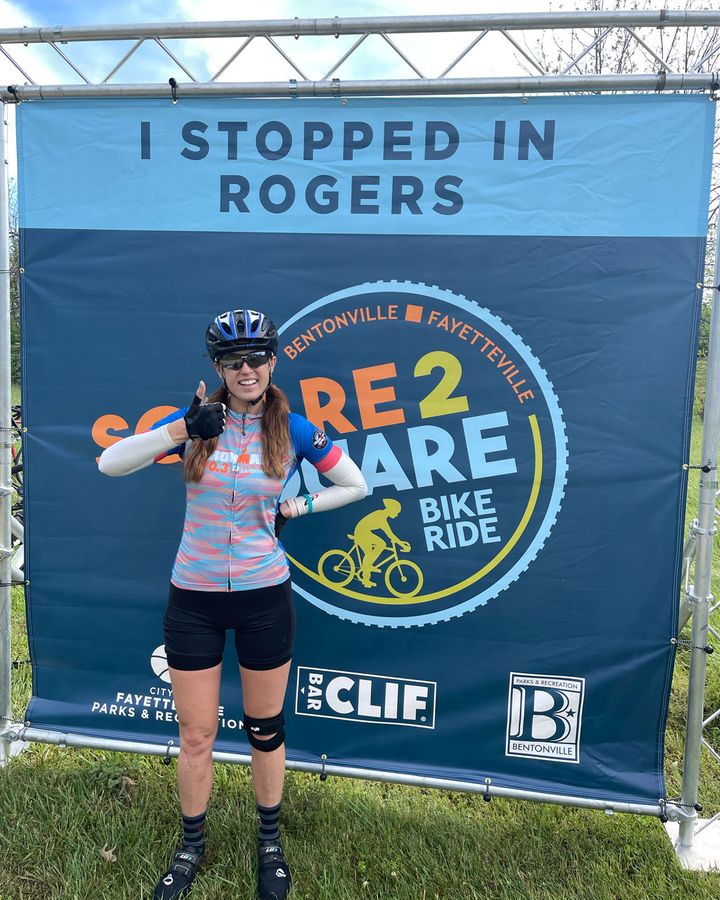 Shanelle Sherlin is among the American workers who've moved to quieter 'Zoom towns' to be closer to nature (Credit: Shanelle Sherlin)
The rise of outdoorsy 'Zoom towns'
Oil and mineral discoveries once led to boomtowns; this exodus has spawned 'Zoom towns', regional communities near natural amenities, where remote workers can take advantage of a higher quality of life, with more disposable income than in traditional business hubs.
In the US, some resort towns – including  Sandpoint, Idaho; Moab, Utah; and Durango, Colorado – have been overrun by these new "amenity migrants". Meanwhile, overlooked communities like Fayetteville have turned to cash incentives to both capitalise on the trend, and lure outdoor-loving remote workers to their doorsteps (especially those in the STEAM fields of science, technology, engineering, arts and maths). 
Similar incentive programs have popped up in nature-rich states such as Arizona. Tucson, for example, is giving outdoor enthusiasts $7,650 in cash, goods and services to use it as a base for work and adventure. The first 10 finalists for its Remote Tucson initiative – who hold jobs at companies including Apple, Pfizer, Facebook and LinkedIn – are arriving now, with up to 25 more expected in a second round later this year.
Ascend West Virginia takes the outdoor incentives even further. Participants not only receive $12,000 to relocate to participating West Virginia towns, but also an adventure package and free gear rental to cover a year's worth of paddling, biking, climbing and rafting in the surrounding Appalachian Mountains. The programme also includes networking excursions and educational workshops – all conducted in nature – and is said to be valued at $20,000.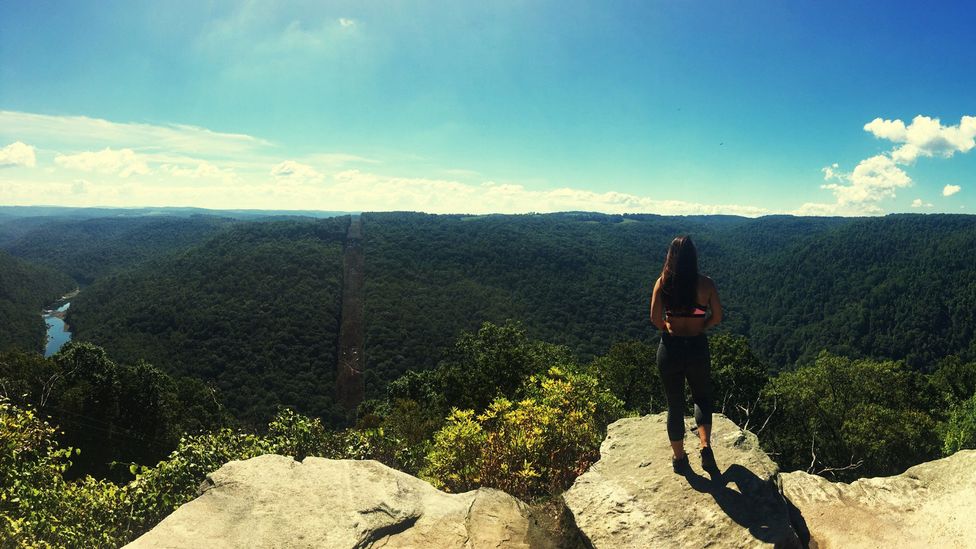 This autumn, 50 applicants will land in the West Virginia city of Morgantown, population of about 30,000, to begin their adventures (Credit: Getty Images)
"This past year has really accelerated trends that were already under way over the last decade, including a significant shift to remote work and a generation that's beginning to see rural as the new urban," explains Ascend West Virginia co-founder Brad D Smith, who's also the executive chairman of software company Intuit.
About half of Americans (48%) who responded to a Gallup poll at the end of 2020 said that, if able to live anywhere they wished, they would choose a town or rural area, up from 39% in 2018.
"Our goal was to create a way to differentiate West Virginia that was durable and not so easily matched by promoting our unparalleled outdoor assets," adds Smith, who invested $25m in the programme, alongside his wife Alys. The West Virginia native says the Ascend initiative will help 1,000 remote workers relocate over the next five years as well as create needed buzz for the state, which has seen the highest population decline in America. More than 7,000 people from 50 states and 73 countries have already applied. The first cohort of 50 will arrive in the adventure hub of Morgantown this fall.
"These individuals will be coming in and looking at the state with fresh eyes," notes Smith. "It's really an influx of energy, diversity, talent, ideas, jobs and purchasing power – and all that becomes a flywheel so that future generations want to stay in the state and move here."
A boom or bust for rural enclaves?
The idea for Smith and others is that workers will benefit, and towns, too. Of course, the reality is not quite so simple.
In a study published in the Journal of the American Planning Association last year, Danya Rumore, a researcher with the University of Utah, looked at the development challenges faced by 1,200 gateway and natural amenity region (GNAR) communities in the American Mountain West region, which includes Utah, Idaho, Montana, Wyoming and more.
"What we're seeing in some communities is rural gentrification, which is having a spill-over effect where people can't afford to live in the communities anymore," she says, noting that "places with really good outdoor recreation access have gotten hammered". Many communities have experienced other "big-city challenges in small towns", she adds, including overwhelmed schools, overburdened infrastructure and troubles keeping employees employed due to acute housing affordability issues.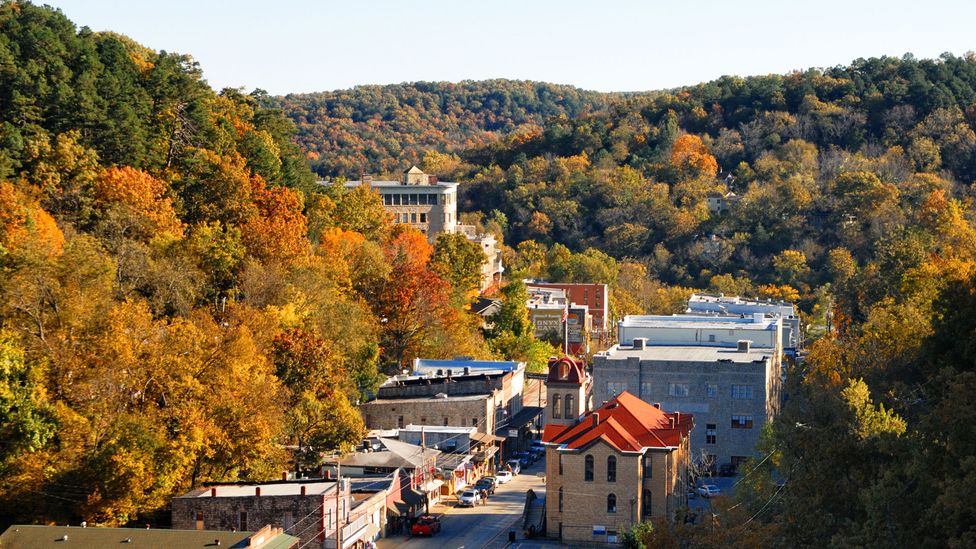 Rural towns in the Ozark Mountains in the US state of Arkansas are among destinations for workers who crave outdoor experiences (Credit: Getty Images)
Yet, for rural areas with the resources to both manage the impact and harness the opportunity – including those actively seeking remote workers – it may be the kick they need to jumpstart the local economy.
Rumore says that many rural communities receiving an influx of remote workers are transitioning away from extraction economies to tourism, but have struggled with the recent boom and bust of that industry, too.
"They are seeing an opportunity to diversity their economy" with a fresh influx of capital and ideas, she says. "One of the benefits of the in-migration we've seen is that there are younger people moving in." Instead of pensioners retiring to nature, "you have people who are still employed, have families, have kids in school".
Temporary or permanent? 
The next question on many communities' minds is: are these Zoom towners here to stay?
Smith thinks they will put down roots in areas with strong natural assets. He says incentivising remote workers to immerse themselves in outdoor adventures is key to West Virginia's strategy, "because this programme is successful if they come, fall in love with the state and stay".
Rumore bets there's a good chance many Zoom towners will remain in their new homes, too, particularly as towns evolve alongside their latest residents.
"Once they reach this tipping point where they're a pretty cool town with a nice coffee shop and cool bars and good restaurants – when they get over the hump and become a place – people want to stay," she says. "So, what's interesting about this flood of amenity migration is that it probably tipped a lot of these communities over that hump."
Sherlin, the remote worker who traded Los Angeles for Northwest Arkansas, says she feels like she landed in the right place at the right time. "So far, I absolutely love it," she says. "I don't see myself leaving, but I'm going to complete the year and figure it out from there." 
No one knows whether companies will keep remote-work policies forever, so it's hard to predict the future of these nature-adjacent Zoom towns or the workers who've flocked to them. At the moment, however, for outdoors-loving workers who are able to pick up and leave, many Zoom towns have rolled out their welcome mats. Step on in.