People are no longer prepared to return to pre-pandemic ways of working. If pressed to do so, many may choose to quit instead.
A
As we head into 2022, Worklife is running our best, most insightful and most essential stories from 2021. When you're done with this article, check out our full list of the year's top stories. 
In early July, after more than a decade working for a French bank, Marie could see no other option but to resign from her Paris-based role. 
The mother of two, whose surname is being withheld for professional reasons, enjoyed her job in the firm's wealth-management division. But in June, her bosses determined that, given the global pandemic continued to show signs of easing, everyone in the team would soon be ordered back to the office full time. 
Marie's husband had recently been offered a lucrative job in London. When he accepted, the prospect of the young parents holding down careers in two different countries looked unproblematic, because of the workplace changes that Covid-19 had triggered. Marie had been enthusiastic about the prospect of moving to London and catching the Eurostar train to Paris a few times a month for work, but as her employer started to insist on a return to in-person working, it became obvious that something would have to give. 
"I'd just spent well over 12 months proving that I was able to do my job entirely remotely, so being told that there was no longer any flexibility at all in terms of my physical location was extremely frustrating," she says. "I tried for several weeks to come up with a solution, but in the end, I could see no other option than to quit. I loved working in finance, but my priority now is to find a new job that works for me and my family," she adds. "And that may well be in a different industry." 
As vaccination rates around the world tick up, giving employers like Marie's the impetus to recall people to the office, businesses are confronting an uncomfortable reality: employees' needs and preferences have changed. Many are no longer prepared to return to the way of working that was conventional before the pandemic. If pressed to do exactly that, millions are choosing to quit instead.
Being told that there was no longer any flexibility at all in terms of my physical location was extremely frustrating – Marie
This trend has gathered so much momentum that academics are now speaking of a fundamental shift in power dynamics away from employers and toward workers. If businesses want to retain the loyal talent they need to stay competitive, experts argue they must listen to the needs of the labour market and adapt quickly.  
The lessons from loss 
Almuth McDowall, professor and assistant dean of the department of organisational psychology at London's Birkbeck University, explains that losses during the last 18 months have proven transformational. 
"We've all experienced loss... losing loved ones, losing our freedom, losing human contact," she says. "Many of us also had to juggle home-working with full-time caring, as children were off school." 
These life events felt so significant, says McDowall, that they caused us to revisit our priorities and sent many of us on a quest for work that feels purposeful – for a job that comes with some greater form of meaning.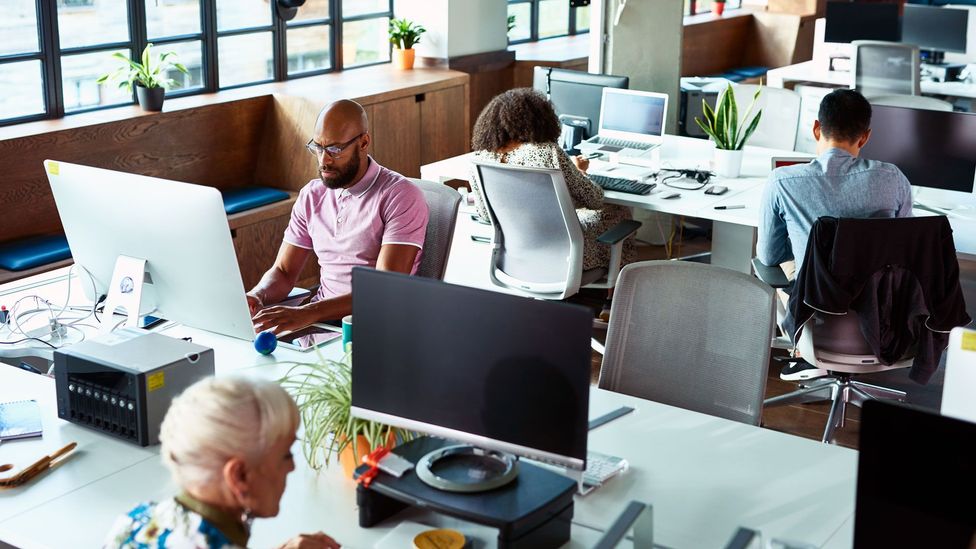 After a year of remote work, some are challenging pre-pandemic work conventions, like the need to be present in offices (Credit: Getty)
Simultaneously, having seen what is possible under extreme circumstances, many workers feel more prepared now than ever before to challenge assumptions around what an ideal worker looks like, and what the parameters and norms of the working world should be. 
The effects of this momentous rethink are starting to show. In a survey of more than 2,000 people in the UK and Ireland conducted in March,  more than a third of respondents said they were looking to change roles in the next six to 12 months, or once the economy had strengthened. The researchers concluded businesses not actively catering to the evolving needs and demands of employees risked "sleepwalking towards a talent exodus". 
In the US, meanwhile, data indicate that such an exodus is already under way. A record 4 million people quit their jobs in April alone. Since then, the resignation rate has eased, but remains elevated.  
A loyalty inflection point 
Anthony Klotz, an associate professor of management at Texas A&M University's Mays Business School, coined the term "Great Resignation" in May. Observing that there​​ were close to 6 million fewer resignations in the US during 2020 than there were in 2019, Klotz correctly predicted that, as the pandemic subsides, the "would-be quitters" who "sheltered in place" in 2020 were likely to act on their plans to leave their employers.  
"What we're seeing now is a clear decrease in organisational commitment due to a confluence of factors," he says. Echoing McDowall, he says that employees have gained a new perspective on what's truly important to them – "the pandemic brought death to our doorstep and that causes people to reflect" — but there are also other important reasons why loyalties have wavered. 
It's quite possible that many people no longer define themselves as much through their jobs as they used to – Anthony Klotz
"Work takes up a huge part of who we are. During the pandemic, identities changed. People spent more time with their families, some might've thought more about entrepreneurial ventures, side hustles or other pastimes away from their day job," he says. "It's quite possible that many people no longer define themselves as much through their jobs as they used to." That, Klotz elaborates, "means that they are less emotionally attached to their employer".  
Flexibility over finance? 
Another element contributing to employees' dwindling commitment is the decision by some companies to require workers to return to the office in person, as in Marie's case. In particular, the finance sector has come under fire for ordering workers back. 
In May, Jamie Dimon, the CEO of JPMorgan Chase & Co., which is America's largest bank, sparked a backlash when he said that working from home simply does not work for those who want "to hustle". And in June, Morgan Stanley CEO James Gorman said that if most employees were not back to work at the bank's Manhattan headquarters in September, he would be "very disappointed". 
Globally, the culture of banking is still rooted in face time and presenteeism. Most financial organisations champion the value of in-person meetings to pitch for business and hash out deals, meaning that remote arrangements were always only going to be temporary. But in light of employees becoming more discerning, this might have to change too.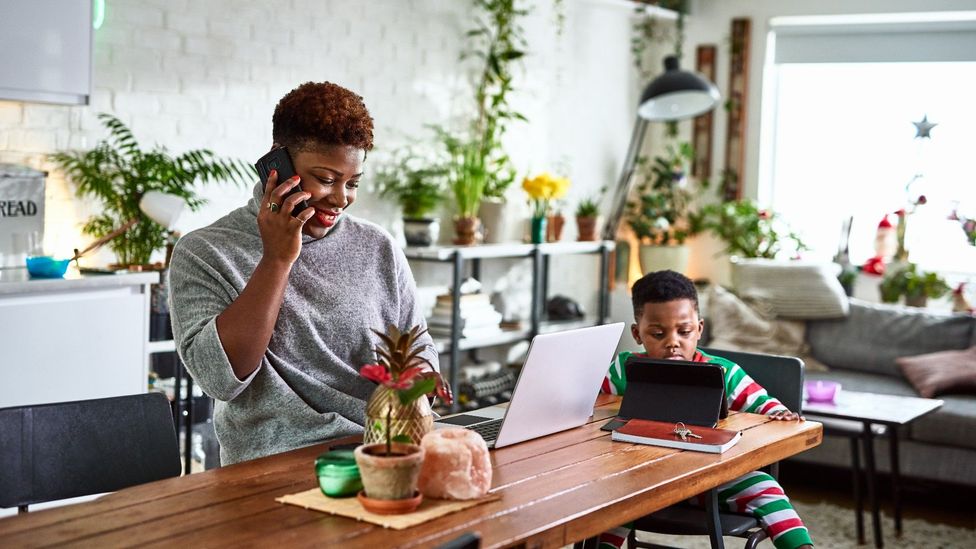 Workers gained flexibility during the pandemic – and some are reluctant to abandon patterns that worked for them (Credit: Getty)
Regardless of the sectors, explains Klotz, companies that are ordering staff back into the office full time with no exceptions are going to have to find a way to "pitch that in an appealing way". To stay competitive, businesses like banks and tech companies – some of which have adopted a remote culture indefinitely but many of which have not – must understand that, while digital nomadism and remote work were not widely available before the pandemic, they will be from now on.  
Neither Klotz nor Almuth McDowall necessarily anticipate an industry-wide talent drain to materialise – mostly because there is such a broad spectrum of how individual organisations look to be structuring their post-pandemic workplaces in any given sector – but they both agree that businesses will lose good employees if they are not careful.  
"Work arrangements is a brand new and important criteria that [employees] will care about going forward," says Klotz. "People will want to choose the work arrangement that is best for whatever stage of life they're in, and companies will have to take that into account when determining how they operate." 
A recent PwC survey found that employees increasingly want to be compensated for their work not just with money, but with flexibility. "[We've also] found that younger workers are more likely than older employees to accept smaller pay increases for non-monetary benefits, including extensive mental health benefits, unlimited sick time, flexible work hours and remote work options," says Bhushan Sethi, who jointly leads PwC's global people and organisation practice. In the wake of the pandemic, he adds, "these incentives can be the difference between a candidate accepting the job or not". 
The empowered employee  
Stories like Marie's cast a grim light on the process of readjusting to a post-pandemic work world, but there is overarching evidence that Covid-19 has been a catalyst for good when it comes to the power that employees in the labour market can yield. 
Indeed, Klotz argues that we are actually in the process of witnessing the dawn of the "era of the empowered employee".  
"Honestly, I can hardly recall a time when the job market was so much in the employee's favour and that's definitely a good thing," says Klotz. "Wages have to go up. Companies have to adapt. But it may well be a slow period of experimentation."  
"As an organisation, you don't just want to capture people's bodies, but you want to capture their hearts too. And it's that bit that's going to prove tough."