Luscious, organic, fresh-made salads dominate New York workers' lunch scene. But is eating one just about the food?
I
I remember the first time I went to get lunch at my first 9-to-5 job in New York City, in 2015. I didn't bring lunch from home – after all, I had just moved to one of the world's culinary meccas, so I was excited to see where my new workmates would lead me. Maybe one of the city's famed delis for a sandwich? A hidden hole-in-the-wall in nearby Chinatown, perhaps?
Instead, we lined up in a massive queue, with dozens of phone-scrolling people, snaked around the block. When we entered the shiny storefront, I saw that it was a takeaway salad place; it was packed, loud and fast. I had to scream my order to the super-efficient staff, who made my salad in front of me. When I got to the till, the bill was nearly $15.
That was my first experience of New York City's "salad culture". Office workers across the country and world may have heard of the "sad desk salad" – joylessly eating a bland bowl of romaine for lunch in front of your work computer. But in New York, and other major metropolitan centres including San Fransicso and Washington, DC, the desk-salad experience has been elevated to new heights; some takeaway chains have become worth billions in a few short years, as pricey fresh-made salad has become synonymous with office jobs.
As workers return to their desks after months of work-from-home, queues are already reforming at New York City's premium chains, indicating that salad culture will withstand the pandemic. Why are we so in-thrall to these lunch offerings – and is there a message in there about long hours and performative work cultures? Or do we just really like salad?
Why office workers love salad
New York City is synonymous with food trends, from pasta primavera's popularity in the 1980s, to the mainstreaming of sushi in the 1990s and the Sex and the City-fueled cupcake craze of the 2000s.
But in the last few years, premium takeaway chains specialising in deluxe, flavourful salads have exploded. These millennial-targeted chains sell customisable, Instagrammable salads, and offer fresh, local, organic ingredients: tofu, wild rice, avocadoes, crumbled goat cheese, quinoa, roasted shrimp, raw beets, kabocha squash. Most of these salads cost at least $10, and eating them signifies a certain urban, aspirational lifestyle – some media outlets call Sweetgreen, arguably the most popular company operating in this space, "the new NYC power lunch". Other big players include chains called Chop't and Just Salad, all of which are ubiquitous in Manhattan.
"Nowadays, every block has one" of these salad takeaways, says Hans Taparia, clinical associate professor of business and society who specialises in the business of food at New York University in New York City.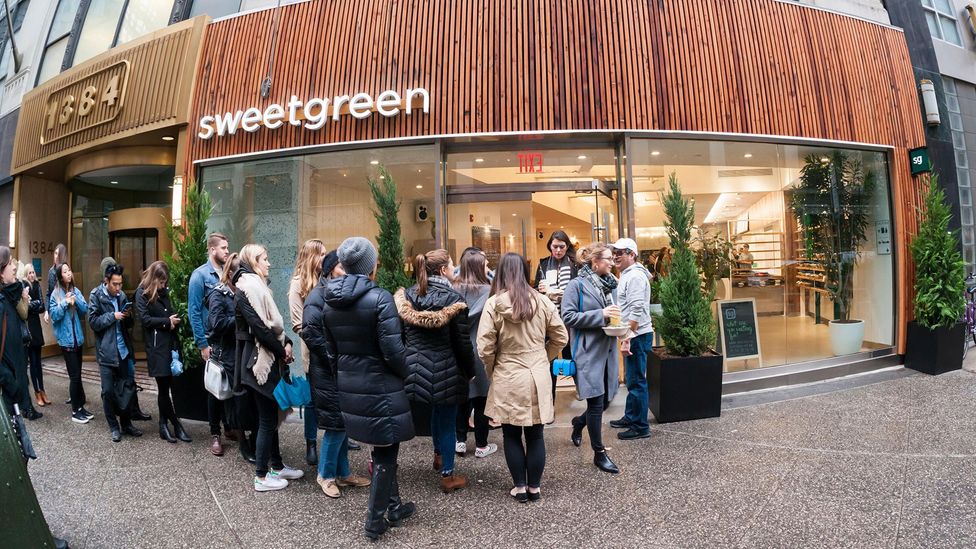 In New York City, takeaways that sell expensive, high-quality salads commanding long queues and busy crowds are a ubiquitous sight on weekday afternoons (Credit: Alamy)
Part of the attraction, of course, is that salad is healthy (depending what you put in it). Choosing one to eat at the office sends an image of responsible self-restraint to others – you're far too healthy for that 1,000-calorie burger, after all. The sentiment that salad is a diet food, and one that should be required eating for responsible adults, particularly hits women in our society, as seen with the "woman alone laughing with salad" meme a few years back. (Though men are not immune to judgement; I remember once being openly mocked for eating McDonald's at work.)
Also, salad is inoffensive to colleagues. While many cultures aren't so sensitive – and in fact celebrate food diversity – some believe there's something about the American workplace that's especially "de-odourised". According to John Hayes, professor of food science at Penn State University, US, and director of its Sensory Evaluation Center, "I think one of the biggest faux pas in the American corporate office is you don't want to be the guy with the stinky lunch."
Salad as a signal?
Then there's the speed aspect: these chains are generally staffed to serve a lunch rush, meaning you can be in and out – despite the queue – in minutes. Many places emphasise their order-ahead option, minimising your time away from your desk as you run out and pick up your pre-prepared salad (on a sprawling wall among a frenzy of other young, hungry professionals).
That speed is key because of US working culture, which values a tireless work ethic, to the point of burnout. That means workers leave paid holiday on the table, work through lunch breaks or, in the case of 62% of the population, eat lunch at their desks. This would be unheard of in some other countries; in France, labour laws used to forbid workers from eating at their desks, though that's been reversed this year to allow for more social distancing in the workplace. But in major US cities like New York, a lonely lunch at your desk is the norm. (American writer Jessica Grose even titled her novel, chronicling her a character glued to her laptop for 12 hours a day working in New York's media scene, Sad Desk Salad.)
In fact, given the pervasiveness of presenteeism in work culture, eating at your desk may well be a way of signalling dedication to your job and indispensability to the company. "The context of the 'sad desk salad' is that you're sitting at your desk firing off emails. It's not a social experience," says Hayes. "Maybe there's a performative aspect of it – like, 'well, I'm so busy, I have to work through lunch in our culture of overwork, and I can't even take the time out [for lunch]'."
When a behavioural trend catches on and becomes widespread across the community, we have that tendency and evolutionary need to conform – Hans Taparia
The appeal of the high-end chains is to turn the 'sad desk salad' into more of a midday reward, by upgrading and diversifying ingredients. These salads are more luxurious than the spartan spinach-tomato-balsamic mix you might make at home, but they're also way more expensive. Consumers keep buying, says Hayes, due to two factors: first, when you live in a place like New York City, you're more likely to want to pay extra for the amenities of a big metropolis, which include restaurants that give you quality options not available elsewhere; and second, people crave diversity in what they eat – and if they have the extra income to purchase lunch, they will.
And in the social context of the office, getting one of these salads could also be a signal that you fit in. "When a behavioural trend catches on and becomes widespread across the community, we have that tendency and evolutionary need to conform," says Taparia. He says that eating that pricy bowl of kale "does speak to what New York has always been known for, which is [being] ambitious, hard-working – and as a result, to an extent – health conscious".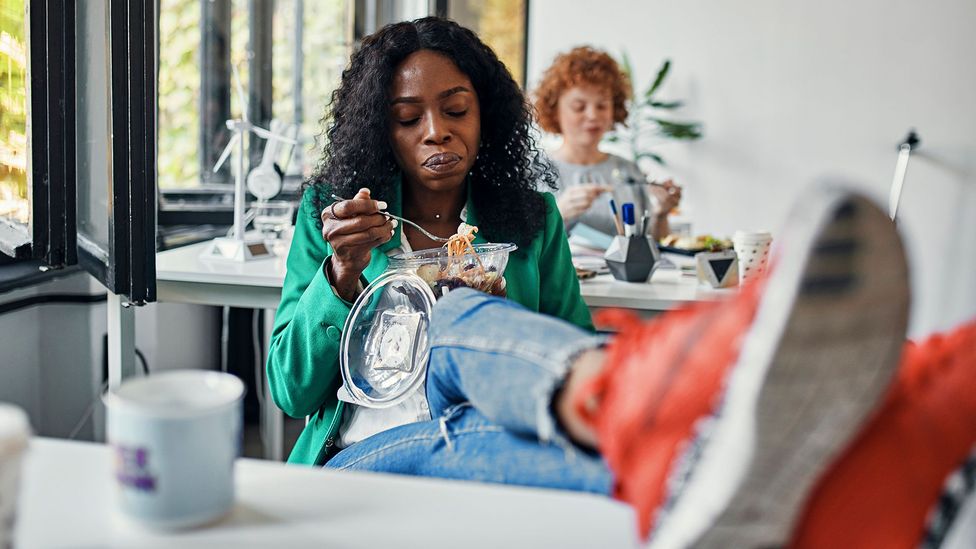 The "sad desk salad" is a health-conscious, often boring lunchtime mainstay for many office workers that's inoffensive to others and can signal responsibility (Credit: Getty)
The return to the office
While the pandemic hit lunch providers in major urban hubs hard, the indications are that premium salads will survive the hiatus. That's partly because the two main elements at play – sitting at your desk for a sad desk lunch and splashing out on a luxury salad to make the sad desk lunch seem less sad – likely aren't going away once we head back to our desks.
The big companies in this space also show no sign of slowing down. For example, Sweetgreen, currently valued at nearly $2 billion, has just filed an IPO and is clearly banking on making even more money as workers return. In New York City, where nearly 70% of adults are fully vaccinated, queues are already reforming at popular Manhattan outfits. These salad companies are eyeing an increased presence in other cities and suburbs around the country.
And as people start to re-emerge back into the workplace, some have said that they miss the ritual of grabbing lunch on a weekday – and some even miss the sad desk salads. Hayes says that desk salads will bounce back, whether homemade or ordered out, not least because Americans are definitely heavier in 2021 – over 40% of Americans said they gained unwanted weight during the pandemic.
While I can't say that I necessarily missed jockeying for an expensive bed of greens amid a sea of aggressive New Yorkers – and then cramming it into my mouth at my work computer in front of Slack – I have missed the habit of ducking out with my colleagues, buying lunch somewhere in Midtown Manhattan and catching up on the walk there. And as much as I hate to admit it, the chances are that next time I do, I'll order a salad.