Traditionally, we aspire to climb the career ladder – but our definition of success is evolving into something increasingly personal.
I
If you had told Faruk Mengüç seven years ago that he would one day become a goat farmer, he probably would have laughed in your face. 
Back then, Mengüç, now 37, was working as a senior post-production co-ordinator at Harpo Studios in Chicago, home of The Oprah Winfrey Show. It was a tiring but mostly satisfying existence for the father of two, whose family hails from Turkey. Then in 2015, the studio where he worked announced that it was moving to Los Angeles, so Mengüç took on another position in media, but found himself overworked.
"We were living in a big house in the suburbs. My wife, who had previously worked in finance, was retraining to be a teacher and we had to earn a living ... so I often worked seven days a week, and rarely saw my family," he says. "I was miserable." 
Mengüç's wife, Holly, had grown up in Vermont, so in late 2016 the family packed up and moved about 950 miles to Burlington, a small city in Vermont on the eastern shoreline of Lake Champlain, roughly 60 miles from the Canadian border. Initially, Mengüç found work for a local television talk show, but quickly realised that if he was going to make major life changes for the sake of his and his family's wellbeing, they might need to be more dramatic. "I just didn't feel like I was doing work that really fulfilled my goals in life," he recalls.   
Around the middle of 2017, after trying his hand at milking an acquaintance's cows on a nearby farm, he had something of an epiphany. "After a day of work, every single part of my body hurt. I was only earning $10 an hour, but it also felt amazing and I'd never been so happy," he says. "For the first time in my life, I was doing meaningful work."
Holly took to rural life, too, and the couple began working as farmhands. They quickly adapted to a new routine: rising early, labouring in the elements and learning the meteorological challenges of each season. Their experiment with a totally different lifestyle was a success; later this year, the couple hope to buy their own farm in a town south of Burlington. It will be a home for them, their daughters and a burgeoning herd of milking goats that currently numbers about 230. "The goat milk market is extremely strong," explains Mengüç. "It's an exciting time for all of us."
I just didn't feel like I was doing work that really fulfilled my goals in life – Faruk Mengüç
Mengüç's seismic life shift is perhaps more extreme than what most will ever undergo, but it's nonetheless representative of a trend that's engulfing at least one generation of the working population. Priorities are morphing. The idealised perfect career track might once have looked like a staircase, a linear journey with intermittent pay rises and regular promotions that signify professional progress. 
But that's rapidly changing. We're not necessarily becoming less professionally ambitious, experts say, but our collective understanding of ambition – as a concept in the context of work – is evolving into something less standardised, more subtle, increasingly personal and often quite complex for employers wedded to tradition to understand. 
A generation reconsidering  
Perhaps one of the clearest manifestations of this trend is the extent to which swathes of today's workforce are prioritising their wellbeing over big salaries and titles. 
A recent high-profile example was gymnast Simone Biles withdrawing from several Olympic finals in July to prioritise her mental health. But it's a wider shift that's becoming increasingly evident across a plethora of industries, and one that the Covid-19 pandemic has undoubtedly catalysed.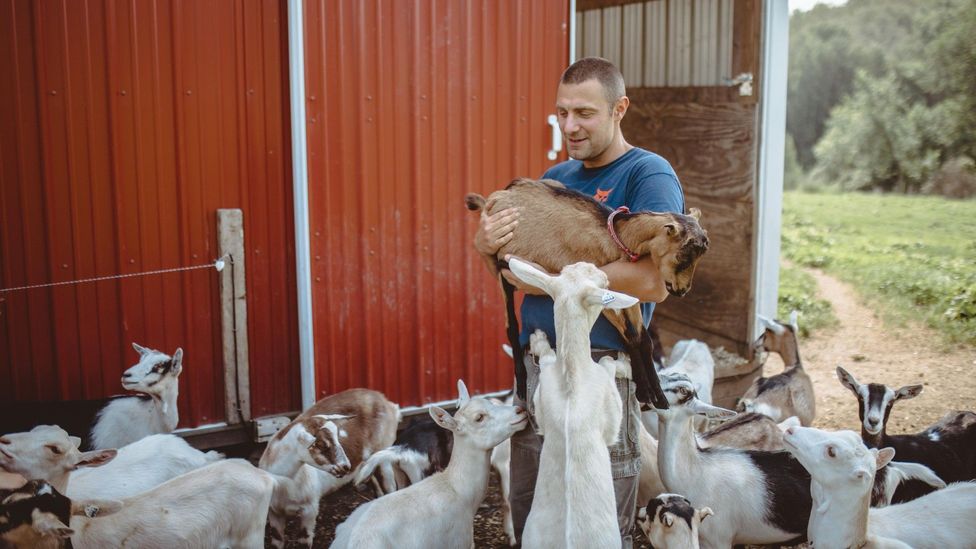 Faruk Mengüç says he has no regrets about his decision to overhaul his career path and professional life (Credit: Peter Cirilli)
More than half the employees questioned in a recent survey by Australian software company Atlassian and PwC, for example, said that they would consider changing jobs to access remote-work opportunities, seen as more beneficial for work-life balance. An even greater proportion said that they would forego a promotion if it meant safeguarding their mental health. 
"Career goals have taken a back seat as employees wrestle with the need to balance work with family life, mental health and wellness," wrote the accompanying report's researchers. "The pressures of high-powered roles and the exhaustion that comes from being 'always on' just don't seem worth it anymore." 
This trend seems particularly pronounced in younger workers. A Prudential Financial survey of 2,000 Americans conducted earlier in 2021 showed that more than a third of those between the ages of 25 and 40 said they planned to look for a new job post-pandemic, compared with about a quarter of workers overall. An earlier survey, conducted in 2019, found that 75% of millennials had in the past resigned from jobs to preserve their mental health. 
Because such a sizable contingent of the workforce seems to be reconsidering their priorities in life and work, our collective attitude towards the stereotype of professional success seems to be changing too. It's become more socially acceptable to admit to wanting more out of life than a lot of money and status. 
"There's a growing recognition that a dramatic change is something to applaud," says Victoria Bryan, a former journalist and editor who quit her Berlin-based corporate job in 2018 at the age of 37 to qualify as a commercial airline pilot, with part of her training New Zealand. "Everyone who I told was overwhelmingly supportive and many said they were in awe of my courage to try something new and follow my dream, even if it meant less money and lots of uncertainty in the short term." 
'No longer about the pay cheque' 
Gian Power considers himself to be part of a cohort of young people – broadly defined as millennials and younger, or those born after the early 1980s – whose interpretation of professional ambition has evolved in recent years.
Professional success for many is now about finding happiness in their life – Gian Power
Having started his career at Deutsche Bank in Frankfurt in 2012, he quit corporate life and founded his own company in November 2017, partly to give himself autonomy over his work life. His London-based business, TLC Lions, partners with large corporations to support their inclusion, mental-health and talent-development agendas. It aims to help companies cater to the evolving needs of the workforce, and their changing definition of success and professional fulfilment.  
"[Work's] no longer simply about the pay cheque," says Power. "Professional success for many is now about finding happiness in their life." Asked whether he believes that an insidious culture of presenteeism has diminished the appeal of promotions among members of his generation, Power agrees, vehemently. "100%. I've had friends quit their corporate jobs without a next job lined up. Why? Because they can't take it anymore," he says. "They are not inspired by their leaders and they don't aspire to be at the top if it means only financial gain and a real loss of happiness." 
Nicholas Pearce, professor at Kellogg School of Management at Northwestern University, US, echoes this. "I've seen more of my students over the last decade opting for what I call 'the purpose path'. They are willing to sacrifice the mega-payday in order to engage in work that contributes to human flourishing - including their own," he says. "Many are choosing not to climb career ladders that have the potential to cause significant harm to their spiritual, mental and physical wellbeing."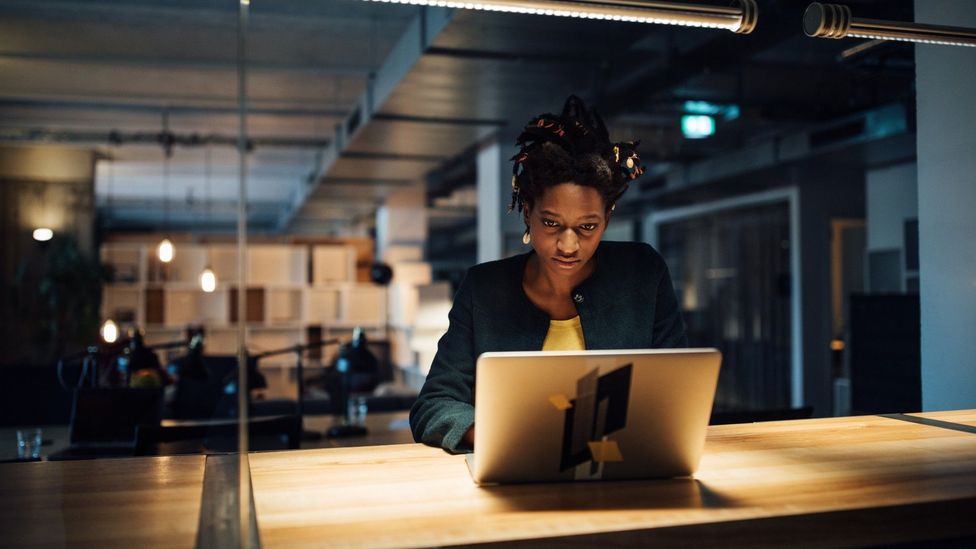 Some young workers are prepared to trade long hour, high-salary roles for work that they find more meaningful, experts say (Credit: Getty)
The "Great Resignation", a term coined by Anthony Klotz of Texas A&M University's Mays Business School in May this year, has in recent months gathered pace, culminating in what some have termed a full-blown labour market loyalty crisis. Lockdown gave people the opportunity for self-reflection and many concluded that the well-trodden path to the top of a corporate pyramid no longer looks desirable; that professional success can look different. 
"The pandemic has reinforced the fact that life is short and that life is more than work," says Pearce. It's accelerated a trend that was already rapidly taking shape well before Covid-19, he adds. 
As such, he adds, in order to retain talent, employers need to radically rethink what Pearce calls the employee value proposition. Companies must ask themselves, what value an employee can derive from working for that particular company beyond their compensation and benefits package.  
"So many organisations focus so intently on goals, strategies and metrics that they fail to really step back and ask the question 'why do we exist?'," he says. "Organisations that are able to answer the purpose question in a clear and compelling way will be better able to attract and retain a purpose-driven workforce." 
A long-term trade off 
While many workplace experts applaud the collective quest for a better work-life balance, as well as the widespread change in how we think about success, Anat Lechner, a clinical associate professor of management and organisations at NYU Stern School of Business, explains that there's a complexity to the discussion that can't be ignored.  
"It's important to appreciate that most people can't afford to take a step back like that because they have to worry about putting food on the table and paying the bills," she says.  
Lechner says that it's critical that individuals are aware of both the long-term and the short-term consequences of the professional decisions they make. There's a risk, she says, that someone who's extremely focused on their short-term wellbeing might fail to appreciate that nothing can replace hard work when it comes to living comfortably into old age, and perhaps supporting a family. 
Younger workers must understand that they're going to have to live with the longer-term consequences of the choices they make today – Anat Lechner
Indeed, evidence suggests that young workers are falling behind on their finances. A research report published in the US in 2020 showed that the proportion of young adults with outstanding student loan debt had increased from 34% in 2012 to 43% in 2018. More than half said that they were concerned that they may not be able to pay off their student debt and 37% reported that they would not be able to come up with $2,000 in 30 days. 

In the UK, meanwhile, research by financial services company Royal London showed that 40% of 18 to 34-year olds decreased their pension contributions during the pandemic or stopped making contributions entirely, even as life expectancies continue to rise across much of the western world. 

Lechner says that there's a risk of being too short-termist. "Particularly these younger workers must understand that they're going to have to live with the longer-term consequences of the choices they make today when it comes to working hard and earning money," she says.  

In essence, it's a balancing act. Recalibrating our understanding of what ambition and career success means in favour of a safeguarding mental health and wellbeing can no doubt be advantageous, but every decision we make must be practical and rooted in an understanding of our personal and financial commitments throughout our lives. 

Faruk Mengüç, for one, is unperturbed. 

"As farmers, we've now got everything that was missing in our lives before as busy career professionals," he says. "Money and promotions might be nice, but they can never truly sum up success. Perhaps some people might say I've become less professionally ambitious, but I've certainly never been happier than I am now, and at the end of the day you can't put a price on that." 

If anything, adds Mengüç, he's gained more ambition through this life change – though, now, it looks different than before.

Update 9 Sept 2020: This article has been updated to more accurately reflect Faruk Mengüç's correct age and work history as well as provide clarifying details around his work as a goat farmer and the size of his milking herd.

;