Companies are trying to work out the best post-pandemic working model. What can we learn from these four companies?
T
The pandemic has triggered seismic shifts in how we work, causing many companies to transition from an office-centric culture to more flexible ways of working. This shift is largely still in the experimental phase, as businesses try to conceive of and test effective post-pandemic working models for their operations and staff.
Of course, no one knows what the 'right' answer is. What works for one company may not work for another; business needs will vary depending on sector, size and structure. Many organisations, however, are doing their best to make working more flexible – as well as less burnout-prone, thanks to recent conversations about mental health, work-life balance and burnout.
Some companies are going fully remote, while others are opting for different visions hybrid work environments. Here's what four companies in four different countries are choosing to do.
Chargebee: Switching to fully remote
Before the pandemic, Chargebee, an India-founded subscription-management company, used to have offices in San Francisco, Amsterdam and Chennai. Today, it's gone fully remote with a completely decentralised work structure that allows employees to live and work where they want.
Chargebee had been moving toward an asynchronous working model before the pandemic, anyway – meaning the focus wasn't on everyone working the same hours, but on having teammates overlap a few hours to facilitate communication. But "like every other company during the pandemic, we had to adapt to the realities of the world and shift to a fully distributed model faster and more completely than we had originally planned", says founder and CEO Krish Subramanian. 
With meetings kept largely to overlapping hours among teammates, employees have a lot of flexibility around when they work – though meetings, of course, still need to happen. To help reduce Zoom fatigue, on 'Focus Wednesdays' meetings are kept to a minimum so staff can attend to their to-do list. In case projects are staggered across time zones, the company has an intranet that's "up to date on all activities", with conversations, meetings, documentation, meeting notes and decisions open to everyone. There are also apps, including Wingman, where employees can access customer calls and channels on Slack where employees can post questions – making "as much information as possible accessible to our employees".
We focus on performance and output – the talent creates the lifestyle and structure that works for them – Natalia Panowicz
Subramanian says that giving employees the freedom to manage their time is aimed at reducing remote-work stress and helping them disconnect from work. But with no set hours comes the possibility that people will have a hard time logging off, too.
"We found that many employees weren't taking advantage of the unlimited PTO [paid time off] programme we offer, especially during the pandemic, but no one should stay plugged in all the time – even if they are just taking a 'staycation'," says Subramanian. To help protect wellbeing, employees get the first Friday of each month off to recharge, and there's a mandatory two weeks of PTO each year.
The company is sticking to a fully remote work model for the foreseeable future, now that it's their standard operating procedure. "With this transition, [upper management has] learned a lot about the value of empowering our employees," says Subramanian. "The more traditional model of having an HQ and a manager who works in the same office as employees and having set hours and a lot of meetings just isn't the most efficient model for most people." 
Instead, "as we have allowed our employees more freedom to work when it is optimal for them and reduced the number of meetings, we have found that their productivity has grown exponentially," he says. "Additionally, people are generally happier and more motivated because they have more control on how work fits around their personal lives." 
Codility: Mostly remote, with hybrid hubs and sponsored workspaces
Based in Warsaw, but with major hubs at WeWork spaces in San Francisco, London and Berlin, Codility, which helps engineering firms hire talent, has more than 150 employees from 30 countries. Before the pandemic, the company was already flexible with structure: employees could rotate among these hubs and work from home when needed. Others were already hired to work remotely, and even CEO Natalia Panowicz was splitting time between the Bay Area and the offices in Europe. But in March 2020, Panowicz made the final shift to a remote structure.
As the company transitioned, Panowicz and her team "simply asked" employees what they wanted to do their best at work and tailored policies accordingly. Using their feedback, the company has adopted a work structure that's both completely remote and gives employees the chance to work in a hybrid format.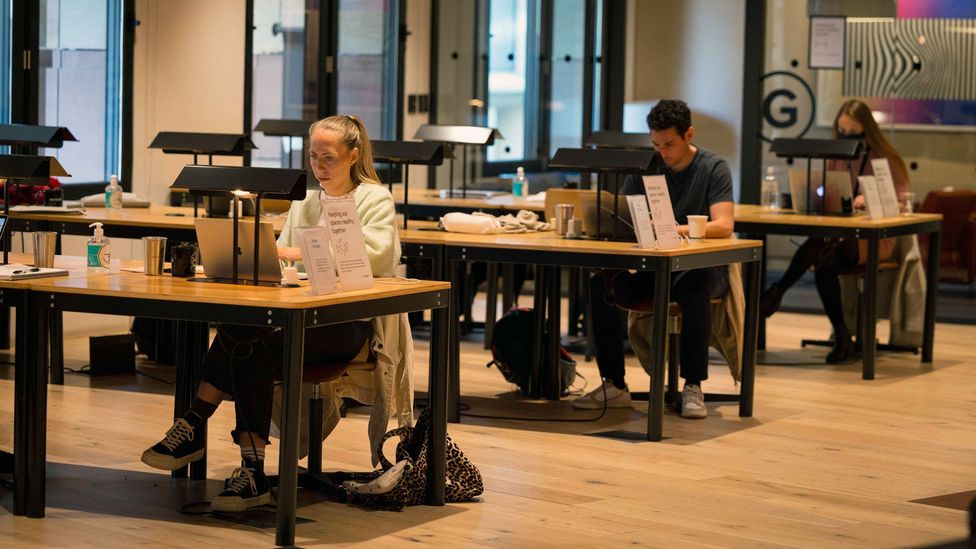 Some companies are opening up wider access to co-working spaces across the globe to enable more worker flexibility (Credit: Getty Images)
Some staff, for example, decided to move cities or even countries. So, to facilitate their free movement and help them remain productive, the company gave all employees WeWork access to any location of the co-working company's 800-plus outposts, so they can have a desk to work at anywhere.
"We're monitoring closely how our team uses the dedicated office space so that we can scale up or down accordingly," says Panowicz. "In the cities where we have a high concentration of people, 30% of staff would come to the office each week (but not each day), and the rest occasionally for workshops and get-togethers."
The company has also chosen to set salaries across one salary band, so what you're paid is based on the role versus your location. In the US, all employees are paid a "San Francisco salary", while plans are in the works for EU-based employees to be on a London-based salary band. 
"It's up to the individual to decide where to live for their best life," says Panowicz. "With freedom comes choice, this immediately opens our talent pool to a much wider net and more importantly, gives our existing talent more freedom. We focus on performance and output – the talent creates the lifestyle and structure that works for them."
TomTom: Activity-based working
When the pandemic hit, TomTom's leadership made a conscious decision to reshape how their 4,500-plus employees worked, rather than just copy-and-pasting the workflow to a virtual setup. By October, the location-technology company gave its W@TT programme a test run – a model that places the focus on the actual activity of work and not where it's done. By January 2021, its new hybrid-work structure, in which employees decide if they want to work in an office or home office, officially launched.
"A lot of companies are mandating how many days an employee is allowed to work from home, while others have decided fully remote is the way to go; we believe that decision is best left up to our employees," says Arne-Christian van der Tang, TomTom's chief HR officer. He says this "complete flexibility" is the most important part of the new working model. To that extent, the physical offices are still part of the company, though they're being transformed or rebranded into "hosting centres", where employees can collaborate and surroundings are designed to support how they're working.
The choice is theirs to make. The expectations are quite simply to get the job done – Arne-Christian van der Tang
"Our employees know what's best for themselves," says van der Tang. "If they need to collaborate with colleagues, it's probably best to meet up in the office, but if they need some quiet time to buckle down on an urgent task with a deadline, perhaps working from home is best. The choice is theirs to make. The expectations are quite simply to get the job done."
Although the company had always had offices around the globe, employees can now live abroad for up to three months a year. "We've learned that our work location is less important than we thought it was," says van der Tang. "So, we're preparing for a post-Covid world where we can combine the best of both worlds – a world where choice and flexibility are key." 
Paddle: 'Digital-first' strategy 
After a more than a year of remote work, Paddle, a British software start-up, has decided to go hybrid with its work structure. It recently rethought the traditional office setup with its new office in London: the new digs cater specifically for hybrid working. Amenities include moveable furniture, breakout spaces, a recording studio and Zoom integration with cameras and microphones for connecting with employees abroad. 
For Chief People Officer David Barker, this embrace of flexible working is something he never saw coming. "At the start of the year, we thought about recalling everyone to the office on a permanent basis. However, since March, we've been asking ourselves, 'Why is it so important to have everyone in the office?'" 
When the company asked staff for input, it found that there "was a great desire for flexibility". "Looking back on the remote working of the past year and a half, we could see that the flexible model enhanced and even accelerated our business, so we moved away from an office-based or hybrid approach, and replaced it with our 'digital first' strategy," he says.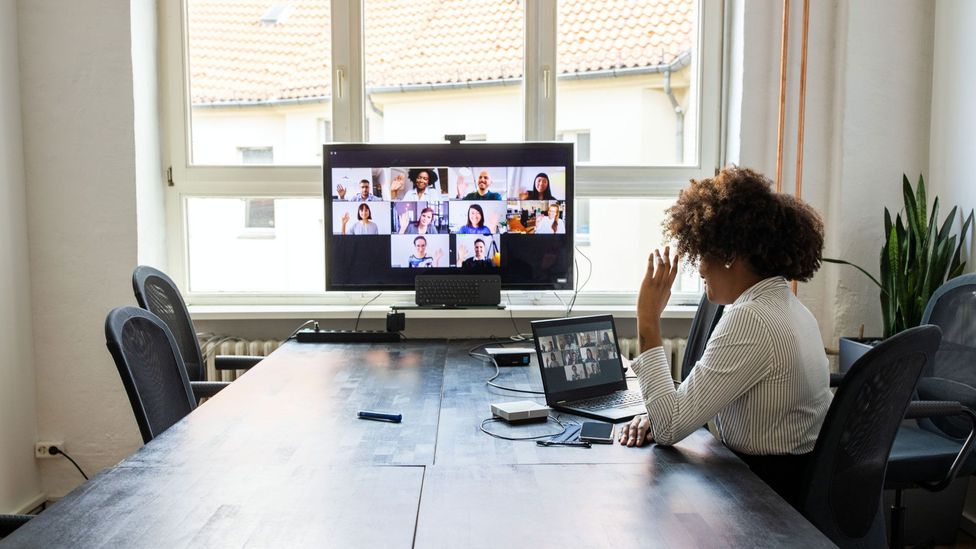 Some companies are focusing more on adopting the new tools workers need, enabling them to do their best work both at home and in the office (Credit: Getty Images)
That means that whether they're in the office or not, team members should have the tools they need to collaborate seamlessly in-person, via video or asynchronously, he says. "They can choose to work in the way that is best for them; whether that's coming into the office, working from home or some combination of the two."
'Digital first' has meant investing in tools designed to foster innovation, even if the traditional view is that creative behaviours suffer with remote work. "We've used Miro, for example – a virtual whiteboard solution – to brainstorm ideas and capture thoughts and feedback," says Bianca Dragan, a brand and event manager at the company. There's still room for playfulness, too: "To maintain our company culture, we've also had to become very creative over Slack – we've had Paddlers create custom music videos and we've paid to have Cameos [personalized videos made by celebrities] done for us to celebrate big milestones." 
Barker viewed the increase in productivity during the pandemic as a potential sign that home and work boundaries were getting a little too blurry, so the company has both in-house and outsourced mental-health services available for employees. It also has meeting-free days and a quirky policy in which 30-minute meetings now end after 25, giving employees five minutes to take a breath between tasks.
"Embracing the way of working we've all been forced into over the past 18 months has forced us to re-evaluate what it means to work," says Barker. "It's been a journey and mindset change, even with our leadership team, but hugely positive for our business. We've honed a great medium where we feel that we can support our people wherever they are, fit around their lives and still achieve our results."
Constantly evolving
While not every business will be making sweeping changes to the ways employees work, companies will be looking to each other for inspiration as well as trialling new models and practices to see what's working.
However, it's clear that those who are making changes can see productivity and employee-wellbeing benefits that will endure far beyond this initial post-pandemic back-to-work phase. "The repercussions of the pandemic have shocked the world into a more equitable and balanced workplace that is a far better fit for the future of the workplace," says Codility CEO Natalia Panowicz. "Simply put, for work to be at its best, it needs to fit into life."