Ten years ago, workplaces were all about tangible perks. But now workers want something different from their employers.
F
For the past decade or so, it has sometimes felt like companies have been in a perks arms race to attract talent. Free snacks, break-room pool tables or in-house gyms: the more 'fun' the space and the better the freebies, the thinking went, the more likely people were to want to dedicate their working hours (and then some) to the organisation. 
As pandemic restrictions ease and bosses try to entice staff back to offices, some companies are turning once again to these kinds of special incentives. Goldman Sachs is giving workers free ice cream; investment company Nuveen has put in new rooftop gardens for employees, complete with beehives; while PwC is giving all staff a cash bonus of £1,000 as their way of "helping everyone adjust".  
Yet in recent months, study after study has shown that employees are thinking far more holistically about potential jobs. 
"I think nowadays people are beginning to see beyond 'come and work in our jazzy office', or 'Fruit Fridays'," says Zofia Bajorek, senior research fellow at the Institute for Employment Studies in Brighton, UK. Rather than gimmicky perks, people are now looking for workplaces that accommodate their changing, individualised needs. And potential employees are more prepared than ever to prioritise these requirements over job status or pay. 
So, does that mean the office perk as we know it is redundant as an incentive – or is it simply evolving into something that looks very different? If so, what can companies offer their staff to entice them on board, or even back to their desks? 
The 'nice to haves' 
It's widely known the pandemic has made many people re-evaluate their working lives. Much has been written about the Great Resignation, as workers consider leaving their jobs, rather than return to commuting and long – and often performative – office-based hours. Employers are well aware, and many are scrambling for new ways to retain employees. 
One technique for those companies who want to lure their people back is to promise them a more enticing workplace. But Linda Morey-Burrows, principal director of London-based interior design firm MoreySmith, says they cannot just rely on the sort of in-office attractions they offered before. 
People working at home have managed just fine – and remained productive – without free coffee and massages. Many are also less stressed. But the downside of homeworking, for some, has been the isolation, or juggling work around family duties or housemates. So, a tempting office will be one that is "an extension of your home, but without the chaos", says Morey-Burrows, offering an environment, social atmosphere or technological provision that can't be found elsewhere.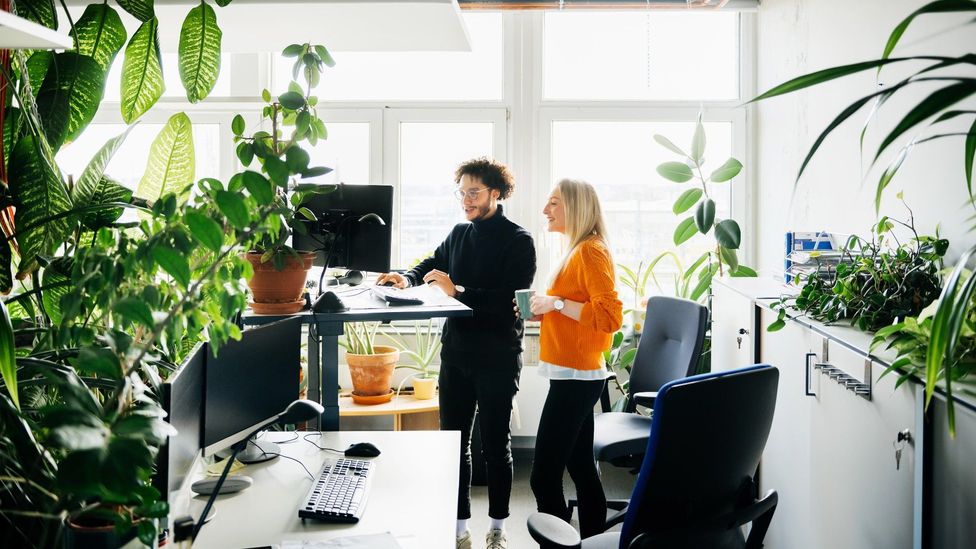 Workers will want something from the office that makes it better than working at home, whether that's environmental or social (Credit: Getty)
A recent MoreySmith survey showed Covid-conscious employees now want office provisions like good-quality showers and bike racks (so they can avoid crowded public transport), as well as access to open spaces and windows that actually open. But Morey-Burrows says the major practical perk companies can offer is "a feeling of safety and comfort" in which to work. "The workplace is so important to be able to create either a sanctuary for some, where they can have peace and quiet, and for others to have the sense of energy, belonging and social interaction," she says. 
Some companies are also hoping that a revamp of their wellbeing packages will appeal to workers. But Bajorek, who has studied such schemes, is fairly cynical about whether these kind of perks – or indeed the provision of more people-centric offices – can really benefit recruitment and retention. 
While they might be the "nice to haves", she says, they're pointless if employees are feeling overworked, burned out, over-monitored or undermined. She believes companies instead need to focus on the elements workers increasingly see as valuable; training, progression, some autotomy and, perhaps most importantly, flexibility.  
Employee-specific flexibility 
Indeed, 'flexibility' has become one of the corporate buzzwords of the pandemic. Future Forum, Slack's consortium researching the future of work, recently surveyed 10,000 knowledge workers worldwide to ask what mattered to them most in a job. "Flexibility is very important to people," says Brian Elliott, vice-president at Slack and executive leader of Future Forum. "In terms of a benefit and a perk, after compensation it's the second-most important thing in our research results." 
Elliott says for a communication company, Slack itself used to be remarkably office-based, with only 5% of staff working off site, and those on site benefiting from in-house baristas, snacks bars and sweeping views. But as Covid-19 spread and employees were stuck at home, the company quickly introduced perks that reflected this new demand for flexibility.
In terms of a benefit and a perk, after compensation [flexibility is] the second-most important thing in our research results – Brian Elliott
These included "Friyays", a once-a-month company-wide Friday off where "everything goes quiet" so no-one fears missing out, as well as no-question emergency leave, where "if you needed time off, we gave you time off". To counter fears remote working would mean losing career-enhancing face-time with colleagues or bosses, the company introduced a "one dials in, all dial in" policy for meetings to "level the playing field". 
But the company also recognises that working from home has been a fairly miserable experience, rather than a perk, for some staff. So, it has partnered with WeWork to give all staff on-demand access to a coworking space. Elliott says it's been "a huge relief" to the people who really need to get out of the space they were working in. 
Elliott sees this sort of employee-specific flexibility as central to the future of workplace perks, particularly as flexibility has proved so beneficial to previously disadvantaged groups in the workplace, like working mothers and caregivers. But in the battle for talent, he adds, employers will also need to demonstrate very clearly how they are giving their staff "self-determination" over their careers, clarity over their responsibilities and transparency over performance evaluation. 
Values and purpose

Experts also point to other important factors employees are now weighing in their post-pandemic choice of workplace. These are factors that employees connect with on a deeper, values-driven level, instead of obvious perks. Rather than focusing on decked-out offices or corporate retreats, they say, people want to feel that they're working at a place they care about. 
Elliott believes many of Slack's employees were drawn to the company's mission to "make people's working lives simpler". He believes it's important for employers to recognise that the need for purpose goes even deeper than that for many. "People are looking for places where they feel like they not only belong with the company, but they have the opportunity to make a difference in the world," he says.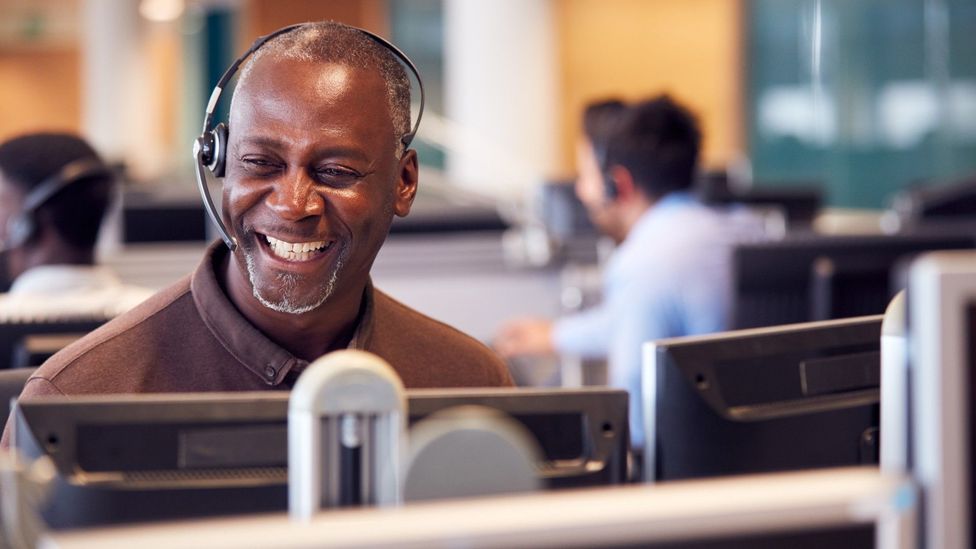 Workers increasingly want work that aligns with their values and brings a sense of purpose, experts say (Credit: Getty)
Bajorek, of the Institute for Employment Studies, agrees young people in particular "really value" contemporary issues like climate change and racial equality, and want to be seen to work for organisations that actively support these causes. While that might not be a perk, per se, research suggests that employers who give their staff the means – and time – to engage in activities that speak to their morals and values may well have an upper hand in employee engagement. 
All of this, of course, places fresh demands on already stretched management. It is, after all, far easier to buy a round of drinks or negotiate a deal with a local gym than it is to cater to potentially hundreds of dispersed employees with disparate needs and requests. And there's also the risk that offering different perks to different people could create resentment, undermining all the benefits of the perks. 
Elliott says the new demands hybrid working places on managers to monitor workers on their output rather than their presence is going to force many to develop an entirely new skill set.  Having a boss who can both articulate goals and objectives and anticipate their employees' emotional and professional needs may well be "the biggest perk" for individuals, he says.
Bajorek says the pandemic has crystallised what 20 years of research into workplace dynamics has been saying: "If you want someone to do a good job, you don't need to give them perks, you have to give them a good job to do." So, as the world gradually re-opens, she says, employers should actively engage their staff in discussions about what perks they actually want, and will make use of, but also listen to what they want from their job overall. 
"What the pandemic has really highlighted is you want to have an organisation that trusts in you, that gives you voice, that listens to your concerns and actually values the work that you do," she says.