Following the Great Resignation, the job market is hot. Should workers constantly keep a wandering eye for their next opportunity, even if they're not necessarily itching to leave?
I
In the past six months, Beth has increased her salary by nearly £10,000. She has gradually negotiated her way from full-time office hours to a permanent remote-working contract. Her day-to-day opportunities have swelled. Compared to the start of the year, she has struck a better work-life balance. And she's done it with practically zero haggling or demands. 
Instead, her career upgrade has been achieved by swiftly changing jobs. "Whenever I've felt as though the role hasn't been exactly as promised, I've looked for the next opportunity," explains Beth. "If it's something that's closer to my ideal work set-up, a company that looks appealing, then I apply." 
Based in Yorkshire, UK, Beth is soon to begin her third account-manager role this year. She says she's only been able to finally command a fair wage and flexible working by adopting this job-seeking mindset. "Unfortunately, my experience is that I'll only receive a pay rise if I go to my boss with another job offer," adds Beth. "My end goal has always been remote working. It felt unachievable – until I found my new role." 
Since the start of the pandemic, swathes of workers across industries have left their jobs – and millions more are contemplating quitting, too. It's helping to cause a worldwide hiring crisis. However, it's not just recent vacancies companies are struggling to fill. As many global economies are growing, businesses are struggling to keep up as they expand. The demand for talent is, therefore, skyrocketing. It's created a sellers' market: workers have more leverage than ever, and many can afford to cherry pick a role that aligns more with their values and desires.
Rather than begin searching for a new position when they're unhappy or burned out – typically years into a role – some workers are opting to seek a better opportunity from day one. This mindset is a kind of 'Great Flirtation' with new jobs: a constantly wandering eye to other openings, regardless of how long a worker has been in a role, and how content they are in their current job.
In a labour market that favours workers, is constantly flirting with other openings the right approach to help workers stay happy, get into better positions – or even achieve more in their career?
'Irrational, aimless wandering' 
For decades, the prevailing narrative has been to stay in a role for as long as possible, build résumé clout and make a lasting contribution to an organisation.
Prematurely switching roles was stigmatised as 'job hopping' – not just by bosses, but also wider society. In 1974, American industrial psychologist Edwin Ghiselli likened it to vagrancy, coining the term 'Hobo Syndrome' to describe workers who frequently changed roles. His approach essentially re-framed the complexities of frequent quitting to irrational, aimless wandering – driven by internal impulses absent from "organised or logical thought".
Workers can take advantage of the current labour shortage and secure their dream role – Simon Wingate
In this framework, employers held power over employees, which kept them in their roles. "The idea was if the employer takes care of you, you do the same and stick with them," explains Mark Bolino, director of management and international business at the University of Oklahoma, US. 
The global recession of the 1980s shook loose some of this thinking. As companies had to cut costs, they laid off workers, says Bolino, whose research has focused on employees' dedication to their organisations and why they quit. Instead of employers expecting workers to stay in roles indefinitely, he says "the relationship subsequently became more transactional: 'if we have layoffs, we have them. If you find a better job opportunity, we understand'." 
Rather than climbing a career ladder with one company, then, the onus fell to the employee to forge their own path. Yet, 'sticking' at a job for the long-term was ingrained. According to data from the US Bureau of Labor Statistics, American workers' median job tenure steadily rose from 3.5 years in the 1980s to 4.4 years in the 2000s, before slightly dipping at the end of the past decade. 
Looking for the next opportunity has, typically, been a reactive process. Often, it's to the employee's detriment: waiting until frustration, a lack of progression or workplace conflict kicks in before bailing.
But the pandemic seems to have changed this thinking; as workers report long stretches of stress and introspection, many are re-evaluating their lives and careers – and are more open to making moves. Workers have begun looking for jobs that better match the work set-ups they want – particularly the option for remote- and flexible work. "In August, we found that the number of applications for jobs with remote working outpaced the number of vacancies offering a hybrid work set-up," says Simon Wingate, managing director at UK recruitment firm Reed.
However, job adverts have continued in their droves. Wingate says 120,000 vacancies were added to Reed in the first 10 days of November, meaning it's on track to have its highest number of monthly postings since 2008. A higher number of vacancies, coupled with an increase in employers offering better options to fill those roles, has created an embarrassment of riches for new job options. "Workers can take advantage of the current labour shortage and secure their dream role," adds Wingate.
Furthermore, employees can seek job opportunities, even if they're not necessarily itching to leave their company immediately, and leverage the hot job market to their advantage. This is particularly the case as companies create remote-first roles, opening access to thousands of new roles for millions of workers once geographically excluded. "The power is currently in the workforce's hands, meaning they can make more demands – including a higher wage, more perks and flexible working arrangements," says Wingate.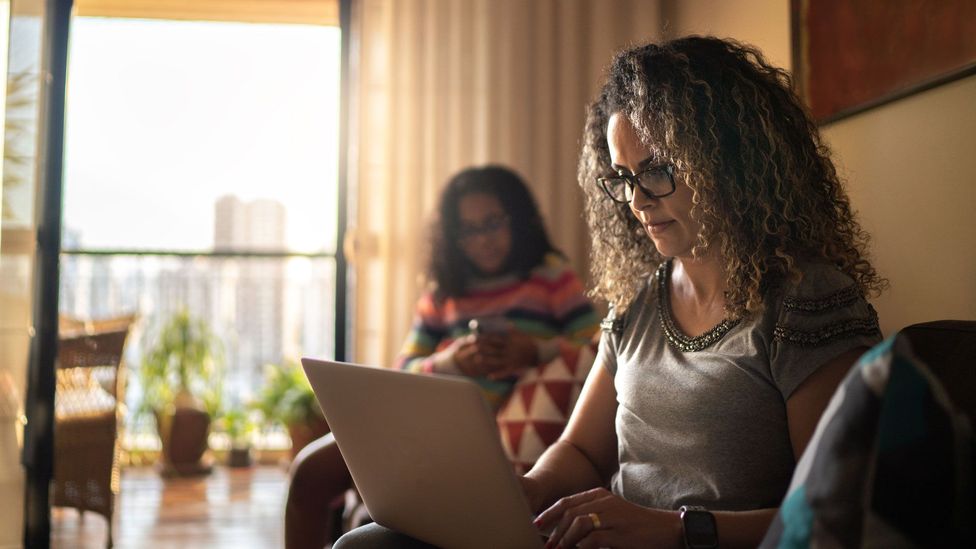 You may not want to wait for burnout to hit before you start looking for a job, however casually (Credit: Getty Images)
Holding the cards
There can be an upside to workers constantly flirting with new opportunities, even when they're not necessarily dissatisfied with their current positions. This is especially the case now that bosses around the world are more than aware that workers now hold the cards. 
In Germany, Europe's largest economy, employers like Sebastian Funke, who owns Berlin-based Stryze, are struggling to recruit talent. As online shopping has surged, so too has demand for his ecommerce start-up's services, which develops brands for platforms including Amazon. But there's a problem: he needs to hire more skilled workers to grow; he currently has 40 positions open. 
To appeal to workers who are passively weighing options and selecting their ideal match as it comes along, Funke has to pull out all the stops. On top of paying relatively high wages, he's offering a four-figure relocation bonus to those moving to Berlin from across Europe. "My advantage is that the average salary in Germany is 30% higher than somewhere like Italy," says Funke. "They get paid more for the same knowledge work."
Even the employees who aren't necessarily looking for new jobs have benefited from workers who are willing to leave their current roles. "I'm paying €10,000 to my employees if we hire someone based on their referral," says Funke.
And because candidates are in such dire demand, workers who are casually applying to other positions are finding employers are responding to them quickly and eagerly (a significant benefit in a world where interviews can drag on). "You have to be rapid. If you don't reply to a candidate within 24 hours to nail down an interview, you're too late," says Funke. "People can have several job offers to choose from. There has always been a shortage of programmers, but hiring digital marketers, designers and content writers wasn't as hard as it is now," he adds. "Your hiring process has to be as short as a week – it's insane."
You build up social capital in an organisation – changing jobs means beginning that all over again and learning a new workplace culture from scratch – Mark Bolino
Competition for workers is at its most ferocious in Silicon Valley. Big Tech may have announced a pay cut for employees relocating from San Francisco, but the reality for growing start-ups is they have to offer a flat salary irrespective of where someone is based – be it the high rents of the Bay Area or the prairies of Montana. "People want to be paid their worth based on the value they create for an organisation, not on the cost of living," says Will Hunsinger, CEO of tech recruiting firm Riviera Partners. And, given the current state of the job market, they're getting it.

Getting it right

But while workers can take advantage of businesses that are scrambling for talent, there are still limits to the Great Flirtation and the constant churn of new roles. 

While switching jobs is easier than ever, stigma remains. "You can see managers' concerns with job hopping, that someone isn't committed or likely to stick around," says Bolino. "They still have a bias against it, because past behaviour is a good predictor of future behaviour."

Endlessly flitting between positions can also warp employees' relationship with work. "When it centres on extrinsic rewards and money, it means you're not focusing on enjoying work or doing your job," says Bolino. "And starting over all the time isn't easy. You build up social capital in an organisation – changing jobs means beginning that all over again and learning a new workplace culture from scratch."

For Beth, though, her job switching has been a means to an end. "You need to have a goal in mind or it doesn't work – you'll never be satisfied," she says. "It's not something you can do forever. It's about being strategic, and looking for the best job that ticks the most boxes."

While there may be pressure for workers to take advantage now, there are few signs that the demand for their services will subside any time soon. "[Employer demand] will remain at a higher level than before because it's not just start-ups who are looking to hire," explains Funke. "Blue chip companies are needing to digitise, so they have to hire more workers with digital skills."  

Consequently, workers may have time on their side. They don't have to constantly look for their next role. However, they do have the chance to carefully assess their options, exploit the hot job market and maximise the opportunity.

Bolino acknowledges that it's hard to argue against workers taking advantage of the current climate. "Usually, seeing someone's résumé with many jobs over a short period of time prompts you to ask why," he says. "But the pandemic and the whole Great Resignation period offers an explanation to prospective managers. Previously, it didn't matter if you had the desire to change jobs if a better alternative didn't exist. But now, you have the ability to act on it."

;