More people turning to career coaches to chart next steps – and get out of a "prison" of bad jobs. What's realistic to expect from these professionals?
F
For many people, logging back on after the holidays brings that nagging feeling to the fore: do I really want to spend another year in this job? 
Almost everyone goes through a period of questioning their work, perhaps after a major life change, when their job stops being challenging, or when there's simply something else they'd rather be doing. But after nearly two years of the pandemic, it feels like there have never been so many people rethinking their careers.
While workers can turn to friends and family to work through these crises, in recent years, a vast career coaching industry has sprung up, promising to help people find new direction in their working lives, and gain the skills to set and achieve their goals.
Coaching has gone from being the preserve of executive elites to something made increasingly available as a company perk, or sought out by individuals. But it's an unregulated industry, and a coach can be a significant expense. So, what exactly is career coaching – and what is it not? How do you find a good coach, and what can you expect if you decide to enlist the services of one in the new year?
'Get unstuck' 
Data from the International Coaching Federation (ICF), one of the leading global bodies on professional coaching, indicates just how much the industry has grown in recent years. CEO Magdalena Mook, based in Lexington, Kentucky, US, says when she began working for the ICF in 2005, it had 8,000 members. "We're closing in on 50,000 right now," she says, and more than half are outside the United States. The ICF estimates that in 2019, there were 71,000 career coach practitioners around the world, and that the industry is worth an estimated $2.8bn (£2.1bn) globally.
Mook believes where once coaching was the preserve of upper management, there's growing recognition that everyone can benefit from advice on how to develop their career. Companies have begun introducing in-house coaching programmes, she says, while younger people in particular, when they start a new job, are expecting to have access to coaching "almost as a demand rather than a perk".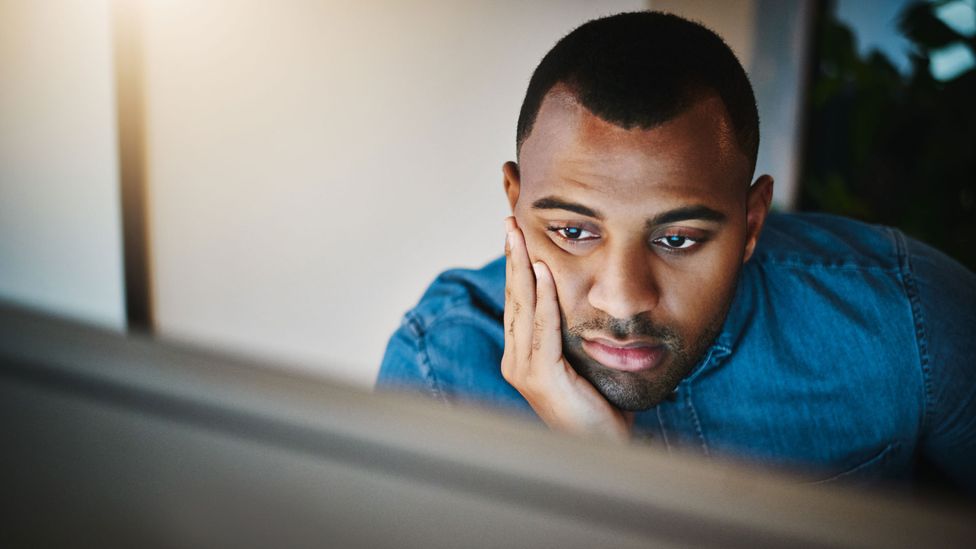 "People are caught in this prison that they've created for themselves – they're accepting job misery in exchange for job security" – Andrew MacAskill (Credit: Getty Images)
And for people thinking about moving jobs, Mook says speaking to a coach who isn't attached to their workplace can be hugely beneficial. "[The coach] can see patterns and behaviours, and question them. They can just be curious and question the status quo."
Career coach Andrew MacAskill, who together with his wife, Zoe, formally launched the Hampshire, UK-based Executive Career Jump coaching group in 2019, believes the mainstreaming of coaching is long overdue. He points out that while we consult specialists to plan our finances or trainers to work on our bodies, "most people aren't executing with any kind of strategy" when it comes to careers. The consequence, he says, is "a lot of people are kind of caught in this prison that they've created for themselves – they're accepting job misery in exchange for job security". 
MacAskill says it's all too easy for workers to convince themselves it's too complicated or "too late" to switch careers, and that when confidence is low "you start to convince yourself that you're the problem". This, he says, is where a career coach can come in, to "help get you unstuck and see the possibilities". 
Finding your way
For someone considering career coaching, Mook says it's vital to "understand what coaching is and what coaching is not". Both she and MacAskill are emphatic coaching should not be used as therapy; Mook points to the ICF code of ethics, which states that if a client is clearly more in need of a therapist or psychiatrist, a career coach has an obligation to refer them to the right specialist.
Coaching also differs from mentoring, says Mook. While a mentor is typically someone more experienced in the same industry to whom a mentee can turn for guidance, coaching is more about having the skills to guide someone along their own self-discovery journey. "Can the coach share their knowledge? Absolutely. But the coach is not the one who gives advice. The coach is the one who leads a person to find their way," she says.
[The coach] can see patterns and behaviours, and question them. They can just be curious and question the status quo – Magdalena Mook
A coach's general purpose is to help their clients reflect on their career so far, what they found most rewarding or challenging, where they felt most energised or frustrated, with a view to identifying goals. MacAskill, for example, asks his clients to write a Wikipedia entry for themselves five years in the future, and then "use their business skills on their own career" to work out how to realise it. Yet, although some people may know exactly what they want from their career, others might need to explore what matters to them in a job to help identify next steps.  
That's exactly what Josie O'Donovan experienced when she sought coaching after getting stuck in a career rut in 2020. The Milton Keynes, UK-based 44-year-old had always loved her job working in customer relations at a major automobile company. But she couldn't regain her enthusiasm for her role after maternity leave, and felt her career was being stunted by working part time. She wanted to move into a more altruistic line of work, but was "really fearful of making a big change". "I think I was just quite paralysed with my own thoughts and my own failures, my self-limiting beliefs," says O'Donovan. 
She found a career coach who spent time helping her identify her values and "challenging my thoughts about what is important for me". The coaching process gave O'Donovan "the realisation that I could take a step into something different"; a visualisation exercise around her resignation helped her see how liberating she would find leaving her job.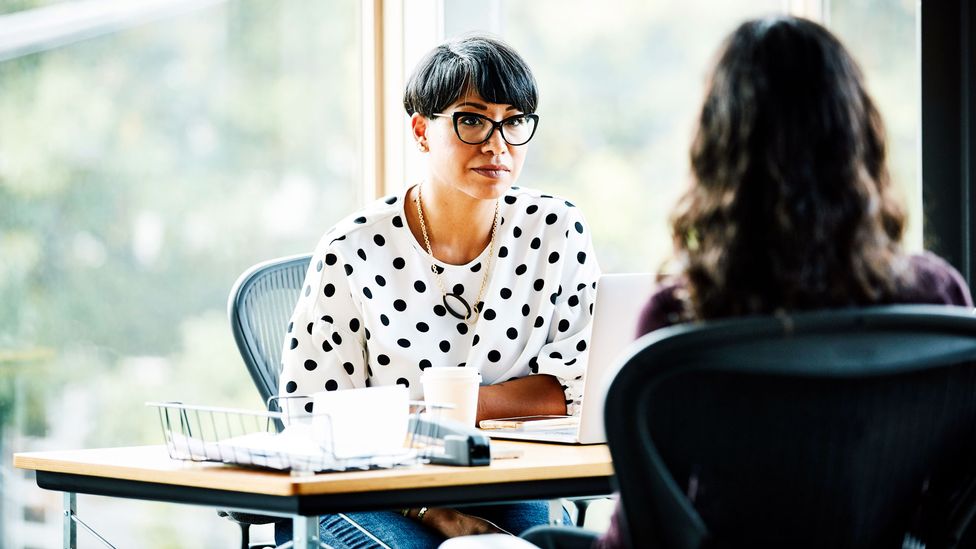 It's important to understand what a career coach is not, including a therapist (Credit: Getty Images)
"I think making time for yourself to sit and really think hard and reflect, and having somebody challenge those thoughts and reflections, is a really useful process," says O'Donovan. In March 2021, she took the leap and left her job to set up her own customer-relations management consultancy, which is thriving. And she's satisfied her desire for more purposeful work by taking on a number of clients working on social and environmental issues.
Experts say a committed approach like O'Donovan's is essential if coaching is to be effective. Paying for a career coach is not, it itself, a magic bullet. A good coach, says Mook, will help you identify point A – where you are now – and point B – where you want to go, and then help you work out the best way of getting between them. "What's so important about coaching that it helps you really crystallise what you want, what you need, what your concerns may be and what your opportunities are."
Buyer beware
Both MacAskill and Mook caution that identifying the right coach is key, however – a lesson Piotr, 38, learned the hard way.
In February 2021, he signed up for a career agency that promised to help him polish his CV, and get his name out among the tech companies he was targeting. The company said in addition to recruitment work, it also managed its clients' careers, helping people as they matured in their jobs. But while he did get support identifying and applying for jobs, that extended career support "never materialised", says New Jersey, US- based Piotr, whose surname is being withheld. When he asked for things like coaching in presentation skills, "I was told flatly to look at the contract – that was a separate service". 
Eventually, he landed a role with a tech start-up he found himself and applied to directly. But he hadn't realised he was contractually bound to the job agency for one year after getting any job, at a cost of 7% of his salary. Piotr ended up negotiating the agency down to a flat buyout of about $10,000 just to get out of his contract, but says it was a bruising experience which, in hindsight, he rushed into amid his desire to find a new job. "I should have done a little bit more due diligence," he says.
Don't part with a huge amount of money until you know it's going to be a fit for you – Andrew MacAskill
Mook says membership of a professional organisation is one good way of vetting a coach, because it means they have carried out the minimum amount of training, committed to a code of ethics and are regularly updating their knowledge base. But it's also important to talk to two or three coaches to see if you connect; ask around for personal recommendations, she says, and "always, always check references".

MacAskill advises exploring a coach's social media to see if they are "applying their own advice" and building a good brand for themselves. But ultimately, he says, coaching is deeply personal, so "the best career coach for one person won't be the best coach for the next person". It might be worthwhile paying for limited sessions or more affordable group coaching before committing to a significant spend, he adds; whatever you do, "don't part with a huge amount of money until you know it's going to be a fit for you".

Finding 'clarity' in 2022

Last year, data from survey after survey suggested workers everywhere were mulling leaving their jobs. That trend is unlikely to disappear in 2022 amid a job-seekers' market and the ongoing pandemic.

"People are questioning everything right now," says MacAskill, who has seen a surge of interest from people wanting to set up their own business, go freelance or "just get to a point of clarity" about their career. 

While career coaches can't wave a magic wand and fix your January job woes, the current employment fluidity – as well as workers' increased desire to find careers that fit better with their lives and values – may well mean more people turn to career coaches to help them work out their next steps.

;