It's hard to know exactly what to expect from work in 2022, especially with recent developments. Experts predict what we may be up against.
W
We're entering the third year of a global pandemic that's brought unprecedented changes to work.
Despite many employers' hopes, a full-time return to office-based work is looking highly unrealistic as the omicron variant pushes back return-to-office plans once again for millions of workers. And, given the way the current labour market shifted power to employees,  pre-pandemic work structures are likely to become a relic.
Yet for all that seems certain, there is still so much we don't know about how our working environment will evolve in 2022. This time last year, many people expected 2021 to bring a degree of stability, perhaps even the smooth rollout of hybrid work. The emergence of new variants of the virus blocked this – and may well continue to do so in the months ahead.
Amid constantly shifting circumstances, it's hard to pin down where we might find ourselves in 12 months' time. But experts who study employment and the workplace have identified a few trends that are already giving shape to the way we'll be working in the coming year, and may just be a window onto the future of office life.
Shorter workweeks may happen – but they could create division
A call for shorter workweeks and condensed hours has been gaining traction around the globe, with companies and entire governments alike already exploring this alternative.
It's necessary to shake up the structure of when we work, says Abigail Marks, professor of the future of work at Newcastle University Business School, UK. The 9-to-5, 40-hour workweek that emerged during the Industrial Revolution – the last time work changed so dramatically – is no longer sustainable, she says, due to the "increasing pace of work necessitated by video conferencing software and continued online presence".
Marks adds: "Business and policy makers are keen to explore measures that may 'mitigate' the over-burdening of employees, whilst hoping to retain this increase in productivity. The solution that is constantly mentioned is the four-day working week." And condensed hours may mean better mental health and work-life balance for many workers.
Though it looks like there is hope for the four-day workweek to gain steam in 2022, says Marks, measures like these aren't a silver bullet for all employees.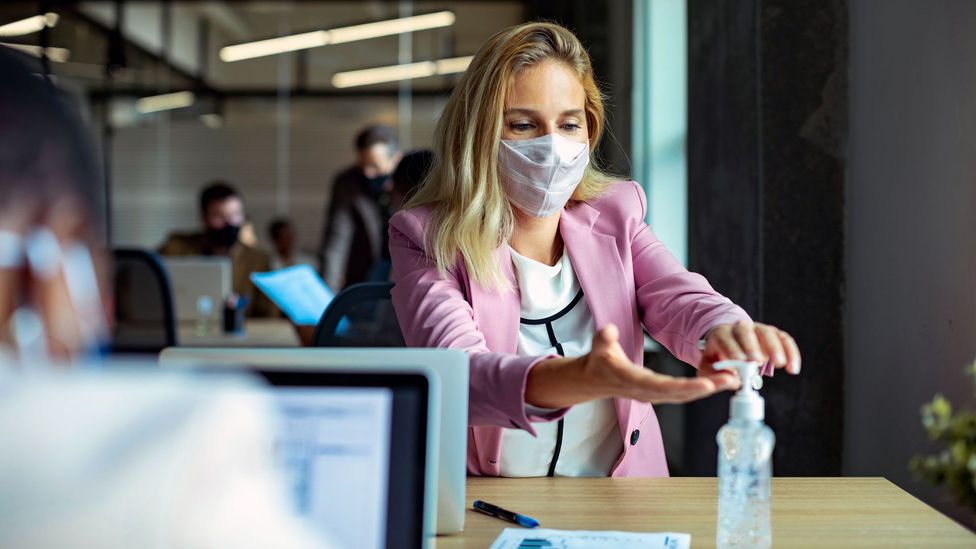 As the pandemic stretches on into a third year, the way offices look and the way we act within them will still look nothing like they did in 2019 (Credit: Getty Images)
Instead, she cautions the shift to a shorter workweek could only benefit certain workers. "The four-day week may privilege a limited group of white-collar workers, have no benefit to many low paid and low-skilled workers who will not have the contractual security nor the financial support to work a four-day week," says Marks. Think, for instance, of IT or hourly service workers who might not be able to reduce their hours.
Marks is among the experts who say it will be a challenge in 2022 to navigate the gulf between those who can take advantage of flexibility versus those who can't – especially as calls for increased flexibility and shorter hours only get louder. "This year, we could end up with further divisions in society," she adds. "The highly sought-after employees, such as data scientists and those with government support, including high-ranking civil servants, [might have] reduced hours – and the rest of us still being overburdened by work."
Bespoke perks could become the main attraction
"Remember the labour shortages and hiring difficulties of 2021? They will follow us into 2022," says Alison Sullivan, senior manager of corporate communications at jobs site Glassdoor. "That's because the factors that drove these shortages will still be here – a pandemic, retirees and parents staying home and growing customer demand businesses must keep up with."
This means employers may need to take a different tack for hiring workers – and keeping them in seat – than they did in the past.
We should have learned one key thing in the last two years: stop looking for a crystal ball – Kanina Blanchard
Anthony Klotz, an associate professor of management at Texas A&M University, US, who coined the term 'Great Resignation', says job personalisation could be the key to worker satisfaction – and retention – this year. "In 2022, we will see employers catering more to employees' needs and desires in order to engage their current workers and attract top performers from other firms," says Klotz.
It's not only good business sense – flexibility and accommodation is becoming a perk workers expect from their employers. "This imbalance in worker demand and supply means employees and job seekers have elevated power to ask for more," says Glassdoor's Sullivan.
As a result, companies will roll out more "personalised tactics for managing employees", says Klotz. "Instead of one-size-fits-all development programmes, companies have begun investing time and resources into co-crafting bespoke career paths with individual workers." Sullivan also cites increased wages, student loan assistance and expanded parental leave as potential benefits employers may add to attract top talent in 2022.
Another important personalisation could be prioritising a worker's individual mental health. After all, amid burnout and boreout, more workers are saying enough is enough, and quitting their jobs (or at least thinking about quitting). "Even bastions of hustle culture such as Wall Street are getting in on the act and introducing sabbaticals," says Klotz.
Workers won't be heading back to the same offices
When some workers finally do return to the office – whether in 2022 or down the road – many will find the layout and function to be completely different. Nicholas Bloom, a professor of economics at Stanford University, US, says companies will reconfigure spaces this year to meet the needs of a newly hybrid workforce, and accounting for how people actually want to work when they're together in person: collaboratively.
Bloom, who has studied the future of the office for years, says the transition back to in-office days has so far been awkward and clumsy. He says he's heard "horror stories" from workers whose companies have called them back into the office – for instance, sitting in half-empty offices on the same Zoom calls they would at home (and listening to colleagues do the same).
In other words, the pre-pandemic office doesn't work the way employees in 2022 need it to.
Since some companies that have rolled out hybrid models bring in certain teams into the office on the same day each week, Bloom says co-ordination is going to be the name of the game this year, and more offices will make permanent layout changes to facilitate this.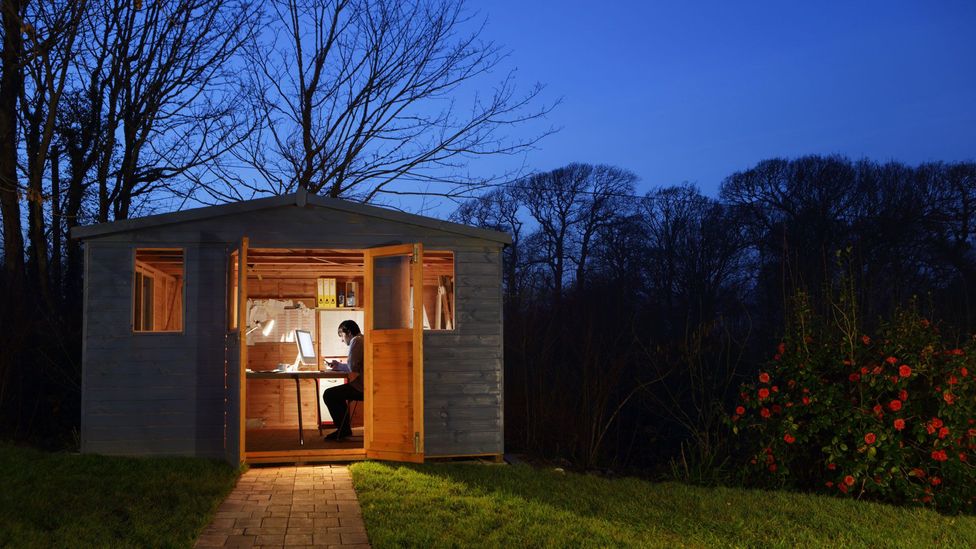 In 2022, workers will still push for the continued flexible schedules and work-from-home options that were afforded to many of them during the pandemic (Credit: Getty Images)

"Mad Men-style executive offices are out," says Bloom. "Meeting rooms, sound-proofed video-call cubicles, and lounge-style open-plan seating are in." Workers "don't like density", he adds, and want less crowded lifts, offices, bathrooms. "Firms are reshaping offices to be social spaces for creative employees. They want to facilitate meetings, serendipitous interactions and the occasional Zoom call."

However, one thing that may not change as anticipated is the actual size of offices. Although many predicted earlier in the pandemic that offices would purge their expensive downtown real estate, Bloom says "office space is not shrinking, [but] it is changing". Although he predicts remote working will mean 30% fewer office days than pre-pandemic, "firms are only cutting space by 5% on average", he says.

Even as rent stays sky-high in practically deserted city centres, companies still want workers utilising those buildings, especially as hybrid work will likely dominate 2022. It's "impossible to shrink the office footprint," says Bloom, even after all the ways our working lives have been destabilised the past two years.

A continued walk into the unknown

Despite all our best predictions, we don't know what we don't know.

Many analysts were predicting a return-to-office movement by summer 2021, as vaccines became more widely available – but that target continued to move. Variants like delta protracted public health concerns and remote work didn't end. Zoom meetings remained the daily standard for millions of workers around the globe.

"We should have learned one key thing in the last two years: stop looking for a crystal ball," says Kanina Blanchard, assistant professor of management at Western University in Ontario, Canada.

While some strides appear to be moving us back to some type of pre-pandemic normal – such as vaccines, new Covid-19-fighting medications and shorter mandatory isolation times returning employees to work faster – we all know better than to assume the shape of the future. (Little has made this as pronounced as the onset of omicron, which has reminded us things can change in the blink of an eye).

That's why experts say it's best to keep expectations low in 2022 – even as we continue to march towards whatever we think 'normal' will be. "We must do this despite the lack of consistency and predictability," says Blanchard. "We know that we will start, pause and have to restart."

What we do know, she says, will be that public health interests will continue to dominate agendas in 2022. And there's one other given: "We know life will be messy and crazy."

;