When children fall ill in Sweden, parents can take time off to care for them, while still pocketing 80% of their salaries. But the pandemic has put pressure on the popular policy.
W
With three children in preschool, branding manager Jeremy Cothran was prepared for colds, bugs or Covid-19 to affect his family at some point over the winter. But the run-up to Christmas was even worse than he expected.
"We had a rotating carousel of sick kids who had either fever or norovirus," says the 41-year-old, who works for a recruitment tech company in Stockholm. "The illness eventually culminated in night-time vomiting and early trips to our building's laundry facilities to wash clothes and linens." 
However, some of the pressure on his family was eased thanks to a policy called Vård av Barn (usually shortened to 'VAB'). It loosely translates to "care of child", and gives parents the right to take paid time off to look after their children if they get sick. This means that Swedish parents, unlike many around the world, don't have to scramble to find relatives or friends to help, take holiday or unpaid leave or simply try and carry on working from home while their children are ill.
"It's a huge safety net," says Cothran, who's originally from the US. He and his wife, a chief marketing officer, took nine VAB days between them during their children's latest sickness spell. "We have no other family support whatsoever in Sweden, [so] we have a hard time dealing with shocks to our family system. Without VAB there's no way we would both be able to manage career, family life and our own mental health simultaneously."
Alongside Sweden's more famous family-friendly policies such as parental leave and subsidised childcare, VAB is increasingly being used by Swedish businesses as a tool for attracting and retaining international talent like Cothran. But, similarly to other employee wellbeing initiatives such as unlimited holiday or mandatory exercise slots, VAB brings challenges as well as benefits, including concerns it could stunt parents' careers if they take it too often. 
A family-friendly working culture
The VAB benefit might sound like an idea dreamed up by employers during the pandemic, but it's actually been enshrined in Swedish law for decades. The state picks up 80% of a parent's salary, capped at around SEK1,081 ($120, £88) a day. Mothers and fathers can take as many days as they need, up to 120 each year per child, until they turn 12 (although a doctor's note is required after eight consecutive days). Parents can also nominate other family members, friends or neighbours, as carers who get paid VAB on their behalf. Even the self-employed are entitled to the benefit, which is means-tested in relation to their annual earned income. All the paperwork is handled via the Swedish Social Insurance Agency's app.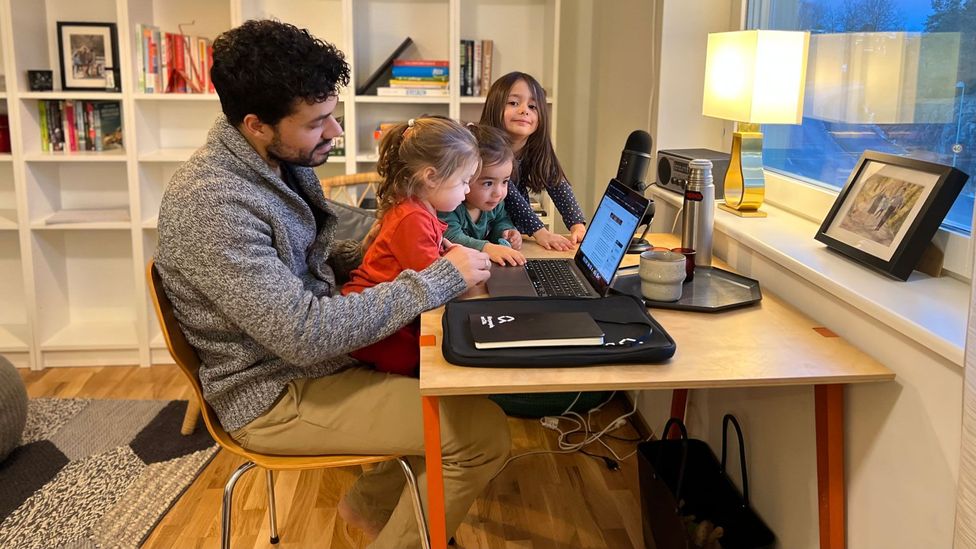 Stockholm-based Jeremy Cothran calls VAB a "huge safety net" to help care for his three young children (Credit: Alva Labs)
VAB is so commonplace there's even a verb based on the concept: att vabba, which means to stay home and care for a child. In international companies where English is widely spoken, you'll regularly hear the Swenglish phrase 'I'm vabbing'. Swedes call February vabruari because it's so normalised for workplaces to empty out as parents are forced to vabba during this virus-fuelled winter month. Employers cannot refuse staff the right to take VAB, and most companies are empathic if parents need to use the benefit. 
"My boss has two children himself and often needs to [use] VAB… so the whole company is very understanding," says Cothran. "We even have a VAB status icon in Slack that immediately signifies to the company when someone is indisposed."
While the length the state and Swedish businesses go to help families with sick children might cause jaws to drop in countries where private health and childcare providers are relied on, it makes sense in the context of Sweden's long history of family-friendly policies.
Family Tree
This story is part of BBC's Family Tree series, which examines the issues and opportunities parents, children and families face today – and how they'll shape the world tomorrow. Find more on BBC Future.
VAB was introduced in 1974, at the same time as the country became the first place in the world to introduce gender-neutral paid parental leave. The following year, state-subsidised affordable day-care was made available to all parents. Against this background, VAB is now "so well-established and so practical for parents" that it is widely accepted by parties and voters from across the political spectrum, explains Katarina Boye, a sociologist at the Swedish Institute for Social Research.
For employers, VAB presents obvious challenges in terms of disrupting planned projects or rotas. But it's still popular with businesses, since it enables companies to attract and retain a diverse workforce, says Catharina Bäck, a researcher at the Confederation of Swedish Enterprise, which represents 60,000 companies. She argues VAB is one of the factors behind Sweden having the highest employment rate for women in the EU, since it makes it easier for them to remain in the workforce while caring for young children. "The parental leave and insurance system – including VAB – together with childcare are essential prerequisites for both parents to combine working life with family life".
There are benefits for non-parents too, including the potential to reduce the spread of sickness among employees in physical workspaces, which has been a major bonus during the pandemic.
Without VAB there's no way we would both be able to manage career, family life and our own mental health simultaneously – Jeremy Cothran
"It has a positive impact on me, because my colleagues don't come into work carrying sniffly bacterias from their little kids," says Åsa Svensson, 30, a communications officer from southern Sweden, who doesn't have children. In addition, she relishes the opportunity to work alongside so many young mothers, which she thinks wouldn't be the case if she lived in a country with a less-developed welfare system. "It's a solidarity thing… as a woman and someone who identifies strongly as a feminist, I think that's absolutely wonderful."
Compromise within couples 
Yet despite the enduring popularity of VAB, the concept does come with challenges, many of which have been exacerbated during the spread of Covid-19.
Figures from Sweden's Social Insurance Agency suggest that while Sweden is on its way towards gender-equal VAB taking, mothers still take the majority of days, with a 60:40 split of days between women and men. At the Swedish Institute for Social Research, Boye says this is likely to be partly due to Swedish men still tending to be higher earners with jobs in the private sector. In these cases, they're more impacted by the daily cap on VAB pay-outs than female partners on a lower wage. Gendered biases may also be playing a role. "We still expect women to be more nurturing and caring, and the expectations on 'good mothers' are different from the expectations on 'good fathers'," says Boye.
Even within couples who are keen to share the load equally, deciding which parent is best placed to take an unexpected VAB day can be a common source of friction, says Manne Forssberg, a parenting author and podcaster based in Stockholm. "This is going to sound like a really first-world, luxury problem because we're extremely privileged to have VAB in place for us to use. But it's a challenge to quickly decide who has the most important job."
In 2020, as VAB days spiraled due to the pandemic, he wrote an article titled 'How to save your marriage in VAB times', and used his podcast to advise parents to share their schedules every Sunday and plan ahead in advance who'dtake VAB if one of their children suddenly got sick.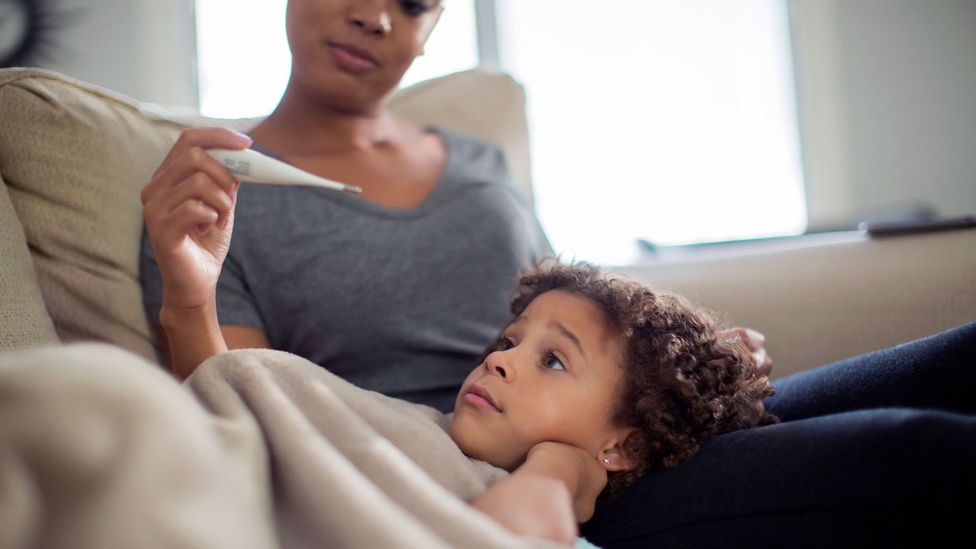 The VAB benefit might sound like an idea dreamed up by employers during the pandemic, but it's actually been enshrined in Swedish law for decades (Credit: Getty Images)
It's an approach taken by Cothran and his wife, who both have demanding senior leadership roles, and often choose to take turns vabbing for a half-day each. "She often has things like board meetings that just can't be moved, but we do our best to give each other cover and hand the VAB-baton in a fair way."
However, like millions of global couples working remotely from their apartments during the pandemic, he says this has become trickier as the lines between domestic and corporate life have become increasingly blurred. "It's difficult at times for the non-VAB parent to find a quiet atmosphere for working from home… There are definitely times when the kids squealing and fighting becomes a distraction," says Cothran. And, if he's vabbing, his workload and commitment to his team means he still usually logs on to check email after a full day of childcare. "Well, the work doesn't stop just because you're VAB," he says. "If you're a manager like me or my wife, you have to be good at delegating so that it doesn't pile up on you and lead to added stress, on top of what you're already dealing with at home." 
In recent years a more informal concept called att vobba has also emerged, which is a mash-up of the words att vabba and att jobba, which means 'to work' in Swedish. To vobba means that instead of taking VAB, you commit to completing a full day's work while also caring for your sick child. The idea is that you can stay on top of your work commitments and, if you're a high earner you don't lose out on pay due to the daily cap on the VAB benefit. It's become more common during the pandemic, when relatively healthy children have been kept out of school due to minor sniffles. But Swedish unions have expressed concerns it can increase the risk of burnout, and warned that employees should be mindful of bosses encouraging them to vobba rather than exercising their legal right to vabba.
A secret career killer?
While Swedish businesses aren't legally allowed to discriminate against parents who need to vabba(or vobba) more than others, some workers aren't convinced that's always the case. Catarina, who didn't want to share her last name because she works as a civil servant, usually takes the lion's share of VAB days compared to her husband, and racked up a total of four weeks during November and December last year.
One dilemma is that nobody gets called in when I'm absent, so my workload is distributed onto my colleagues – Catarina
"I can tell it raises some eyebrows of some co-workers. One dilemma is that nobody gets called in when I'm absent, so my workload is distributed onto my colleagues," says the mother-of-two, from Stockholm. "I also feel like there might be some hesitation to promote me to a role with more leadership because of the amount of days of VAB I use in a year, but that is obviously not said to my face."

Research by Boye, published in 2015, showed that Swedish parents had a poorer wage growth during the years their children are toddlers, the more VAB days they took out. This applied to both mothers and fathers, although it was the latter who were most affected. Dads who vabbedregularly took home a salary 2% lower than those who took the average number of VAB days; for mothers, the drop was a half-percent. "Parents on leave signal a lack of work commitment to their employers," argues Boye. "This signal may be stronger for fathers than for mothers, because employers expect fathers to be more committed in the first place." 

A costly concept

Paying for parents' VAB days is also a pain in the wallet for the Swedish state.

In 2019, it covered 6.7 million sick days, for a population of 10 million. This figure rose to a record 8.3 million in 2020, as Covid-19 got underway and Swedes were asked to stay home with any cold-like symptoms. It cost the state SEK1.7 bn ($18m, £14m), according to the Swedish Social Insurance Agency. Sweden's economy has rebounded from pandemic losses better than most, but there've been political and media debates about how to keep absorbing these extra costs if Covid-19 continues to contribute to high levels of vabbing in future winters. 

There are also worries about the financial impact of parents deliberately abusing or over-using the system. Swedes have long had high levels of trust in authorities and tend to follow rules as a result, but in 2019, the number of parents suspected of falsely or incorrectly claiming VAB benefits rose by almost 50%, as the country's Social Insurance Agency carried out checks on individuals who'd frequently claimed VAB, some of whom had picked up their usual salaries simultaneously. The government has launched a public inquiry, which is due to report back later in 2022. "Employers need better tools to be able to assess the legality of the VAB-absence, so that misuse can be curbed," argues Catharina Bäck at the Confederation of Swedish Enterprise, which is participating in the inquiry.

A global inspiration

Despite the challenges of VAB, you'd be hard pressed to find a Swede who isn't on board with the system. "It is quite popular and not questioned by any parties or groups that I know of," confirms Boye.

"It's not perfect, of course, but it's a fantastic system that absolutely should be replicated in other parts of the world," argues US-born Cothran. "I have friends back home who have explicitly delayed having children because they want to focus on their careers, which is understandable, but here in Sweden it feels like you can do both."

;