More people are applying for remote jobs amid concern that office recalls could reduce home-working opportunities. Are they right to rush?
T
The newfound flexibility many workers experienced amid the pandemic has made an indelible mark. The ability to better balance work and life as well as ditch the commute has been a hugely positive side effect of a chaotic time – and now, millions of employees refuse to go back.
Consequently, demand for jobs that offer at least some element of remote working has soared. According to LinkedIn data shared with BBC Worklife, in March 2020, UK paid remote jobs (1.18%) on LinkedIn attracted 1.28% of all job applications; by March 2022, UK paid remote jobs on LinkedIn (13.31%) attracted more than a fifth of all job applications (22.92%). It's a similar story across much of western Europe and the US.
But in the last few months, workers' search for remote roles has become more urgent.
In the US, 50% of all job applications submitted via LinkedIn in February 2022 were for positions that offered some home-working – marking the first time that remote jobs had attracted the majority of applications. In April, when Airbnb announced its new 'Live and Work Anywhere' policy, allowing almost all staff to work from anywhere in the country where they're based without any salary change, the home-rentals platform saw a deluge of interest from job seekers: 800,000 visits to its careers page in the week after the announcement.
Huge global brands aren't the only ones noticing this increased demand. At UK marketing agency Punch! – which made the decision to stay remote even after pandemic restrictions had lifted – talent manager Emma Hollands has observed a recent surge in applications for remote roles as offices continue to open. "Many of these applicants have highlighted the option of working remotely with us as a key reason for applying," she says. "In fact, the desire for remote work has proved so popular that we edited our job descriptions on all of our adverts to ensure this particular benefit was front and centre."
Fuelling this uptick in demand is growing alarm that remote working opportunities might be reduced in the future – likely linked to the 'back to office' rhetoric from leaders across many sectors.
"We're certainly starting to see some anxiety amongst candidates surrounding remote working, and this has in part been driven by comments from high-profile figures such as [billionaire businessman] Alan Sugar and [UK Cabinet minister] Jacob Rees-Mogg suggesting that it's time for people to head back to the office," says Phil Burch, procurement business manager for Birmingham, UK-based Gleeson Recruitment Group.
Are people right to be worried? Is the 'Great Remote Work window' open as wide as it's going to get – and is it about to start closing?
'Battle spirit'
In the short-term, yes.
"Remote work as it is currently will disappear," believes Chris Preston, the founder and director of Hampshire, UK-based The Culture Builders, which works with companies on improving their culture and performance. "We will see more people being brought back into the office."
If you try to drag people back to the office because that's the only way you've known how to work, the risk is that some of the best employees will leave - Prithwiraj Choudhury
It's an inevitability for some organisations, he believes. "The pandemic way of working during lockdown was never sustainable. Most people really enjoyed it. But we were in a battle spirit, all focused on surviving and keeping the lights on."
With a slow return to normality, organisations are now having to take a longer-term view, he explains, and consider how remote work could impact their ability to manage employees, foster internal connections and measure productivity.
Finding solutions to these questions can be challenging. "I think some organisations will take the easy option and bring everyone back, because it's simpler and you don't have to support your managers to do that," he anticipates.
This is already beginning to happen. In October 2020, 71% of US workers who had jobs that could be done remotely were working from home, according to a Pew Research Center survey. By February 2022, that figure had declined to 59%. 
In the UK, it's a similar story. Though more than a third (36%) of workers spent at least one day per week working from home in January 2022, according to the Office for National Statistics. That's a pretty significant fall from the 49% doing so in June 2020.
Although workers want remote jobs in unprecedented numbers, there's already a fairly sizeable mismatch between the demand and supply of these positions. Despite remote roles attracting 50% of applications in February, these represented less than 20% of the total roles advertised on LinkedIn.
That gap could get temporarily worse, amid the current rush by workers to switch jobs.
The good news, however, is some experts predict this mismatch could be relatively short-lived – and will ease gradually as companies set policies in place for the long haul. Tom Cheesewright, a UK consultant, speaker and author focused on future business trends, says the current reduction in remote roles is a natural response to the confusion in many workplaces about how best to organise and structure remote work.
"If you're going to do this for the long term, you need to fundamentally change your culture, your practises, your processes and your technologies. The level of change required to make it work in the long term has been underestimated by a lot of organisations." He believes we're likely to see some organisations temporarily return to in-office work while they figure out the details of how exactly to introduce fully remote or hybrid roles in a better, more considered way.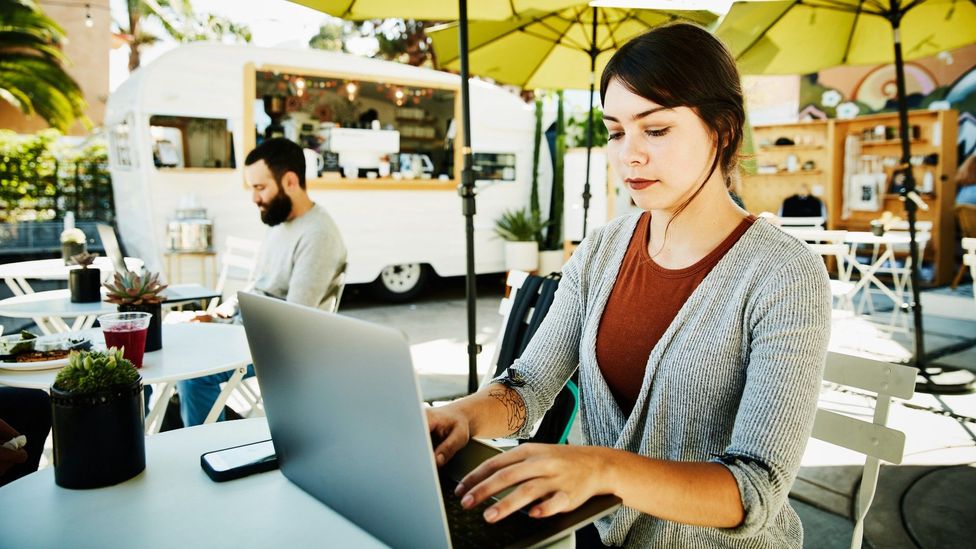 It may take time for everyone to find their remote or hybrid role - but workers just need to be patient, say experts (Credit: Getty)

Some employers may well find it's in their interests to expedite this process.

Prithwiraj Choudhury, a professor of business administration at Harvard Business School, who studies the future of work, believes companies will work it out or risk missing out on the best talent. "Employees have already, and will increasingly, demand flexibility," he says. "If you try to drag people back to the office because that's the only way you've known how to work, the risk is that some of the best employees will leave."

Just as Airbnb found after its own announcement on remote work, those companies that offer this option will become "talent magnets", says Choudhury. "They will attract and retain talent, and those organisations trying to move back in time will lose talent initially and then be forced to adapt." 

Where roles will emerge

However, adaptation could take time for some companies and indeed sectors, meaning it could become temporarily more challenging for workers to secure a remote role. For people committed to home working but employed in firms and sectors slow to change, it could be time to get a little more strategic in applying for roles.  

In the short-term, knowledge-based organisations or those providing digital services are workers' best bet for fully remote or hybrid roles, suggests Preston. These could include tech providers or marketers.

We've already seen high-profile announcements from the likes of Twitter, Virgin Money and PwC. "The reasons for this are two-fold – they are the easiest sectors to transition to remote, and they are very much gripped by a talent shortage that makes flex working a key offering," he says.

Next up will be service sectors where a large proportion of workers are already remote, he estimates, such as logistics firms or utilities companies. Last on the list are likely to be organisations in manufacturing or retail. "For these organisations, the bulk of the teams will be unable to ever work remotely, meaning the pressure will be on the support teams to be on site with them," says Preston.

It isn't only the industry workers target that will determine the size of that remote work window, though. It also depends on people's particular skills and level of experience.

Cheesewright predicts opportunities for home working with be best for people with a job that has "a higher proportion of concentration than collaboration"; in other words, jobs workers can do just as well in isolation without the creative buzz of a team around – and with less managerial oversight. "Tech is a good example of this: a high proportion of concentration, whether it's design or code, and well-structured briefs around what is expected."

For much the same reason, that remote work window could be smaller for those who are new to a particular role or industry. "New-to-work people need far more support, and we are recommending organisations flex around this and provide more face-to-face support initially," says Preston. Being new won't rule out remote work forever, but going forward it may become a perk that's introduced once employees have been with an organisation long enough to be fully trained and settled in. 

Ultimately, says Preston, it's already clear that in the long term, the answer for companies "isn't to bring everyone back" to the office. That means that even if people are struggling to secure remote roles right now, whether due to sector, job type or career length, there is no need to panic about missing out permanently. 

The huge changes to work in the last two years aren't about to disappear – even if it takes some companies a little while to catch up.

;