Traditional notions of mentoring are top down: senior leaders guiding lower-level staff. But the tides are changing – and younger workers are now teaching up.
S
Senior executives with years of experience have valuable advice for junior employees – but their decades-younger colleagues also have lots to teach their higher-ups, too. That's the idea behind 'reverse mentoring', a technique first developed in the 1990s to share technology skills. Now, in the pandemic era, the practice has fresh potential to help companies overcome the new challenges of hybrid working, diversity and inclusion, and unpick stereotypes that underpin generational divides.
Think about reverse mentorship as flipping traditional mentoring on its head: instead of senior staff supporting lower-level employees in their careers, younger generations help teach their managers about everything from consumer desires and TikTok to changing attitudes around social issues and equality.
"You're sharing experiences, offering guidance and giving advice," says Jennifer Jordan, professor of leadership and organisational culture at the Institute for Management Development, Switzerland. There are myriad potential benefits of reverse mentorship, from sparking innovation and boosting retention of younger workers, to helping employees decades apart better understand each other. And it's relatively easy for companies to adopt alongside existing mentoring programs. This can explain why the concept is gaining steam in the current world of work – and may be poised to expand even more.
What is reverse mentoring?
Reverse mentoring pairs staff across generational divides, encouraging a bottom-up flow of information, alongside the traditional top-down approach. "Reverse mentoring is when we shift those roles and the senior person has something they can learn from the junior person," says Jim Berry, director of the MBA program at University College London.
The reversed approach can take the form of a one-way mentorship, with junior staff teaching specific skills or sharing information upwards, or it can be part of traditional mentorship structures, with both parties seeking to learn from each other. Another tactic is reverse mentoring events, when companies bring junior employees together as a group to meet leadership teams for one-off discussions.
One key thing for employers is intergenerational awareness, as we may view things differently because of the societies we grew up in. Starting these conversations allows us to break down some of these barriers – Jim Berry
Formal reverse mentoring programmes aren't new: famed CEO Jack Welch first used the idea at General Electric in 1999, telling executives to pair up with junior staff to learn about the internet. "It was for getting senior executives to start using technology that younger generations were more native to and more comfortable using," says Jordan. 
But now, beyond generational nuances in technology, gaps remain in other areas, such as cultural issues and work trends. Current workplaces have the widest generational spread of employees: as Gen Zers begin to enter the workforce, four generations are now working together –  a phenomenon we haven't seen before this decade. 
And that's why so many companies have turned to reverse mentoring to address cultural shifts, such as diversity and inclusion. Reverse mentoring can help expand diversity of thinking in the workplace – an increased priority, especially as social issues and employer values are becoming more urgent issues among employees, increasingly inextricable from work.
Practically, this can mean corporate executives — who still tend to be white and male — can learn from a wider variety of people across their workforce. That could be talking to younger generations simply to understand what they value, or it could be seeking out minority groups from that wider workforce to figure out what practical changes need to happen. For example, the UK division of consultancy firm PwC turned to reverse mentoring to encourage diversity and inclusion, pairing junior and senior staff not only across generational divides but also gender and ethnicity. Law firm Linklaters used it to teach leadership about LGBT+ issues and social mobility. P&G's reverse mentoring program has taught senior staff how younger people shop online, and improved disability inclusion among workplace videos.
Not addressing these realities in the workplace can sew leave younger employees feeling unheard and unwelcome. "One key thing for employers is intergenerational awareness, as we may view things differently because of the societies we grew up in. Starting these conversations allows us to break down some of these barriers," says Berry.
There are many upsides: reverse mentoring can spark conversations that help address organisational challenges and changes, for example. But experts caveat that it's not a solution to all corporate ills. In Jordan's study of the technique, she found the programmes could help both parties learn new skills and boost the careers of younger participants on an individual level. However, it was less effective to initiate company-wide cultural change.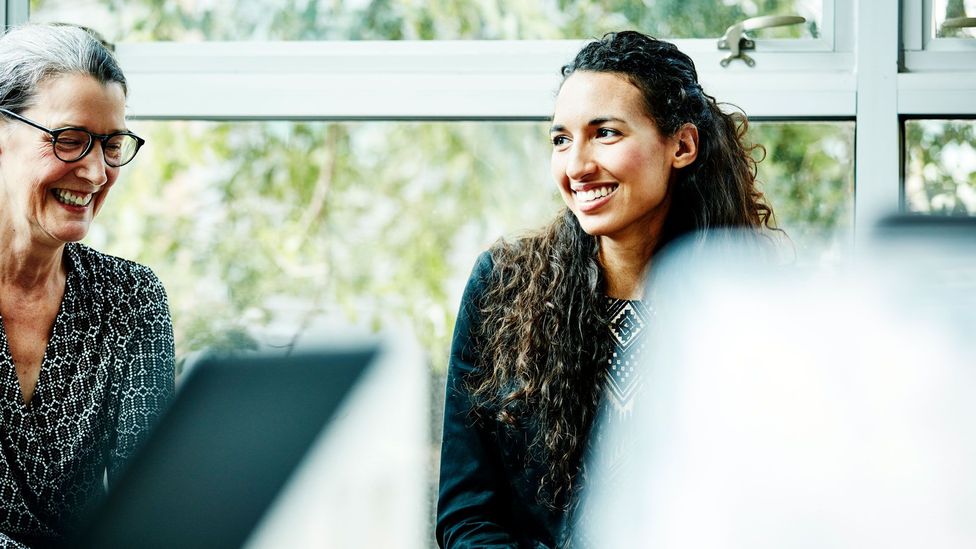 Reverse mentoring schemes should be a two-way conversation, to help groups learn from each other (Credit: Getty Images)
Reverse for retention 
There's likely never been a more opportune time to use reverse mentoring to shake up the way corporate culture is built. Work is changing dramatically, particularly around flexible hours and hybrid work. Executives can't make unilateral decisions around these issues with a solely top-down approach – at least not if they want to retain staff. Listening to all employees is necessary to build the future of work and avoid post-pandemic resignations.
Attrition has been a major issue for companies in the past few years, as the Great Resignation has reshaped the labour market and reshuffled workers into different jobs and even industries. Low engagement in the workplace is one of the reasons Gallup research shows one in five US millennials changed jobs in the past year – three times as often as other generations.
Reverse mentoring schemes can make younger staff feel listened to and welcome in offices, helping reduce employment churn; research from consultancy Deloitte suggests half of millennials and Gen Z workers will quit within five years if they don't feel heard on issues they prioritise, which include the environment and climate change, workplace mental health and equality. 
Accordingly, companies that listen to younger generations and ultimately build a workplace that better reflects younger generations' priorities are generally better positioned to retain talented millennials and Gen Z staff – a goal that reverse mentoring can help facilitate. It's a simple idea – but research shows it works, says Jordan. "Individuals involved in these programs are about 30% more likely than non-paired peers to stay in the organisation," she says.
Reverse mentoring schemes can make younger staff feel listened to and welcome in offices, helping reduce employment churn
One example is within finance company BNY Mellon Pershing which, in 2019, boosted its retention rate to 96% for the 77 millennials who took part in its reverse-mentoring scheme during three years (though a company executive notes it is hard to definitively say reverse mentoring was the sole reason for that retention rate). "Millennials really want recognition and … having that kind of relationship helps them feel that way," says Jordan.

For these workers still forging career paths, it's not only about being heard, but also feeling supported in the workplace. Jordan says reverse mentoring in the pandemic era has also evolved to become a way for senior executives to unpack how younger employees want to work – including their preferences for remote work and flexibility, wellbeing support and diversity initiatives – in many cases leading to the introduction of evolved workplace policies. 

Reversing without stepping on toes 

Gen Z and millennials may complain that it's not easy to convince Baby Boomers to listen, while they and their Gen X colleagues may believe younger counterparts demand too much change and flexibility despite their inexperience. Reverse mentoring can help overcome such assumptions as well as stereotypes about older people struggling to get to grips with technology and cultural changes, and younger staff lacking focus and dedication at work. 

And, says Berry, a mentoring relationship "should be a two-way street", with information flowing between both parties. Respect must be mutual and reciprocal: "It takes two to tango; the programs that we saw that weren't successful, the number one reason was that senior executives just didn't take it seriously," says Jordan. "Very rarely did millennial or younger people not take it seriously."

One way to encourage older, more experienced employees to listen to new hires is to model that behaviour from the top, with CEOs and other leading executives enthusiastically taking part. "A senior VP sharing what they've learned can help others see they can learn something too," says Berry. And mentors must be paired carefully; for instance, companies looking to consider diversity and inclusion will want to sensitively consider pairing leadership – often white and male, notes Berry – with people from different backgrounds, sexualities, genders or ethnicities.

Reverse mentorship may have evolved to address complex modern work challenges, but it's really about old-fashioned ideas of mutual understanding and respect — and they'll make any workplace better.

;