Drinking has long been the centre of workplace culture. But younger employees are changing the role of alcohol in the office.
P
Prosecco to toast a project wrap-up, cocktails at the Christmas party, an 'al desko' beer to end the week, payday drinks.
Alcohol has long been a staple of workplace culture. In some industries, post-shift pints to unwind are par for the course; in others, drinking is woven into the fabric of the work itself, with client relationships built over boozy lunches and dinners. And yet, while the pandemic destabilised workplace social culture as we knew it, alcohol didn't disappear. In many cases, especially early in the pandemic, pub happy hours simply moved to Zoom.
In almost all spheres of life, regular alcohol consumption has been institutionalised, and even encouraged: it's embedded in rites of passage, such as college and university; and carries through to the workplace as a bonding ritual, morale booster and stress reliever. Hosting meetings at bars and restaurants with drinks flowing is even part of some companies' business strategy. In China, for instance, binge drinking is used as a kind of "moral contract", in which potential business partners get drunk together to become friends, so they can trust each other not to harm the other person's professional interests.
In the UK, according to 2022 research from education charity Drinkaware, alcohol is more deeply ingrained in the private sector, with 86% of these employees more likely to say that there's an expectation to drink at employer events than the public sector (15% versus 8%). They're also 2.5 times more likely to have alcohol subsidised at work social events than in the public sector (23% vs 9%).
Yet, as central as drinking is to workplace socialisation and strategy, there are signs that some companies are re-thinking the role of alcohol in professional settings.
Some experts say this move is long overdue. After all, many workers don't drink for personal reasons, and interactions involving alcohol at work can be fraught. Add to this the increasingly large cohort of Gen Zers who are driving deeper conversations about sobriety and normalising socialising without alcohol, and it raises questions: does alcohol have a place at work any longer – and should it?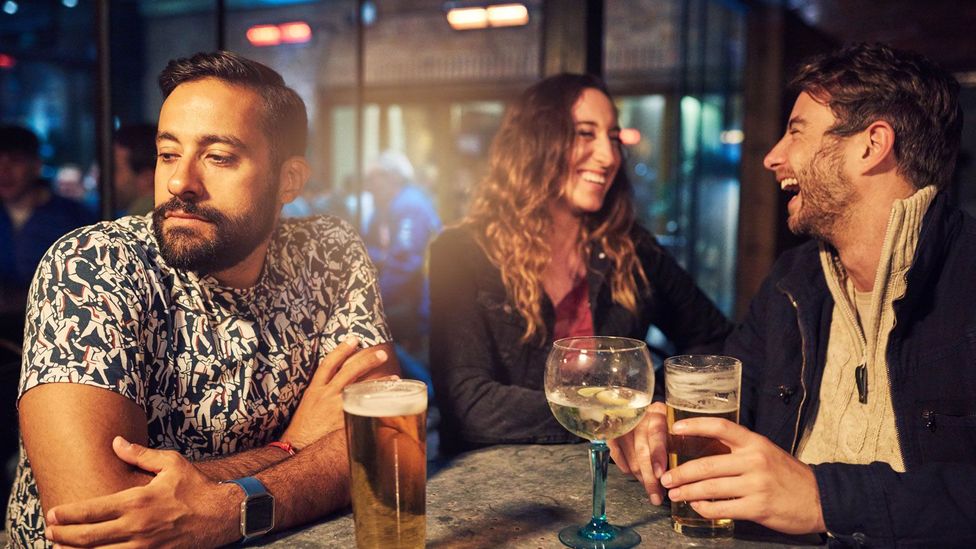 For employees who do opt out of alcohol at workplace events, there might be anxiety about their social and professional standing (Credit: Getty Images)

Pressure to participate
Although some employees welcome alcohol into their work lives, the emphasis on drinking culture in the workplace doesn't sit well with all. And it's often difficult to avoid.
Research from 2019, conducted by researchers at the University of Stavanger in Norway, found that when employers or supervisors initiate drinking, employees feel obligated to participate. And among people in the UK, half of those surveyed by researchers at the University of Stirling in Scotland admitted to being pressured into drinking alcohol by colleagues and family. It also showed that generally, men felt coerced into drinking more often than women, with men 20% more likely to be encouraged into drinking by their colleagues and 37% more by their bosses.
"It might seem like a nice gesture to subsidise alcohol at these events, but it normalises alcohol within the workplace, which can be exclusionary for those who don't drink," says Emma Catterall, evidence and research lead at Drinkaware. "Of course, peer pressure to drink is not unique to the workplace, but when we researched the topic in 2019, we found that co-workers were second only to friends as the main source of pressure to drink." Their research shows colleagues are more influential than family members or spouses in encouraging people to drink more alcohol than they set out to.
And plenty of people want things to change – one UK survey of more than 2,000 working adults revealed 43% of respondents say there's too much pressure to drink when socialising with work colleagues, and 53% would like there to be less pressure to do so.
It might seem like a nice gesture to subsidise alcohol at these events, but it normalises alcohol within the workplace, which can be exclusionary for those who don't drink – Emma Catterall
For employees who do opt out, there might be anxiety about their social standing at work. "The most common concern is that workers might miss out on important bonding and networking opportunities," says Gordon Sayre, an assistant professor of organizational behaviour at Emylon Business School, France. "What's at stake will also depend on drinking norms within an organization, industry or culture. While many workplaces don't have any strong norms around drinking, others might have a long tradition of happy hours and going out with colleagues after work."
This can put workers in a Catch-22: conform and consume alcohol, jeopardising your own personal values, reputation and even safety; or duck out entirely, and potentially curtail your professional progression.
 A change in spirit
There is evidence, however, that workplace culture is evolving away from a focus on alcohol. Throughout the past few years, for instance, large companies including Salesforce, Uber and Jet made moves to reduce or completely ban alcohol in the workplace.
"Things have certainly changed in recent decades, with a gradual shift away from workplace socialising focused on alcohol," says Andrew Misell, director for Wales at the charity Alcohol Change UK. "It's part of a broader recognition of health and safety issues as well as appropriate and inappropriate behaviour and harassment in the workplace, that have helped to chip away at that traditional workplace drinking culture."
Even outside the 9-to-5, personal relationships with alcohol are shifting. Trends show Americans, for instance, are drinking less than they used to, with the average number of drinks consumed falling from 4.8 in 2009 to 3.6 in 2021, per Gallup data. According to UK data published by the NHS in 2022, there has been a gradual decrease in people's maximum daily alcohol consumption. The proportion of adults who drank more than three units (women) or four units (men) on any day in the last week fell from 37% in 2009 to 30% in 2019.
Conversations about sobriety and struggles with alcohol have also become less taboo, particularly in online communities like TikTok and Instagram. Global and national campaigns such as Dry January and Go Sober for October garner more adherents with each passing year. In 2013, 4,000 Britons took part in Dry January; by 2022, numbers reached more than 130,000.
And among younger generations particularly, there's more willingness to experiment with cutting down alcohol consumption and trying sobriety, in their personal and professional lives. In a survey of 4,000 UK students by Bright Network, a graduate careers and employment specialist, 45% of respondents said alcohol shouldn't play a role in work social activities.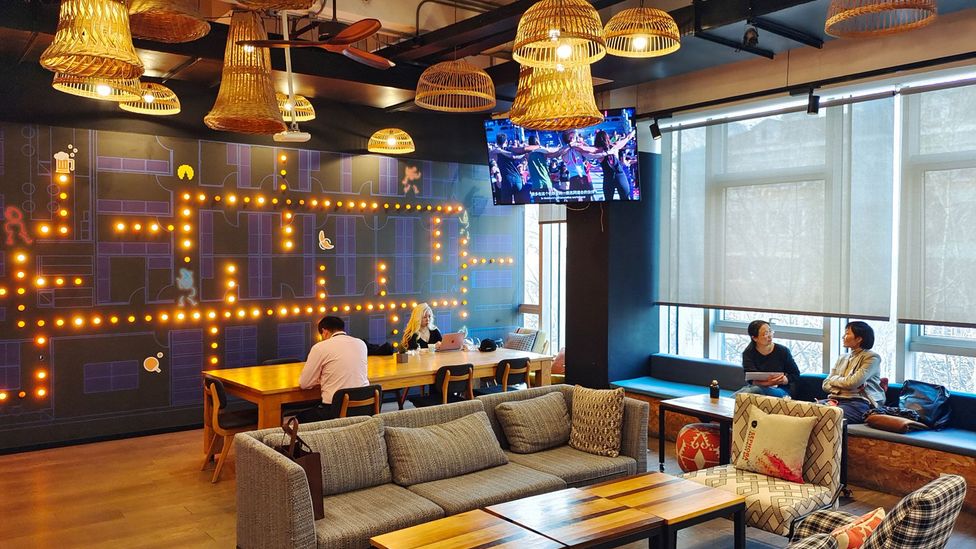 WeWork kept beer on tap in their co-working spaces, but now offer alternative choices like seltzer based on feedback from members (Credit: Getty Images)

"The more people you get, in any setting, who don't drink, the less normal it becomes to do so, and this growing group of young people is having a broader influence," says Misell. He's intrigued to see what happens when young people who don't drink move towards leadership positions, especially in sectors where boozing has been a core part of the culture. "Without anyone changing the rules, or making any bold statement, just with social pressure, I think we'll see a greater shift away from alcohol-centred activities," he says.

Alcohol as a perk may also be losing its cool factor – and may even be increasingly seen as problematic. According to a survey of 2,400 workers and 250 employees in the UK from Totaljobs, more than one in three workers see drinking with colleagues as outdated. The open 24/7 beer fridges, Friday drinks trolley and booze-fuelled socials don't sit as well with workers, and may be becoming less ingrained in corporate culture.

Bonding without booze

Many people are still happy to imbibe at employer-sponsored happy hours, holiday parties and corporate events.

According to 2021 Drinkaware research, shared with the BBC, a quarter of working Britons say that alcohol played a fairly positive or very positive role in work social events, and only about 10% said it had a fairly or very negative impact. In the US, more than one-third (38%) of Americans believe after work drinks are a good way to bond and strengthen a team, according to 2023 data from provider of alcohol treatment resources Alcohol.org, from healthcare company American Addiction Centers.

Still, the move away from booze-centric workplaces is already taking place. Once known for beer on tap as a signature perk, WeWork, an office-space leasing company that offers flexible workspaces around the world, has updated its offering based on feedback from members in various regions. Before the pandemic, alcoholic drinks were phased out in the US and replaced by cold brew coffee, kombucha and seltzer on-tap; in the UK, beer remains, but sits alongside seltzers, kombucha and barista coffees throughout the day.

"It's not about trying to ban all alcohol at work, but rather it means being more aware that not everybody wants to drink, and that too much can cause problems for workers and the organisation as a whole," says Catterall. "Tactics like non-alcoholic options and bonding activities that aren't dependent on alcohol not only create a more inclusive environment for non-drinkers where they feel equally valued, and are welcome, but a space where staff who do drink feel comfortable – then everyone wins."

;